The Future of Men's Professional Golf
A New Investment that Benefits Players, Fans and Partners
Over the past half century, the PGA TOUR has been firmly rooted in its mission – to showcase and reward the game's best players, competing at historic venues and positively impacting the communities in which we play. We have an unwavering commitment to further develop and build upon the rich tradition of professional golf in the U.S. and around the world.
That's why a potential minority investment is not only the clear, best path forward for professional golf, but is a highly favorable outcome for the PGA TOUR. We remain focused on negotiating a deal with the DP World Tour and the Public Investment Fund (PIF) of Saudi Arabia. Such an agreement, if approved by the PGA TOUR Policy Board, will make the game more rewarding to play and more exciting to follow.
We are also reviewing unsolicited offers from outside investors. Several of those proposals have been reviewed by the PGA TOUR Policy Board, with input from Allen & Co., the TOUR's investment bank, and The Raine Group. The potential final minority investor or investors will be selected in a timely manner.

Our Potential Agreement Explained
The Framework Agreement, as announced on June 6, provides clear, explicit and permanent safeguards that ensure that a newly-formed subsidiary – if finalized and approved – would be controlled by the PGA TOUR through majority representation on its Board of Directors. The TOUR will also have full decision-making authority with respect to all strategic and operational matters related to competition in golf and will oversee the commercial assets of the competitions and concentrate on making strategic investments into the game.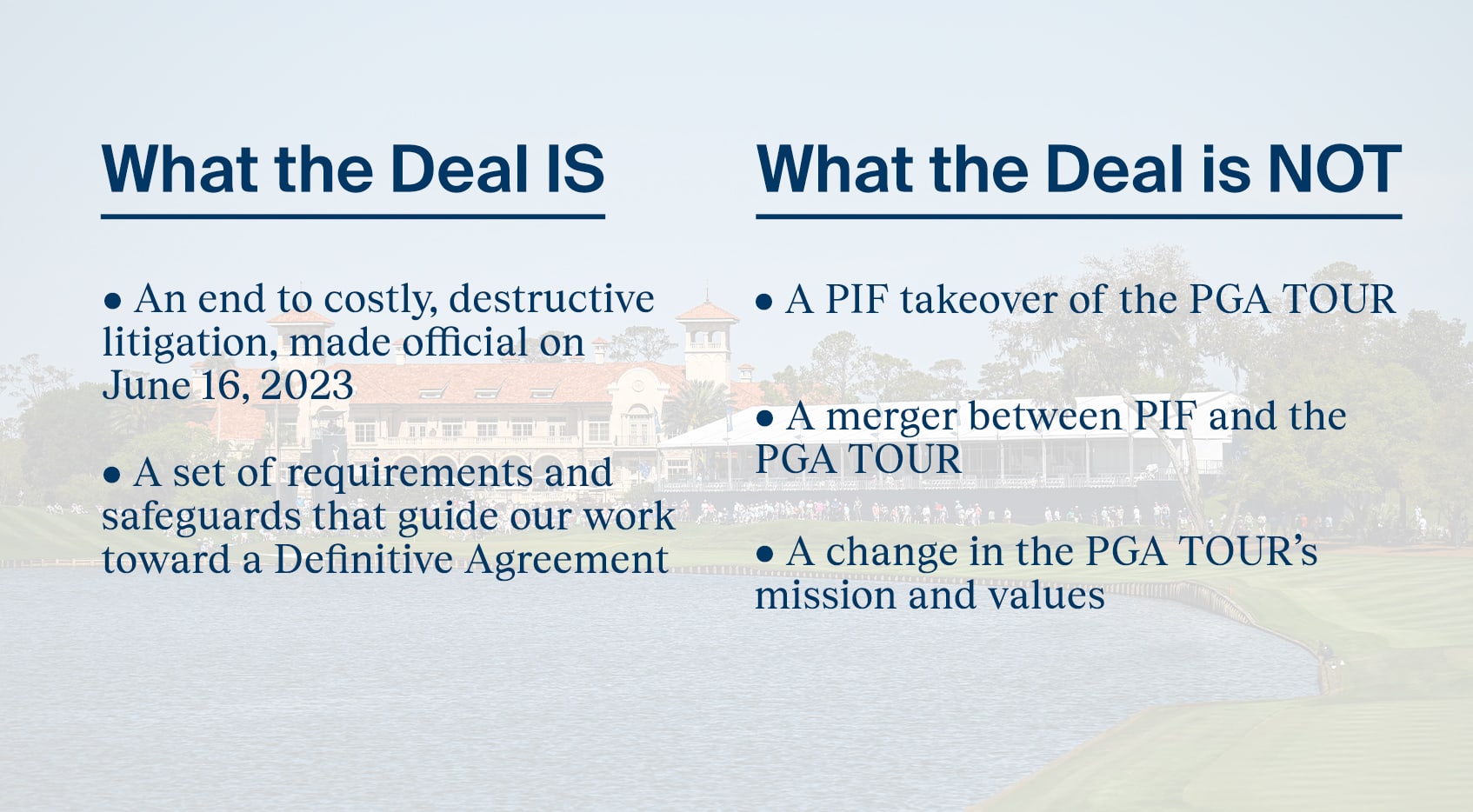 We are in a phase of negotiation to reach a final Definitive Agreement. If a final agreement is reached, it will need to be approved by the PGA TOUR's Policy Board, which includes our five Player Directors.
A Definitive Agreement would allow the TOUR to further invest in its players and the events, venues, communities and technology that bring the game to life for the benefit of fans. Our ultimate goal is to reunify the world of men's professional golf, reward players for their performances, enhance the fan experience and further our charitable mission.
Our Commitment to Community
Our charitable impact and commitment to support and improve local communities continue to grow. PGA TOUR tournaments have raised more than $3.64 billion for charity since our inception 55 years ago. This includes $215 million directed to more than 3,000 deserving non-profits last season alone.
Commissioner Jay Monahan comments on the future and vision for the PGA TOUR