Archive
Check out the five key clubs for the European Ryder Cup Team
---
---
Written by GolfWRX

GolfWRX.com
The Ryder Cup may be golf's most scrutinized event. Everything from captain's picks and pairings to uniforms and even hairstyles is fodder for fans and media alike to dissect in the days leading up to the event. Such speculation is the inevitable byproduct of the lengthy preamble to the proceedings. The Ryder Cup's Friday start leaves ample time for analysis and lots of airtime to fill before the highly-anticipated opening tee shot.
At the end of the day, however, the only thing that matters is the performance of the 12 men on each team. All the preparation goes out the window once play is underway. Then it comes down to the people hitting the shots. The team that succeeds will be the one that can summon its best under the Ryder Cup's intense duress.
Rome's Marco Simone Golf & Country Club is the venue for this year's Ryder Cup, the first played in Italy. The unique course will challenge players both physically and mentally. The course is not long by today's standards, but its hilly terrain makes it a difficult walk. The rough is expected to be healthy, as well, penalizing players who spray it off the tee. And the layout offers multiple risk-reward holes, requiring players to make multiple cost-benefit decisions throughout the round. The reachable par-5s and sizable approaches on the par-3s and par-4s mean long irons could be especially important.
"We want to get wedges and short irons out of the Americans' hands," said Rory McIlroy on the "Subpar" podcast. "We know that that's what they're really good at. So if we make this a driving and sort of mid-iron to long-iron and putting contest, we feel like that's where we have the best opportunity to win."
With that in mind, here are clubs that will be key for the European Team to win after getting routed by the United States two years ago:
---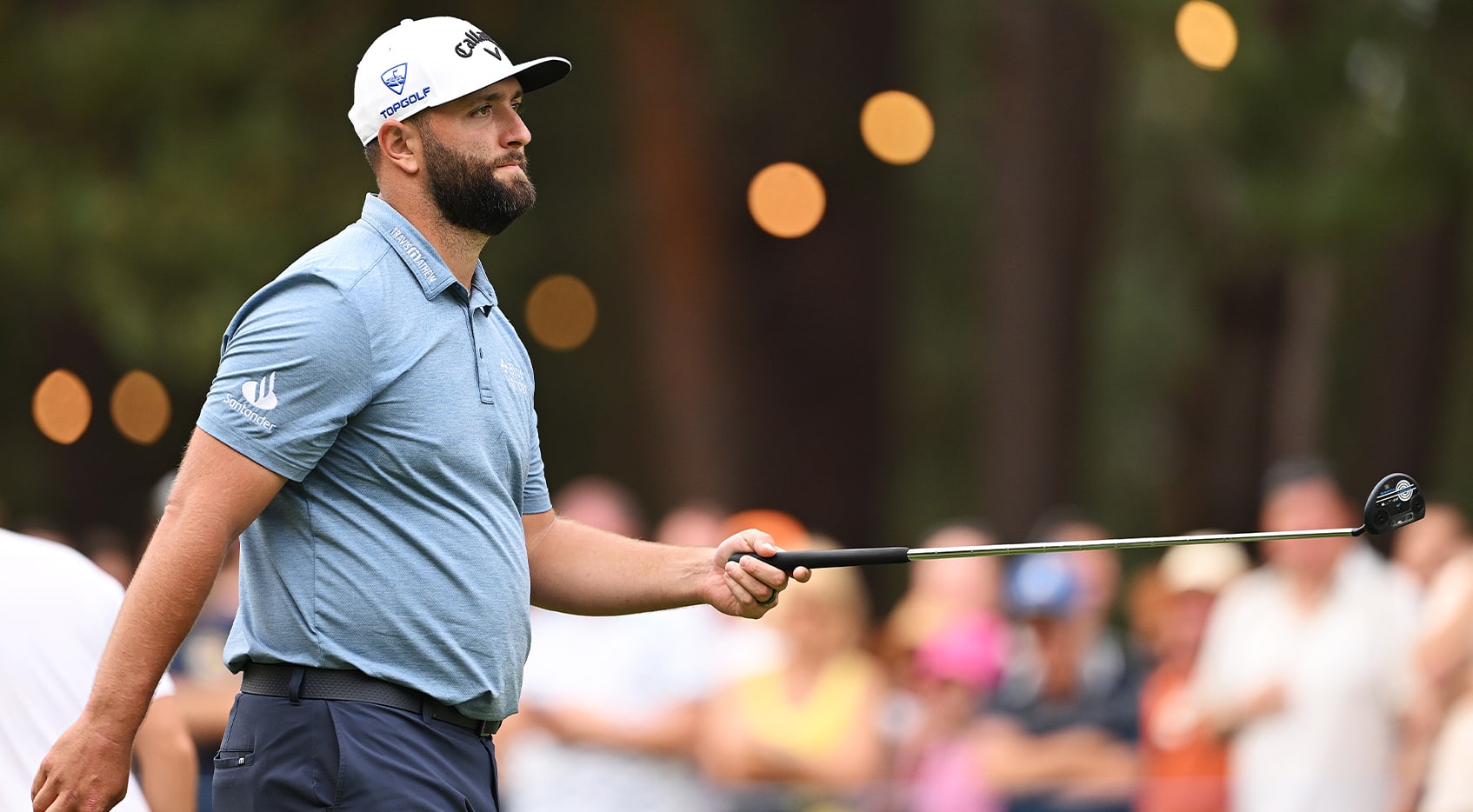 Jon Rahm recently switched from his typical Odyssey White Hot OG Rossie S silver mallet putter to a black Odyssey prototype putter. (Getty Images)
Club specifications: Odyssey Rose prototype
Since 2021, Rahm has used a custom-built Odyssey White Hot OG Rossie S silver mallet putter to win six times on the PGA TOUR, including his two major triumphs (2021 U.S. Open, 2023 Masters).
Rahm was using a different flatstick in his most recent start, however. He switched into a black Odyssey prototype for the DP World Tour's BMW PGA Championship. The club had the same Rossie S head style as his usual putter but featured blue sole cosmetics and a black face insert.
Could the switch from silver to black have any impact on Rahm's Ryder Cup performance? It seemed to work for him at Wentworth, where he finished fourth. That was surely a promising sign for European Captain Luke Donald, as Rahm finished in the bottom half of the field in all three events of the FedExCup Playoffs. Rahm won four times this season, but his most recent victory came at the Masters.
---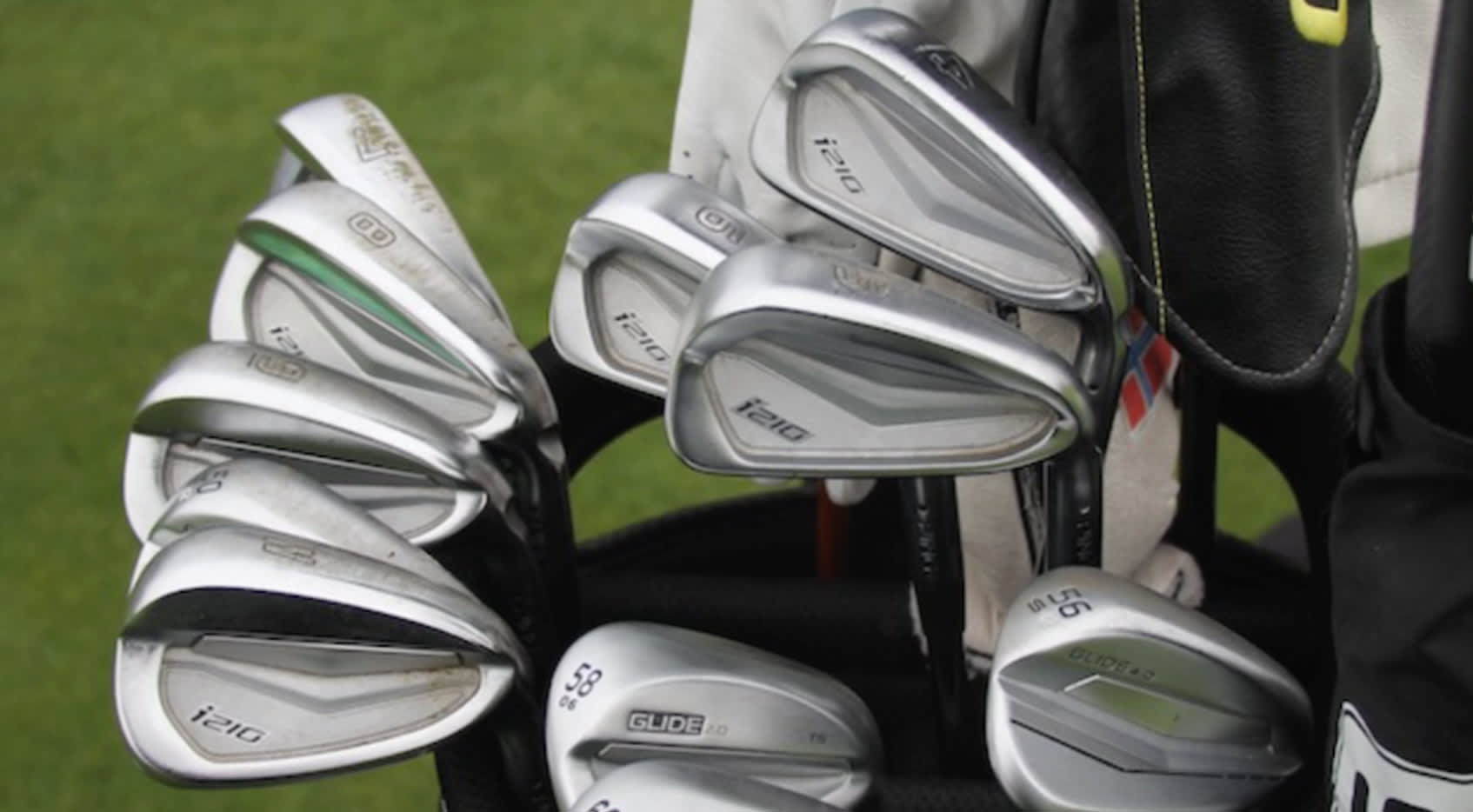 The Ping i210 irons have been a staple in Viktor Hovland's bag since 2019. (GolfWRX)
2. Viktor Hovland's long irons
Club specifications: Titleist U505 (3-iron), and Ping i210 (4-PW)
The Ryder Cup features two dozen of the best players in the world, but even amongst this select company, Viktor Hovland's ball-striking stands out.
Hovland ranks 10th on the PGA TOUR in Strokes Gained: Approach-the-Green, 10th in average approach-shot proximity to the hole, eighth in average proximity from 200-225 yards and 10th in average proximity from 175-200 yards.
Although Hovland has tested various iron setups throughout his time on the PGA TOUR, his Ping i210 irons have been in his bag consistently since 2019. Given the added importance of long approach shots at the Ryder Cup, Hovland's ability with the long clubs could offer a big advantage.
Hovland's added experience also will help. He was a Ryder Cup rookie in 2021. Now he arrives as the reigning FedExCup champion and one of the hottest players on the planet. He won three times on the PGA TOUR, at the Memorial Tournament presented by Workday and then in the final two events of the FedExCup Season, the BMW Championship and TOUR Championship.
"I think it really is that low center of gravity, and that higher spin rate the iron produces," Oates said. "He is such a shallow player. At times, he can under-spin it, and not get enough peak height. The 210s do spin quite a bit, because of the nature of the design, and they're also a very straight-flying club. Some guys see curve and some guys don't. I would say Viktor is a guy who doesn't. He sees little curves, and he takes off distance by curving it more, but he's a pretty straight-ball hitter, and those irons allow him to be a straight-ball hitter."
---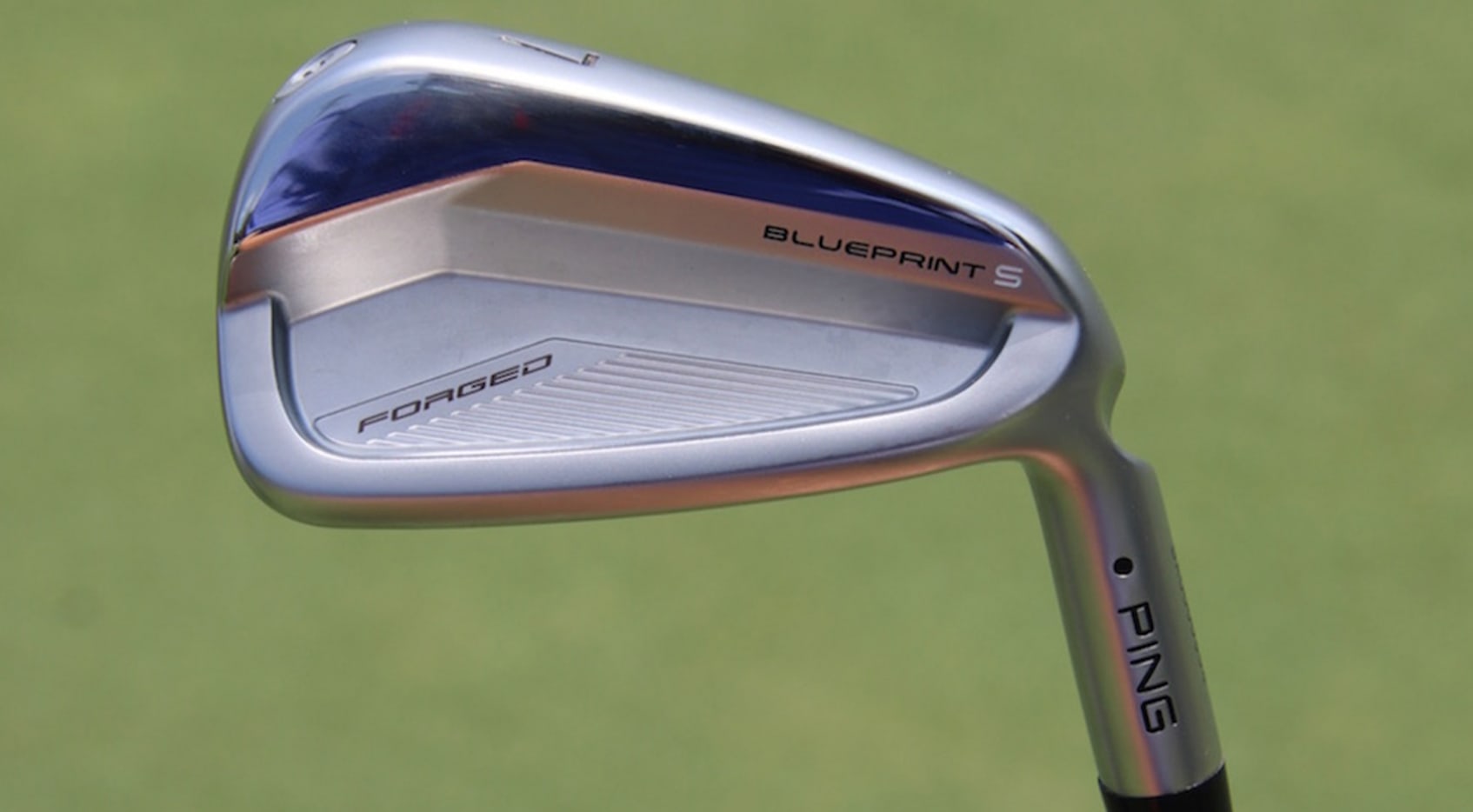 A look at Tyrrell Hatton's Ping Blueprint S irons that remain unreleased to the public. (GolfWRX)
3. Tyrrell Hatton's irons
Club specifications: Ping i230 (4-6), and Ping Blueprint S (7-PW)
Hatton is nearly automatic around the greens. He ranks second on the PGA TOUR in scrambling from 20-30 yards and sixth from inside 10 yards.
In match play, however, saving par with an up-and-down from off the green isn't as useful as it is in stroke play, where grinding out pars can salvage important momentum. Birdies are usually required to win holes at the Ryder Cup.
Hatton is 28th in Strokes Gained: Approach-the-Green, and he is especially good out of the rough. He ranks in the top 25 in average proximity from the rough from both 125-150 yards (14th) and 150-175 yards (22nd).
Just weeks prior to this year's Open Championship, Hatton switched into a new mixed-iron setup, including Ping i230 long irons (3-6) and Ping's new Blueprint S prototype short irons (7-pitching wedge). Although Hatton has used the Blueprint S irons for several months now, the prototype models remain unreleased on the retail market, though they are appearing in pros' bags. In his first week using them, Sahith Theegala won the recent Fortinet Championship.
Will Hatton's new forged cavity backs help minimize missed greens, or will his scrambling skill be repeatedly called upon with the Ryder Cup on the line?
---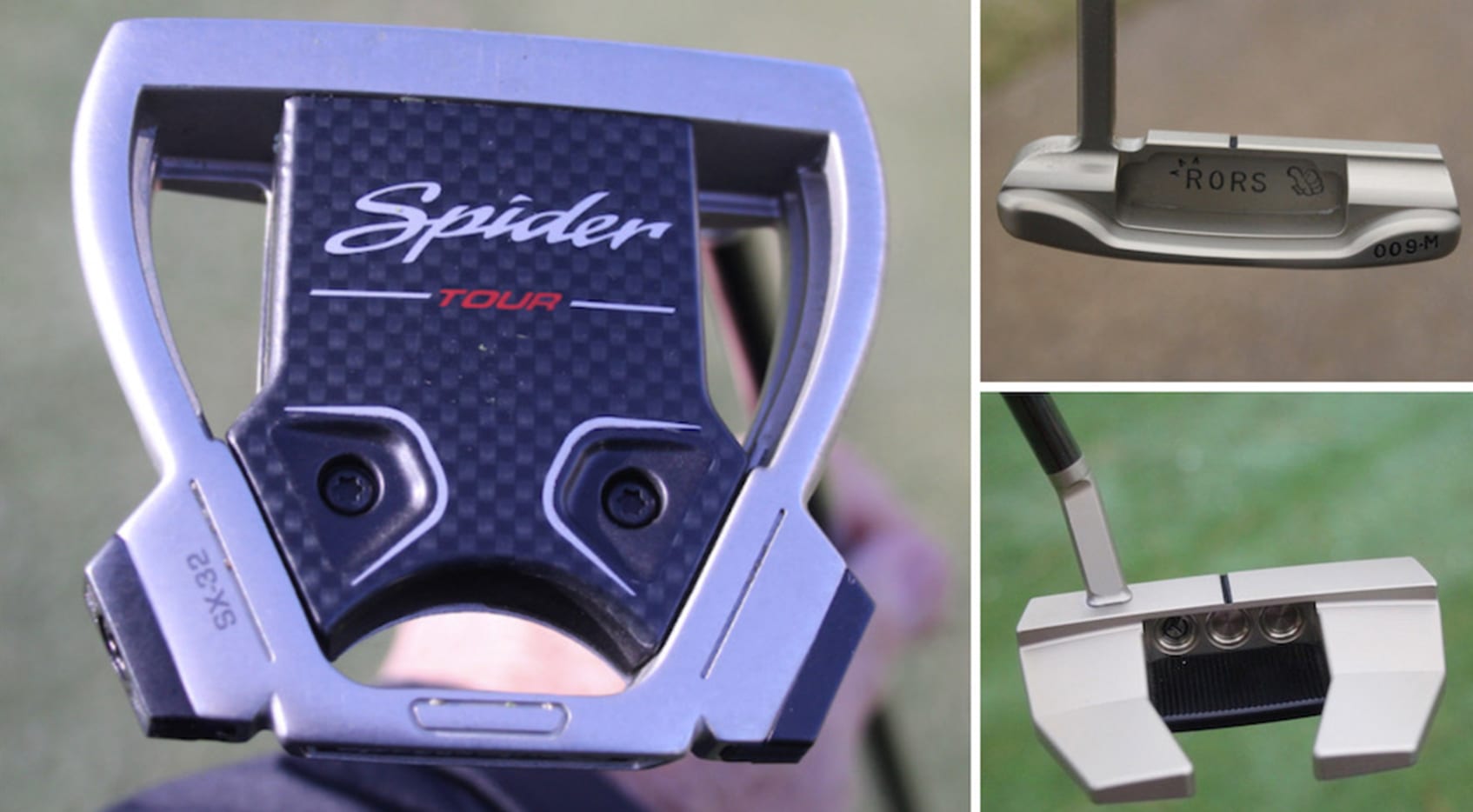 Rory McIlroy has used a number of putters this year in an effort to try and find the right feel on the greens. (GolfWRX)
Club specifications: TaylorMade Spider X vs. Scotty Cameron T-5.5 prototype
Similar to the United States' top-ranked player, Scottie Scheffler, Europe is led by a player who has put up impressive ball-striking numbers and now is hoping his putting will catch up. McIlroy is second in Strokes Gained: Off-the-Tee this season and eighth in Strokes Gained: Approach-the-Green. He also leads the PGA TOUR in Driving Distance.
He is 65th in Strokes Gained: Putting, however, one year after ranking a career-best 16th in that metric en route to winning his third FedExCup.
His putter choices also have been under a microscope throughout 2023.
While McIlroy has mostly used a TaylorMade Spider X Hydroblast mallet design for the last several years, he switched into a Scotty Cameron blade-style putter for the World Golf Championships-Dell Technologies Match Play and the Masters this spring before switching back into his familiar Spider.
"I sort of was maybe a little too reactionary with letting a couple of bad putting weeks cloud my judgment," McIlroy said in May, "but yeah, back to 'Old Faithful.'"
He used the TaylorMade Spider in his two most recent starts, at the DP World Tour's Horizon Irish Open (T16) and BMW PGA Championship (T7), which makes it likely that the trusty mallet will be at Marco Simone.
---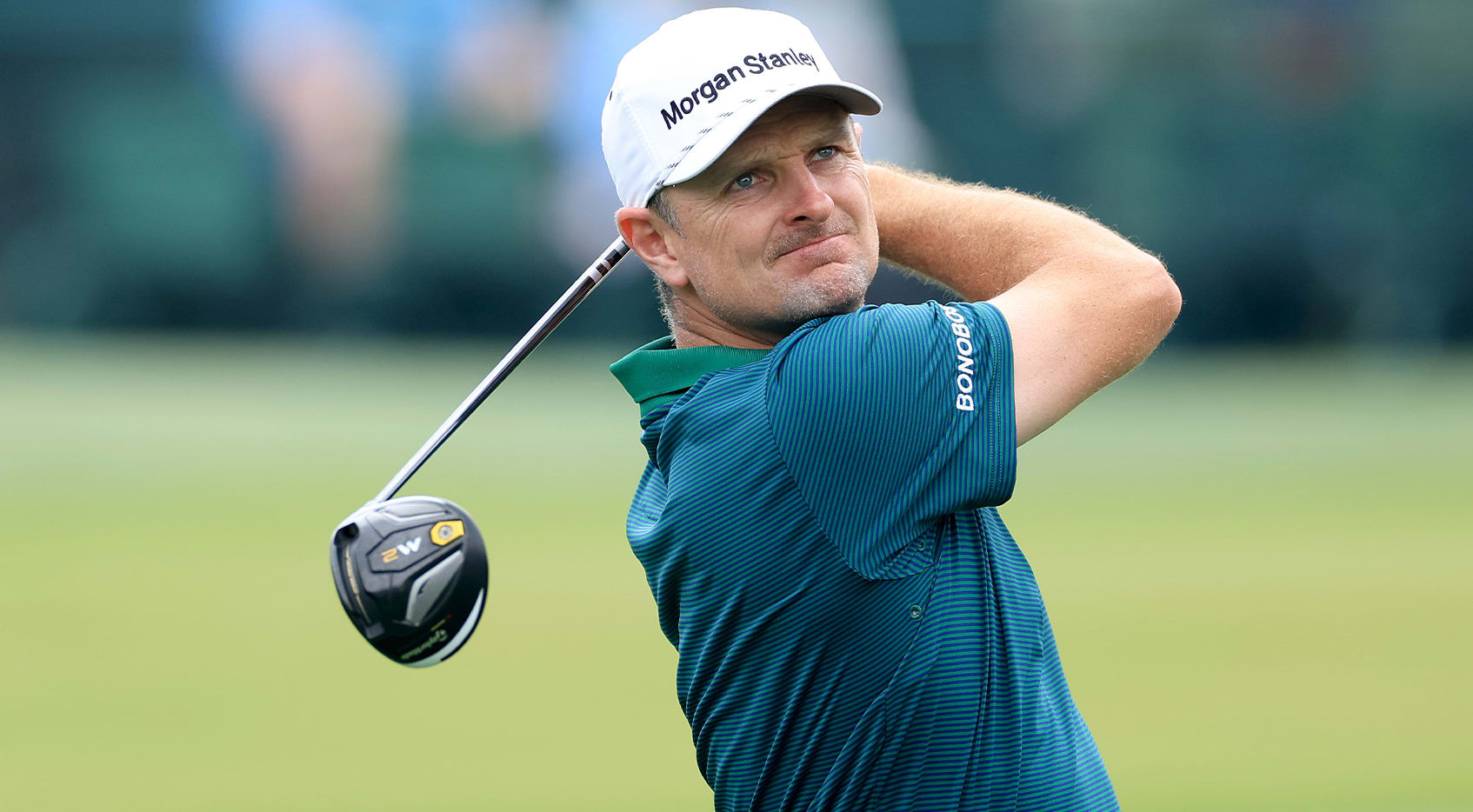 Justin Rose can change drivers often even including the 2016 Taylormade M2 in his arsenal. (David Cannon/Getty Images)
5. Justin Rose's driver(s)
Club specifications: Unknown
At 43 years old and playing in his sixth Ryder Cup, Justin Rose will undoubtedly be the driving force of veteran leadership on Team Europe.
When it comes to driving his golf ball, however, there are more questions than answers for the former U.S. Open champion.
Rose ranked in the top 30 of Strokes Gained: Off-the-Tee in his most successful six-year stretch, from his U.S. Open-winning season of 2013 to 2018, the year he won the FedExCup and reached No. 1 in the world for the first time in his career.
While he won the AT&T Pebble Beach Pro-Am this year to end a four-year winless drought, he is currently 119th in Strokes Gained: Off-the-Tee. The 43-year-old is 42nd in Driving Accuracy and 132nd in Driving Distance.
Rose has tried several drivers this year in an attempt to improve his play off the tee, choosing models from multiple manufacturers and looking at both the latest and greatest and clubs from his past. The former TaylorMade staffer has put the company's M2 from 2016 back in the bag for a stretch, as well as the M3 that was released two years later and this year's Stealth 2 Plus. He had an 8.5-degree Callaway Paradym in the bag when he won the AT&T Pebble Beach Pro-Am but in August he was using the M3.
Which driver will Rose use at the 2023 Ryder Cup? You'll simply have to tune in to find out.