Archive
How heavy does a 30-year Ryder Cup drought weigh?
U.S. Team looks for first win in Europe since 1993
When they faced the media at Whistling Straits, the U.S. Ryder Cup Team was reveling in their 19-9 rout of Europe, already a few cigars in and a few bottles of champagne deep.
They had just finished a historic rout of Europe with a youthful side many called the greatest of all time. There was no doubt the performance was dominant. It was elite. It was a monumental smackdown.
Immediately the talk began about a dynasty. This team will win for a decade or more. And most of the combatants wearing the red, white and blue were happy to hear it.
They were immediately posted as heavy-betting favorites for Rome in 2023.
As the love continued, there was a burning question on my tongue. Did they feel like there was still unfinished business? Did they realize they really weren't elite unless they did something no U.S. Team has done for 30 years and win away from home? Had they forgotten how they backed up a dominant 17-11 win at Hazeltine in 2016 with a 17.5-10.5 humiliation in Paris in 2018?
Xander Schauffele brushed off the question as not important in that moment and most of his teammates chuckled, nodding along. But then a leader of men emerged in Jordan Spieth.
"I feel I can speak to this, losing twice over there and also being part of the average age group," he interjected.
"This is unfinished business. We needed to win this one and it was a massive stepping stone for this team and the group that we have here that have really known each other since almost back to grade school," Spieth said.
"It's one thing to win it over here, and it is a lot easier to do so, but it is harder to win over there. If we play like we did this week, the score will look the same over there in a couple of years, and that's what we're here for."
However, this team looks different two years later. The 'grandfather' of the team at Whistling Straits, Dustin Johnson, won't add to a 5-0-0 performance in Wisconsin. He, along with Bryson DeChambeau, Tony Finau, Daniel Berger and Harris English won't return and are replaced by veteran Rickie Fowler, plus Ryder Cup rookies Sam Burns, Max Homa, Wyndham Clark and Brian Harman. That's almost half of the group being replaced from that 2021 dynasty.
As we head into tournament week in Rome, the U.S. remains the betting favorite to claim the Ryder Cup but now sits at just -125. The European Team has moved from +200 to +100 over the last few months, as Viktor Hovland emerged as the best in-form player in the world on the way to winning the FedExCup.
The hype of Whistling Straits is gone. Now history is starting to weigh heavy in bettors' and oddsmakers' minds. Not since 1993 has a U.S. Team won on European soil. The momentum over the last few months has most definitely swung to the Europeans.
One swing from every player on the U.S. Ryder Cup team
---
And I can see why. There are a few factors that absolutely must be considered as you make your betting choices this week.
Having been lucky enough to bear witness firsthand to the Ryder Cups in 2016, 2018 and 2021, I can vouch for home course advantage being MASSIVE. The home team dictates the course setup and tries to suit their strengths.
At Hazeltine and Whistling Straits, the fairways were mighty wide, and the holes plenty long. It was 'bombs away' for the U.S. Team, knowing they'd need to be unlucky to draw a bad lie, even with off-target shots. The firepower they possessed netted two big wins.
In Paris, with Europe in control, the fairways were pinched in and the rough grown, especially in the distance areas most common for the majority of the U.S. Team. The home side rode accuracy over power to an easy victory.
Early reports out of Rome show a similar setup. Even the gallery ropes are farther back than usual, so errant shots don't benefit from trampled-down grass. With Luke Donald as Captain and Edoardo Molinari as a Vice Captain, Europe has some very savvy statistical minds making sure the U.S. Team faces adversity if they don't bring their absolute best.
"It seems the way the Ryder Cup is going, the home team certainly has an advantage every time that we play this thing," Rory McIlroy said in the aftermath of Whistling Straits. "That was apparent in Paris a couple years ago and it was pretty apparent this week, as well."
"But there's phenomenal talent on that team," McIlroy said. "The most important thing for the U.S. Team is a lot of young guys that are great players have bought into the Ryder Cup. That was probably missing in previous generations. And having guys like that on the team, they are going to be formidable opposition from now until I'm probably not playing Ryder Cups, whenever that is, in hopefully 20 years' time."
The next factor that can't be ignored is the rookies. Home team rookies Ludvig Aberg, Nicolai Hojgaard, Robert MacIntyre and Sepp Straka will no doubt be nervous. But they have the masses on their side when it comes to crowd support.
In golf, there is nothing like the noise of a European crowd, in Europe, at a Ryder Cup. It rivals any noise, in any sport, in any contest in the world. At Whistling Straits, the world was coming out of the COVID-19 pandemic. There was barely a whimper of European fans able to make the trek, giving the U.S. near-blanket noise. The European rookies had very little emotional support.
Flip that to the U.S. rookies in Burns, Clark, Harman and Homa and they'll be facing a furnace they've never seen. I can already hear some of you saying Harman and Clark won majors. Homa and Burns played on the U.S. Team at the Presidents Cup last year. And I say…so what?
The pro-U.S. crowd at Quail Hollow last year is nothing like what they'll face in Rome. And as for the major winners, that is apples to oranges. There's no doubt dealing with pressure on a major Sunday helps an individual's experience, but this is team golf. This is magnified in front of a crowd baying for your blood. "Quiet Please" doesn't really apply here. You better be ready to be uncomfortable. And you better be ready to execute while you are.
And lastly. You MUST consider history.
Look – conventional wisdom and analytic facts probably tell you that previous contests have no bearing on future ones. Every time you toss a coin it has a 50% chance of being heads, even if heads has come up the last 20 times in a row. But sport is just different.
In sports, the power of a winning streak, or drought on the other side of the coin, can be a force of its own. And it comes down to the mentality of the players. When adversity comes and pressure ratchets up, you can either say "We've got these guys" or "Here we go again", depending on which side of the divide you sit.
Every little bounce of the ball that normally goes unnoticed is suddenly noticed. Every bad lie, every half roll of a missed putt, every ricochet off a flag or tree or sprinkler head suddenly has more importance attached to it.
Remember Hunter Mahan in 2010? A chip shot with everything riding on it is a different proposition from one with nothing on the line. It theoretically shouldn't be. It's just executing a skill the player has done thousands of times. But we are dealing with the human element and even the greatest athletes of all time have made errors in the heat of the moment.
The other part of history to consider is how painful defeat can be and how big it can be as a motivator.
Two years ago, the Europeans faced the press with the U.S. celebrations blaring in the background. Not much earlier McIlroy had burst into emotional tears on television as the rout became apparent.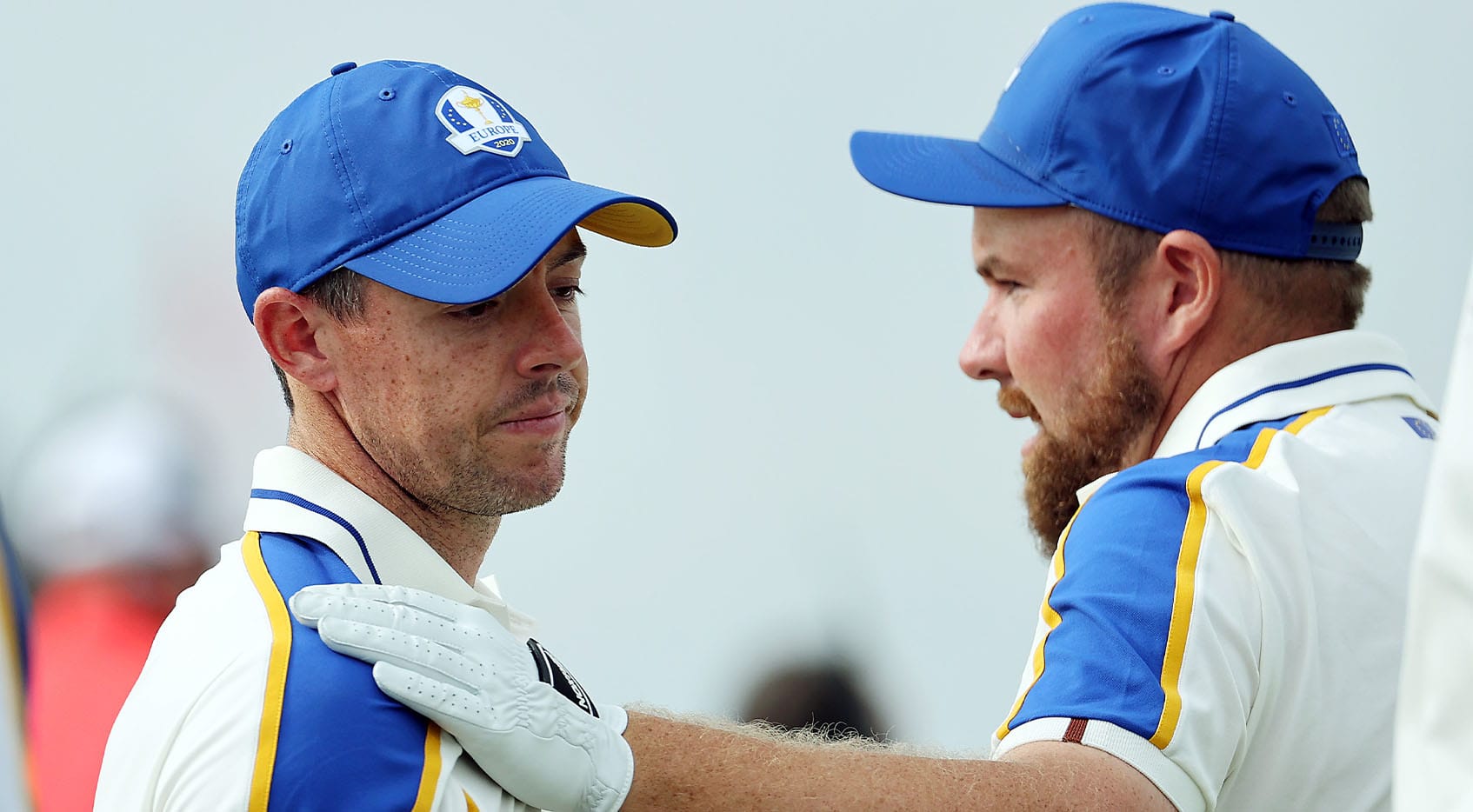 Rory McIlroy and Shane Lowry hug on the Sunday of the 43rd Ryder Cup at Whistling Straits. (Warren Little/Getty Images)
"I was emotional because it's a highly charged event and it sucks to lose, it really does," McIlroy said. "And listening to, "We Are the Champions" out there and those guys celebrating, hopefully, I'm on that team in Rome and we have that opportunity. It will make getting that Cup back even sweeter."
McIlroy's teammates that day nodded in unison. They had already begun that fight. Seven of them, including McIlroy, return for revenge.
BE
Senior Writer, Golfbet Follow Ben Everill on Twitter.