Archive
PGA TOUR unveils win, cut probabilities on leaderboard
A leaderboard is more than a list of names, scores and positional rankings. It's a numerical tapestry full of underlying themes, trends, data and detail.
Some view a leaderboard and think "Wow." Others, however, like Mike Vitti, PGA TOUR Senior Vice President of Data Science and Technology Solutions, and his team think "How?"
In a quest to add another layer of storytelling to the leaderboard on the PGA TOUR's website and app, Vitti, statistician Jacqueline Shelly and data architect Josh Oskwarek spent the past three years trialing, tweaking, evolving and perfecting an algorithm that adds important context to the scores.
Not only does this week kick off the 2023 FedExCup Playoffs, but it also marks the debut of the Win Probabilities feature on the TOUR's leaderboards. This exciting enhancement was made possible by the endless supply of data from ShotLink powered by CDW and the computing power of Amazon Web Services (AWS).
"Like any sport, there are people who are stat heads and want more and more stats to understand the game from a statistical angle, and there's those who are just enjoying it to enjoy the sport itself," Vitti said. "I feel something like this feeds both groups. There are certain times when people don't want to be beaten over the head with statistics, but stats like this help give context.
"Context is what's most important about data. Data for data's sake is useless."
Vitti began working on this algorithm while at home during the COVID lockdowns. It doesn't just measure a player's overall talent level in comparison to his competition but also determines how suited his skill set is for upcoming holes. It also factors in a player's performance that week and even that day to determine his chances of moving up the leaderboard.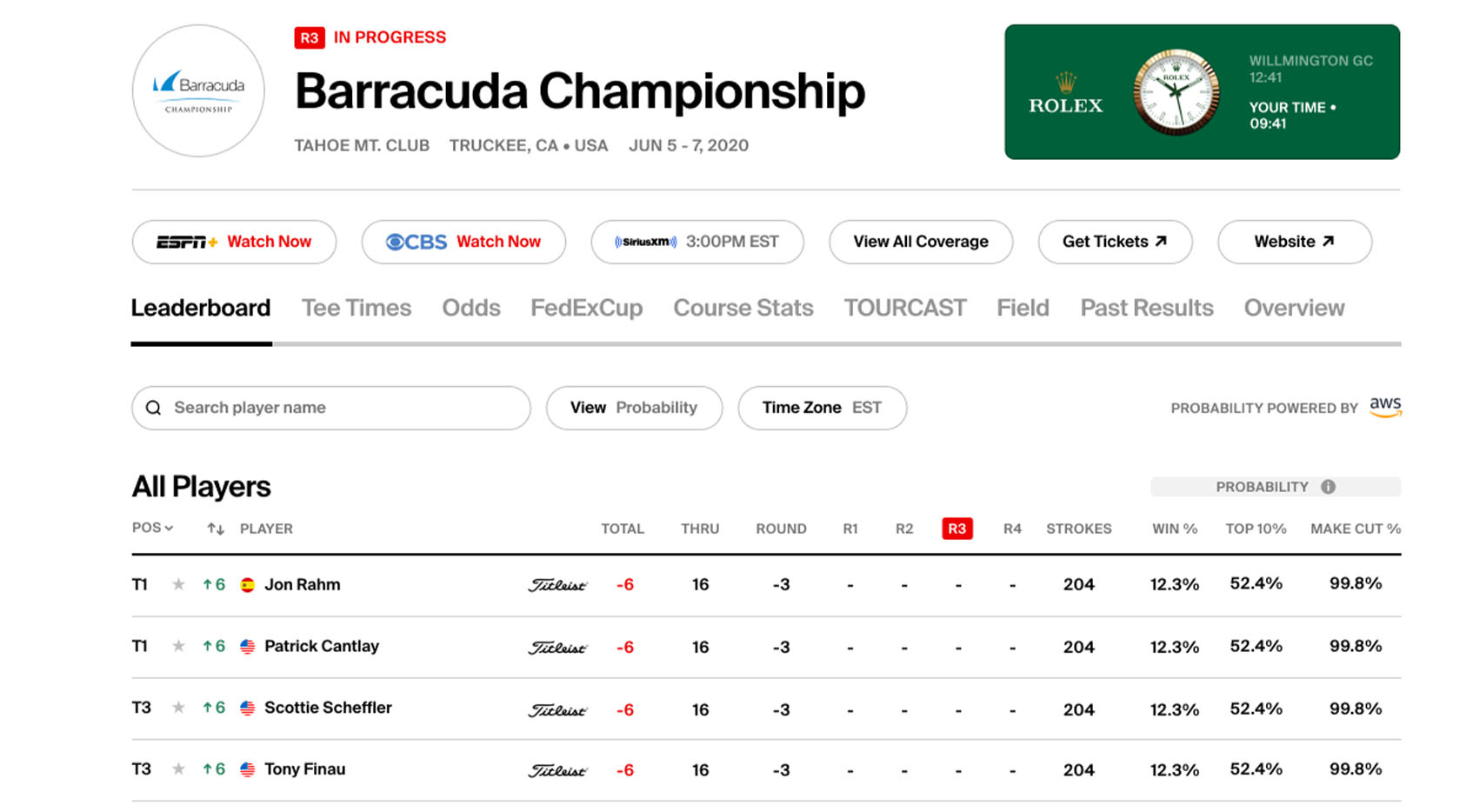 The Win Probabilities function – which will also measure a player's chances of making the cut earlier in the week – takes into account stats like Driving Accuracy, Greens in Regulation and more, combining those numbers with hole statistics and TOUR averages. Using AWS, the algorithm then runs 10,000 simulations for each hole for every player during every round for every previous tournament to determine pre-tournament probabilities.
While anyone can win any week on the PGA TOUR – as evident by first-time winner Lee Hodges' recent wire-to-wire performance and seven-shot victory at the 3M Open – most pre-tournament win probabilities will range from 0% to 8% per player, Vitti said.
As a tournament progresses, a player's real recorded score replaces his predicted score in all 10,000 simulations to provide up-to-the-minute, real-time probabilities that are recalculated and updated every 15 seconds. Fans can follow in awe as a player dominates the field or be on the edge of their seat as a player's win probability creeps higher and higher.
Unlike team sports where there is one set field, one ball and two teams playing simultaneously, on the PGA TOUR there can be up to 156 individual players with different playing characteristics across 18 holes at different times of the day to factor into any probabilities. That field of players changes week to week as well.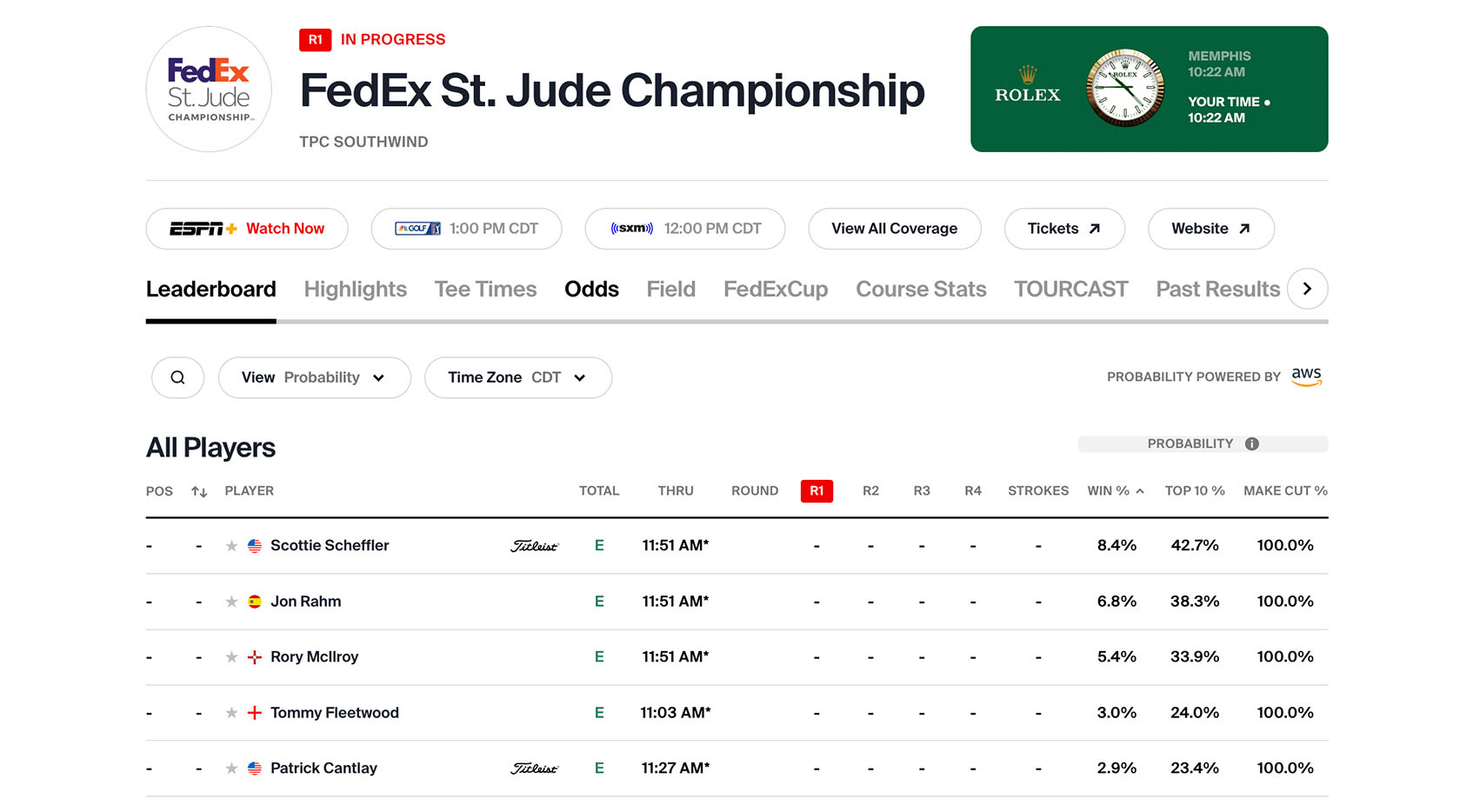 "The variables inherent to golf makes this a very different challenge," Vitti said. "A player can be on the range warming up to go out, and his probability to win just changed because of something that just happened on the third hole because someone else made a birdie or bogey.
"Every 15 seconds we're recalculating every player's probability based on what happens on the course. We do this from the first tee shot to the last putt of every round."
After finessing the algorithm, Vitti noted that he and his team have been testing, tweaking and improving the Win Probabilities function for more than a year behind the scenes before rolling it out on TOUR platforms.
The ever-evolving process included determining which statistics to factor in, including a player's performance over the last five events as well as his early-round scoring compared to late-round scoring because not all available statistics are relevant or necessary in the calculations.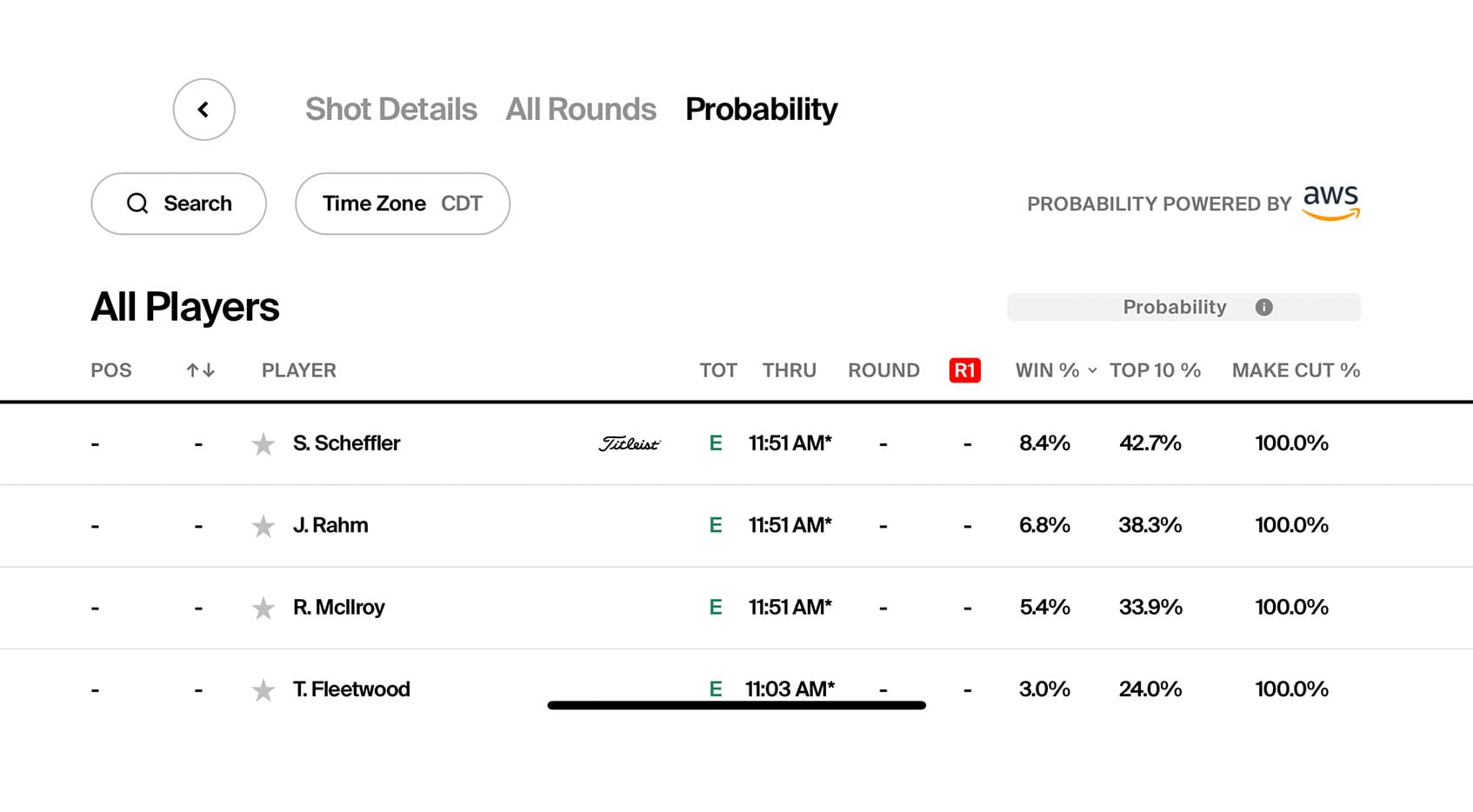 "Win Probabilities was a unique engineering challenge to tackle with the PGA TOUR and showcases how technology is transforming golf and sports analytics," said Brian Taptich, AWS Vice President of Strategic Initiatives. "Leveraging a range of flexible AWS Services like compute, storage, analytics and machine learning, the PGA TOUR was able to easily scale resources based on their needs and add another layer of sophistication to golf analysis for their fans and players."
While Vitti said the TOUR has already simulated the 2023 FedExCup Playoffs as well as the 2023-24 PGA TOUR season, golf always remains an unpredictable endeavor. But the new PGA TOUR leaderboard will help fans better understand all the potential outcomes.
"It's entertaining and fun to watch," he said. "There are really interesting things about it that I think people will enjoy. The pre-tournament stuff is fun, but watching the probabilities during the event is compelling."