Archive
The chance encounter that resurrected Ben Griffin's career
Ben Griffin's sliding doors now wide open for PLAYERS weekend
PONTE VEDRA BEACH, Fla. – There's a romantic comedy from a quarter-century ago, "Sliding Doors," where the main character's life hinges on whether she catches a train.
The same idea applies in golf, with countless stories of make-or-break putts that send players' careers into divergent directions. Sometimes, though, the moment is more subtle and occurs off the course.
Ben Griffin's sliding doors came in spring 2020, beginning the week of THE PLAYERS Championship. They involved a chance reconnection between his trainer and a friend from Penn State more than three decades ago. Little did Griffin know that when the event was canceled after Round 1 due to the emerging C OVID-19 pandemic, the seeds were planted for a mutually beneficial arrangement that would save his professional golf life.
A year later, Griffin thought he was "done," burnt out from the stressors and financial uncertainty of the professional game. He didn't want to ask for handouts. He stepped away from athletics, pursuing a second career as a mortgage loan officer in his native North Carolina.
Griffin attended the 2020 PLAYERS Championship as a fan. This week brings a role reversal. The patrons are out to watch Griffin (literally; a bachelor party is following him), and he's putting on a show. The TOUR rookie has opened his first PLAYERS Championship with rounds of 67-71 at a feisty TPC Sawgrass. His 6-under total is the lowest score in the house, as half the field did not complete the second round Friday due to storms at THE PLAYERS Stadium Course. Christiaan Bezuidenhout (thru 14) and Adam Svensson (thru 11) share the lead at 8 under, with Griffin in a tie for third.
Three years ago, Griffin's trainer Randy Myers reconnected with an old Penn State friend, Doug Sieg – former college quarterback, now CEO and managing partner of Lord, Abbett & Co., a global investment management company headquartered in New Jersey. The chain of connections sparked Griffin's return to professional golf, after he left the game due to burnout and financial difficulties. Now he enters the weekend spotlight at THE PLAYERS.

"If it weren't for Doug Sieg and Lord Abbett … he offered to pay all of my expenses for two years to play professional golf," Griffin said after signing his card Friday at TPC Sawgrass. "He saw something in me that some other people may have saw, but he was able to put the check forward to me to allow me to play professional golf.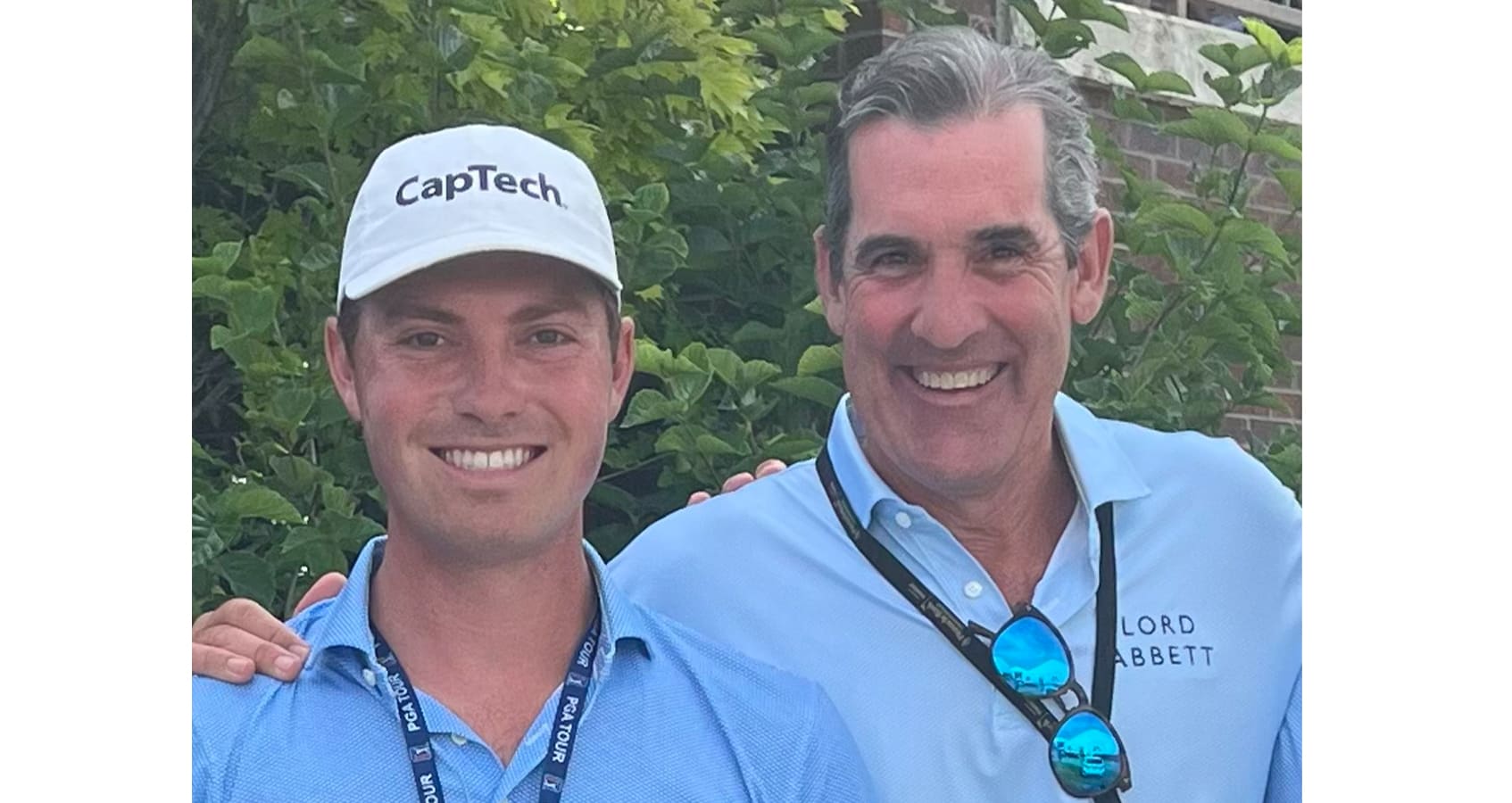 "As a golfer, when you're starting up, that is a humongous sigh of relief and huge for your confidence and everything, because you don't have to think about anything but winning. Before, I'm thinking about, 'Alright, how am I going to pay my rent, how am I going to pay my food?' I'm not going to get guac at Chipotle; that's what Viktor Hovland used to say. It's stuff like that that's real."
In fall 2021, his peace of mind secured by way of funding, Griffin advanced through three successive stages of Q-School to earn 2022 Korn Ferry Tour membership. He wasted no time in earning his first TOUR card, earning enough points by June to all but ensure his graduation to the TOUR. He has shown an accelerated learning curve, entering THE PLAYERS at No. 35 on the FedExCup standings.
Sieg remembers vividly the call where Griffin declared he would trade back his suit and tie for a golf shirt and pants, returning to the week-to-week traveling circus that is professional golf, in pursuit of his lifelong dream of winning on the PGA TOUR.
When Griffin decided in early 2021 to step away, he was resolute. When he decided to return, he was equally resolute.
"When he got on the phone and said, 'I can't see myself doing anything other than being a PGA TOUR professional and eventually winning on the TOUR,' I literally got chills," Sieg said. "On the day he spoke to me and said he was going to leave golf, to the day he said, 'I can't live without doing this and chasing the dream,' it was two different people."
Griffin, 26, hasn't yet won on TOUR, but he's been close, a T3 at last fall's Butterfield Bermuda Championship – he led on the back nine Sunday – among six top-25 finishes.
He'll aim to raise his first title this weekend at THE PLAYERS, three years after the bedrock of his financial foundation began to take shape.
Randy Myers is the longtime director of fitness at the Sea Island Golf Performance Center, less than two hours up the road from TPC Sawgrass. Myers attended the opening round of the 2020 PLAYERS, then returned to work Friday. The schedule included a 15-year-old junior golfer, Taylor Sieg – Doug's daughter.
Myers had previously served as a graduate assistant strength coach at Penn State, at the time Sieg played QB.
"I hadn't seen Doug in 30 years," Myers said. "I have the appointment with (Taylor), and in walks this guy, he's 6'5'', he looks familiar to me … he's looking at me, I'm looking at him. He's like, 'Did you go to Penn State?' I'm like, 'Yeah, how'd you know?' He's like, 'You were my strength coach my freshman year of college.'
"I'm like, 'What the hell!' like 30 years never went by. We reconnected, and he ended up staying during COVID … out of the blue."
Shortly after graduating from the University of North Carolina in 2018, Griffin moved to St. Simons Island, Georgia, a professional golf hotbed with residents including Davis Love III, Zach Johnson and Keith Mitchell – and several young pros on various developmental and pathway tours. Myers works with several, including Griffin, and one day Sieg mentioned to Myers that Lord Abbett might be interested in sponsoring a young pro if the circumstances aligned. Lord Abbett was new to this nature of sports marketing, but golf aligned with core company values of trust, honor and ethics. An avid golfer himself, he also held an appreciation for the demands of reaching the game's highest level.
"I have never seen anything in my life more impressive than what these golfers do to get on the PGA TOUR," Sieg said. "Hands down. I don't think the world knows it. You have to spend hundreds of thousands of dollars, the tension level is so high, you have to go through Q-School.
"I remember talking to him at Final Stage of Q-School … Sunday got rained out, he was sitting in his hotel room the whole day. I remember giving him a call; you get on the Korn Ferry Tour and you can't shoot 67 and be great. You've got to shoot 64. It's a gauntlet from that standpoint, just so impressive. There's no other sport like that, in my mind, to get to that level."
While spending time at St. Simons Island in spring 2020, Sieg and Griffin had a chance encounter of their own. Sieg and his daughter Taylor went to Sea Island's Plantation course for a late-afternoon nine holes. The course was bustling, so Griffin and a friend paired up with the Siegs.
"You could tell they were pro players from that standpoint … I said to my daughter, 'I don't know what we just got into,'" Sieg laughed. "They went back to the tips and completely hammered two drives down the middle. Ben was such a great kid, couldn't have been any nicer. Played nine holes and really enjoyed it; didn't think anything of it."
The next day, Myers sent Sieg a note with a picture of Griffin working out. Serendipitously, it came with an endorsement of Griffin's character and work ethic.
"He said, 'Hey, if Lord Abbett ever wants to sponsor a great young golfer who is going to kill it, Ben's your guy,'" Sieg recalled. "And we went back-and-forth and laughed about it. I just remember being so impressed by him and what a good guy he was."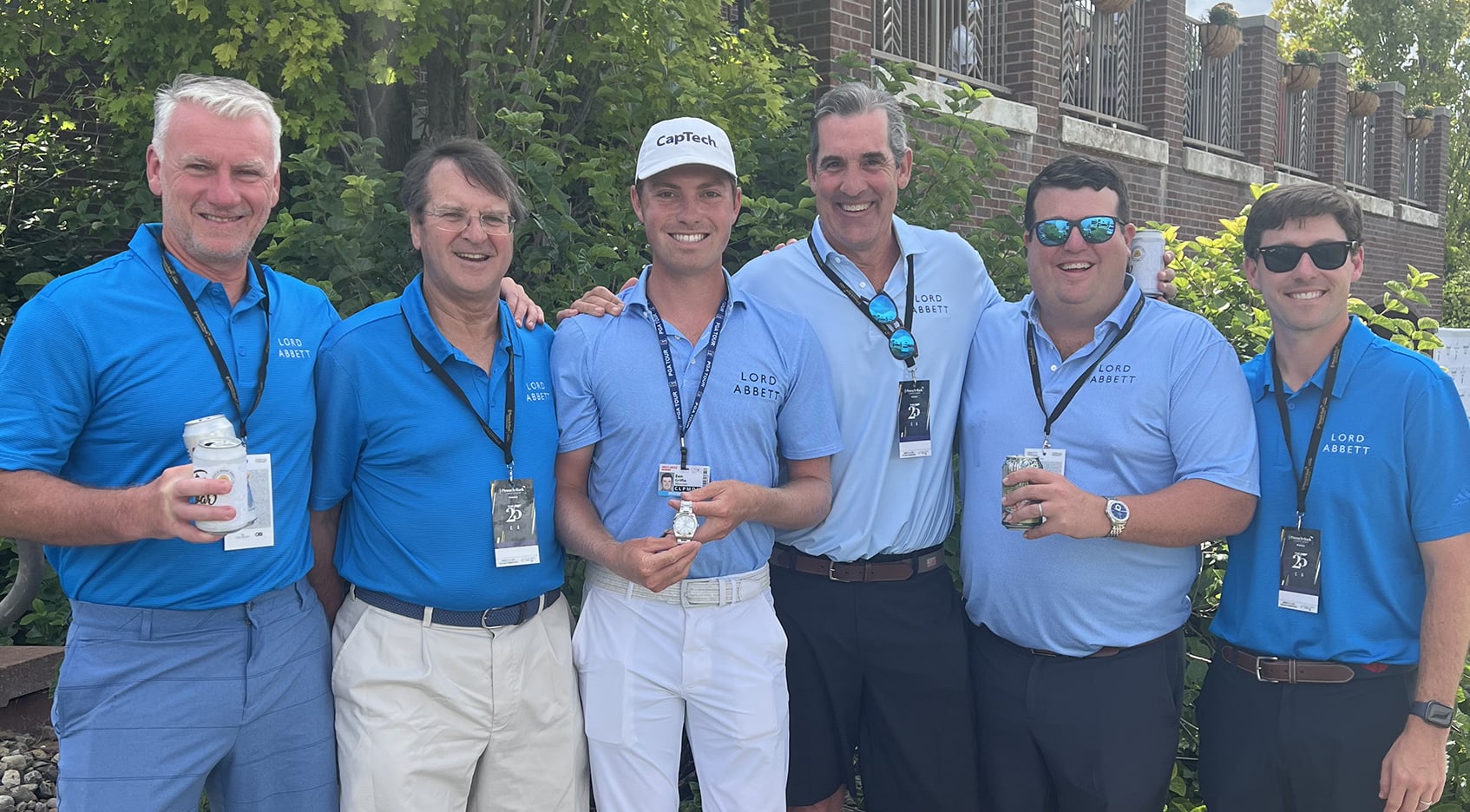 Sieg eventually returned to the New York metroplex; they reconnected in April 2021, as Griffin was readying to leave professional golf. "He just needs to take some time off," Sieg recalled thinking to himself.
Sieg told Griffin to call if he changed his mind, or if he "wanted somebody to help change your mind." The comment was lighthearted, but the exchange resonated.
"I remember getting off the call saying, 'He's a person who has worked very hard at golf his entire life, but like a lot of people during the pandemic, he really felt like he appropriately needed some time off from that standpoint,'" Sieg said. "Wished him well, said, 'Let's keep the lines of communication open from that standpoint if anything changes.' So I was thrilled to get the phone call six months later that I got."
A series of events pushed Griffin back into the game – some of the mind-clearing variety, like weekend trips to the lake with friends, to the profound like a day he accidentally pulled up to the golf course while driving to the office. His grandpa Douglas, one of his biggest fans, had recently passed away; the obituary included the motto "Hit them long and straight."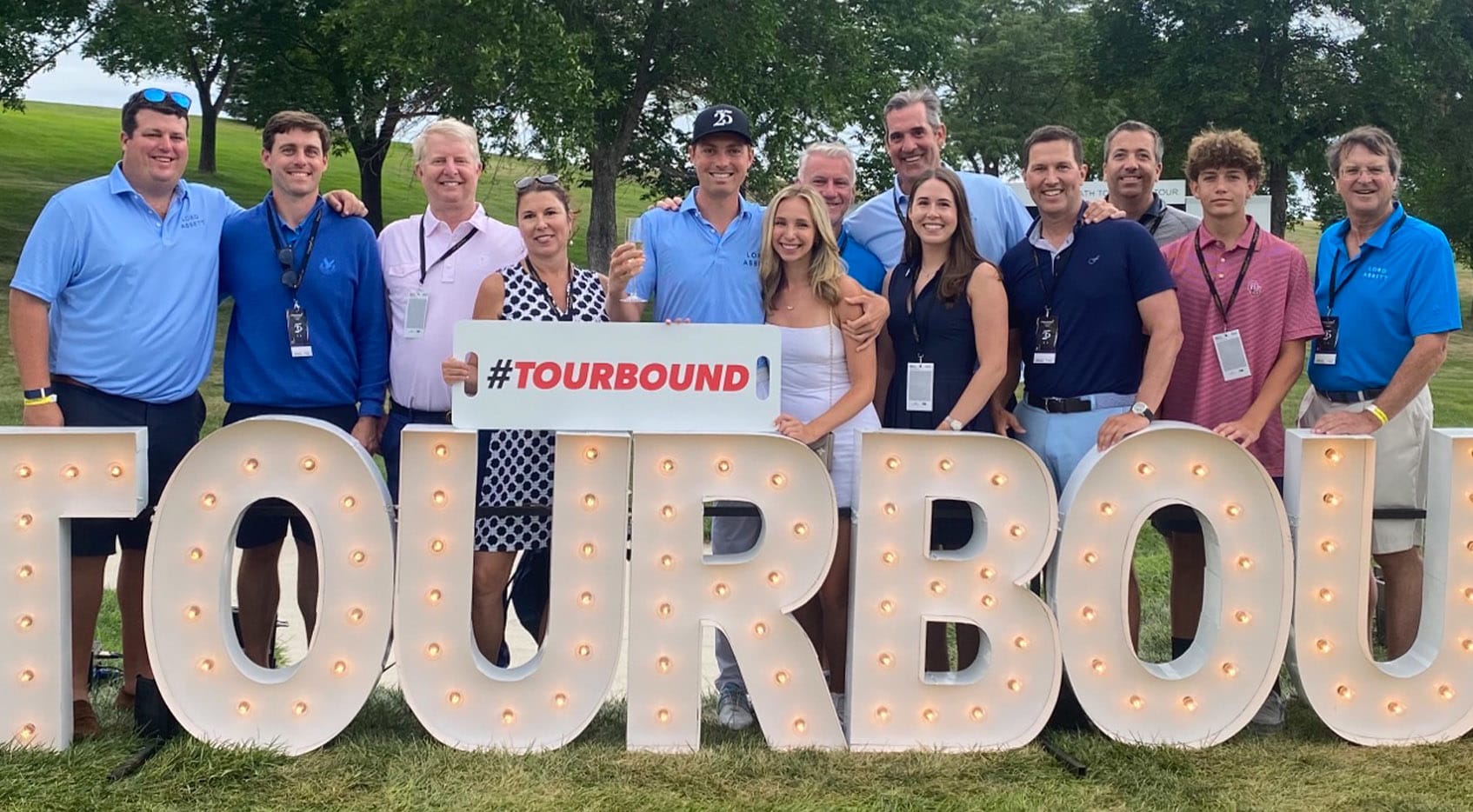 That summer, Griffin also Monday qualified for the Korn Ferry Tour's Price Cutter Charity Championship presented by Dr Pepper, and he received a meaningful offer from Mike Swann and Jesse Ahearn, members at host club Highland Springs CC. They were willing to fund Griffin's Q-School entry fee.
"When I was in talks about coming back to golf, I told (Doug) and Jesse and Mike, 'If I am going to make a run in professional golf, I can't have any sort of financial burden,'" Griffin said last summer, shortly after clinching his TOUR card via the Korn Ferry Tour. "I'm spoiled to say that right now, but that's the way it is. If you have any of that on your mind, it's just going to be something you have to deal with, and for me it's one less thing I have to worry about.
"The less thinking, the more I can focus on competing and doing and trying to win."
With the resultant backing, and support from his inner circle including his parents, Griffin felt empowered to make a return to professional golf. It has brought him once again to TPC Sawgrass, not as a fan, but as a central figure entering the weekend competition.
Griffin attended the 2020 PLAYERS just a few months after losing Korn Ferry Tour status. He was appreciative of an invitation to a player box at the Tuesday night Chainsmokers concert – watching alongside Collin Morikawa.
Griffin was a mini-tour player, Morikawa a TOUR pro. Now they're peers.
"You have a lot of credit card debt, and you're trying to make ends meet," Griffin said of his life in 2020. "I'm just blessed to have money in my bank account and be playing against the best in the world."
The doors slid in his favor, and then some. He'll never take that for granted.
Kevin Prise is an associate editor for PGATOUR.COM. He is on a lifelong quest to break 80 on a course that exceeds 6,000 yards and to see the Buffalo Bills win a Super Bowl. Follow Kevin Prise on Twitter.