Scorecard
---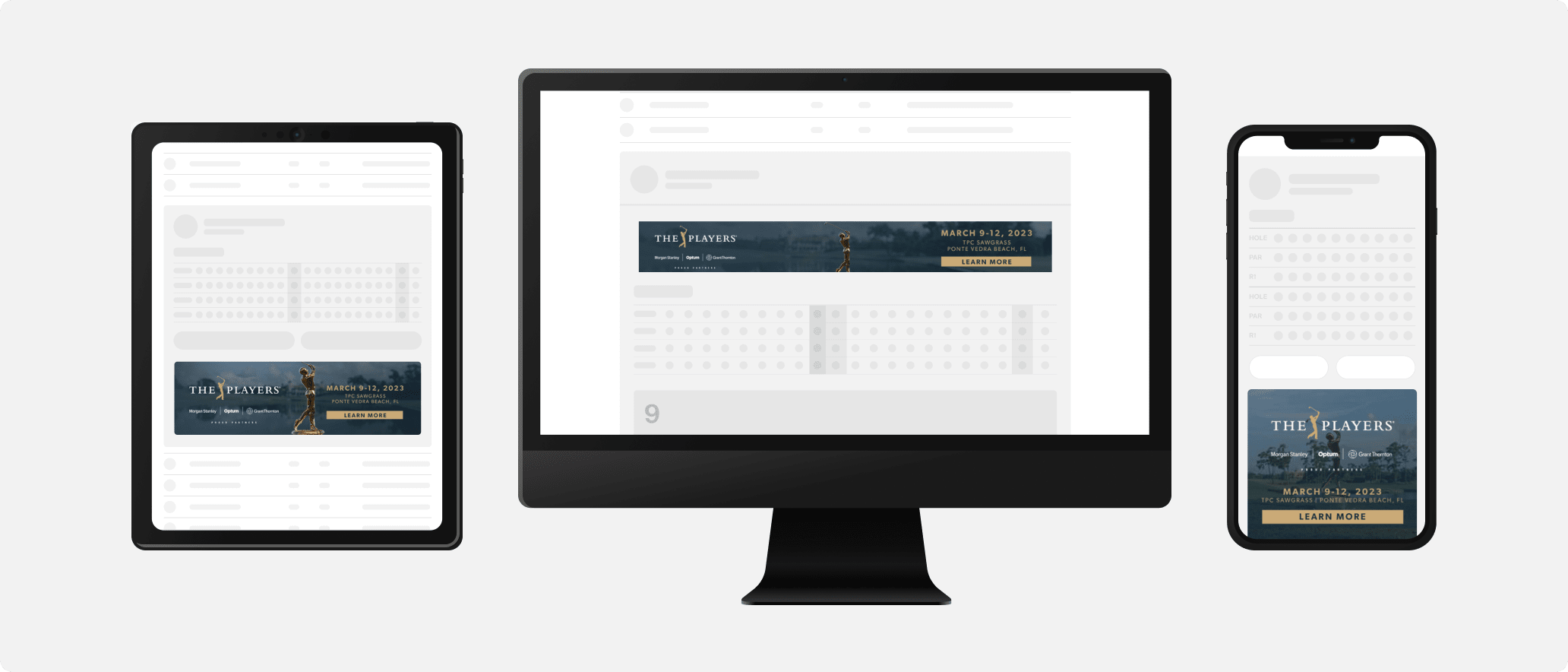 Premium high-impact leaderboard placement in a high traffic location. As a part of the high-impact bundle, the scorecard serves in tandem with the homepage mid-content and top positions for mobile, tablet, and desktop users. The scorecard position is often bundled with our other High Impact offering, sharing the same rich media options, as well as PSD design template.
• Desktop: 970x90, 728x90
• Responsive based on user device and PSD template build out
PSD Template - REQUIRED For Rich Media Build
Please provide layered, organized PSD files to allow for interactive animation and responsive scaling; Separate branding and messaging from the background image. Fonts: .otf, .ttf. Lead time is 12-14 business days.
• If Animated: Layered, organized PSD files to allow for additional interactive animation and responsive scaling; Separate branding and messaging from the background image.
• Scorecard Canvas Sizes included in High Impact PSD file
• Image Canvas Sizes: 970x110, 704x120, 335x120
• Image Files .jpg, .png, .gif
• Logo File Type: .svg, .eps
• Font File Type: otf, .ttf
Rich Media Dimensions:

Desktop

970 x 110

Tablet

704 x 120

Mobile

335 x 120
Rich Media Video Asset Requirements:

Resolution

1080p - 1920 x 1080

File Type

.mp4, .mov

Recommended Length

6 - 15 seconds

Codec

H.264 MP4 & VP8 WebM, MOV, AVI

Audio Bitrate

128 kbps minimum

Audio Codec

AAC / MP3 / MP4
Standard Banner Requirements (if chosen):

Accepted Formats

GIF, JPG, HTML5

Loop Limit

3, 15 seconds maximum

FPS

24 fps, 200KB - 300KB load file size

3rd Party Tracking

Yes

Creative Versions Accepted

3 maximum

HTML5 environment

Display & Video360
PSD Design File - Photoshop Template
As a part of our design process, the PGA TOUR requires clients to submit a layered Photoshop file including all assets, text files, logos, and more. This is the most efficient & effective way to bring designs to life on PGATOUR.COM. Complete each required canvas size in the PSD to utilize ads on all platforms, including; desktop, mobile, and tablet. The expected lead time is 12-14 days to launch.
Keep the brand promoted in the creative present the whole time. Ensure logos are outlined, or use a color that does not blend with the background color. Keep brand text bold/colored to stand out. The user should never lose track of the brand promoting the creative.
Integration of video within creative helps elevate the creative and promotes further engagement beyond a 'click' with a user; captures longer attention time and helps promote brand storytelling. When implementing video assets in high impact ad-slots, please deliver video assets separately from the PSD file.
Strong product imagery or brand graphic treatment. Allow your brand to stand out with clean photography that feels native to the ad unit and the website.
Typography intersects well with the colors and graphics incorporated in the creative; the strategy helps the text stand out and not be cluttered by the imagery/graphics incorporated in the creative. Simple headlines that stand out, grabbing the user's attention lead to higher engagement.