Archive
Scottie Scheffler enlists new putting coach before Ryder Cup
GUIDONIA MONTECELIO, Italy – Once his season was over, Scottie Scheffler didn't wait long. He knew he needed to get ahold of Phil Kenyon.
Kenyon is arguably the PGA TOUR's top putting coach, working with the likes of Max Homa and Tommy Fleetwood, and Scheffler wanted to be the next player to seek his counsel.
Scheffler didn't want to make a change in the middle of the season, so he reached out just hours after the TOUR Championship.
Scheffler knew what the stats said. They were impossible to ignore. He was having an all-time ball-striking season – leading the TOUR in Strokes Gained: Off-the-Tee and Strokes Gained: Approach-the-Green – but his struggles on the green didn't allow him to capitalize on his good shots.
Sure, Scheffler won twice in 2023, at the WM Phoenix Open and THE PLAYERS Championship, and was a consistent contender, but it was a classic "what could've been?" How many of those top-10s could have been victories if Scheffler had putted like an average PGA TOUR player?
He is 151st in Strokes Gained: Putting (out of 184 players) this season, a fall of nearly 100 spots from his PGA TOUR Player of the Year season in 2022.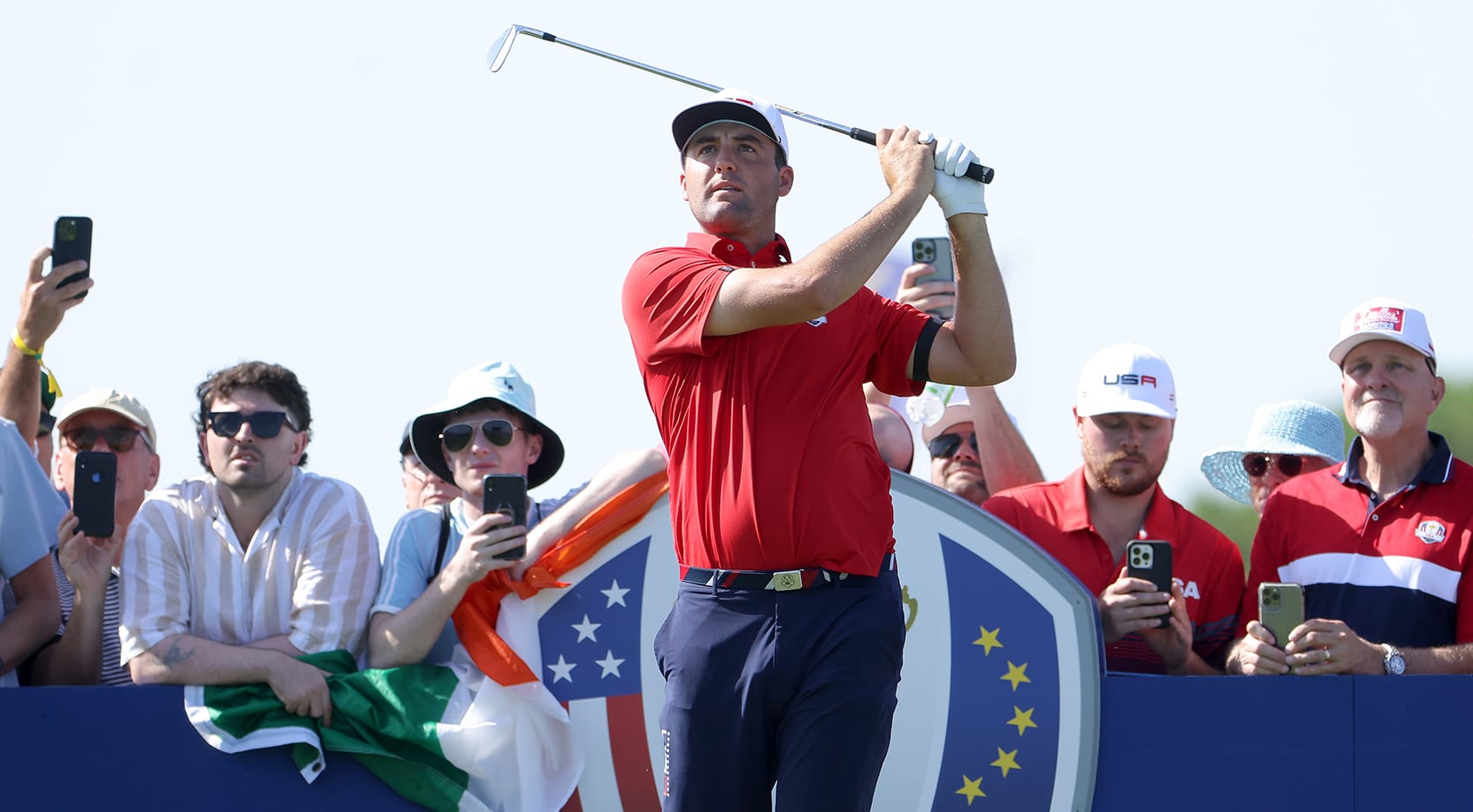 Scottie Scheffler led the TOUR in Strokes Gained: Off-the-Tee and Strokes Gained: Approach-the-Green this past FedExCup season. (Jamie Squire/Getty Images)
Scheffler's putting became a source of frustration, and the constant inquiries about his stroke and putter changes only exacerbated the issue. But he is optimistic about his future, believing he is headed in the right direction. The relief was evident in his pre-tournament press conference at the Ryder Cup. He spoke at length about his work with Kenyon, explaining in detail the changes they've made without any signs of impatience.
"I feel the benefits already," said Scheffler, the top-ranked player in the world.
Scheffler is playing his second Ryder Cup this week after a successful debut at Wisconsin's Whistling Straits, where Scheffler went 2-0-1 and beat then-No. 1 Jon Rahm in Singles.
"I see the ball rolling end over end a lot more than I did a month ago, and it's exciting," Scheffler added. "It's good for me to have a little bit of direction. I think the second set of eyes with Phil was really, really helpful. It was good to get my brain in order and feel like I'm working in the right direction versus playing a bit of a guessing game."
Kenyon visited Scheffler in Dallas days after this year's TOUR Championship and was able to identify the solution to a problem Scheffler had been trying to fix throughout 2023. Scheffler knew the toe of his putter was lifting off the ground through impact, but his solution only exacerbated the problem.
"I was trying to fix it in the complete wrong way," Scheffler said. "I would lower my hands. But when I lowered my hands, it actually caused the toe of the putter to go higher and higher. So as the year went on, my hands are getting lower and lower, and the problem is getting worse and worse."
Scheffler said the fault led to him hitting too many putts off the heel of his putter. That made it hard for him to start his putts on the correct line.
Scheffler has switched to a thicker SuperStroke grip and now chokes down on his putter. Those changes put the putter grip more in his palms and make him bend over a bit more at address, allowing him to simply move the putter with the turn of his torso instead of relying on his hands, which may be Scheffler's most valuable asset.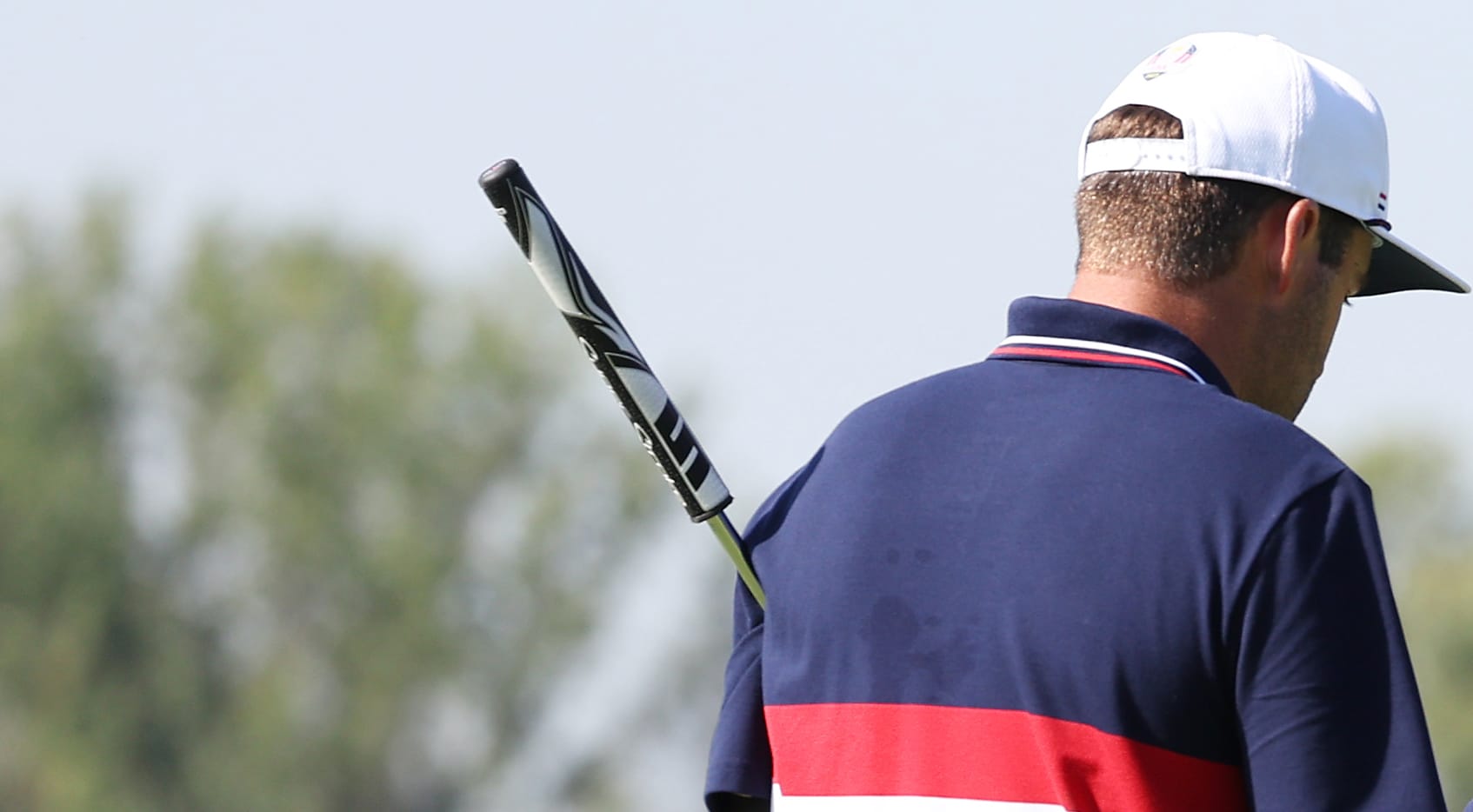 A closer look at Scottie Scheffler's new SuperStroke grip. (Jamie Squire/Getty Images)
The Ryder Cup will be the next test for Scheffler's new stroke. Putting on the practice green of your home club is much different than doing so in one of golf's most stressful events.
If Scheffler's putting has been fixed, or even has improved over the past month, it will be a huge asset in the United States' quest for its first road Ryder Cup victory in 30 years. Kenyon is the first coach Scheffler has worked with other than Randy Smith, who's been Scheffler's instructor since he was 7 years old. Scheffler said Smith was supportive of any change that Scheffler thought would be helpful.
The move does put Kenyon, an Englishman, in the awkward position of helping an American win the Ryder Cup.
"I told him his stuff is going to work so well he's not going to be welcome back at his home club when he gets home after the Ryder Cup," Scheffler said.
SM
Sean Martin is a senior editor for the PGA TOUR. He is a 2004 graduate of Cal Poly-San Luis Obispo. Attending a small school gave him a heart for the underdog, which is why he enjoys telling stories of golf's lesser-known players. Follow Sean Martin on Twitter.