Archive
Tony Finau outduels Jon Rahm at Mexico Open
Finau secures sixth TOUR title, three strokes clear of world No. 1 at Vidanta Vallarta
The close friendship between Jon Rahm and Tony Finau could be felt on the final hole Sunday at the Mexico Open at Vidanta, epitomized by a heartfelt embrace just before Finau putted out to solidify a three-stroke victory over the recent Masters champion.
Rahm and Finau play out of the same club in Arizona – Silverleaf GC – and have had some recent final-round duels on the PGA TOUR, including Sunday at Vidanta Vallarta. But despite Rahm's recent resume of big-time wins and big-time tournaments, it was "Big Tone" who topped the world No. 1 in a script-flip from a year ago, when Finau finished second to Rahm in Mexico.
"'I believe (Arnold Palmer) said, 'The path to success is always under construction,' and that couldn't be any more true," Rahm said. "It's a great reminder that what you've done means absolutely nothing; you still have to go out there and do it."
Finau finished 24 under at Vidanta Vallarta, three strokes clear of Rahm for his sixth PGA TOUR title. He did indeed 'go out there and do it.'
Tony Finau cruises to victory at the Mexico Open
Finau held a two-shot advantage through 54 holes and birdied three of his first seven holes to keep the chasers at bay in Sunday's finale. He added two more birdies on the back nine before cruising home.
"Very happy just with the four rounds I was able to put together," Finau said. "And I knew today was going to be a tall task going against (Rahm) with the form that he's in. I was really put to the test and came out on top, which feels great."
With his win, Finau has back-to-back multi-win seasons on TOUR for the first time in his career. And he becomes just the fourth player so far this season with multiple wins including Max Homa, Scottie Scheffler and Rahm – who has four titles already. Homa and Scheffler have two apiece.
This was Finau's fourth PGA TOUR title in his last 18 months, but it didn't come easy.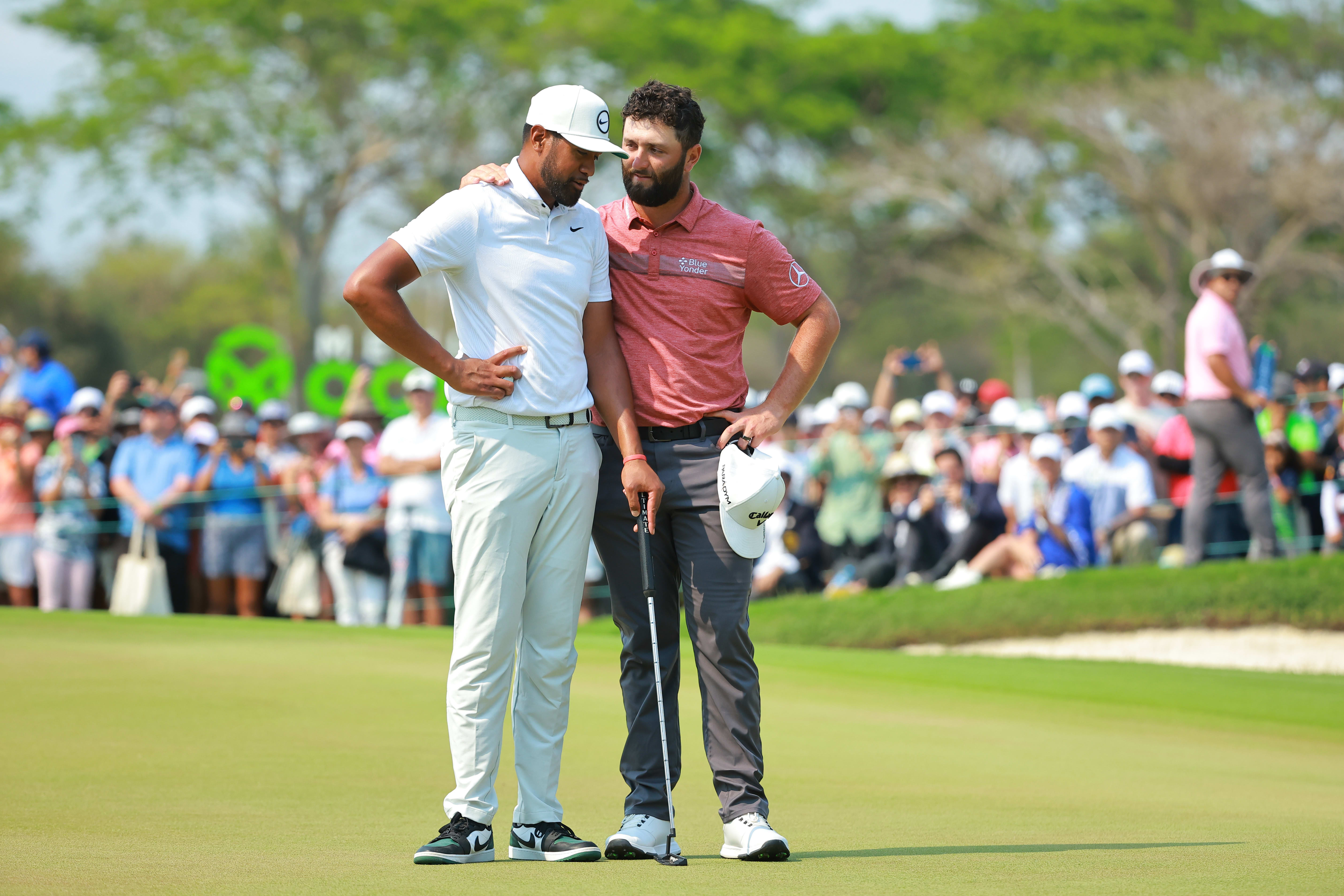 Jon Rahm congratulates Tony Finau after winning the Mexico Open at Vidanta. (Hector Vivas/Getty Images)
"It seems no matter how many shots you're ahead, you're just so focused on getting in the clubhouse to win the golf tournament. When I hit that third shot on 18, I was like all right, I don't think I can screw this up now," Finau said with a smile.
Finau was also able to hold off a hard-charging Brandon Wu, who held a share of the lead after starting off Sunday 5 under through seven holes. Wu bogeyed No. 8, however, and made a costly double bogey on the par-4 10th – which played as the most difficult hole of the week for the second year in a row.
Ironically enough, last season's Mexico Open leaderboard was Rahm in first with Finau and Wu tied for second (along with Kurt Kitayama). This year it was Finau in first with Rahm in second and Wu in third.
"I think going toe-to-toe with two of the best players in the world is good," said Wu. "It's great experience, good to kind of feel the emotions, know how to stay calm in the moment and stay focused on myself."
For Finau, he experienced a litany of emotions a year ago after busting a winless draught with back-to-back victories in the summertime at the 3M Open and Rocket Mortgage Classic. Finau won the Cadence Bank Houston Open in November, a week after missing the cut at the World Wide Technology Championship – his only early exit of the season.
Finau's last four margins of victory: three, five, four, and now three shots, respectively. Those wins came after his first two were in playoffs.
"My mindset on Sundays, I think, has just changed," Finau said of what has changed since the playoff victories. "You never get comfortable with the lead. That's my nature anyway is to be an aggressive player. I always have been that way and so Sundays are starting to shape up better for me since I've been in contention, but I think I just have learned a lot."
One could sense that another breakthrough from Finau this season was coming.
While he has had just two top-10 finishes since the calendar turned, he stood fourth in Strokes Gained: Total. While he was 44th in Strokes Gained: Putting so far this season heading into the week, he was eighth at the Mexico Open. The lone part of his game that was holding him back was a key strength this week.
And with all parts of his game firing – and with an impressive effort against the world No. 1 – Finau managed to come out on top. It was made even more special, he said, as a national open.
"I would say if you guys accept me as a Mexican, well, here I am," Finau said to a round of applause. "To be able to win here is extremely special."
Tony Finau's Round 4 winning highlights from the Mexico Open