Archive
3Mgives Golf4All Day introduces Greater Minneapolis' underserved communities to golf
Over 600 kids hosted at TPC Twin Cities through partnership between 3Mgives and the 3M Open
Tuesday was a busy one at the 3M Open.
Not only were defending champion Tony Finau and his peers on property prepping for the penultimate event of the PGA TOUR's regular season, TPC Twin Cities played host to 600 pre-teens and teenagers at its second annual Golf4All Day.
To the uninitiated, entertaining so many kids might seem like organized chaos. But there was definitely a method to the madness – and all the excitement – that ensued.
Golf4All is a partnership between 3Mgives and the 3M Open that aims to introduce youngsters from Greater Minneapolis' underserved communities to golf. But this was not just a 'put a club in their hands and teach them how to swing' kind of event, although that opportunity existed.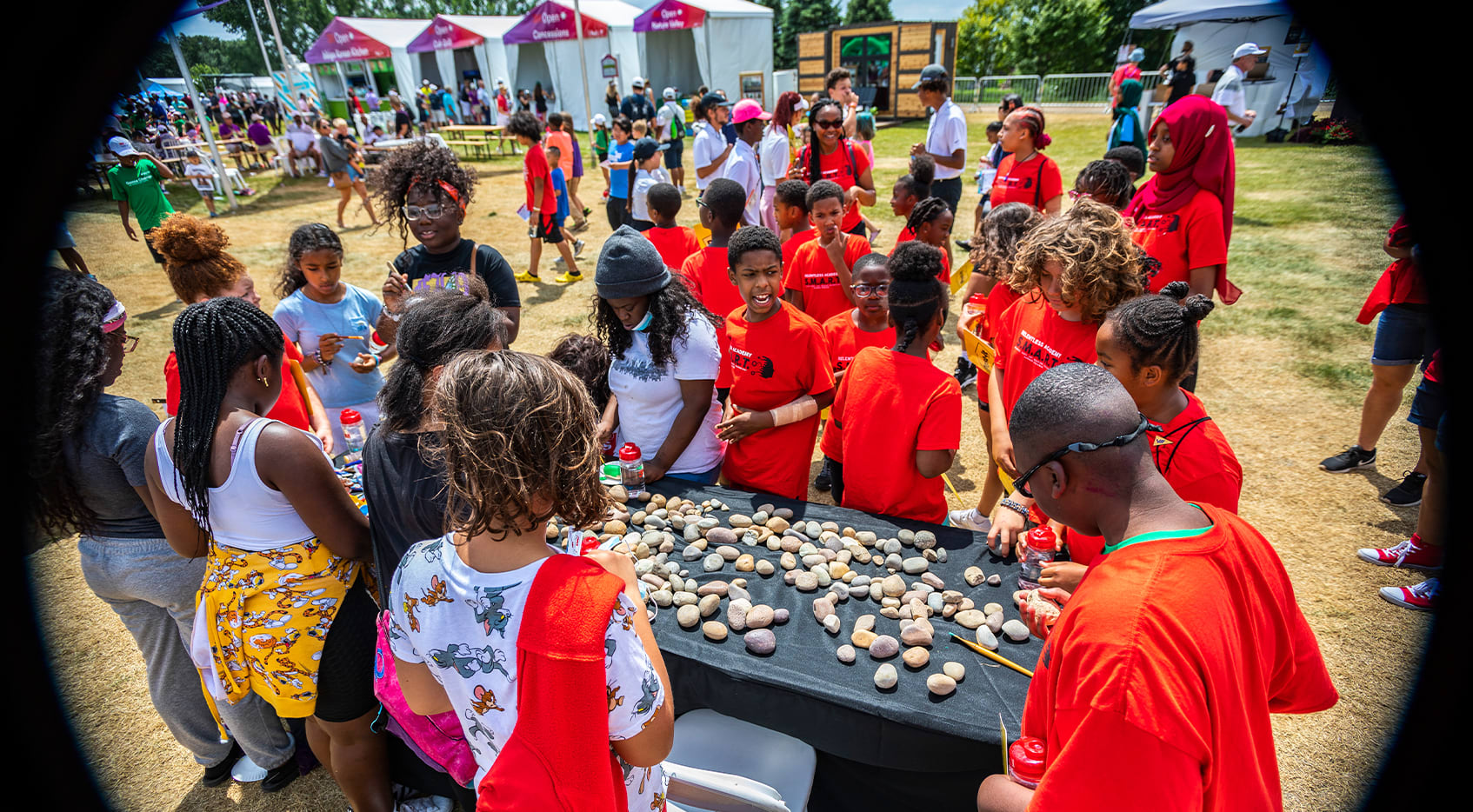 3Mgives hosted over 600 kids at the second annual Golf4All Day. (3M)
Golf4All Day also aims to make the game culturally relevant. That's done with music – courtesy of Generation NOW, the DJs of the Minnesota Timberwolves and Lynx – and contemporary golf fashion, as well as athletes like NFL legend Larry Fitzgerald, TOUR pros like Paul Haley III and Harrison Endycott and social influencers who are relatable for the kids.
Some of the activities are STEM education in disguise. For example, did you know that 3M materials are used in building TaylorMade clubs? Well, on Tuesday, the kids got to see the process and test a club out at the chipping challenge.
3M's Visiting Wizards were there to conduct science experiments, along with a team from Gray Matter Robotics. And at the Your Ears Rock station, the kids got to see how hard they could hit a golf ball – and what the decibel level was – which ties into 3M's development of protective hearing equipment for the workplace.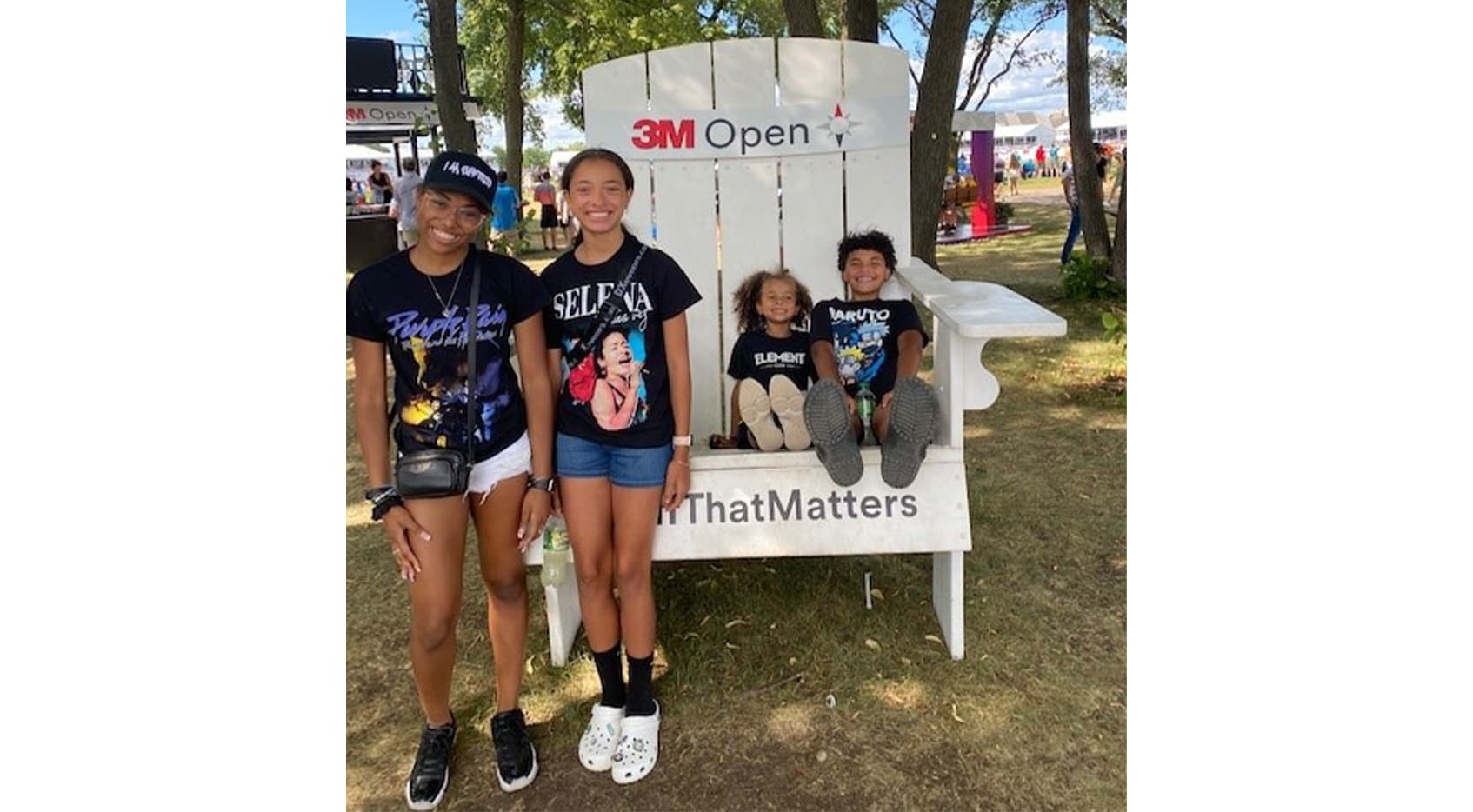 3Mgives hosted over 600 kids at the second annual Golf4All Day. (3M)
"We know in 3Mgives and in 3M that our science and technology is at work really everywhere you look," says Michael Stroik, vice president for community relations at 3M, which distributed $82 million in grants and product to communities in need last year.
"So, while golf is the major theme for the week at the 3M Open, it offers this unique opportunity for us to showcase that 3M science, reach more kids and more families, to amplify how our technology is put to use and to apply it in real life scenarios."
Stroik, who was among the volunteers on Tuesday, along with Mike Roman, the CEO of 3M, says the company's goal is to create 5 million learning opportunities for underserved individuals by 2025. The milestone is significant, and events like Golf4All Day help move the company closer.
"We didn't know exactly how we were going to reach it just through our philanthropy," Stroik said. "So, we're spending a lot of time on volunteerism and engaging our people to get out, engaged in the community and involved in different ways. And the 3M Open shined such a bright light on our community and brings so many people together that this is a great avenue to do that."
Mike Welch, who is the tournament director of the 3M Open, spent 13 years working in the NBA and WNBA and remembers being a part of similar events with inner city kids with hoops dreams. But basketball doesn't bring people together in the same wide-ranging and long-lasting way as golf, which he calls the "greatest connector sport in the world."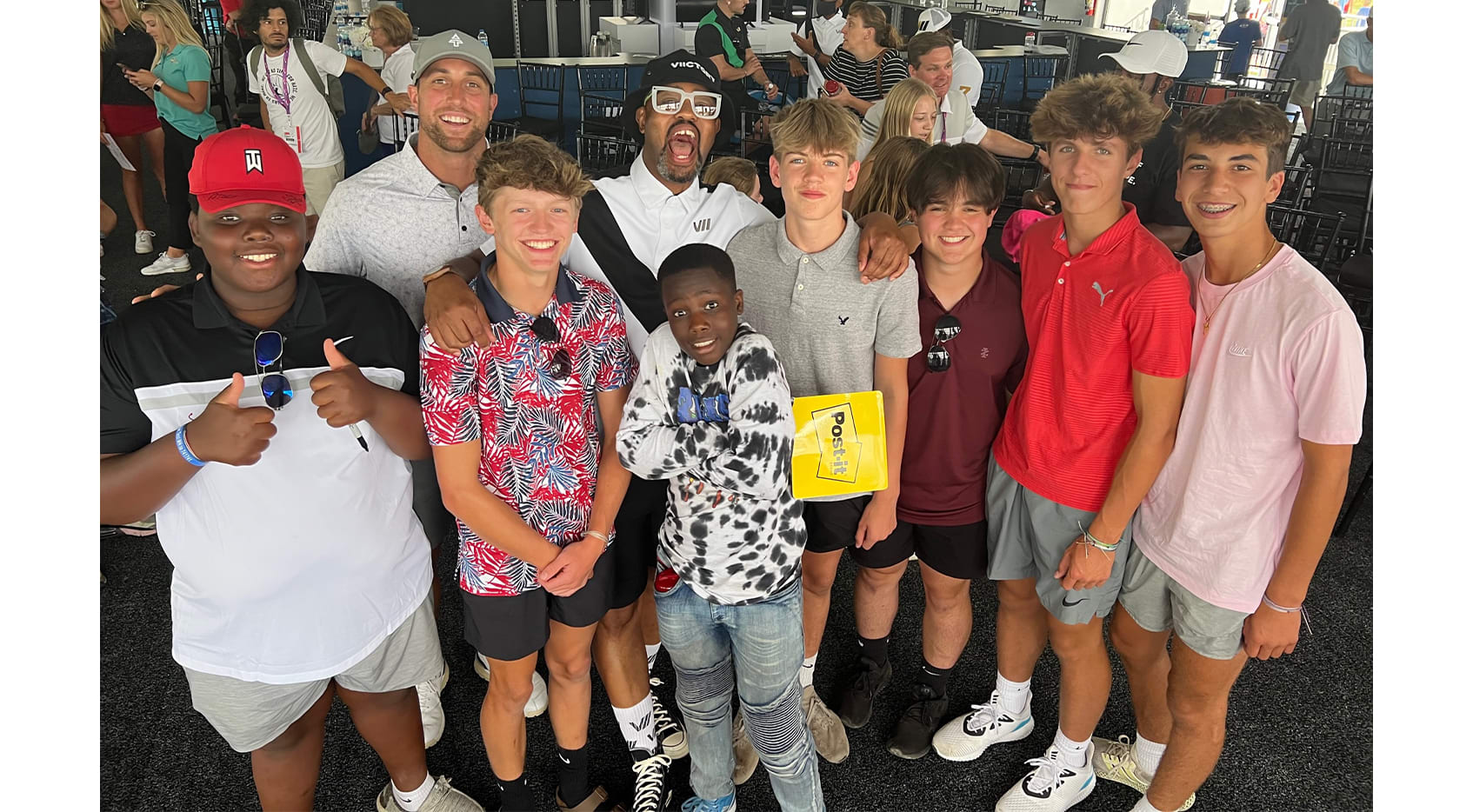 3Mgives hosted over 600 kids at the second annual Golf4All Day. (3M)
That's why Welch is so excited about Golf4All Day and its ability to make the game cool for kids who might have dismissed it as a game for much older and affluent people.
"My takeaway was, boy, if they can just get involved with the game someway, somehow you have no idea where it's going to take them." Welch says. "And not even the fact that they're going to be the next great LPGA Tour player or PGA TOUR player, but it's can you use the game of golf to further yourself from a professional or personal standpoint? And I think that's what our game does so well.
"There's no better game to connect business relationships, personal relationships and just enhance your own personal brand… We're just excited to see what hopefully this day can do to change the trajectory of how they feel about golf."
Noe Vital Jr., the founder and CEO of Vibez Golf Club, wants to change that feeling, as well. That's why he and his partners were at TPC Twin Cities on Tuesday to interact with the kids and talk fashion with Carter Bonas, an inspiring 11-year-old with autism who started his own golf clothing company that features positive messaging.
As a Mexican-American kid growing up in Milwaukee, Vital never saw himself picking up a golf club. After graduating from Wisconsin, though, he moved to San Diego where he works as the VP of marketing at a large start-up company. Suddenly, he had discretionary income and was looking for a hobby, and his father-in-law got him interested in golf.
As much as he enjoyed the game, though, Vital found that he felt out of character at the country clubs where he played. He felt like he had to dress and talk differently to be accepted. "I was really trying to fit this mold," he says. "And that's when I started getting kind of weird. I don't like this. I don't like that to go do this I have to be somebody else."
So Vital gave up golf for several years. Eventually, he came up with the idea for Vibez to market the game to different demographics – "Golf should and can be played by anyone, regardless of their background, upbringing and personal appearances," the mission statement says, in part.
He pitched the idea to nine college buddies, all of whom played football for the Badgers, including two (Melvin Gordon of the Baltimore Ravens and Dare Ogunbowale of the Houston Texans) now in the NFL. Six of them had never played golf before but all were intrigued. The group is in demand at events like the 3M Open and maintains a robust social media presence.
Melvin Gordon and Dare Ogunbowale visit 3M Open Fan Village
One of Vital's favorite memories from last year's Golf4All Day was the kid who recognized Gordon and wanted to talk. Why was he here? Surely, Gordon didn't play golf, the kid said. Yeah, I do, Gordon told him. We have a golf company, he said, and I play a lot.
"And then he's like, really? And you can see the kid processing it all. You can see him taking it all in as in like, is Melvin Gordon lying to me right now?" Vital says, laughing. "And then he was like, no dude, I really play. And then Mel showed him a couple clips on his phone of like us playing and like joking around having a good time.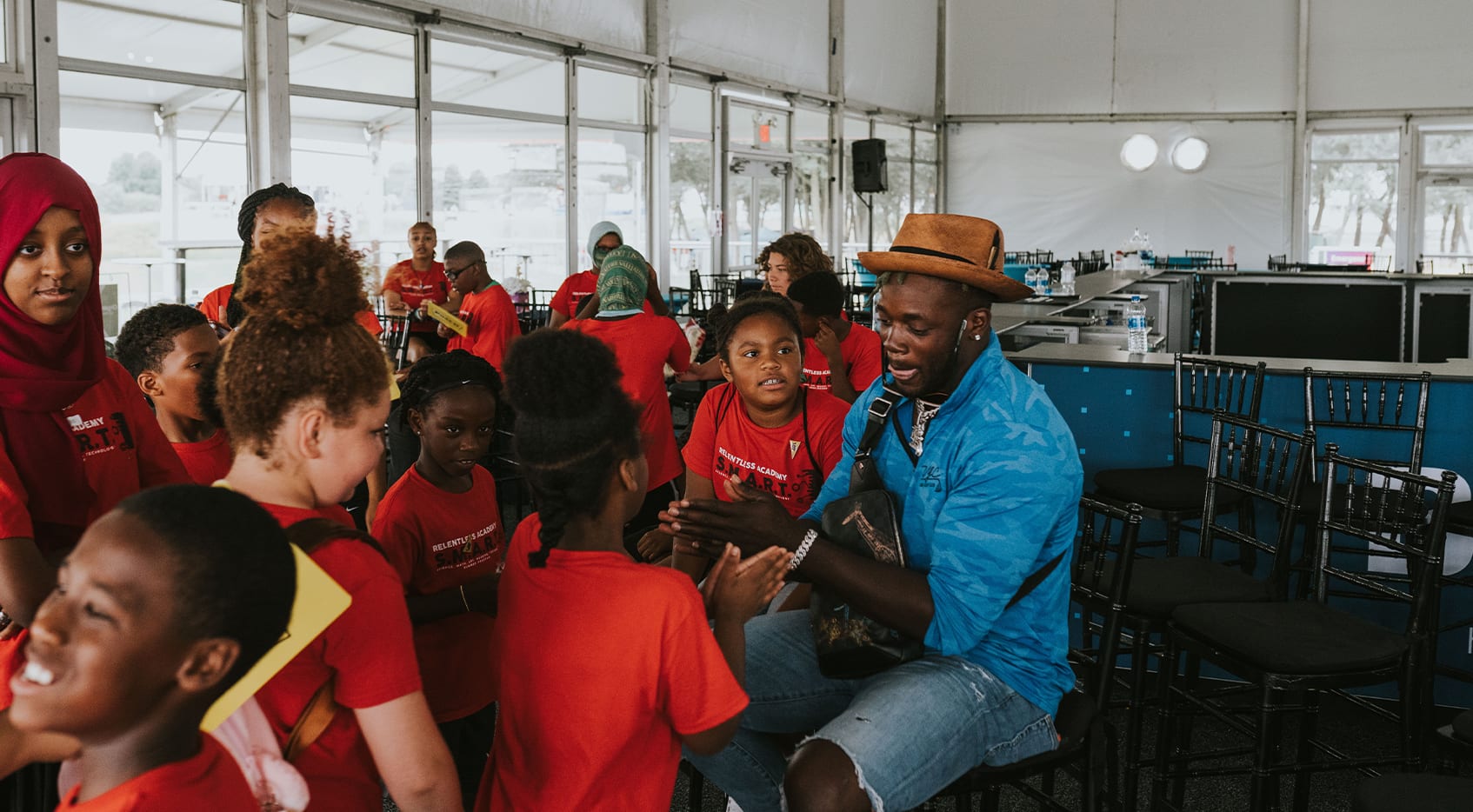 Melvin Gordon of the Baltimore Ravens at Golf4All Day. (Vibez Golf Club)
"And then the kid, he's like, that looks fun; it actually looks cool. And like that was awesome to see because we just took this kid from like, I'm here on a field trip to I just got to meet Melvin Gordon, which is awesome, and then from there to like, wait, maybe, maybe I should consider golf. And that was it. That was the goal. It all happened right there in that moment."
And there were certainly many more moments like that on Tuesday at TPC Twin Cities.