13D AGO
Remembering Annika Sorenstam's history-making performance at Colonial Country Club
World Golf Hall of Fame member competed on the PGA TOUR 20 years ago
Colonial County Club has been a mainstay on the PGA TOUR for over 70 years playing home to many historic events in golf. From Hogan's five victories to wins by Sam Snead, Arnold Palmer, Lee Trevino and Jack Nicklaus. In 2003, Annika Sorenstam joined that list of momentous occasions by being the first woman since 1945 to play in a PGA TOUR event.
The 72-time LPGA Tour champion and 10-time major champion was no stranger to setting records at the time, becoming the first in LPGA history to shoot 59, and accepted an invite to play in the event at Colonial.
Relive the historic moment through the eyes of Laura Neal, Executive Vice President Brand Communications for the PGA TOUR, who at that time worked as the LPGA's manager of communications. Neal witnessed it firsthand from Fort Worth, Texas, and recounts the week in her Golf Writers Association of America award-winning diary.
---
First problem: it's raining and about 62 degrees. I've crossed Heather Bowie off my Christmas card list, since she told me last week that it was going to be beautiful weather, 80 degrees and breezy. Heather lives about a mile from Colonial Country Club, but I guess that doesn't make her a meteorologist. She's offered to loan me a rain jacket for the week at least, but right now I'm bundled up in the media center feeling very sorry for the players who have to trudge around today in the rain.
Where to begin? It's exciting to finally be here after so many months of speculation. When Annika announced her decision to play the Bank of America Colonial, May 19 was just another date on the calendar. It seemed like a lifetime away. Now we're all here and ready to watch her make history.
I arrived late Monday afternoon and wasn't able to get to the golf course, but Annika came out to practice at about 6 p.m. I turned on the TV in my hotel room just in time to catch one of the reporters on the local news stations saying something like, "We are here at Colonial Country Club. Rumor has it that Annika Sorenstam is on her way to the golf course. No sighting just yet, but we are eagerly awaiting her arrival." The camera panned around to about 80 members of the media waiting on the front steps of the clubhouse, cameras poised, pens ready. It was fantastic, like Jennifer Lopez arriving at the Grammys or something.
Don't get me wrong, I completely think Annika deserves the attention. In fact, I think she deserves it every week. I kept thinking to myself, she "arrives" at our tournaments all the time. She won 13 events last year! The paparazzi should be following her all the time. But it was truly fantastic to watch the doors to a mini-van part, Annika step out and the cameras flash like lightning. Annika seemed a little in awe of the attention but responded well to the media and signed as many autographs as possible.
Annika came back to the course this morning at about 6:30 a.m. to register and hit the range before her practice round at 8 a.m. Needless to say, she beat me to the course. I arrived at 8 a.m. and she was just teeing off with Jesper Parnevik and Sergio Garcia. Unfortunately, the light drizzle turned into a downpour and lightning started flashing (or were those cameras?), and play was suspended. Annika got only three shots off before heading to the locker room (yes, she gets a whole locker room to herself) for a few hours to dry off.
You can't even imagine the media center this week. With 580 credentialed media (for comparison, I was told there are 500 media in Iraq covering the conflict), the Bank of America Colonial had to expand the area to accommodate everyone. It's four times larger than the media center was last year. I am sitting in the back of the room with the PGA TOUR media officials and there are at least 12 rows of tables in front of me, each seating 16 reporters. It would be impossible to read or watch every report filed from this room during the week.
The thunderstorm lasted throughout the morning, so we moved Annika's press conference to 12:30 (from 2 p.m.) in order to allow her to get back on the course when the rain stopped. On a side note, Annika's playing partners for Thursday and Friday came in for a quick press conference at noon. Dean Wilson and Aaron Barber couldn't have been more supportive. Dean actually bought a "Go Annika" button from the pro shop this morning for $3 and wore it to the press conference.
Annika arrived for her press conference right on schedule. It was the first time I had seen her all week, and she was all smiles. She gave me a hug and asked how I was doing. Then as we walked into the interview area, with the hallway lined with photographers, she looked over, smiled and said, "Pretty big, huh?"
It certainly was. The interview area seats 300, and every chair was filled. Reporters lined the walls and there were at least 40 TV cameras in the back of the room. Intimidating? I would have thought so, but Annika was magnificent. She answered every question with ease and made everyone laugh on more than one occasion. The best was when someone asked what Jesper and Sergio said to her on the first hole.
"We were just trying to figure out what kind of match we were going to play. And Jesper asked me how many shots I wanted. I told him I'm not here to get any shots. And he didn't say much more after that."
Hysterical. I think it's great that so many people, most of whom don't necessarily cover the LPGA Tour on a regular basis, got to see her in that environment. She was well-spoken, witty, engaging and honest. I would find it hard to believe that anyone who sat in on her press conference would be rooting against her to do well.
I've spent most of my time here answering questions and scheduling interviews. I've even had to do a couple myself, which is an interesting twist for me. I've been at the LPGA for five years, for the most part asking players to do interviews, so being on the other side has been a real change of pace. Hopefully, I can remember some of the pointers I've given out over the years.
I look forward to keeping you updated throughout the week. I'll try to get you some info you might not catch anywhere else, but with 580 reporters here, that's a tall order.
Weather: still raining, but not as cold
Trips to the soft serve ice cream machine in the media center: 3…
It's been another busy day at Colonial Country Club. I arrived at 8 a.m. for really no other reason than I just didn't want to miss anything. I was surprised to see so many reporters already here, considering Annika wasn't scheduled for the pro-am until the afternoon. But I guess there are many other things to cover besides Annika, although you wouldn't know it by reading the newspapers or watching TV. I hope you have been enjoying the coverage so far this week. As LPGA fans, I'm assuming you feel the same as I do-excited to see Annika getting the recognition she deserves, albeit a little late considering her accomplishments on the LPGA Tour over the years.
The media center is packed to capacity. I just spoke with the tournament staff, and they are basically telling reporters who call for credentials-sure, come on out, but we don't have anywhere for you to sit, anywhere for you to park and there's no room for you inside the ropes. And people are still coming.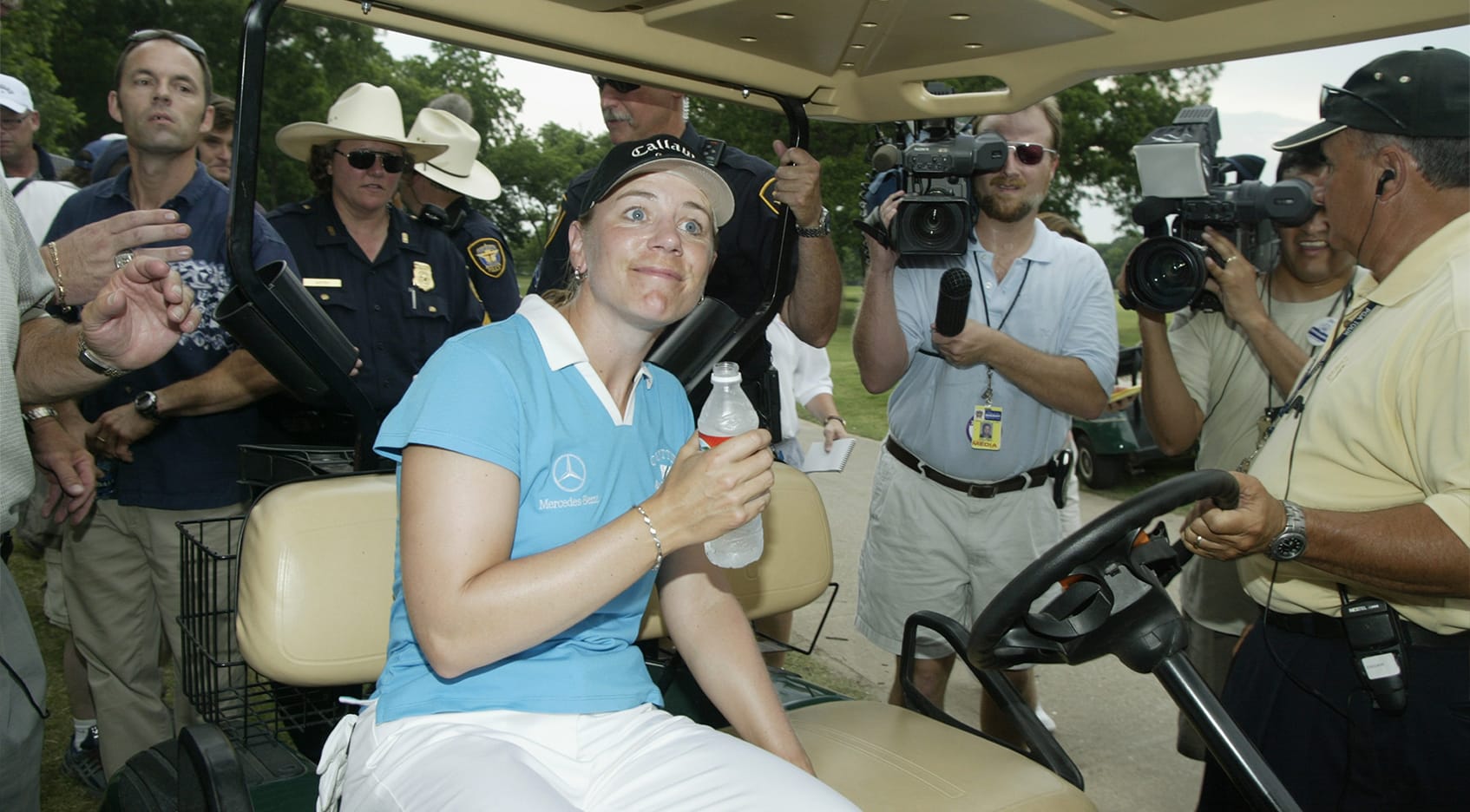 Annika Sorenstam leaves the practice range during practice at Colonial Country Club in 2003. (Scott Halleran/Getty Images)
Everyone wants to be here, just to witness history, discuss it, speculate on what's going to happen. All around the media center, you'll see little clutches of people talking about Annika, what it means for women's golf, the PGA TOUR, the LPGA, etc. And then you've got reporters interviewing reporters. I've really never seen anything like it. I feel very fortunate to be here. And the well-wishes to Annika continue to pour in.
The tournament staff from the LPGA Corning Classic sent Annika two dozen yellow roses with a very sweet card. Even though she's missing their tournament to be here, the folks in Corning have been so supportive. They should really be commended. The LPGA caddies in Corning asked for the address here to send Annika flowers as well, which is so nice. Those guys aren't as tough as they act. And Beth Daniel dictated a personal note for me to place in Annika's locker.
Some famous names from outside the golfing world have also sent words of encouragement to Annika. Maggie Will met with former President George H.W. Bush last week at the opening of the First Tee of Richmond, and he signed a program wishing Annika good luck. Maggie was kind enough to fax a copy to the press room and I put it in Annika's locker. It reads, "Annika- Good luck at Colonial. You can do it. George Bush (#41)." And Bill Cosby's office called our headquarters in Daytona Beach to get the address of where to send a letter of encouragement from Mr. Cosby. Hopefully, a faxed copy of the letter will get here before Annika tees off tomorrow.
And I know Annika appreciates all of the support. She phoned her tournament-assigned personal security guard last night at 11 p.m. to thank him for all of his help yesterday. With all the attention, Annika needs to feel safe and secure at the golf course, and the security personnel have certainly been doing a great job. Annika can focus on her golf game knowing everything else around her is being taken care of.
But I guess not everyone can be positive. This afternoon on CNN, Wolf Blitzer hosted a debate about Annika competing this week. Marguerite Sallee, chairman of the LPGA Board of Directors, was a guest (on the "pro" side) and Armstrong Williams, a right-wing conservative from Washington, D.C., (on the "con" side). Judy Rankin, who was at home watching, called my cell phone spitting nails! She was livid at some of Mr. Williams' comments that any mediocre high school boys' golf team member could dominate the LPGA Tour and that Annika would be taking four shots for every two of the PGA TOUR players (I guess that means she'll shoot in the 140s?). Judy couldn't believe the misinformation he was spewing. I guess you have to laugh at those kinds of comments and focus on the tremendous amount of positive coverage and support for Annika's efforts.
At 3:36 p.m., the officials announced over the staff radios, "We're done for the day." It had been raining constantly and the course was just too wet to continue. PGA TOUR officials did not want to jeopardize the condition of the golf course for the next four days of competition. Annika's team was 6-under-par through 10 holes, drenched but happy.
Let's hope for better weather for the start of the tournament tomorrow. I know Annika is ready to get her historic week underway, while the rest of us are prepared to document her every shot, every step, every breath --rain or shine.
Three nights of room service: $45
Ten 'Go Annika' buttons: $30
Standing on the 10th tee watching Annika stripe her first tee shot down the fairway: Priceless
Luckily, "American Idol" ended at 9 p.m. central time, allowing me to get to bed early in preparation for a very early wake-up call. I was in the press room by 7:30 this morning, but I still didn't beat half of the media to the course. Annika was on the chipping green when I got here. Fans were lined around the ropes to watch her practice. Her caddie Terry McNamara waved at me and then pointed me out to Annika. She gave a big smile and a wave. I ran over and asked her to sign my hat. Just kidding.
Seriously, it was slightly surreal. People turned and looked at me, like, "Who is Annika waving at?" And for a second I forgot that she is really just another LPGA player that I've worked with for years. She was a celebrity and I was a fan. Then I stepped in one of the mud puddles in front of the media center and came back to earth.
For the next hour and a half, I was at my desk trying to work while getting knocked in the back of the head and trampled on by the line forming behind me. Media have to sign in every day for special credentials (big stickers) that allow them access inside the ropes. Not everyone gets one of these credentials, it depends on what outlet you work for. Of course, just about everyone wants to be inside the ropes with Annika, but with 600 reporters, that is obviously impossible. So you can just imagine the rush for a coveted inside-the-ropes pass this morning before Annika teed off.
I didn't even need to look at my watch to see what time it was. Suddenly, the media center turned in to a ghost town. It must be time. I made my way outside to the first tee, just in time to hear Annika's name announced. The crowd erupted. She took a couple deep breaths, stepped up to the ball with her trusty 4-wood and nailed her drive right down the middle and out-drove both of her playing partners! Granted, they were hitting irons, but still, it was spectacular. Annika kind of did a little stagger walk, like, "Whew, thank heavens that's over."
Annika Sorenstam strikes tee shot at 2003 Bank of America Colonial
She was all smiles walking off the tee, and the crowd was going nuts, yelling things like, "You go girl!" "Go Annika!" and my personal favorite, "You da man!"
I won't do any kind of play-by-play here, as I'm assuming you weren't under a rock today. Needless to say, Annika was unbelievable. When she rolled in that 15-footer from the fringe for birdie on 13 (her fourth hole), the few of us NOT on the course with Annika cheered in the media center. And that doesn't happen very often-reporters are impartial, remember? You could just feel the support for Annika everywhere you went.
And Annika certainly embraced the crowd in return. I've never seen her so animated on the golf course. It might not be a conscious decision on her part, and I guess I'm really only speculating, but it's as if she realizes this is a once-in-a-lifetime experience and she's not going to miss a moment of it. Too often, we get so caught up on our goals, we forget to enjoy the journey. I think it's great that Annika is enjoying the journey and allowing us all to enjoy it right along with her.
Annika finished with a bogey, but it didn't dampen the appreciation of her performance today. Again, the interview room was absolutely packed, quite possibly with more reporters than on Tuesday. While she was doing her press conference, I had to track down Terry because the media needed her club selection-for the entire round (you can check out my notes on her club selection in Annika's "Real-Time Scorecard" section).
I found Terry relaxing in the locker room. I asked him how it went and he said, "It was amazing. But I'm drained." No kidding. He should try getting through security into the ladies locker room. Talk about draining. Anyway, I'm always amazed at how easily caddies and players can recall every single club from a round. Terry rattled them off like Rainman (I guess it's harder for those of us who take twice as many shots).
Annika walked in shortly thereafter and sank right down on the couch. You could tell she was happy, relieved, exhausted, exhilarated-probably feeling every emotion conceivable. For me and all of her fans, you can add pride to that list.
The good news: I'm going home to spend Memorial Day weekend with my family.
The bad news: I'm going home.
What an unbelievable experience this has been. I'm sorry it's ended, but I have to say, it really makes no difference that Annika missed the cut. She won hearts and captured imaginations since arriving here on Monday, and I am so proud of her.
I gave myself a special treat today by sleeping in until 8:30 a.m. Annika had a late tee time, so I figured as long as I made it downstairs before they closed the free buffet in my hotel, I wasn't a slacker. I got to the course at about 10:30 a.m. It may have been up all week, but I just today noticed a sign on the marquis of a restaurant near the course, Pappsito's: All Colonial Female Pros Eat Free. How funny. I squinted for the fine print but didn't see any reference to female PR representatives. Oh well.
Have you checked out e-Bay for the 'Go Annika' pins? This afternoon, they were selling for 35 bucks! That makes me feel better since I spent $30 on 10 of them for my co-workers. So at least if they refuse to reimburse me, I can maybe make a little cash. Just kidding. It's going to be a feeding frenzy back at LPGA headquarters for these things. Hopefully, no one loses an eye.
I decided to walk the back nine with Annika today. To be honest, I've stayed in the media center most of the time so far, but I knew if I didn't go out, and she ended up missing the cut, I would kick myself. So I snagged one of the coveted inside-the-ropes stickers and headed out.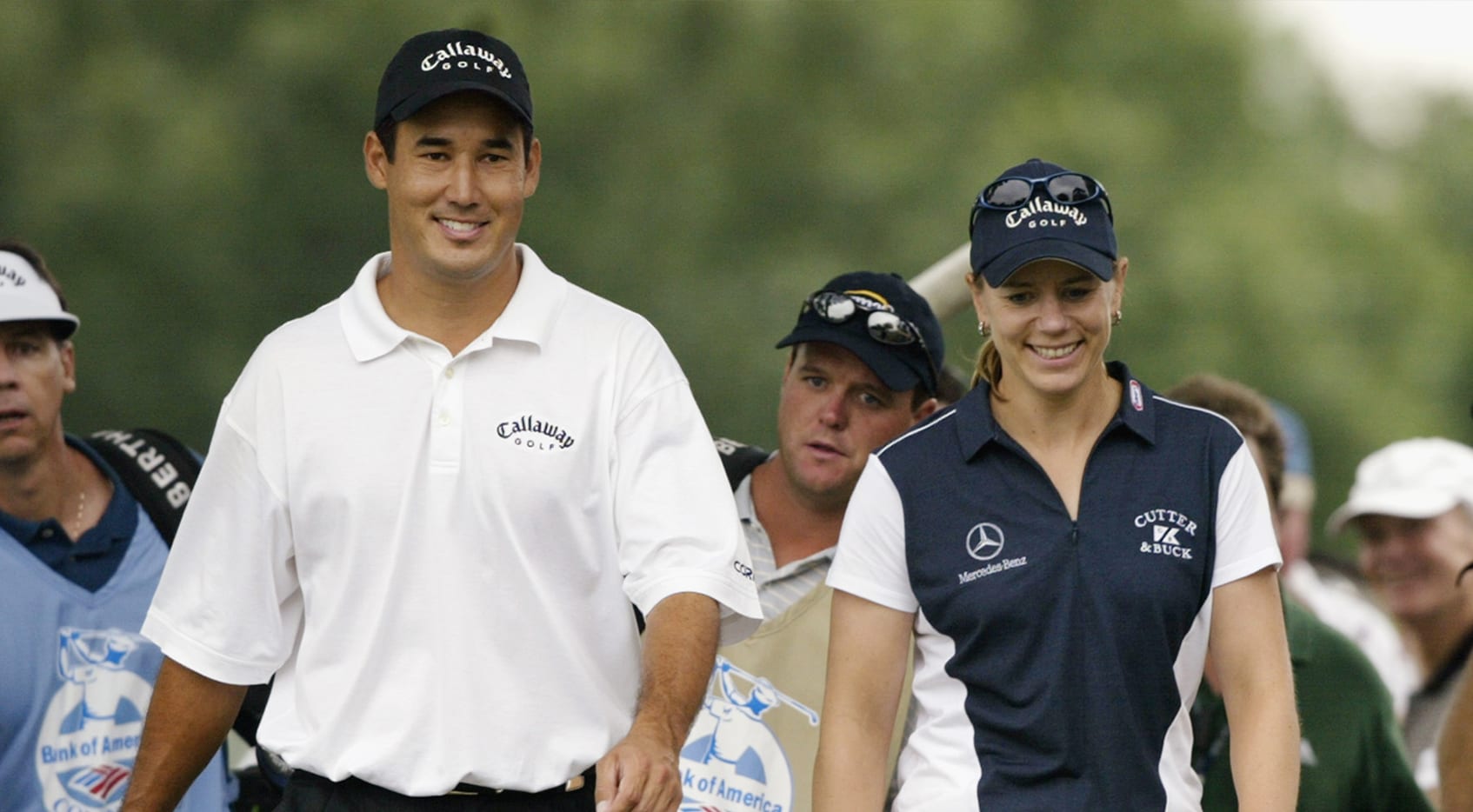 Dean Wilson walks along with Annika Soremstam at the 2003 Charles Schwab Challenge. (Andy Lyons/Getty Images)
Let me tell you, inside-the-ropes is not all it's cracked up to be. You've got spectators yelling because you're blocking their view. Which, to be honest, I understand. I mean, they've waited all day in the same spot for a glimpse of Annika. So I spent most of the time trying to make myself smaller, eating grass on more than one occasion, and once with my face planted against the root of a tree.
But no complaining. What an experience. I knew the crowd was behind Annika, but walking with her group, I heard so many positive comments about her game, her attitude, her focus, her shirt. Everything.
"Wow, look at that swing."
"She can really pound it, can't she?"
"I had no idea she was that good."
How great is it that all these fans got the chance to watch Annika and learn to appreciate her talent and poise. Hopefully, they will walk out the gates of Colonial Country Club with a new respect for her and all of the professionals on the LPGA Tour.
So there we are, the 18th hole. Annika is obviously going to miss the cut, but she's still smiling, grinding it out. I was sitting (again, face-plant position) to the right of the green. Annika had a 14-footer for par. Please make it. Please make it. You could just feel the crowd willing the ball into the hole. When it disappeared, we (yes, I couldn't help myself) went crazy. She got a standing ovation.
And then, DISASTER. Annika turned to the right and tossed her ball into the crowd. NOOOOOOOO!
Let me explain. At the beginning of the week, I was asked to obtain several things from Annika for enshrinement into the World Golf Hall of Fame: the ball she hit off the first tee; her glove from the first round; the shirt she was wearing in the first round; AND THE BALL SHE PUTTED OUT WITH ON HER FINAL HOLE. Now, of course, we didn't know if that was going to be Friday or Sunday. The first three requests were all taken care of, but I was worried about the final item. I called Annika's team this afternoon to ask him to please remind Annika to save that ball. Don't toss it!
So there I am on 18, hot, sweaty and with grass between my teeth, watching Hall of Fame memorabilia sail through the air. A very, very excited young man snatched the valuable white sphere out of the sky and clutched it with all his might. You should have seen his beaming face. Yeah, this is going to be fun.
I walked over to the rope line.
"Excuse me. Can I talk to you? No, you. The young man with the potential e-Bay gold mine." I explained who I was and that Annika was supposed to save that particular ball for the Hall of Fame. If he would only give me that ball, I'd make it up to him with some autographed items from Annika herself.
Okay, so what are the chances this kid is going to turn over that ball? Well, apparently, they raise 'em right and honest in Texarkana, Arkansas. Chris Felty, a senior at Redwater High School, his hands still shaking, put the ball in my hand. I recruited Christine Brennan, columnist for USA Today, to take Chris' information down so I could make good on my promise. I had to dash to the scoring area to put Annika on the phone with our commissioner, Ty Votaw.
I had to shove my way through the crowd to get into the scoring room. Of course, my cell phone wouldn't work, so our well-orchestrated plan to have the commissioners from the PGA TOUR and LPGA talk to Annika seemed in jeopardy. Tim Finchem, via cell phone, spoke with Annika first, thanking her for her participation in the event and telling her how proud everyone was of her performance. Just in the nick of time, I got Mr. Votaw on the phone and passed it over to Annika (did my red sleeve make the telecast?). They chatted for just a few seconds, and Annika got pretty choked up. She was mentally and physically exhausted, and I think it just all came out at once.
I gave her a hug of my own and told her how proud I was of the way she handled herself. And I meant it. The LPGA couldn't have fashioned a better representative of our Tour and women's golf.
This diary entry is getting a little long, but before I close, I also have to tell you that someone else this week conducted themselves with the utmost class: Annika's caddie Terry McNamara. I'm a big fan of Terry's anyway, but let me say that there are not a lot of people who could have handled the job he did this week. Terry never looks for any recognition, and believe me, there were a ton of national television outlets that would have died to interview him. He just shows up and does his job as a member of Team Annika. He is invested 100 percent in her success. I know he was disappointed to miss the cut, not for the money or the recognition, but because he wants his boss to achieve her goals. Terry is a credit to his profession.
So thanks for reading. I enjoyed the chance to tell you about my experiences here in Ft. Worth. I told our commissioner that it was an honor to be here this week, and I am grateful to have had the opportunity to witness history, and a star, in the making.
Oh, and just so you don't think I'm an ogre, I got Annika to autograph the glove she wore today and another ball she played with for my favorite Texarkanian, Chris.
When I get home, I'm planning to send him complimentary tickets to the World Golf Hall of Fame so he can visit his golf ball-the first one.