Archive
Dean Wilson reflects on legendary pairing with Annika Sorenstam
20 years ago rookie Dean Wilson played alongside Annika Soremstam as she became the first woman to play in a PGA TOUR event since 1945.
Dean Wilson was a 33-year-old rookie on the PGA TOUR when he received word that he'd have an unusual pairing for the first two rounds of the 2003 Charles Schwab Challenge in Fort Worth, Texas, at Colonial Country Club.
He and fellow rookie Aaron Barber would be joined by sponsor's exemption Annika Sorenstam, the No. 1 player on the LPGA TOUR. It marked a rare appearance for a woman on the PGA TOUR.
"When I got that call early in the morning -- the tee times usually come out Tuesday afternoon -- the TOUR called me and said I was going to be paired with her and we did the big press conference and then I just remember every day it just grew," Wilson said Thursday on the 20th anniversary. "The press was out. It was just such an unbelievable thing.
"I felt like Annika and I were just kind of in this thing together, in a bubble together playing golf, and it was awesome. When I think back about it, it's just all good memories. I'm reminded of being paired with her all the time, even today. It's awesome. It's an awesome memory for me to have to being part of the history of golf. I love it."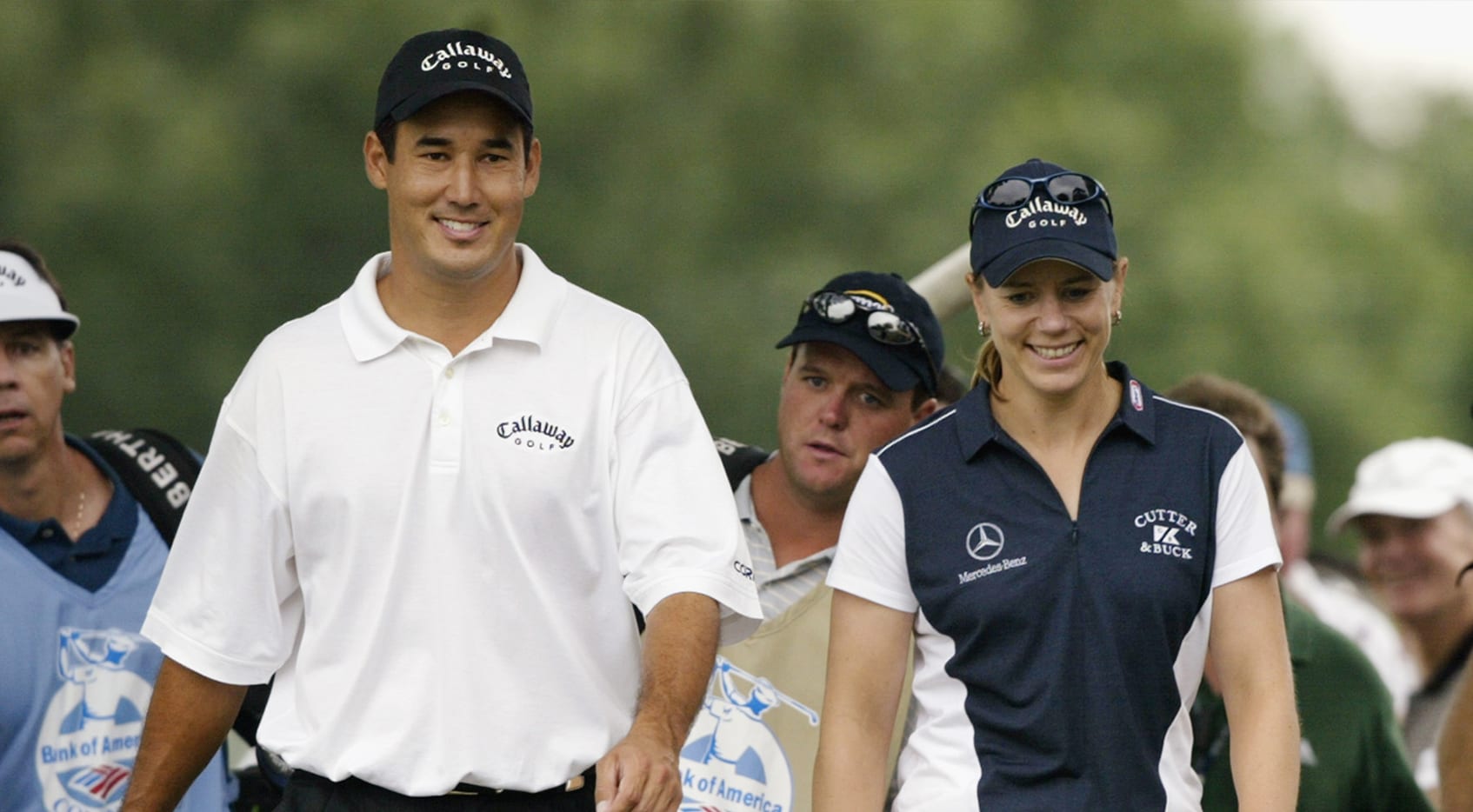 Dean Wilson walks along with Annika Soremstam at the 2003 Charles Schwab Challenge. (Andy Lyons/Getty Images)
Sorenstam and Wilson have been reunited in the Dallas/Fort Worth area for the PGA TOUR Champions Invited Celebrity Classic, which begins on Friday. Sorenstam played in the inaugural Invited last year at Las Colinas Country Club in Irving, Texas, and finished third in the celebrity field. Wilson, 53, has received a sponsor's exemption to play in the pro event. The two will be paired together on Friday.
"So nice to see Dean. We've seen each other a few times since, but I can't believe it's 20 years, so thanks for reminding us how time flies," Sorenstam said. "It's great to be here again. I played here last year. You know, this is a fun tournament, and now we can come and play, obviously not against each other. This time a different plight so to speak. Certainly expect a lot of memories. I mean, I look back on my career and that was definitely a highlight in so, so many ways.
"Dean, you were such a part of it. I remember standing on the tee there, not really knowing what is going to happen, and all the people that were there. It's been nice to reminisce a few times about how I think it changed both our careers in different ways and just kind of perspective of things, and things we appreciate the most in golf and friendship and so forth."
Sorenstam was in the midst of a Hall of Fame career, one that saw her win 72 LPGA events, including 10 majors. Wilson won once on the PGA TOUR -- The International in 2006. He will be making just his sixth start on PGA TOUR Champions.
"You know, a lot of people always ask me do you keep in touch with Annika, right?" Wilson said. "My go-to line was always, yeah, I always congratulate her after she won, and I think you won eight times after Colonial that year. Seemed like I was talking to her every week. Congratulations. Thanks. What did you do? I made the cut. So it was good."
Sorenstam shot 71 and 74 at Colonial and missed the cut by four strokes. She tied for 96th, ahead of 11 men.
But it still remains a seminal moment in golf history.
"Dean and Aaron, they were super, super supportive," Sorenstam said. "Obviously they made my experience even better. Not just from some of the other players and the fans and the sponsors, but to be able to walk the fairways with these guys being like -- I mean, if I made a good putt or I made birdie it was like, come on. We cheered because we all wanted to do well.
"I think it's really important if you look at the big perspective. I mean, we need everybody to support each other, especially now. Obviously we talk about getting women into sport and keeping them there. You need everybody's support. This sport is hard enough to go out there. Anybody who had negative thoughts about anybody trying to do their best, they should think twice about it. It's a hard thing to do. Looking back at this, I'm sure some people will say what was the purpose, but I think in the big picture it was good for women's sport and for young girls to be able to share that story. It's not so much about getting to play with the men. It's more about having a dream and wanting to push yourself and put yourself in an uncomfortable situation because you have some goals you want to achieve."