Archive
Peter Kuest forging ahead with late father on his mind
After T4, eyes PGA TOUR Special Temporary Membership at John Deere Classic
Editor's note: This story was written after Peter Kuest's T4 finish at last week's Rocket Mortgage Classic. Kuest, a non-member of the PGA TOUR, Monday qualified for the Rocket Mortgage. His top-10 finish got him into the John Deere Classic, where he needs to finish T76 or better to earn Special Temporary Membership on the PGA TOUR. He is in contention at TPC Deere Run after shooting 67-67-65 heading into Sunday.
For a variety of reasons, golf has been a challenge for Peter Kuest, especially of late.
Oddly, though, the Fresno, California, native has been playing the best golf of his career.
His best of 10 PGA TOUR results came with a T4 at the Rocket Mortgage Classic last week. After Monday-qualifying into the field, the 25-year-old BYU alum finished at 21-under 267, three strokes out of a playoff, and it landed him a spot in this week's John Deere Classic, where he likely needs nothing more than a made cut to earn PGA TOUR Special Temporary Membership.
What no one knew, though, was the influence of his late father, Peter Kuest, Sr., on that result, and just how much he was on Kuest's mind and in his heart at Detroit Golf Club.
Peter Kuest Jr. and his father Peter Kuest Sr. (Courtesy Kuest family)
Kuest's paternal grandparents, German immigrants, were more into soccer than golf.
"My grandpa started Fresno's first junior soccer league," Kuest said. "My dad played collegiately at Fresno State and then semi‑professionally until he was 32. His knees were in pretty bad shape by then, so he had to quit."
To provide for his family – which would ultimately include wife Cindy and their two sons, Peter Jr. and Kyle – the elder Peter Kuest carved out a career as a painting contractor for nearly four decades. Cindy maintained her husband's books.
Peter Jr. mostly stuck with soccer and baseball.
"I tried basketball," he said, "but because of my smaller size, that didn't work out. I started playing golf in the fall of seventh grade to fill another sport slot."
As an eighth-grade pitcher for his high school team in Fresno, Kuest broke his arm overthrowing a pitch. After surgery, a frustrating three‑month wait ensued before he was cleared to pitch again. Because it's a low-impact sport, golf was the first activity for which he was cleared.
He was good at the sport, but didn't take it seriously.
"Sometime around my sophomore year of high school, I found I wasn't really practicing golf as much as just goofing around at the course," Kuest said.
With his commitment wavering, Kuest came home one afternoon to find a painter's work clothes laid out on his bed. The message behind his father's eye-opening gesture was for Kuest to "go all in on something" or start working for his father.
"My parents invested everything into me and my brother," said Kuest. "It was hard coming home seeing the painting clothes, because I didn't want to do that. But I understand what he was trying to do. He was poking the bear to get me going.
"After that," he continued, "I worked my tail off and started seeing results. That's when it all started getting better. All my dad wanted was to see us succeed."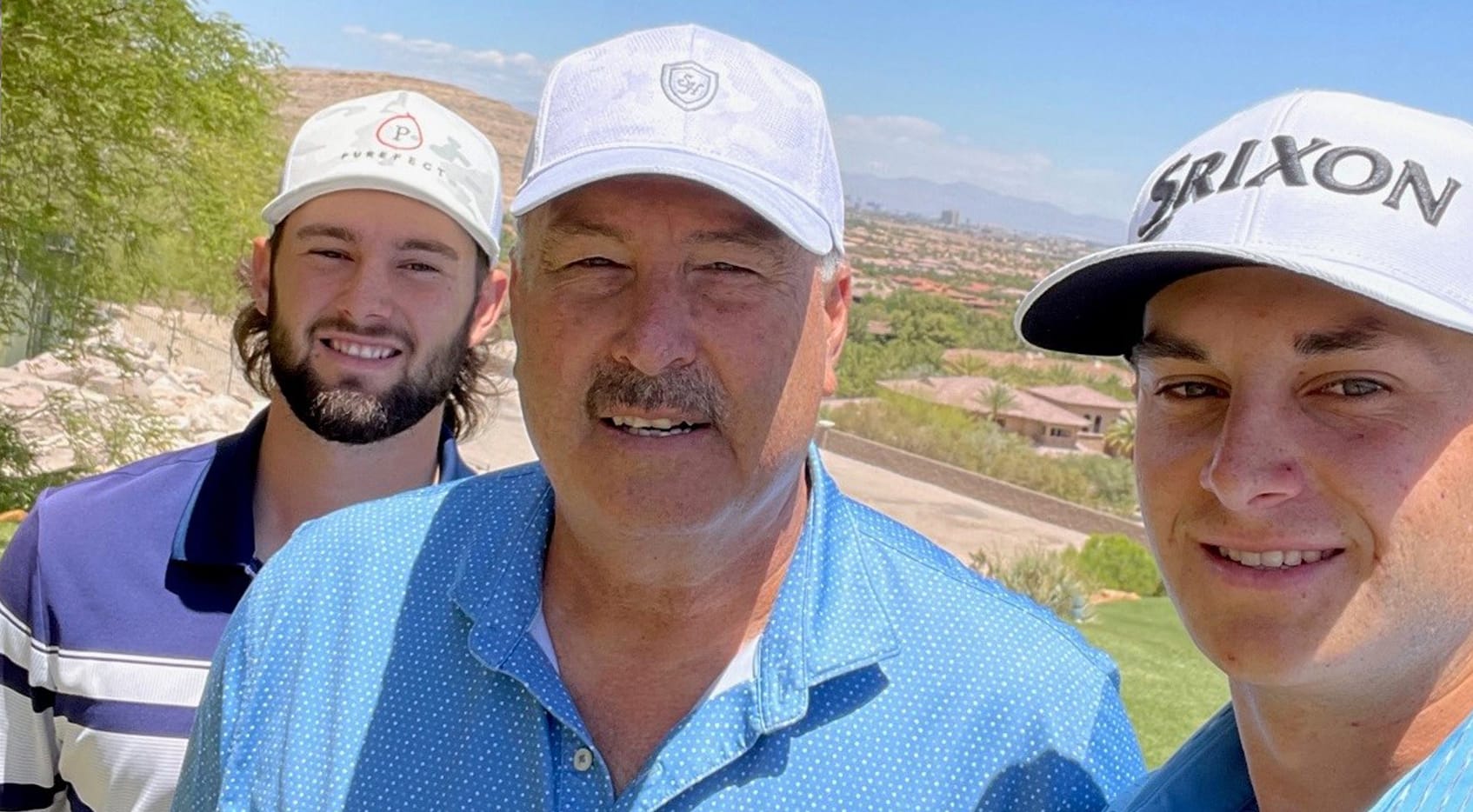 Kyle Kuest (left), Peter Kuest Sr. (middle), and Peter Kuest Jr. (right) (Courtesy Kuest family)
Baseball gave way to golf, and he began turning heads with his game. Knowing his high school golf team at Clovis West needed a player, Kuest played junior varsity his freshman year, worked his way into the system as a sophomore, and was team captain his junior and senior years.
"I started playing golf late, so I wasn't recruited for college," he said. "We went to Silverado in Napa, California, a lot as a family, so we got to know Johnny Miller and his family. We eventually reached out to Todd Miller, Johnny's son and an assistant golf coach at BYU. After coming out to watch me play, he recruited me. I fell in love with BYU. It was surrounded by opportunities to do everything I wanted with skiing, hiking and fishing."
Things were progressing nicely for Kuest. In November 2021, he and his younger brother/caddie Kyle were in Savannah, Georgia, for the PGA TOUR Qualifying Tournament.
It was then that the narrative took its sharpest turn.
"When my dad had a heart attack, my mom called us right away," Kuest said. "We had just landed in Salt Lake City. Honestly, though, we didn't think it was serious at first, because my grandpa had also previously had a heart attack, but he made it through."
The next morning, Peter and Kyle were told to go home immediately. The prognosis wasn't good. When they got there, they spent what would become their final evening with their father, who passed away the next morning at 61.
"It has been incredibly tough, because he was the reason we were able to play sports and compete," said Kuest. "All his sacrifices were for us. I really wanted to play golf well, so I could help ease his financial pressure and even help him retire after so many years of hard work for us."
Kuest's father was not only the reason his sons played sports, but he was their biggest motivator for everything they did.
"My dad had a way with motivating that would piss you off," Kuest said laughing. "He would give it to you straight and tell you when you are slacking off. It made you mad, but it worked. He did it all out of love, because he wanted to see the best from us."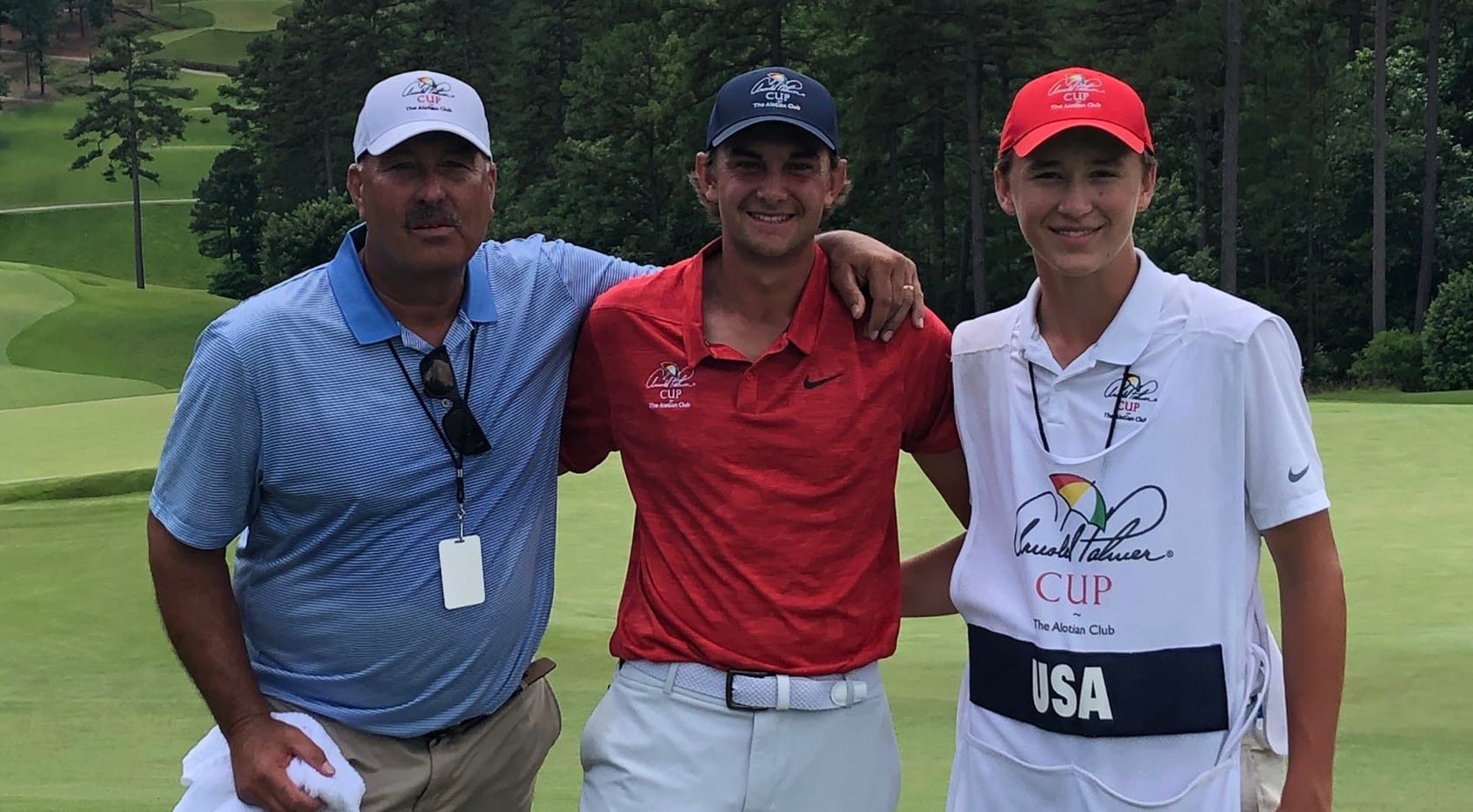 The last 16 months have been tough for Kuest as he juggles his young career while trying to help his family. Kyle, now 22, has taken over his late father's painting business.
"I'm so proud of him," Kuest said. "I don't think I could ever handle everything Kyle is dealing with to keep the business successful. We're both trying to help our mom figure things out, too."
Those "things" include making the mortgage in addition to making it through each day.
"We have to," Kuest said. "When we lost our dad, we lost the backbone of our family."
As Kuest continues to live in Utah, Kyle remains in Fresno managing the painting business and spending more time with their mom.
"I get back when I'm not playing," said Kuest. "But there is also the Catch-22 of hoping to not get home often because I'm playing well enough to keep at it."
While Kuest admits he didn't anticipate the success he enjoyed at the Rocket Mortgage last week to happen so soon, he remains grounded in the mindset that has gotten him this far.
"I don't know if I was ready for all that kind of attention last week, but I wanted it," Kuest said. "I wanted to see what it's like at the highest level. It's motivation. I love playing in front of crowds. It's awesome, and it fires me up."
As he continues to forge ahead, Kuest also knows he's only human. Last fall he was diagnosed with alopecia, an autoimmune condition that he believes was brought on by stress.
"It started after my dad passed," he said. "The body creates inflammation, and it doesn't know what to attack because it senses nothing wrong. With no illness, it attacks a person's hair follicles. When that became the case, I started losing my eyebrows and my hair began to thin a lot.
"When I lost my dad," he continued, "I was stressed out, lost a bunch of weight and wasn't really healthy. I changed my diet and work out every morning to try and fill out the shirts a little better."
He's presently under the care of doctors, as flare-ups will occur if not treated regularly.
Despite setbacks, by his own measure Kuest remains confident.
"I would say I'm resilient and I work really hard," he said. "I have a good work ethic, which is credited to my dad. In golf, it doesn't matter where you finish. Whether you win or take last, you go out the next day and get back to work."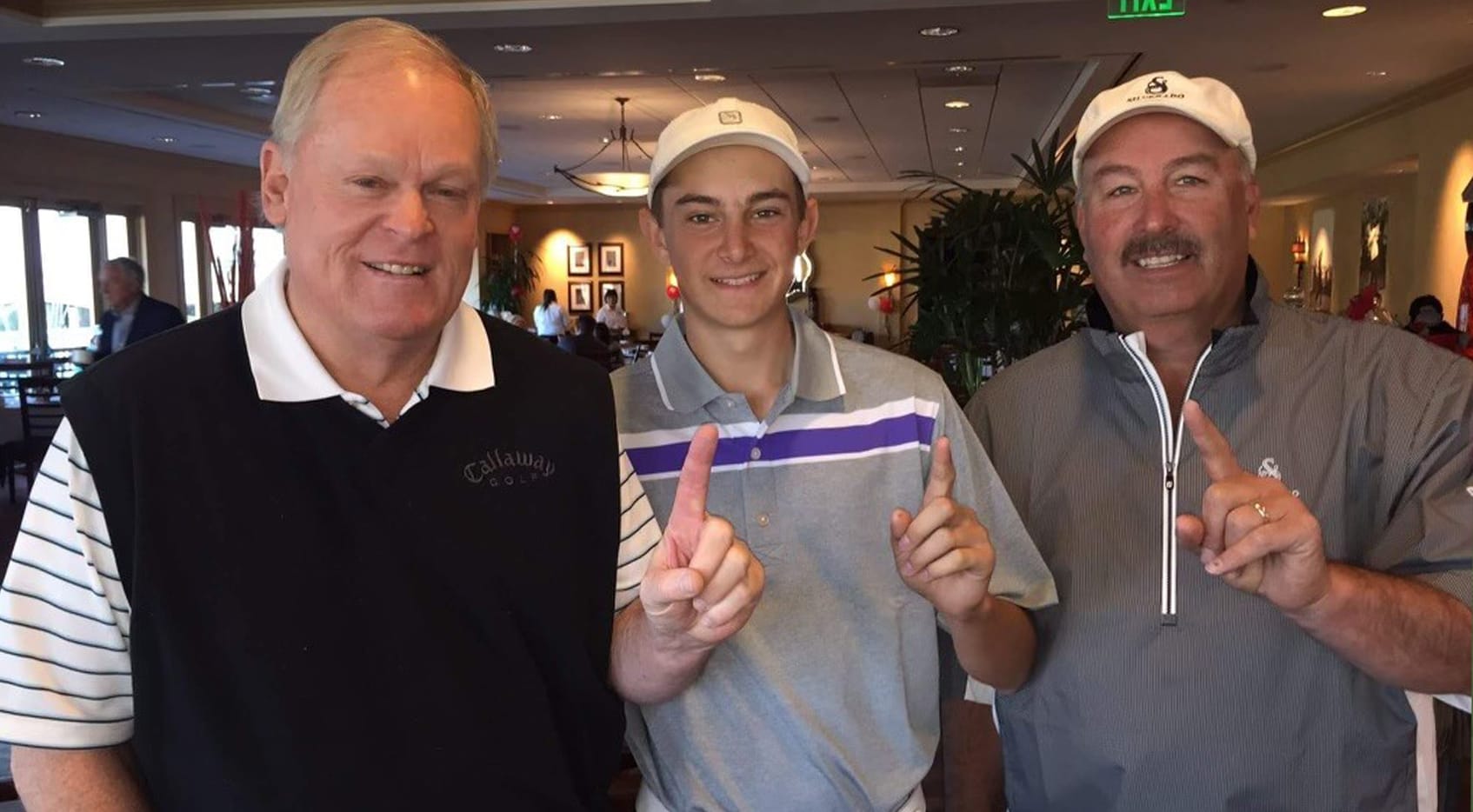 Part of Kuest's approach to competitive golf is grounded in his belief that there will always be another shot to hit, always another week to play. And, whether he plays well or not, he devotes a lot of time and energy to, if nothing else, feeling good about himself.
"I try to keep it steady," he said. "I'm a quiet guy who just goes about his business. I don't show a whole lot of emotion, especially on the course."
Which isn't to say that emotion, that feeling, isn't in his heart.
"I know I can compete," Kuest said. "Thanks to my dad, that's what I grew up doing. And that's what we'll keep doing for my dad.
"I'm just trying to do a little better each day, and I think it's working," he added. "But at the end of each day, it's just golf. I'm just trying to do my best out here. If we go out and have a great week, so be it. If not, I still have my family back home and I know they still love me."