Archive
Iowa basketball's Caitlin Clark a 'rock star' at John Deere Classic pro-am
Local legend Zach Johnson gladly plays second fiddle for the day
SILVIS, Ill. — It's been a while since Zach Johnson was the second most popular Iowan on a golf course. At least since 2007, when he made the Masters the first of two major titles.
Wednesday at TPC Deere Run, he was. And it wasn't close.
"Here's a good story," Johnson began as a way of describing the popularity of Caitlin Clark, the University of Iowa women's basketball star and Wednesday playing partner who drew a pro-am gallery the John Deere Classic hadn't seen since comedian Bill Murray came to play in 2015.
"I'm at Augusta National the Sunday before the Masters, and the Drive, Chip and Putt is commencing. They asked some former champions to hand out awards to these youngsters, which is awesome. But the buzz around Augusta National was about the game coming up that afternoon."
Johnson was referring to this year's NCAA Division I championship game in women's basketball, pitting Clark's Hawkeyes against the LSU Tigers, which drew a far-and-away record 9.9 million viewers.
The Tigers won that game, but the buzz was about Clark, who has drawn comparisons to Larry Bird – and compliments from Magic Johnson – for the way her play has elevated the women's game.
"I don't know if transcendent is the right word," Johnson said, "but what happened in the NCAA women's tournament – as an Iowan but also as a fan of sports – was just spectacular."
Caitlin Clark and Zach Johnson on what they learned from each other during pro-am round
Johnson joined Clark for the back nine of the morning pro-am round. By then, Clark and her pro-am crew had drawn a gallery deep into the hundreds, at least half of them young boys and girls clad almost exclusively in Hawkeyes black-and-gold.
The group's front-nine pro was Ludvig Aberg, a first-year professional golfer with some serious talent of his own. Aberg swept all three 2023 college player of the year awards and earned an immediate promotion to the TOUR by leading the PGA TOUR University Ranking.
"She's a rock star," Aberg said. "I was just a passenger today. It was really cool."
Clark, a casual golfer, called the experience "so special."
She piped her first drive right down the middle, and she nearly made a spectacular up-and-down from well below the green on the fifth. She wilted a bit on the back nine on a very humid day and admitted she was looking to the bench for a respite.
"I needed a sub for a little bit," she said with a laugh. "I'm like, 'Zach, can you just hit all my shots for me.'"
On the basketball floor, Clark has developed a reputation for pulling up and draining shots with ease from just beyond half court. She is also a tremendous passer, rebounder and defender with 11 career triple-doubles to her credit, including back-to-back 40-point games with double-digit assists and rebounds in this year's NCAA Tournament. That's never happened before.
In April, she was awarded the Wooden Award as the best women's collegiate player. Last week, she earned the Honda Cup, which is awarded to the top women's college athlete in a given year.
On the golf course? Let's just say she's a little less accomplished.
Still, it was a thrill to test herself in another arena, particularly one that amounted to a "home" game.
Caitlin Clark on handling mental preparation with multiple sports
"Not many people have this opportunity, and to do it essentially 45 minutes from where I play basketball is pretty cool," she said. "I'm a big fan of golf. I love to play it and be around it. I think it's just really fun. Every Sunday, I usually have the TV on and am watching (the PGA TOUR).
"More than anything else, this was about enjoying the experience," she said of Wednesday's turn inside the ropes. "It's just cool getting to interact with the young kids who were here today. I was trying to make as much time as I could to sign an autograph, or give them a ball or a high five because that goes a long way."
That's why Clark's appearance was particularly special on Youth Day at the John Deere Classic.
"Everything we expected," tournament director Andrew Lehman said of Clark's impact. "We knew she would draw a great crowd. It's so much fun to see all the kids out here. Boys and girls. Everybody who was out here was excited. We ran out of Youth Day bags within the first 45 minutes, which has never happened. Lot of Hawkeye clothes. Lot of Hawkeye jerseys."
It was a clear win for the event.
"Our concessions were way up today," Lehman said. "We don't have the Ticketmaster data to compare to 2015 (when Murray was the attraction), but by all accounts, it was just as successful."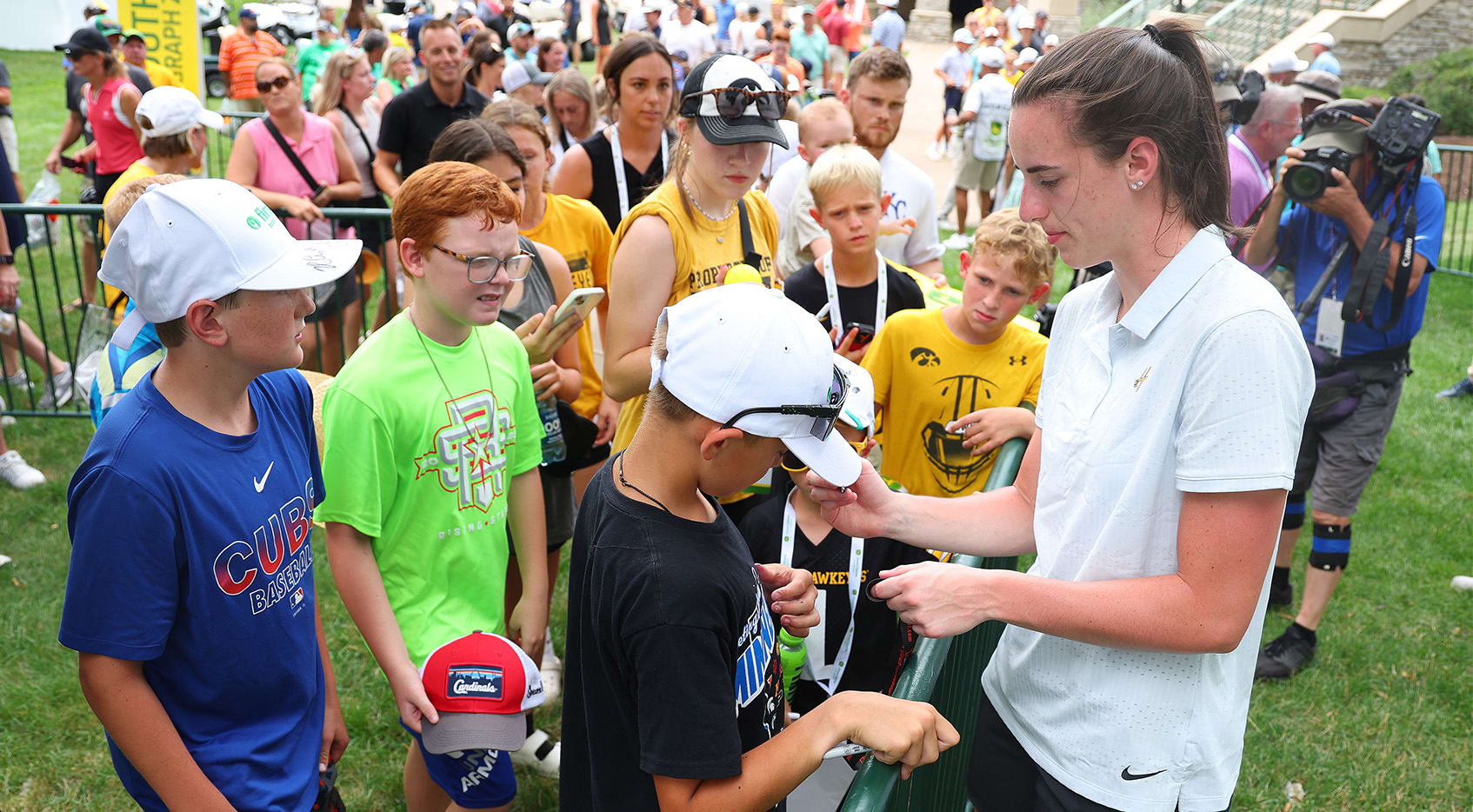 That would come as no surprise to Johnson, the upcoming Ryder Cup captain who gladly played second-fiddle Iowan on Wednesday.
Asked to compare Clark's transcendent impact on the game of women's basketball to what Tiger Woods brought to the PGA TOUR, Johnson deferred.
"I'm not smart enough to know that," he said. "I know what the numbers say. I mean, more people watched the NCAA women's championship than the men's. So I don't know what the parallels would be, but ratings are ratings. More than anything, I am just in awe."