28D AGO
World Wide Technology grants opportunity and access to APGA, First Tee Diamante kids
In many ways, the setting for this week's World Wide Technology Championship in Los Cabos, Mexico, parallels the global IT company's bigger and more inspiring drive behind its title sponsorship of the annual PGA TOUR event.
Imagine for a moment, if you will, the area surrounding this week's venue, El Cardonal at Diamante. Though breathtaking by its expansive, sprawling layout along the coast of the Pacific Ocean, the area is also largely undeveloped and unoccupied.
It doesn't take long, though, to see the vision rapidly reaching fruition.
Homes, condos, business structures … all seemingly rising straight from the ground. Countless plants, trees and grasses are being planted into that ground to grow. Earth is being moved and sculpted in a way to produce everything from roads to golf courses and shopping centers.
In short, it's an extraordinary display of dedication and promise to grow a place into something more vibrant, functional and inviting. That impassioned vision of taking a thing and making it better is, in large part, what drives World Wide Technology in its title role.
An extension of that support from World Wide Technology's title role is to keep an emphasis on people, too. In this regard, the well-executed plan is to make places and people better.
World Wide Technology uses its title platform as a means to give back to those in the cities and regions where they work and host its annual World Wide Technology Championship. Leaving a community more enriched than when they found it is the wide-open fairway before them.
Going into the communities to make positive impacts on young lives and/or bring them to the host venue for educational and enrichment opportunities is nothing new to World Wide Technology staff.
In fact, at last year's event, World Wide Technology hosted a "Career Discovery Day" at K'iin Beh School in Mayakoba for 10th and 11th graders. In addition, they also hosted a meet-and-greet with PGA TOUR players and students at K'iin Beh School, which the PGA TOUR presented a check to.
World Wide Technology executives also hosted a "Career Readiness Workshop" at last year's event, when nearly two dozen local university students were invited to discuss resume writing, fields of study and even how to brand themselves on platforms like LinkedIn.
Specific to this week in Los Cabos, World Wide Technology has designated First Tee Diamante as the primary beneficiary of the 2023 WWT Championship.
"We knew World Wide Technology was generous to begin with, but we were extremely surprised with the gift of designating First Tee Diamante as the primary beneficiary of the 2023 World Wide Technology Championship," said Jeff Scott, First Tee Diamante Director of Operations."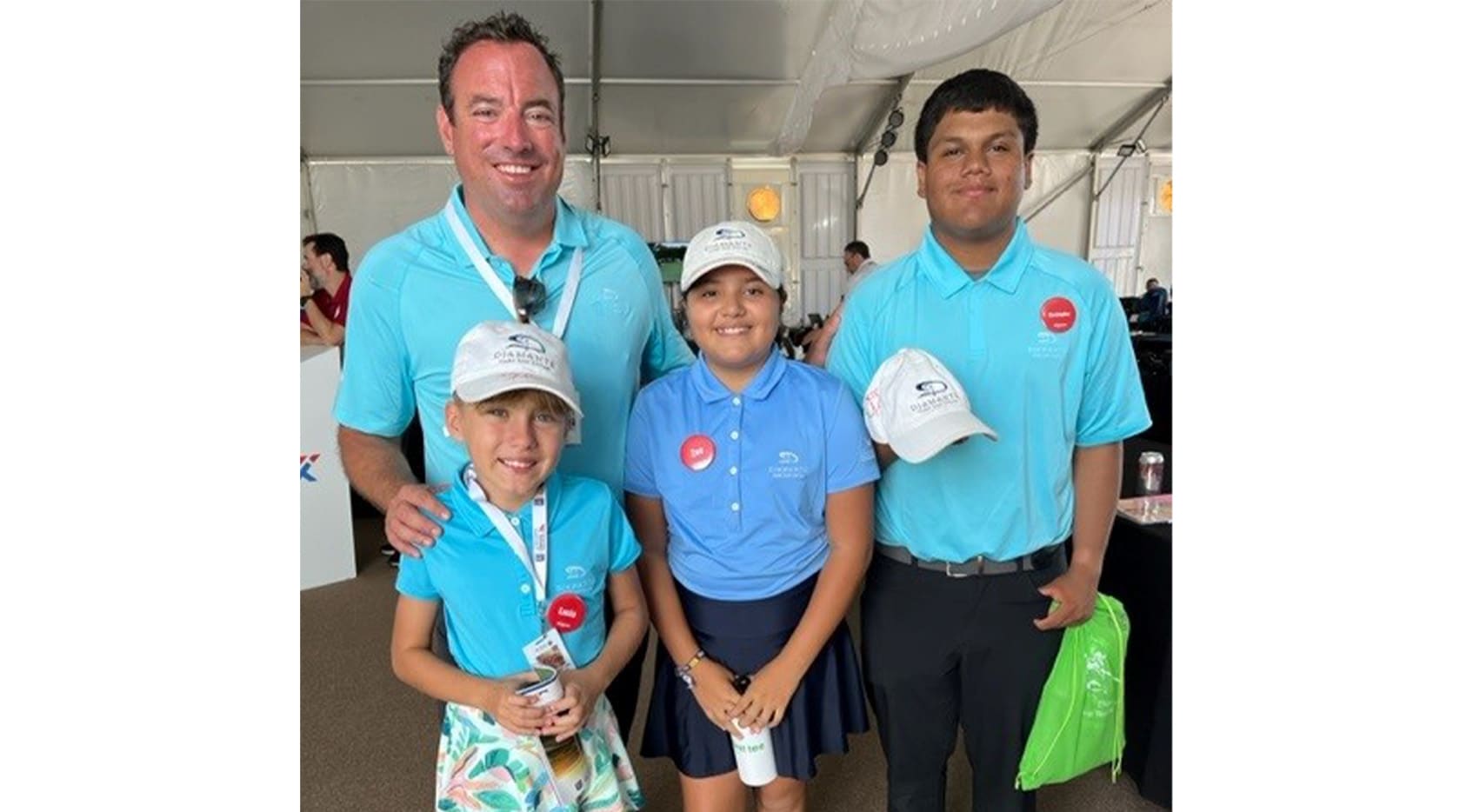 Jeff Scott, First Tee Diamante Director of Operations, with kids at First Tee Diamante. (Courtesy of World Wide Technology)
First Tee Diamante conducted its 49th Saturday session this week, with 145 registered kids ages 6 to 16. They feature a staff of 35 coaches and assistant coaches, tutors and helpers who work each week to deliver the program.
In conjunction with Diamante, First Tee provides transportation, breakfast, snacks, lunch, shirts, hats, water bottles, backpacks and even day care until 4 p.m. to help parents with work responsibilities at Diamante.
"At World Wide Technology, giving back to the community is woven throughout what and who we are as a company. It's part of our mission," said Ashley Harris, World Wide Technology Manager, Community Outreach and Employee Engagement. "When we took on the title role of this PGA TOUR event, we wanted to make sure there was a community outreach component."
First Tee ended up becoming that component and great partner, in that it connected World Wide Technology's passion of introducing underrepresented kids to those positions where they can grow, thrive and develop into future leaders.
"What made it super special with First Tee were the core values and that it didn't just focus on the sport. It focuses on the kids as they grow and develop a strong character," Harris said. "That aligned with the World Wide Technology mission. We also have a set of core values that are integral to who we are as a business, but also to who our employees are and how we treat each other. So, it was a great alignment there."
"As we head into 2023, we will continue to develop the program and integrate the game of golf with a life skills curriculum that builds inner strength, self-confidence and resilience in kids," said Scott. That can be carried to everything they do in their lives, families, schools and communities."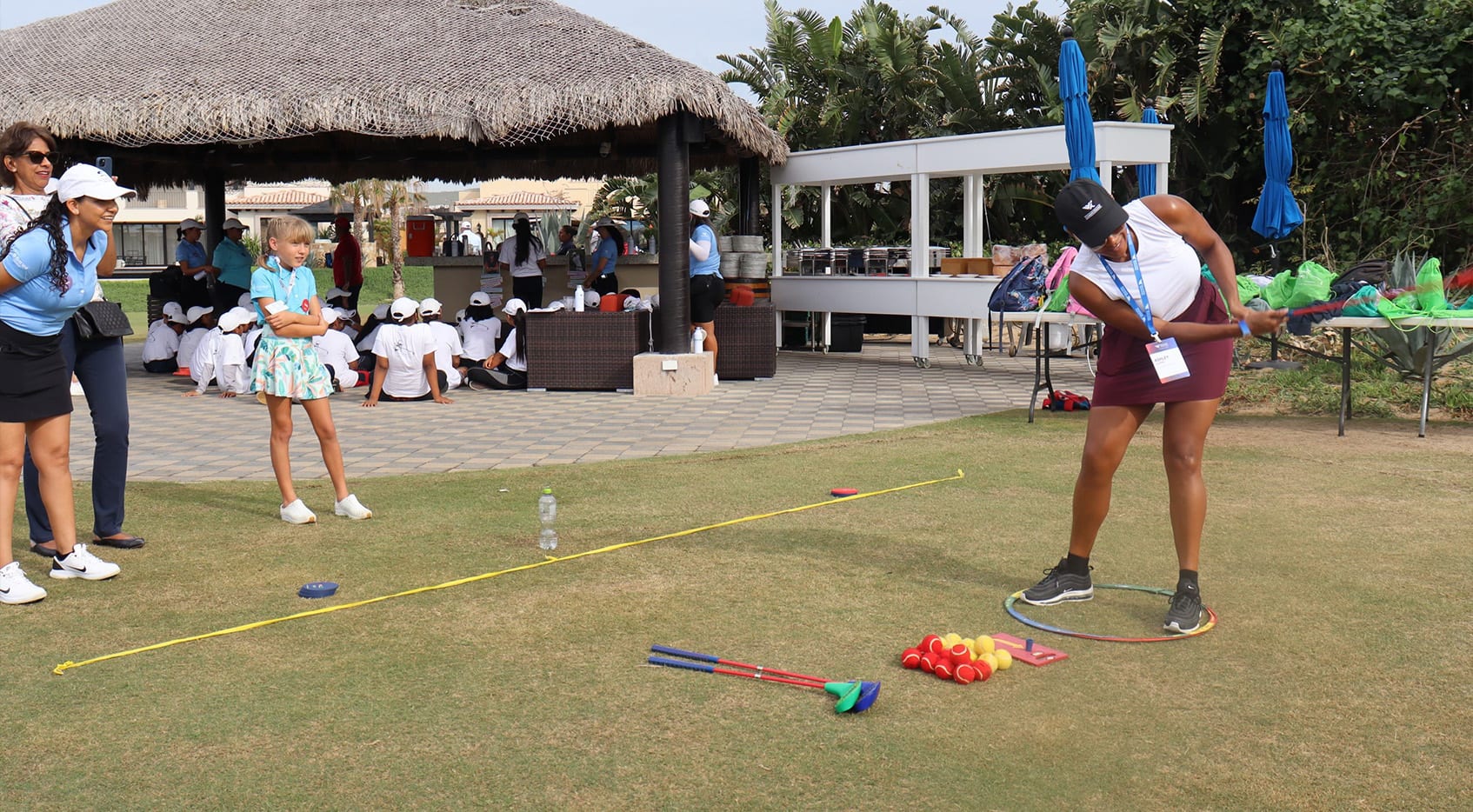 A clinic at the First Tee Diamante. (World Wide Technology)
As opposed to World Wide Technology heading off site to engage this week, upwards of 150 First Tee Diamante kids, as well as staff, were invited to attend the World Wide Technology Championship Saturday – complete with special access credentials – for an opportunity they would likely have never otherwise had.
Following a special breakfast, kids were treated to enlightening visits with many of the entities which comprise a PGA TOUR event: media, volunteers and the TOUR's Shotlink staff. They also had the opportunity to rub elbows with players and caddies.
By way of offering that kind of access and opportunity, World Wide Technology is providing golfers of all socioeconomic backgrounds a chance at a career in the game.
"The World Wide Technology executive team was even here on site to talk to the kids about how they use the nine core values of First Tee to operate their company," Scott said. "The kids in the program really related to that because they've been able to use golf as a vehicle to learn the values, as well. They can use them at home, in school, in golf and, most importantly, as they build towards their futures."
"Our employees love getting out into the communities to give back," Harris said. "We have always said we want to serve the communities where we live, work and play. That's exactly what we are doing down here in Cabo. Our employees are absolutely all over that approach. I actually even had employees who were trying to change their flights this morning because they wanted to stay and work with the kids."
"The best moment for me today was watching the kids interact with World Wide Technology staff," Scott said. "They aren't just a very large and successful operation. They were each incredibly welcoming and gracious, making sure the kids had snacks and drinks. The World Wide Technology folks were genuinely happy to be a part of it all."
"Cutting a check is great; we all know how important that is," Harris said. "But, making sure we can also get in there and interact with the kids, both in and out of the States, is something our employees are very passionate about doing. They want to get out there and do it."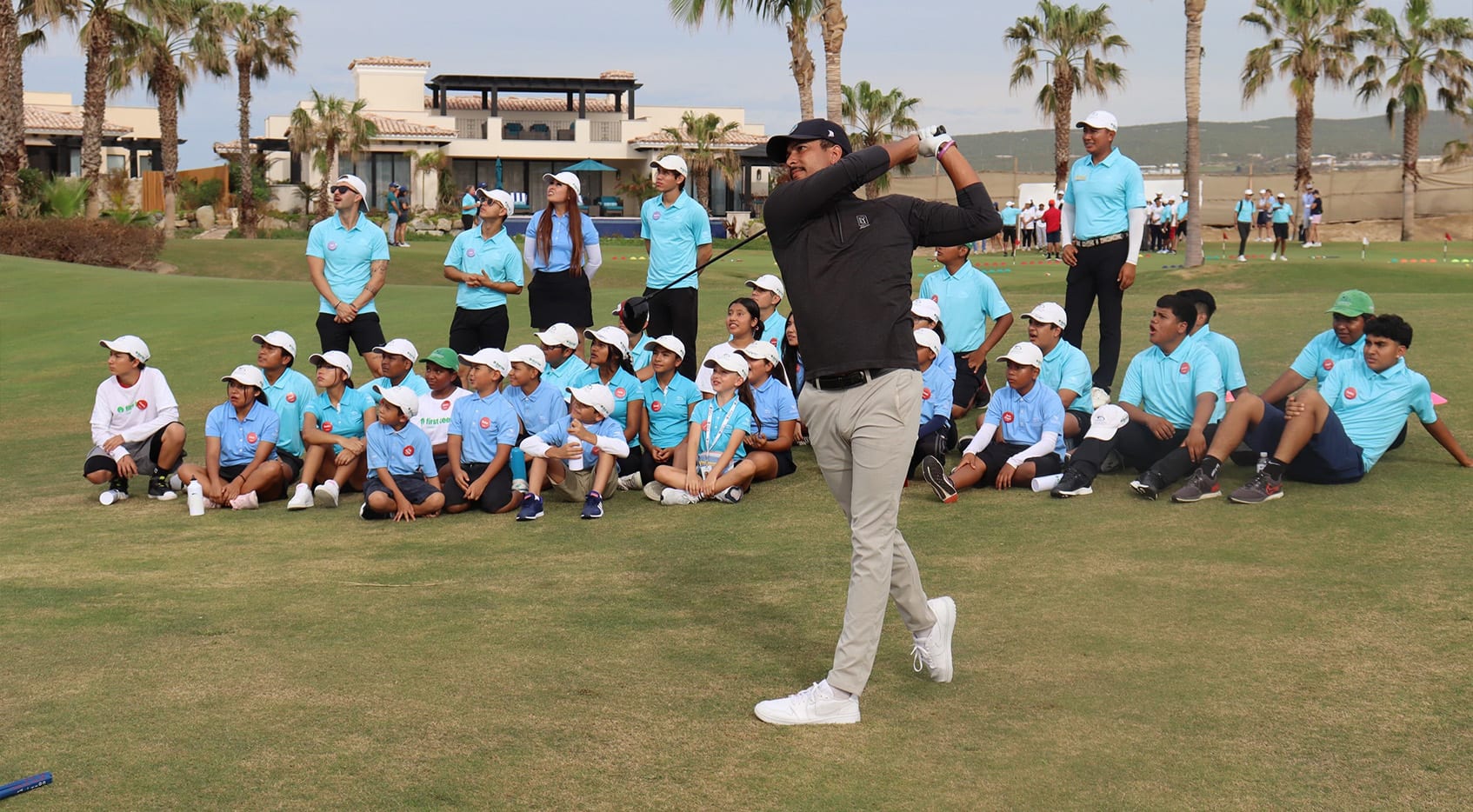 Aaron Beverly with kids at First Tee Diamante. (Courtesy of World Wide Technology)
While the significance of the outing was, no doubt, special to those with World Wide Technology, the profound impact it made on the kids was clear as day.
"Having the interactions with staff, volunteers and even players gave them a chance to see how far they can go in life. They took each moment today as an opportunity for their future," Scott said. "It amazed me, because a lot of these kids weren't even speaking when they started with the program two years ago. They were very quiet, very shy and didn't know what they were getting themselves into. Now, we're just trying to keep them quiet."
This week, those kids had good cause for making a little noise. Prior to the Saturday event, on Monday, First Tee Diamante kids enjoyed an outing on the nearby Oasis course. On Tuesday, they were front and center for the opening ceremonies, which was attended by some guy named Tiger.
At Thursday's Celebrity Challenge at the Oasis Course—featuring PGA TOUR players and celebrities, such as Justin Timberlake, Roger Clemens, Michael Pena, Reggie Bush, JR Smith and Jack Nicklaus—First Tee Diamante students served as standard bearers. More important, the event was punctuated by a $25,000 donation to First Tee Diamante.
Given the amount of attention and opportunities World Wide Technology provided First Tee Diamante, one could easily believe that to hold all of the company's humanitarian attention.
World Wide Technology is a also a sponsor of the Advocates Professional Golf Association's (APGA) Player Development Program (Learn more about WWT's support of the APGA by watching this video: WWT and the APGA Tour).
Established in 2010 as a non-profit organization, the APGA's mission is to bring greater diversity to the game of golf. The APGA Tour Board of Directors work to accomplish this by hosting and operating professional golf tournaments, player development programs, mentoring programs and by introducing the game to inner-city young people.
That appealed to World Wide Technology. In fact, last year they brought in the Top 5 eligible players from the APGA for an opportunity to try and Monday qualify into the 2022 World Wide Technology Championship.
Fast forward to a few months back in August. At the APGA's Ascension Classic presented by Daugherty Business Solutions in North St. Louis County, APGA player Chase Johnson fired rounds of 63-68 to emerge victorious at 11-under 131. With the win, he earned a spot into this week's World Wide Technology Championship and made the cut.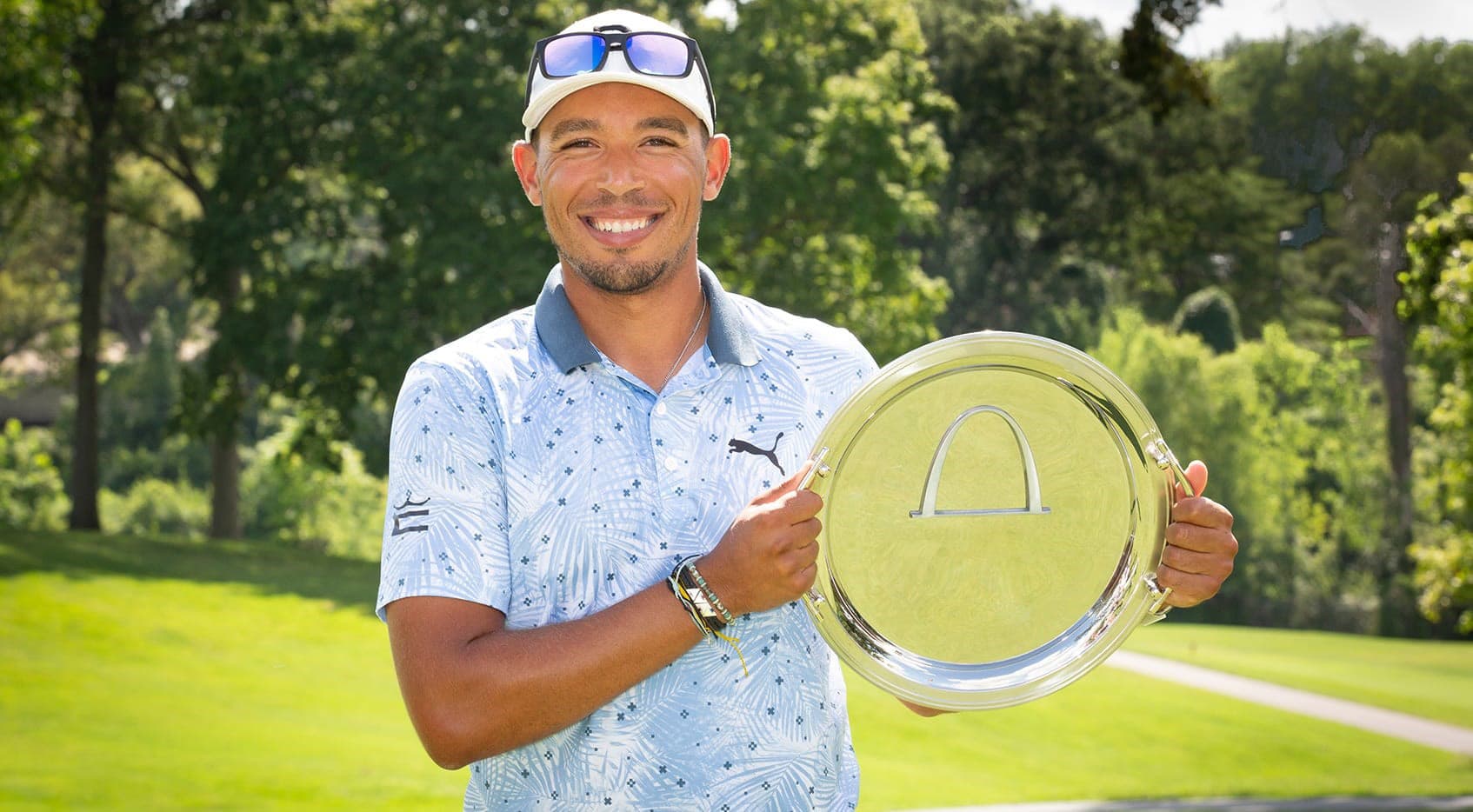 Chase Johnson won the APGA's Ascension Classic presented by Daugherty Business Solutions to earn a spot in this week's World Wide Technology Championship. (Courtesy of World Wide Technology)
So, yes, there are many inspiring parallels to the MO of World Wide Technology and the way this area of Los Cabos is coming to life and growing.
Inspired and determined, World Wide Technology remains steadfast in its approach to leaving something or someone better than was the case when they first arrived. By naming First Tee Diamante the primary beneficiary of this year's World Wide Technology Championship, that "better" for a lot of people will be nothing short of remarkable for a really long time.
"The money we use from World Wide Technology will, literally, help us for years to come," Scott said. "I cannot even put into words how much they have done for these children. But, it's remarkable and will help these kids every step of the way throughout the rest of their lives."