Archive
For Shriners patient ambassador Keoni Holmes, connections to Shriners extend well beyond golf course
For Kathy Holmes, Shriners are not just the men who wear the fez, that distinctive red wool hat with the gold emblem and long black tassel. There is family history there, and the charitable organization became a lifeline when they needed it the most.
Her husband John's grandfather was a Mason, and she was a member of its affiliated youth organization, Job's Daughters International. Among the things Kathy and the other "Jobies" did was raise money for the network of 22 children's hospitals that the Shriners support.
But even so, she never expected to need the expertise and care of the doctors at one of those facilities, which specialize in treating kids with orthopedic challenges, burns, spinal cord issues and injuries, colorectal and gastrointestinal problems and craniofacial conditions.
That's before her son, Keoni, was born in a birthing tub under a big madrone tree 16 years ago.
"We pulled him up out of the water and he was resting on my chest," Kathy recalls. "He was actually a blue baby, so I think in that moment we were more worried about getting him breathing."
Once he was taking in oxygen properly, Kathy noticed something was wrong with his tiny feet. Each was fully formed but drawn up against his inner calves. Keoni, as they found out, had bilateral clubfeet.
Kathy's sister worked as a paramedic at the time, and she did research to help with next steps.
"That's basically when she was like, hey, the Shriners Hospital is going to be where you're going to take him," Kathy says. "She's already had experience with them with burn victims, and both her and I are Job's Daughters. So, we've actually raised money for Shriners in the past as teenagers.
"So yeah, it was just an automatic hit for us. We knew at once when we saw that they could help him, that's where we would go."
This week Keoni is one of the patient ambassadors from across the country representing the healthcare network at the Shriners Children's Open at TPC Summerlin in Las Vegas. He'll be stationed at the par-3 eighth hole during Wednesday's pro-am, hitting shots with each foursome and interacting with the PGA TOUR pros. He'll also work as a standard bearer during the FedExCup Fall event.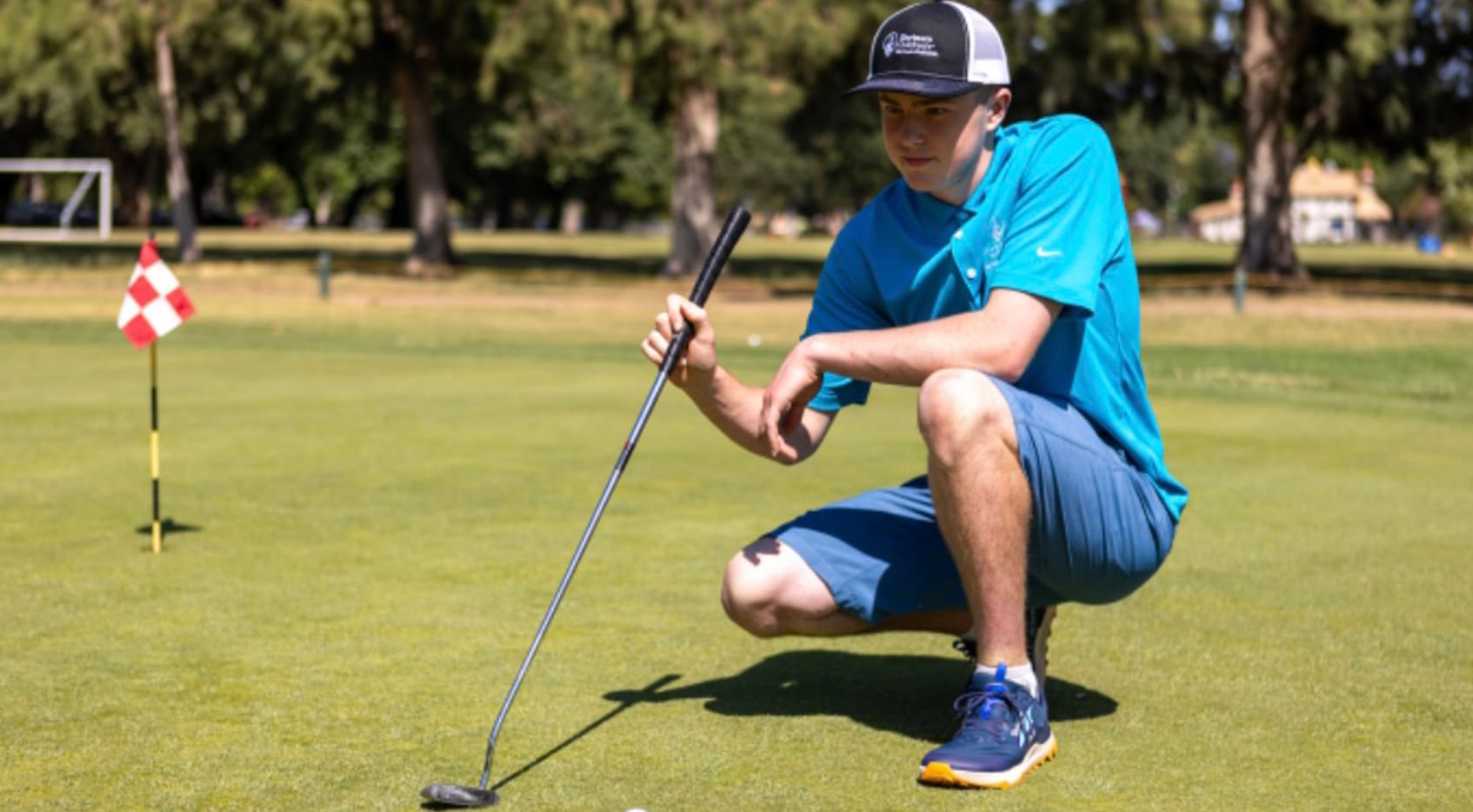 Keoni Holmes enjoys playing golf as well as soccer when he has free time away from schoolwork. (Kathy Holmes)
At first Keoni, who plays on his high school golf team, was nervous about being inside the ropes. He rarely watches golf on TV and had never even been to a TOUR event. But the more he learned about the opportunity, the more intrigued he was.
"I don't have to play golf," Keoni says. "It's just pros playing golf. And I got really excited."
Keoni has been a patient at Shriners Children's Northern California in Sacramento since he was 5 weeks old. Clubfeet like his occur when the tendons that connect the leg muscles to the bones in the foot are short and tight. As a result, the foot twists inward.
According to the March of Dimes, about one in 1,000 babies is born with a clubfoot in the United States each year. About half of those births involve children with bilateral clubfeet.
Doctors treat clubfeet by repeatedly stretching, re-positioning and casting the foot. At first, Keoni had casts on both legs that had to be replaced every week. After several months, the infant was able to go four weeks between casts. He also had two surgeries before he was 4 years old to extend the Achilles tendons, each requiring about eight months of physical therapy.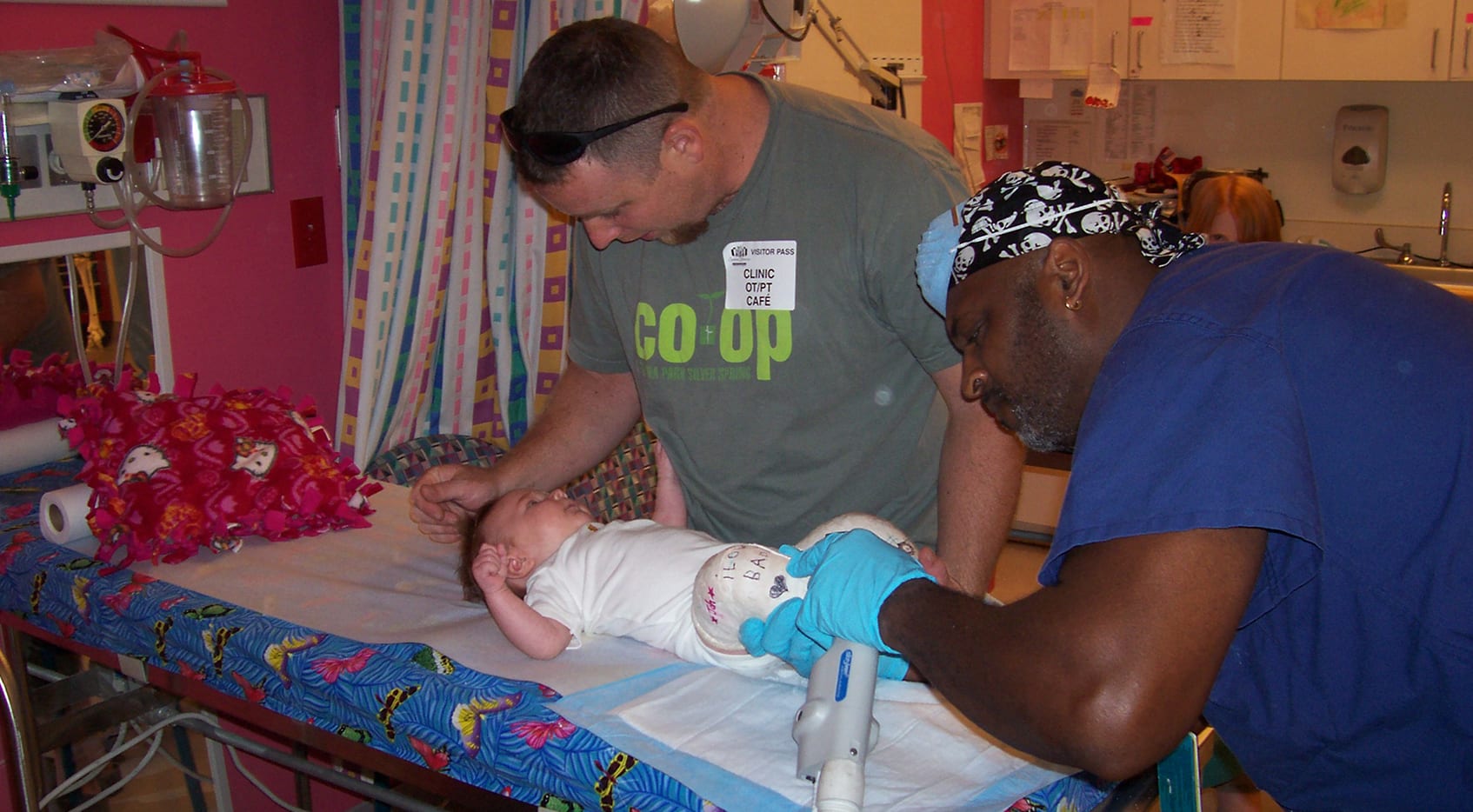 Keoni had casts on both legs that had to be replaced every week. (Kathy Holmes)
The casting and recasting turned into a family affair. The Holmeses live in Mendocino on the California coast, and each trip to Sacramento and Shriners Children's was about five hours – one way. Due to the frequent trips to the hospital, Kathy says she and her husband John made the decision to homeschool Keoni's older brother and sister for about a year.
"So, every week we would all just jump in the car," Kathy says. "We usually made it part of our curriculum so we would go to maybe a science museum or do something … and just try to include and make it a fun experience for them. So, it wasn't a downer that they always had to do that type of stuff.
"It was something exciting that we were trying to make it fun for our family, but it was also very intense. He was just a baby, and putting on the casts and taking them off was very hard for him. And it hurt. It definitely is a growing thing, and he (was) definitely in pain most of the time."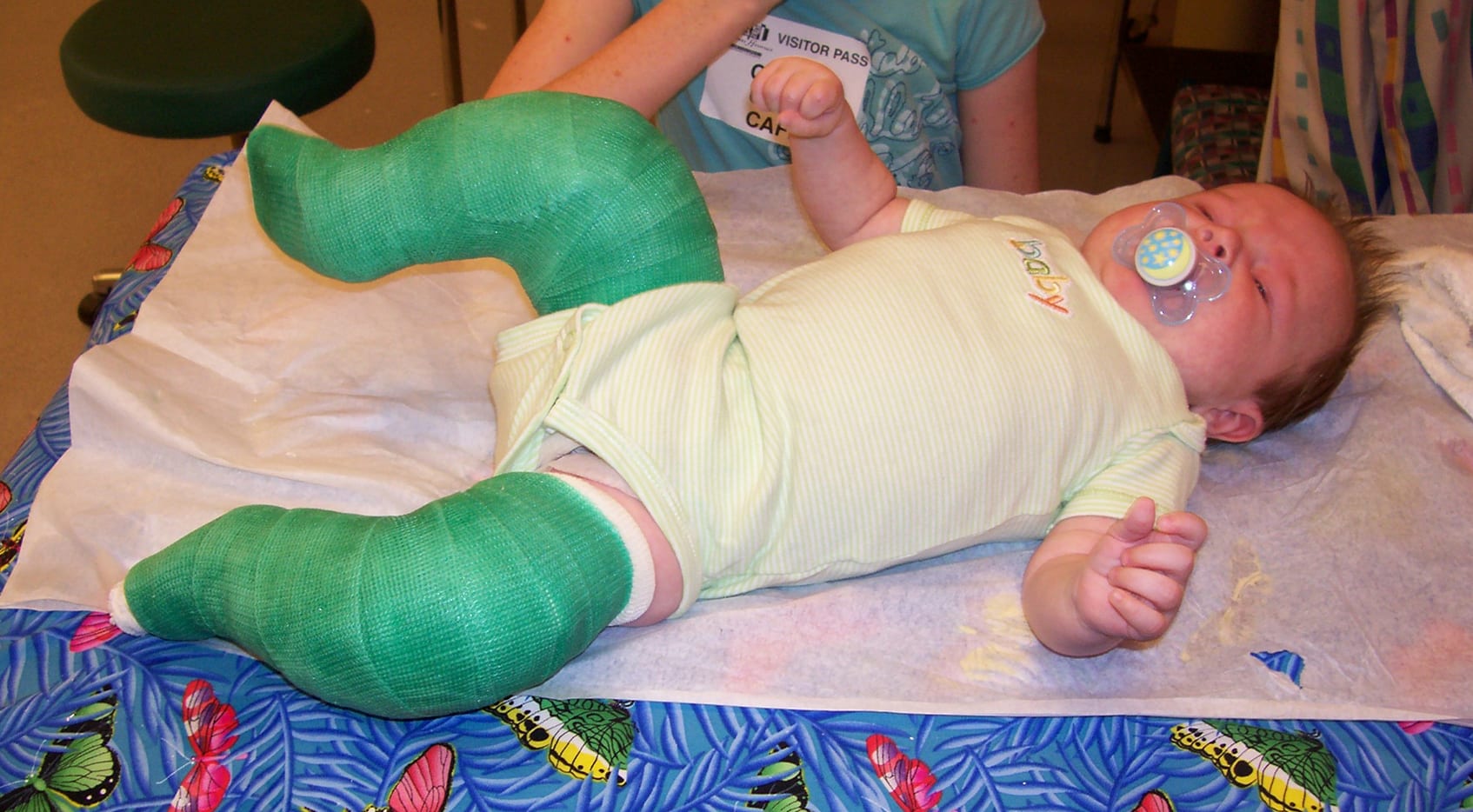 After several months of weekly cast changes, Keoni was able to go four weeks between casts. (Kathy Holmes)
Turns out, there were lessons to be learned once the family got to the hospital, as well.
"Just going there was a huge eye-opener for them," Kathy says of her two older children. "… The clinic for clubfeet was the same day as the burn victims. We would be there with a lot of the kids who have massive burn injuries. And I would say my children have just learned compassion.
"They've learned that just because a child might look different or someone might look different, it doesn't mean that that's who they are. They would just get down on the floor and go play with them and just interact with all these kids all the time. So, they just were raised around it, which I think is a blessing."
Dr. Joel Lerman, an orthopedic surgeon at Shriners and Keoni's long-time physician, eventually decided to do a muscle transfer when the boy was about 4 years old. During the surgery, Lerman took the weaker muscle on the inside of each foot and transferred it to the outside of the top of his foot so the feet would stay in the right place. Keoni was in casts up to his hips and a wheelchair for about five months.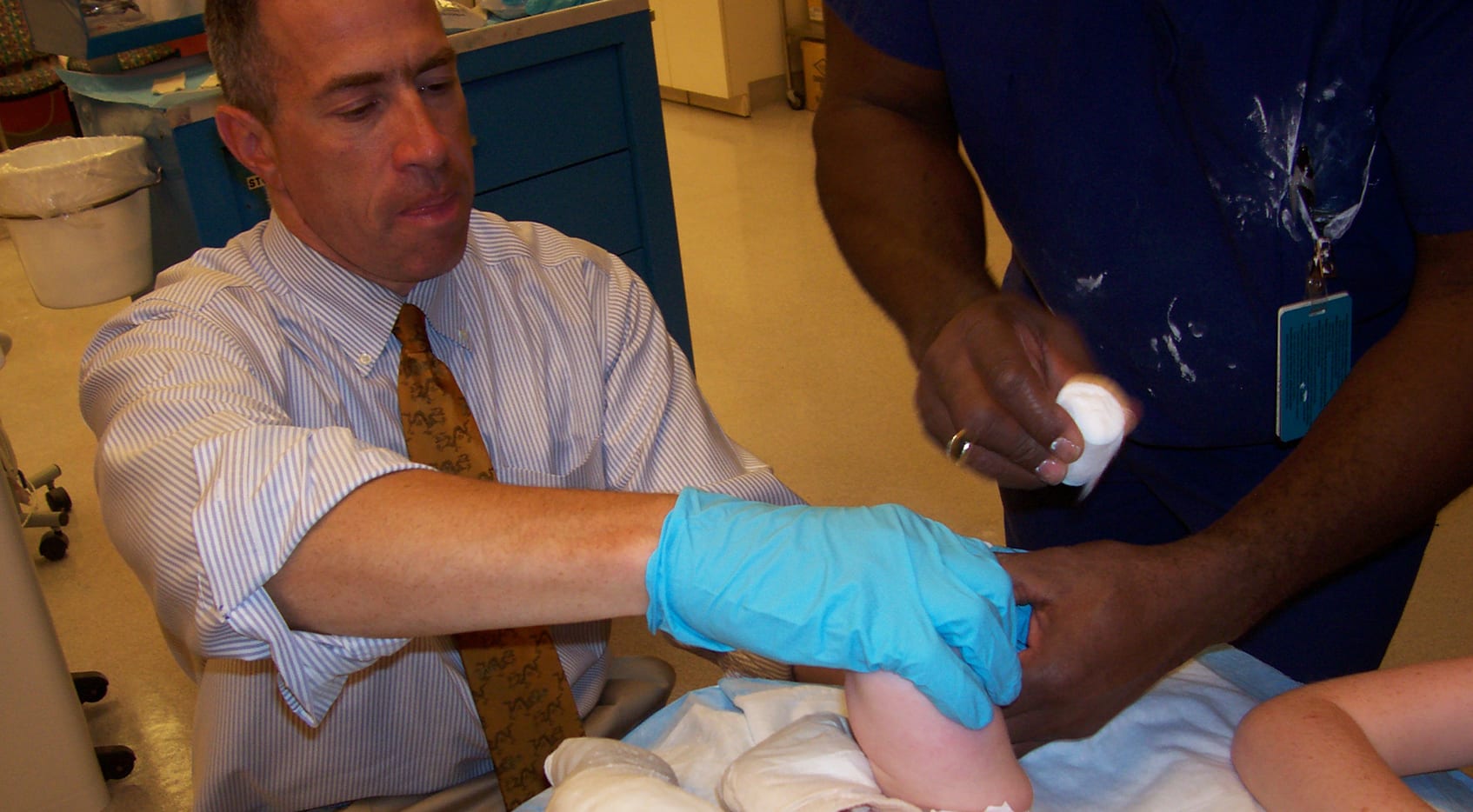 Dr. Joel Lerman assisted in correcting Keoni's bilateral clubfeet and remains close with the family today. (Kathy Holmes)
"And a 4-year-old's pretty active," Kathy says. "… I'll say he did learn to walk in the casts, but it's not easy to walk around in them. It was very hard in our floor. We had a wood floor, so he would slip and slide everywhere."
Soon, the hospital trips became less frequent, generally every three months so doctors could monitor his progress and adjust the orthotics in his shoes. For the last three years, Keoni has only had to go see Dr. Lerman twice a year so he can check his flexibility, as well as the Achilles and orthotics. No additional surgeries have been necessary.
In addition to golf, which he took up with a friend when they got into high school, Keoni has also played soccer. But a heavy academic load this fall – which includes physics, chemistry and pre-calculus – will keep him on the sidelines until golf season in the spring.
Keoni is also into linguistics, studying, among others, Boontling -- a secret jargon used only in the Boonville community in northern California to confuse outsiders. He also plays classical guitar and the mandolin, and he has taught himself to roast green coffee beans in an old-fashioned popcorn maker.
"Anything he gets his little mind into that he wants to learn more about, he'll do a deep dive into it and have to figure it all out," Kathy says.
Keoni will likely remain a patient at Shriners Children's Northern California until he's 25. Over the years, he and his family have become close to Dr. Lerman, who shows an interest beyond what is going on with his feet.
"At every appointment, he just comes in with a bunch of energy and just asks me how I'm doing and wants to know everything that's been going on in my life," Keoni says.
When he found out Keoni was playing golf, Dr. Lerman was the one who nominated Keoni to become a patient ambassador. His mom says it's hard to put into words the love and support the family feels from the doctors, nurses and support people at the hospital.
"It means a lot to our family," Kathy says. "I don't even know. Deep in our heart, they are an incredible organization -- everything they do to help kids in all conditions."
Keoni pondered the question as well.
"The first thing that popped into my head was a helping hand," he says shyly.
And you never know when you might need one.