Archive
Five things to know: Colonial Country Club
PGA TOUR tournament venues have come and gone since the Charles Schwab Challenge debuted at Colonial Country Club in 1946, but Colonial remains.

Although this is the last time it will look exactly like this.
Gil Hanse will oversee an in-depth restoration after the final putt drops at the 2023 Charles Schwab. He has experience renovating a Perry Maxwell design, as he already did the trick at Southern Hills, host of last year's PGA Championship won by Justin Thomas.
Here are Five Things to Know about Colonial Country Club.
Ben Hogan edged Harry Todd at the first Colonial National Invitational in 1946, one of Hogan's 13 PGA TOUR wins that year. He won four of his first seven appearances at what is now known as the Charles Schwab Challenge, and also won in 1959, the last of his 64 TOUR wins.
Still being played at Colonial Country Club, the Schwab and Colonial is the longest-running tournament-venue partnership on TOUR. Flooding in 1949 and hosting THE PLAYERS in 1975 left two years vacant and explains why Colonial is not the longest-running concurrent venue.
That first tournament in 1946 was actually the second PGA TOUR event hosted by Colonial, though. Upon its opening in 1936, founder Marvin Leonard began petitioning the USGA to award a U.S. Open to his new track, the rare layout in the southern half of the United States with bentgrass greens. Colonial guaranteed the USGA $25,000 and the nation's championship came to Fort Worth in 1941, the first time the U.S. Open ever visited the South.
Craig Wood – who'd lost a playoff in all four major championships before claiming the 1941 Masters – added a U.S. Open to his resume with a score of 4 over.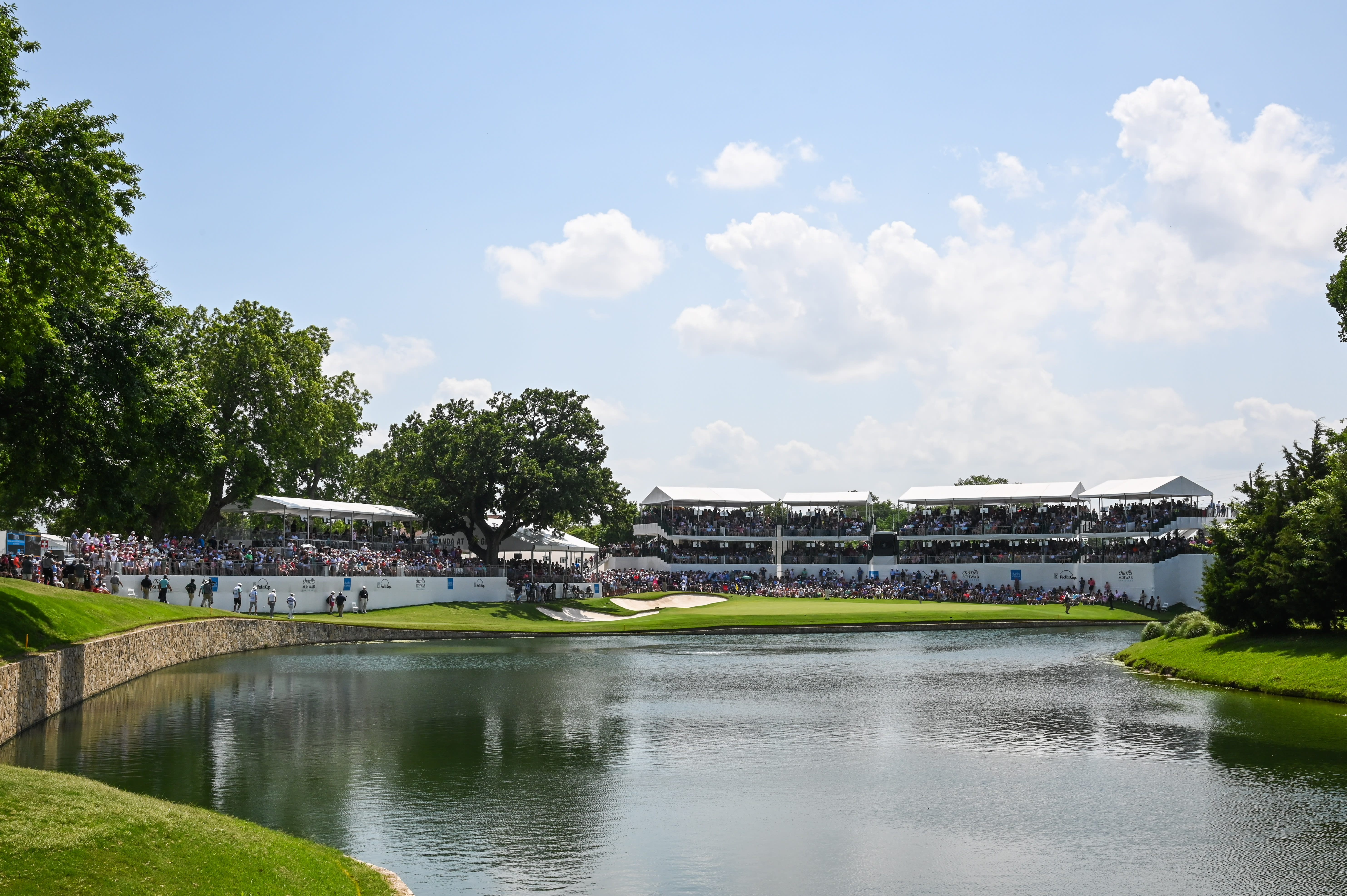 The 13th hole at Colonial Country Club in Fort Worth, Texas. (Ben Jared/PGA TOUR)
Perry Maxwell and John Bredemus are credited with creating Colonial. For many years, it was believed founder Marvin Leonard approved architectural aspects from both men's designs. But Texas golf historian Frances G. Trimble says that while both men submitted routings for the course, Leonard tasked Bredemus with supervising construction of Maxwell's layout. At the very least, Maxwell is given credit for the greens, as he is at Augusta National Golf Club.
Leonard's vision for Colonial seemed borderline impossible. While most Texas golf courses featured bermudagrass greens, Leonard, an avid amateur golfer who relied heavily on his putter, wanted to bring smoother bentgrass greens to Texas. A regular at River Crest Country Club in Fort Worth, Leonard campaigned the club's governing board to convert two or three greens to bentgrass. He even offered to underwrite the cost.
The River Crest president told him, "Marvin, if you're so sold on bentgrass, why don't you go build your own golf course and put them in?" He did.
Shortly after its initial opening in 1936, Maxwell was brought back a second time to prepare the course for the 1941 U.S. Open. He toughened the course by adding 56 bunkers and styling the par-3 fourth hole and par-4 fifth hole into the "Horrible Horseshoe."
Keith Foster provided a restoration in 2008, and now Hanse will oversee another.
"Hogan's Alley" is sometimes used to describe Riviera Country Club, where Ben Hogan won two Genesis Invitational titles (1947, 1948) and a U.S. Open (1948). It can describe the sixth hole at Carnoustie, where Hogan won his lone Open Championship in 1953.
But it was at Colonial that Hogan was arguably most at home, quite literally. Born in 1912, he moved to Fort Worth with his family in 1921 and would spend most of his life there. At 11, he began working as a caddie at Glen Garden Country Club, then a nine-hole course. One of his co-workers was a kid named Byron Nelson, born six months earlier. Nelson beat Hogan in a caddie tournament when they were teenagers, the beginning of one of golf's greatest rivalries.
Hogan also met Marvin Leonard, a prominent Fort Worth businessman, while caddying at Glen Garden. Leonard picked up the game under doctor's orders and found in Hogan the son he never had, while Leonard became a father figure to Hogan, whose own father had committed suicide. Leonard mentored Hogan and provided financial backing while he was trying to establish himself on TOUR. Leonard also founded Colonial.
At the 1941 U.S. Open at Colonial, a 28-year-old Hogan recorded his best major finish at the time, a T3. He finished five back of Craig Wood. By the time the TOUR returned to Colonial in 1946 for the first Charles Schwab, Hogan had established himself as a star. In the midst of a 13-win year, he won the inaugural Charles Schwab by one. He defended his title in 1947 and would go on to win there three more times after his 1949 car accident (1952, 1953 and 1959).
Hogan continued playing at Colonial until 1970. In 1967, he finished T3 at age 54, three shots behind Dave Stockton. After retiring from professional golf, Hogan could normally be found hanging around Colonial, his home course, before moving on to another Fort Worth club founded by Leonard, Shady Oaks. Today, Colonial features a statue of Hogan's picturesque swing, plus a special room containing memorabilia from Hogan's historic career.
The Horrible Horseshoe, the nickname for holes 3-5, is one of the toughest stretches on TOUR. In 2019, the Horrible Horseshoe played 284 over par, the most difficult three-hole stretch on the PGA TOUR that season. Dan Jenkins, the legendary sportswriter and Fort Worth native, is credited with giving these three holes their nickname in the 1980s.
The three holes wrap around the club's practice range to form a horseshoe shape. The third hole is a 483-yard, sharp-dogleg-left par-4. A wall of bunkers in the left side of the fairway influences many to lose their tee shots into the right rough, leaving a longer approach shot. Drives pulled to the left, if they avoid the bunkers, may be blocked behind a series of trees.
The fourth hole is a 247-yard par 3, and an elevated green makes this beast of a hole even longer. While the Charles Schwab's history goes all the way back to 1946, the tournament has yet to see a player make an ace at the fourth, and birdies there are exceedingly rare.
The 481-yard, par-4 fifth hole plays as the hardest on the course. Mirroring the third, No. 5 is a dogleg right, but with a river on the right and a ditch on the left demanding precision off the tee. Trees just off the fairway on both sides and two bunkers protecting both sides of the green create a tight approach shot – if players can even get a clean look for their approach.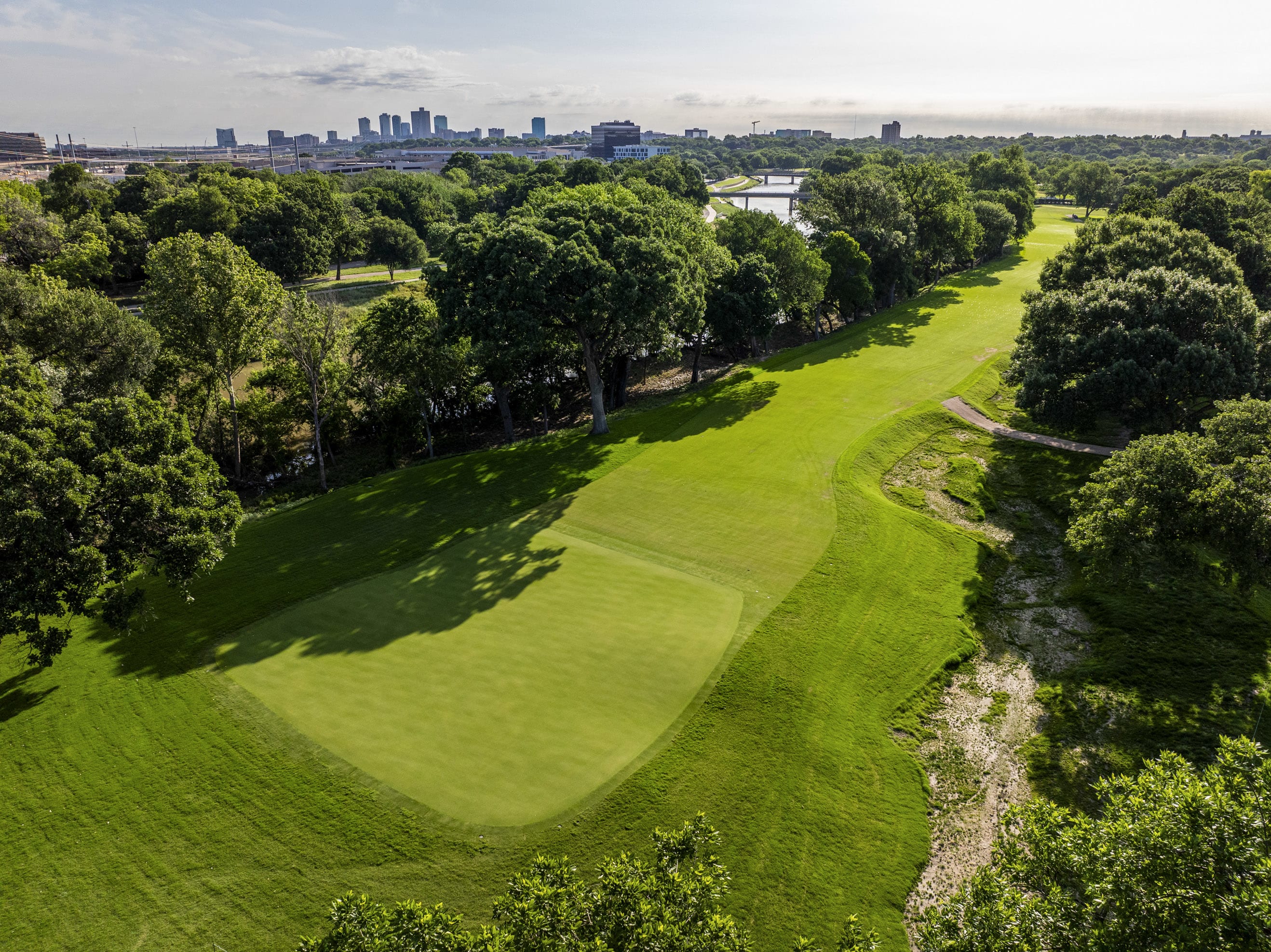 The fifth hole at Colonial Country Club in Fort Worth, Texas. (PGA TOUR)
A 170-yard par 3 over water, No. 13 is a great place to watch the action; the hillsides around the hole are one of the Fort Worth fans' favorite gathering spots. The high Texas winds can cause headaches for the players, however. The green has a unique triangle shape, with its third edge directly in the back of the surface. Two bunkers on the left guard the short route to dry land.
While multiple tee boxes mean the hole can play from a myriad of yardages, the base distance used to be 190 yards. In 2013, players racked up 22 scores of double or worse there, and while shortening the hole has limited some of the crooked numbers, the theatrics remain. Fans pack themselves into the grandstands around the green, creating an electric atmosphere as they react to shots that scare the pin or plop into the water, perhaps making or breaking a player's week.