16D AGO
Ben Hogan's legacy lives on at Colonial Country Club
A 35-year-old interview with another Hall of Famer offers rare insight into Hogan's career
Multiple courses lay claim to the title of "Hogan's Alley," but few can rival the role that Colonial Country Club played in the legend's career.
Not only did Hogan win five times at Colonial, which will host this week's Fort Worth Invitational, but the course's founder, Marvin Leonard, was a mentor and father figure who helped Hogan get his golf career off the ground after his hardscrabble upbringing.
Hogan passed away more than two decades ago, but he still plays a large role in the PGA TOUR's annual stop at Colonial Country Club. A 7-foot statue of him eyeing another solidly-struck shot overlooks the course. The clubhouse is full of memorabilia from his historic career.
Hogan was so dominant at Colonial that sportswriters dubbed the tournament "Hogan's Benefit" and the "Colonial National Second-Place Invitational." He won the first two editions of what was then the Colonial Invitational in 1946 and '47, and was runner-up in 1948. He went back-to-back again in 1952 and '53. Hogan won his last PGA TOUR title at Colonial in 1959, at the age of 46.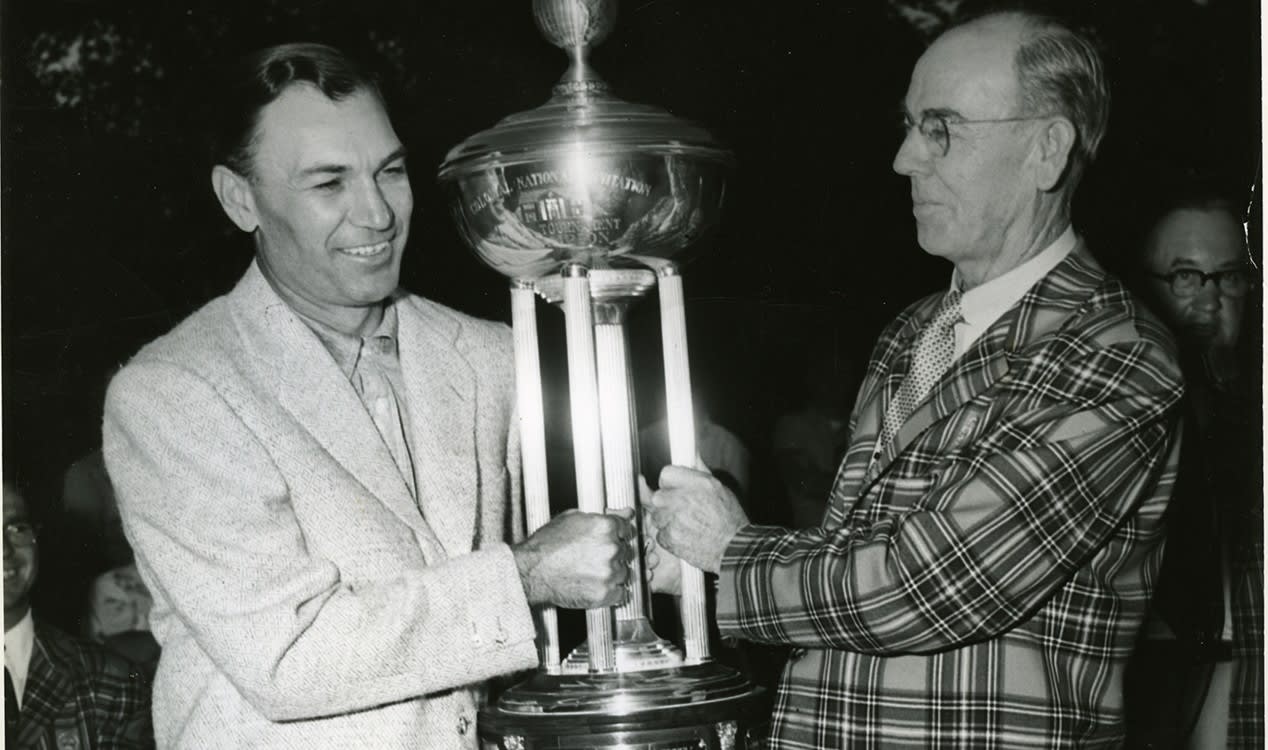 Ben Hogan won at Colonial in 1946, '47, '52, '53 and '59. (Submitted photo)
Hogan first met Leonard while caddying as a boy at nearby Glen Garden Country Club. Hogan had lost his father, Chester, to suicide and Leonard had four daughters, but no sons.
Leonard founded Colonial in 1936 because of his desire to bring bentgrass greens to the area.
Leonard also funded Hogan's early, and unsuccessful, attempts at the TOUR, as well as his foray into the equipment business.
Hogan was known for his secretive nature, but he gave one of the most revealing interviews of his life for the telecast of the 1983 tournament at Colonial. The sit-down with Ken Venturi came 30 years after Hogan became the first man to win three majors in a single season.
The conversation provided unforgettable insight into Hogan's legendary career. It has been cited in multiple books on the 64-time PGA TOUR winner, including "Hogan"by Curt Sampson and "American Triumvirate," James Dodson's book about Hogan, Byron Nelson and Sam Snead.
Here are some of Hogan's highlights from this 35-year-old conversation between two World Golf Hall of Famers.
---
Ken Venturi interview with Ben Hogan 1983
On the satisfaction of improving:
"Well, I had to. I had such a lousy golf swing starting in. … Improving is the greatest satisfaction anyone could ever get. And the fellow that's shooting 90, if he can cut it down to 87, he's pleased. You'll see him out on the golf course the next day. And a fellow that shoots 70, if he can shoot 69, he's just as pleased, and he'll be back the next day. It brings him back, and it keeps him enthused all the time. And it's the greatest pleasure in the whole world."
On his legendary work ethic:
"Very few times in my life have I laid off maybe two to three days, and it seemed like it took me a month to three months to get back those three days when I took a rest. It's a tough situation. I had to practice and play all the time. I told you before my swing wasn't the best in the world and I knew it wasn't. And then I thought, well, the only way I can win is just to outwork these fellas.
"After I won a couple of tournaments, I noticed these folks were practicing longer, and I don't know why that was. But they had to stay with me, and if it had been 12 hours during the day, I would have been out there 12 hours because I enjoyed it."
Fighting a hook early in his career:
"I was hooking so badly, that I couldn't get a 4-wood off of the ground. I had to use iron clubs all the time. Of course, I said to myself, you can't play this way. … You're going to have to train yourself to be able to get the ball in flight and hit a high shot when you want to, or a low shot. But for heaven's sake, you have to get rid of this hook. Because a left-to-right dogleg, I couldn't play it at all if it had any trees on the right side. I didn't have room to start my hook out there, and I just couldn't play it at all."
His career's humble beginnings:
"I went to the West Coast on a tour in 1932. … I left here with $75 in my pocket to go to the West Coast. Would you try that today?
"And the first tournament was Pasadena. I didn't get any money there. I was always last if I got in the money at all. I was a terrible player. And after New Orleans, I wasn't in the money and I was broke. I had to come home. So I spent five years compiling $1,400. And in the meantime, Valerie and I had gotten married. I told her I'd like to go back on the TOUR. She said, 'I knew you had this in mind the whole time.' She said, 'Well, if that's what you want to do, we'll do it.' "
On the tournament that kept his career alive:
"We were driving to Oakland, California and Valerie said, 'Do you know how much money we have?' And I said, 'Yes, I know, we have $86 left out of the $1400.' So she said, 'Well, what are we going to do?' And I said, 'Valerie, we made a deal to spend $1,400. We have $86 left and we're going to Oakland.'
"I was driving a maroon Buick. I had a fairly early starting time. I left the hotel after breakfast, went across the street and my car, the two rear wheels are sitting on the rocks. They'd even taken the jack. So I came back to the hotel and bummed a ride with somebody. I can't remember who. I got to the course and it was late and I couldn't hit any practice balls because I'd be disqualified. … So I played and I won $385. That's the biggest check I've ever seen in my life."
On growing up poor in Texas:
"My family wasn't rich. They were poor. I feel sorry for rich kids now, I really do, because they're never going to have the opportunity I had because I knew tough things. I can handle tough things; they can't. Every day that I progressed was a joy for me and I recognized it every day. I don't think that I could have done what I've done if I hadn't had the tough days to begin with."
"After a fellow learns how to hit a golf ball -- that's all there is left. Management is 70, 75 percent of the game after you learn how to propel a golf ball. And if you don't know how to manage a golf game, you can't play.
"What is required of this shot? What is required of the next shot? Where do you want to try to place the ball, on the right side of the fairway or the left side of the fairway. … And it's where you tee up on the tee between the tee markers. … You see golfers just tee up in the same place every time. It's the worst thing in the world. They don't give themselves any margin."
On making his lone Open Championship appearance in 1953:
"Walter Hagen and Tommy Armour called me on the telephone and said, 'You can't complete your career unless you go to Scotland and compete in the British Open.' I thanked them, (but) I still had no inclination to go over there at all.
"Anyway, I won the Masters and I won the U.S. Open that year, and I sent my entry in to the British Open. The PGA Championship was in conflict with the British Open, and I'd played in the PGA several times. So I thought, 'Well, these fellows have asked me to do this. I think I'll oblige them.' So I went over there and luckily enough, I had a good turn and won the tournament. And I'm delighted that I did."
On his loss at the 1960 U.S. Open:
"You mention that shot on the 71st hole (at Cherry Hills). I find myself waking up at night thinking of that shot. Right today. How many years ago has that been? That was 23 years ago and there isn't a month that goes by that that doesn't cut my guts out.
"I didn't miss the shot. I just didn't hit it far enough. It hit just short of the green and bounced on the green. … I put so much spin on it, I just sucked it right back in the water."
On the state of the game in 1983:
"In my opinion, these fellows that are playing now are better players than we were. I am delighted that they are because if they weren't better than we were then I would feel like I never contributed anything to the game. (The courses) are in better condition now because people know how to take care of grasses more than they did long time ago. They get better lies and things like that. I think the equipment is much better, at least ours is. The golf balls are better. These fellows started in high school playing golf, they went through college playing golf. They had a lot of competition in college and in high school. And then when they played amateur golf, they had a lot of competition. Well I never had any competition at all, until I turned pro, and I found out the first day that I shouldn't even be there. So they've got a leg up, which is fine, and I am delighted."
SM
Sean Martin manages PGATOUR.COM's staff of writers as the Lead, Editorial. He covered all levels of competitive golf at Golfweek Magazine for seven years, including tournaments on four continents, before coming to the PGA TOUR in 2013. Follow Sean Martin on Twitter.