6D AGO
Why the rise of Sahith Theegala is even less likely than you thought
Golf in India is a niche sport for civilians, and his father was not in the military
Paramjeet Ahulwalia watched a lot of golf over the weekend.
"Every minute of it," he said by phone from Dallas, where he works as an IT consultant. "I watch pretty much every tournament that he plays to get any glimpse of him."
The "him" in question is Sahith Theegala, who won the Fortinet Championship over the weekend, making him the second Indian golfer – after Arjun Atwal at the 2010 Wyndham Championship – to win on the PGA TOUR.
Fans describe Sahith Theegala in one word
Ahulwalia had a hand in it.
It's a cold splash of perspective, but also oddly freeing, to consider that no matter how much we prepare, how hard we try, we're formed just as much if not more so by blind luck.
In the case of Theegala, who overcame his erratic driving with a series of inventive shots to win the Fortinet, the fact that he got into golf in the first place is kismet. It goes back to Kansas State, a chance meeting, and a visit from a brigadier in the Indian army.
---
"I didn't know much about golf," Murli Theegala, Sahith's father, told PGATOUR.com recently.
There's good reason for that.
Murli was raised around academics – Sahith considers him a genius – and golf does not rank among the top 10 sports in India, where 1.4 billion people (many of them fans of cricket, field hockey, and soccer) make it the second-most populous country. Its relatively few courses are hard for civilians to access, with 100 or so on military bases.
The first ripple that would lead to Sahith Theegala the golfer was Murli landing in Manhattan, Kansas, to get his master's in engineering at Kansas State. For the first time, he got into sports.
"I played every sport there and ice hockey for that matter," he said.
Everything, that is, except golf. He'd been there a year when he forged a close friendship with a fellow student. They would each move to Los Angeles, where each married and began having children – their sons were born six months apart. They briefly wound up working at the same company, which manufactured components for cell phones and toy trains.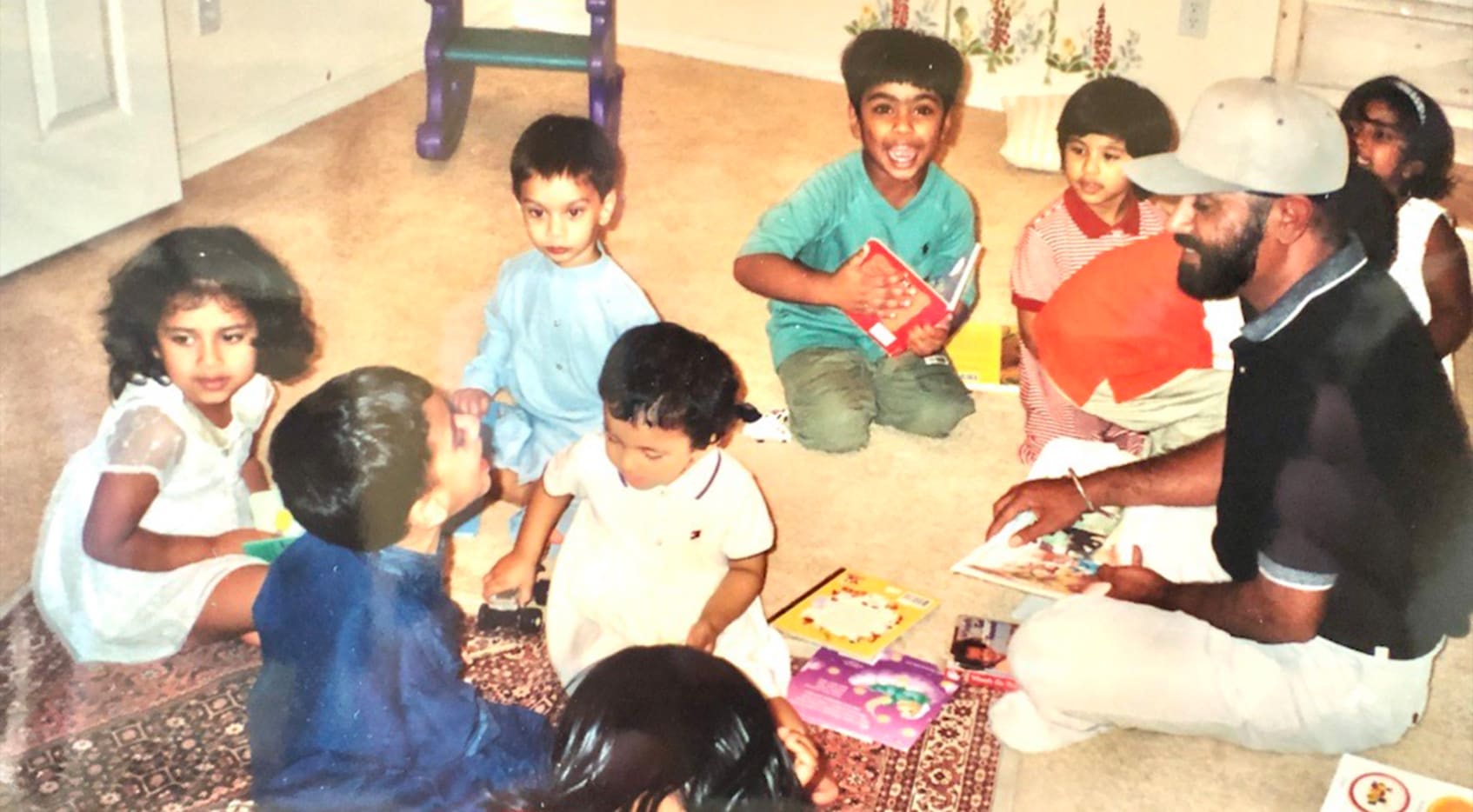 Paramjeet Ahulwalia reads to a young Sahith Theegala (green shirt) alongside friends and family. (Courtesty Paramjeet Ahulwalia)
"So, when I came to L.A., one of my buddies at my first job, he was playing golf and he said, 'Hey, you want to come over?'" Murli said. "I went one day, and I said, 'This is a slick sport, you know?' So that's when I think we made it a habit of going every Saturday morning at 5 o'clock."
That buddy, of course, was his old Kansas State pal, Ahulwalia. And the story behind the story was that Ahulwalia and his wife and newborn son, Sehej, were hosting his father-in-law, Brig. Manmohan Singh Sawhney, who was coming from India and wanted to tee it up.
"He was in the Army in India, and played golf there, and when he came here, he was missing playing," Ahulwalia said, "so I got all my friends together to play golf."
Convinced to tag along to the course, Cerritos Iron-Wood Nine, Murli got hooked, and it didn't hurt that when he turned on the TV he saw Tiger Woods in his prime. Murli and Ahulwalia kept up with their regular game, sometimes joined by Ahulwalia's father-in-law, who visited every year. They brought other friends, and soon began taking their sons.
"And guess who got more interested in golf than anybody else?" Ahulwalia said. "That was Sahith. He was 3. I remember clearly the first time we took Sahith on a golf course, a nine-hole course in Cerritos. That's the first time we saw him playing. He was maybe 3, 3 1/2, and he was good even then. He used to play at home all the time; I used to go to Murli's house, and he had this corner set aside where Sahith would be practicing putting."
The Life: Sahith Theegala
Ahulwalia and Murli are still in contact, even if only by phone. Almost as much as Murli, Ahulwalia is thrilled and delighted by recent developments.
Sahith shared the moment as he accepted the trophy at the Fortinet on Sunday. He said it felt like a team victory, thanking his coach, Rick Hunter; his caddie, Carl Smith; the handful of Indian golfers who came before, among them Atwal, Jyoti Randhawa, Jeev Milkha Singh, Shiv Kapur and others. He thanked host families, friends, his mom and brother, his Pepperdine family.
It was when he came to Murli, though, that he had to push back tears.
"It's tough not to get emotional just thinking about everything he's done," Sahith said. "He's always had my back, even through my wrist surgery in 2018 and '19 thinking I might never play again, him just having my back and keep on pushing me.
"He also did such a good job of – he was really hard on me, but also one of my best friends."
Murli's best friend, Ahulwalia, clicked off the TV. His father-in-law died in 2019, but the legacy of those thrown-together golf outings – a ripple effect no one could have predicted – was secure.
Sahith Theegala, whose father did not even play sports let alone golf, a pastime that was largely reserved for military members, anyway, had reached a milestone on a most unlikely journey.
CM
Cameron Morfit is a Staff Writer for the PGA TOUR. He has covered rodeo, arm-wrestling, and snowmobile hill climb in addition to a lot of golf. Follow Cameron Morfit on Twitter.