Archive
The unlikely lightness of Wyndham Clark
Not long ago he was too angry to win, but rode new attitude to U.S. Open title
LOS ANGELES – Wyndham Clark was the last contender on the driving range before the most important round of his life. His mental coach, Julie Elion, watched him hit balls, as did his caddie, John Ellis, and Jeff Gaskill, his putting coach and good friend.
Finally, Clark began to amble toward the first tee.
"Are you walking with us again today?" he said, shaking hands with a female police officer.
"I am!" she said, beaming. "Good luck today."
He thanked her and they fell into stride, Clark asking about her story – high school golfer from nearby Chino Hills who now plays for her P.D. team – on his way to the tee. Then, as if it were that easy, he shot a final-round 70 to win the U.S. Open by one over Rory McIlroy, who also shot 70 in the final round.
There is an enviable lightness to golf's newest star. You want some of what he has, and not just because it's yielded his first two PGA TOUR titles, including a major, in seven weeks.
Wyndham Clark claims emotional win at the U.S. Open
Clark started his final round with a birdie at The Los Angeles Country Club's par-5 opener to take the lead. He never looked back. He survived a perilous moment at the par-5 eighth hole – he got stuck in the greenside fescue and had to get up-and-down for bogey – and made incredible par saves on Nos. 9 and 11.
The closing holes would require all of his newfound equanimity. With a bevy of Clark crusaders holding their breath – his girlfriend, Alicia; sister, Kaitlin; and brother, Brendan, among many others – he bent but did not break. His bogeys on 15 and 16 reduced his three-shot lead to a single stroke, but he got up-and-down again on 17 and two-putted from 60 feet on the final hole to win by one.
Kaitlin, sitting behind the green with her boyfriend and a large contingent of Clark backers, fell to her knees and made a V with her arms. It's what their mother would have done had she lived to see this day.
"This was everything that she dreamed of for him," she said of Lise Clark, who died of breast cancer at 55 in 2013. "She was literally his biggest cheerleader. I made a big V victory; she was a cheerleader in high school, so whenever he would leave to go to school or leave for a tournament, she would do this big cheerleading move where she would land on her knees with a big V, and say, 'Wyndham, victory!' So, I did that. She was here the whole time."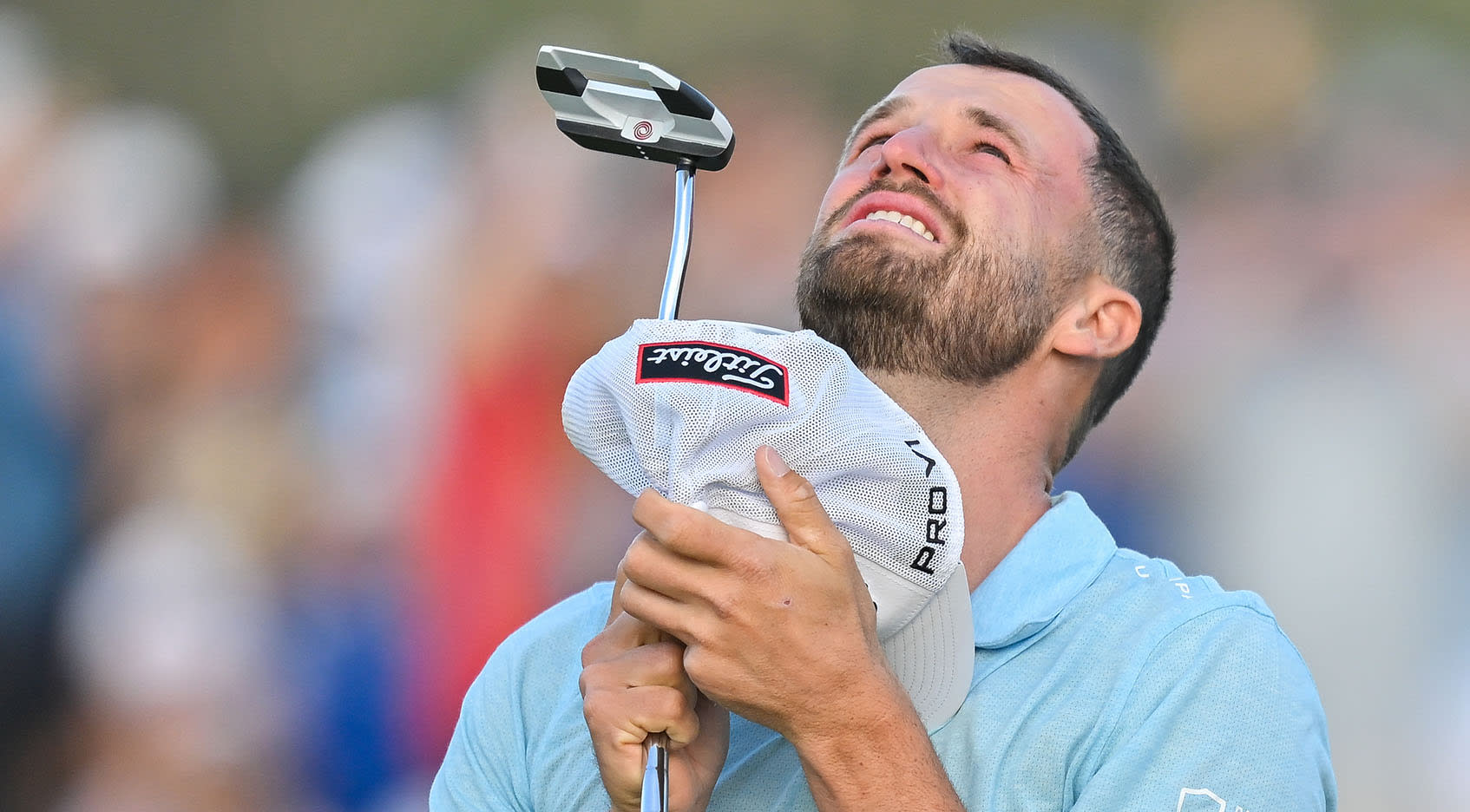 Wyndham Clark looks to the sky, in memory of his late mom Lise, after winning the U.S. Open. (Ben Jared/PGA TOUR)
Robert Clark, Wyndham's father, played tennis at Arizona and made a brief go of it as a touring professional, but any story about your new U.S. Open winner must inevitably come back to Lise.
It was his mother who got him started in golf. She used to drive him to junior tournaments, and level him out when the game played with his emotions. And when she died shortly before Wyndham's second season at Oklahoma State, it set in motion a mental unraveling. Clark had the skills to play for the Cowboys but coach Mike McGraw didn't let him play after the second event of his freshman season.
Wyndham Clark remembers late mother's impactful lessons
"He was struggling mentally," McGraw said. "He just couldn't handle it on the golf course. It was really like Mt. Vesuvius. … We could have used that score. He could still shoot 65 or 66 pretty fast, but adversity would just send him into a tailspin."
Added Clark, "I was breaking clubs when I didn't even hit that bad a shot."
He was granted a redshirt year, but two more bad seasons in Stillwater followed.
"I was in a really low spot," he said. "I think that was a lot of carryover from my mom passing."
The unpredictable talent transferred to Oregon, and moved in with a host family in Eugene, Jeff and Jayme Gaskill, who were on-site and in tears at LACC.
"Our family was ripped to shreds when our mom died," Kaitlin said, "and he lived with them and their three daughters, and it was exactly what he needed."
Casey Martin, the Ducks' men's golf coach, saw in Clark a transcendent, if heartbroken, player.
"He instilled that I was one of the best players in the world," Clark said. "He goes, 'You're good enough to play on this stage but also in college and win.' Then I had my best year ever."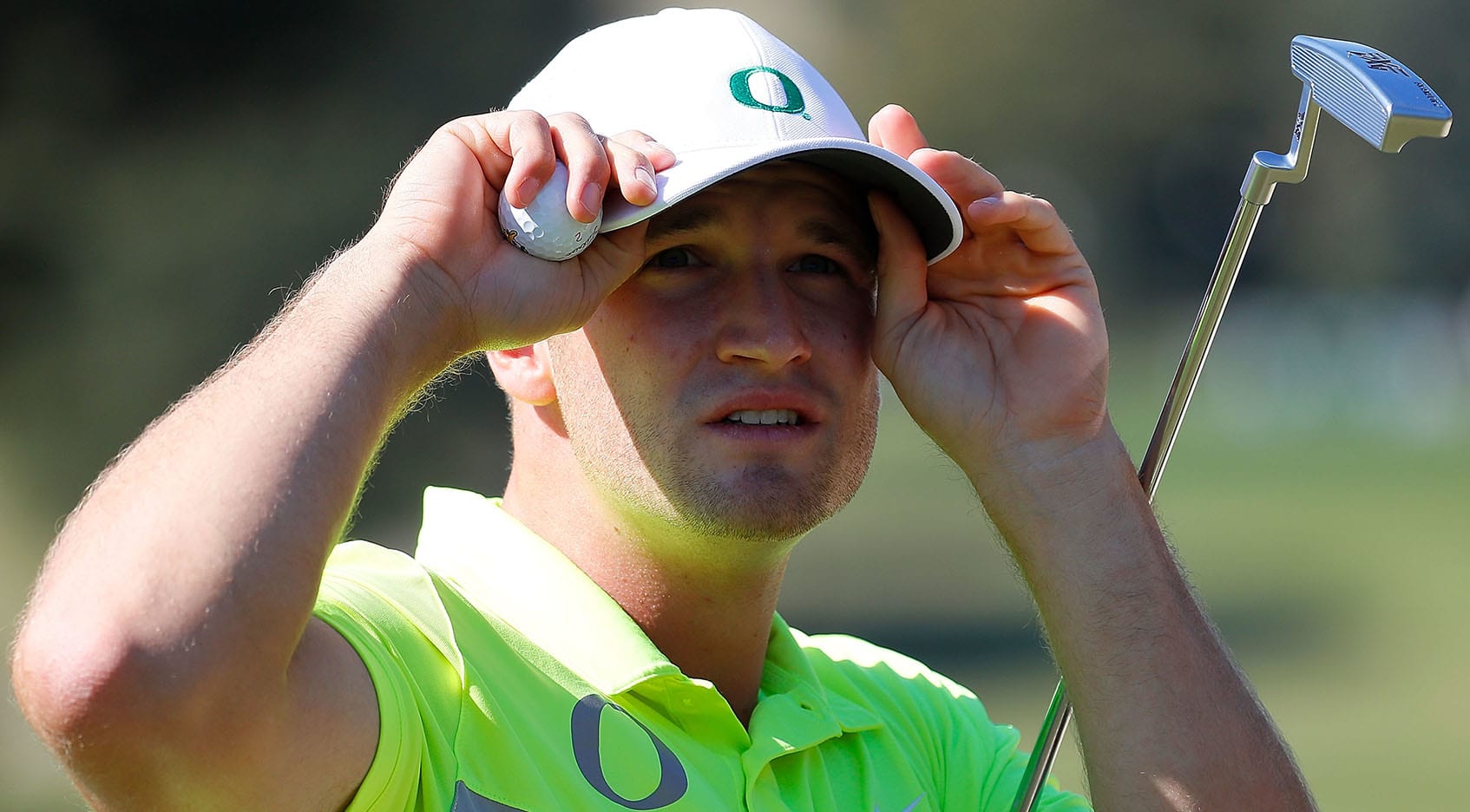 Wyndham Clark was named the 2017 Pac-12 Player of the Year at Oregon and a First Team All-American. (Kevin C. Cox/Getty Images)
Still, the anger from his mother's passing remained. Asked about Clark after the Wells Fargo, Martin, texted, "Great kid. Driven. Almost to a fault. Wants it bad. Hard worker. Great athlete."
Driven. Almost to a fault. Many who knew the old Clark sing a similar refrain.
"I got out here pretty quick," said Clark, who moved to fourth in the FedExCup, "but even those first few years I felt like I underperformed, and I've had many times where I've gone home and was yelling in my car and punching things and just so mad that I'm like, 'Why can't I do what my peers are doing?'"
At the 2020 Rocket Mortgage Classic, Clark had made three bogeys in a stretch of four holes when, from one of the farthest points from the clubhouse, he quit and walked in. His caddie and coach gave him a wide berth, trailing far behind and discussing what, if anything, could have been done. Answer: Not much. Clark's foul mood was unplayable.
"It was a little bit of both," Clark told PGATOUR.COM, when asked if his long, unhappy walk that day owed to an injury or mental frailty. "It was definitely the type of thing where the person and player I am today would have grinded it out and finished the round."
Had the old Clark shown up to LACC, he would have imploded, done in by a bad lie, blind shots, slow play, semi-darkness, or something else. The U.S. Open is famously irritating, requiring a tricky titration of forbearance, ingenuity, and grit. The old Clark would have beat himself.
This year, though, he resolved to go big on his mental game.
"It was either that or quit," Clark said at last month's Wells Fargo Championship at Quail Hollow Club, where he would pick up his first TOUR win. "I just wasn't having any fun."
He started seeing mental coach Julie Elion in January, and she was on-site to provide support. They knew that his playing partner, Rickie Fowler, who also went to OSU and was once Clark's idol, would be the people's choice at LACC. And they game-planned for it.
"My mental coach, Julie, told me, she goes, 'Every time you hear someone chant 'Rickie,' think of your goals and get cocky and go show them who you are," Clark said. "I did that. It was like 100-plus times today I reminded myself of the goals.
"Now maybe they'll be chanting my name in the future," he added.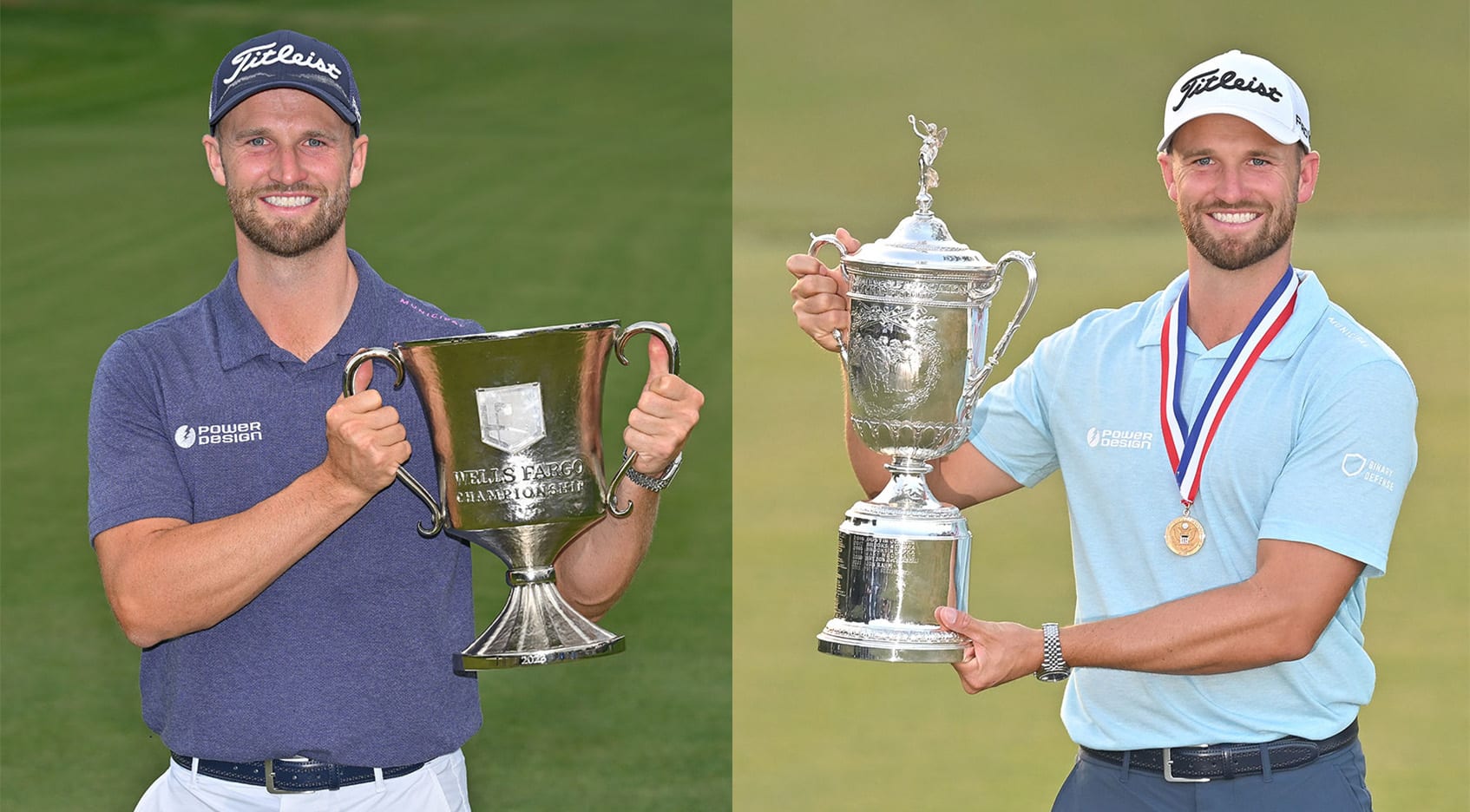 With victories at the Wells Fargo Championship and U.S. Open, Wyndham Clark stands No. 4 in the FedExCup. (Getty Images)
Oregon's Martin cited Clark's partnership with Ellis, who played for Oregon and was an assistant there. After the Wells Fargo, Ellis admitted the old Clark might have gone to the dark side and let it slip away. Then he predicted bigger things on the horizon for his boss.
"The next step will be feeling comfortable in majors," he said last month.
Well, that didn't take long.
Asked if Sunday wasn't also a victory for Lise, Kaitlin's eyes misted up.
"Earlier today I was sent photos from my mom's best friend's daughter – they were of Wyndham playing in San Diego when he was about 7, and it just brought it all back," she said. "Our mom spoke into him that if he stayed the course that he had everything within him to be the best."
He showed that in the U.S. Open.
Wyndham Clark's news conference after winning the U.S. Open
CM
Cameron Morfit is a Staff Writer for the PGA TOUR. He has covered rodeo, arm-wrestling, and snowmobile hill climb in addition to a lot of golf. Follow Cameron Morfit on Twitter.