Archive
Meet the Ph.D. student (and concert violinist) teeing it up at the AT&T Byron Nelson
Will Knauth is looking forward to the little things.
He is giddy just thinking about Tuesday and Wednesday's practice rounds at TPC Craig Ranch. The prospect of someone asking for his autograph makes him laugh with anticipation. The idea that friends from home in Pennsylvania may travel to Texas towatch him play breaks his brain.
All mundane things that make up life as a professional golfer. But Knauth isn't a professional golfer.
He is many things – a concert violinist, a pilot, a Ph.D. student at Columbia and a decorated NCAA Division III athlete. But he isn't a pro golfer.
Though, for one week, he'll walk amongst them.
Knauth is in the field at the AT&T Byron Nelson Championship on a sponsor exemption after winning the 2022 Byron Nelson Award, given to a graduating senior for his achievement in the classroom, on the course and in the community. A former Carnegie Mellon standout, Knauth is the first D-III athlete to win the award since 2008 and beat out highly ranked Division I amateurs Cole Hammer and Trent Phillips. Former recipients include Dylan Frittelli, Maverick McNealy, McClure Meissner and Brandon Hagy. The AT&T Byron Nelson will be Knauth's first professional tournament.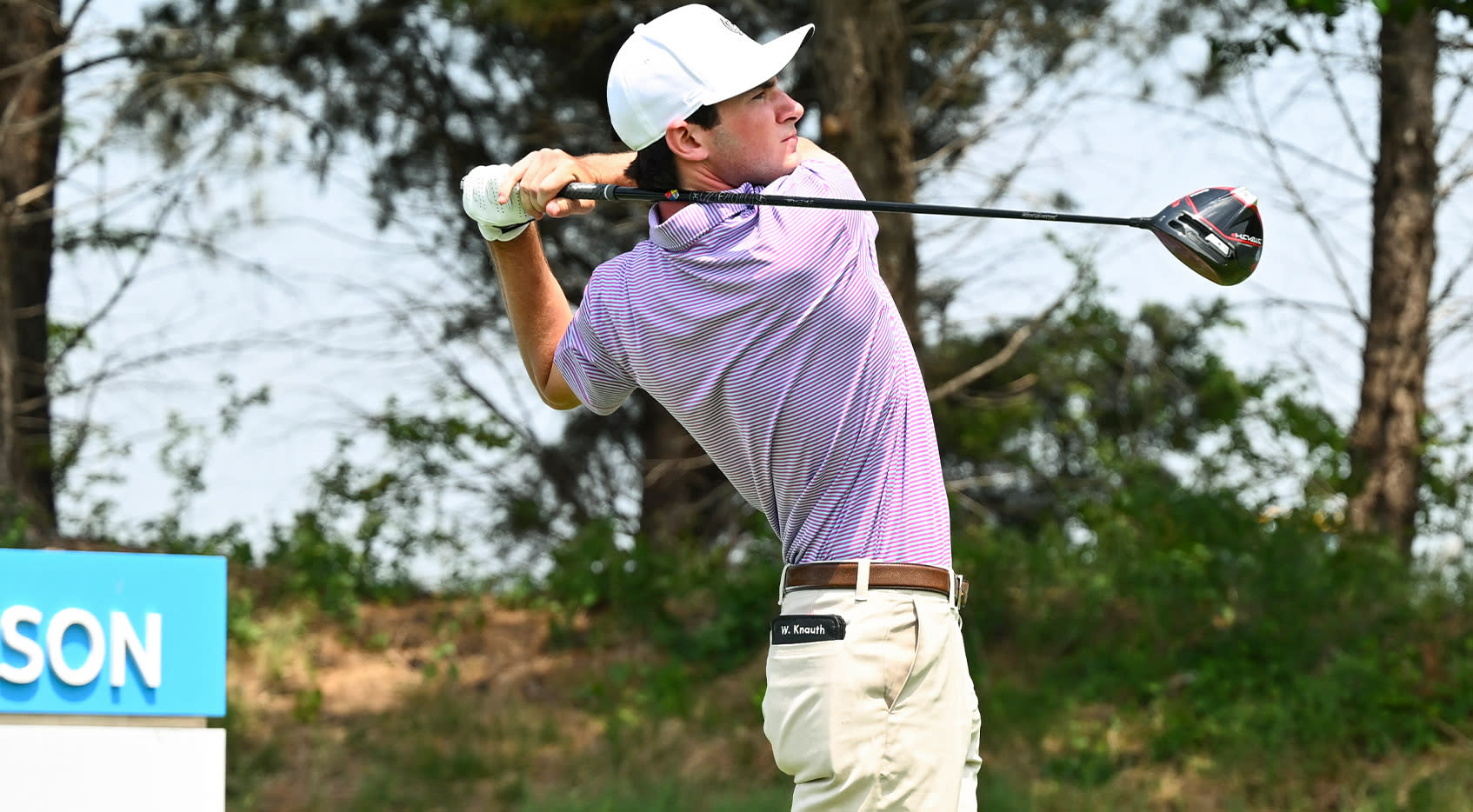 Will Knauth will be playing in his first TOUR event this week at the AT&T Byron Nelson. (PGA TOUR)
That his journey brings him to a PGA TOUR event is hard for him to grasp. He got into the game later than most. He wasn't a prodigy. His family couldn't afford to send him to top amateur tournaments or get regular lessons. He nearly didn't play golf at all at Carnegie Mellon.
"Who am I to mislead people into paying money to watch me play golf?" Knauth said. "How whirlwind wild it is that I'm actually getting to play a TOUR event?"
OK, maybe he isn't giving himself enough credit. Sure, he isn't Rory McIlroy, but Knauth had the lowest scoring average in Division III last year. He won twice, finished inside the top 8 of every fall event, and spent much of the season ranked as the top D-III golfer.
He is right about one thing, though. The road to his first TOUR start is far from conventional.
Knauth's introduction to golf was an accident. Nobody in his family played the game. Until the age of 8, he had no idea the sport existed. He only stumbled upon a golf course during a family vacation in Northern Wisconsin. A staffer in the clubhouse let him borrow a 3-iron and hit a bucket of balls on the range.
"I was immediately enthralled," he said.
As Knauth left, the staffer gave him an old putter to keep. Soon after his family bought him a few more clubs for Christmas. That was the beginning. Every summer from there was spent at a local 36-hole muni, White Deer Golf Course, near his hometown of Williamsport, Pennsylvania. Most days were 18- or 36-hole loops. His personal best was 72 holes in a day. He can count the number of lessons he's had on one hand. Credit it to naivete or natural talent, most of what he learned about the golf swing, which has hardly changed, came from YouTube and Golf Channel.
The thought of playing competitively only blossomed after the course regulars noticed Knauth's talent and urged him to try it. At their suggestion, he began playing local North Central Pennsylvania Golf Association tournaments -- $8 entry fees, winners get pro shop credit. That's how he funded his golf. He'd pay the eight dollars, win the tournament, and buy his golf balls with the profits.
The next logical step would have been to try his hand in elite junior competitions, but he wasn't aware of that process. It wasn't until his senior year of high school that he even learned about the American Junior Golf Association (AJGA). He says he was a product of his environment. His high school competition was far from competitive and in most of his classes, he was the only one who played golf. Knauth remembers winning a district championship by 24 shots over two rounds of golf. In one match, he recalls his team, counting four scores, shot 420. Knauth shot 70; the other three averaged just more than 115. It's remarkable to him that he has gone from that environment to playing in a PGA TOUR event, a place where most golfers spent their entire lives being groomed for professional golf.
"At no point in my journey was I doing it right other than just unabashed love for the game and working at it," he said. "All the things you were supposed to do I wasn't doing them, and I halfway wasn't aware of them."
He doesn't look back on his road with regret. His family wouldn't have been able to afford the AJGA events anyway. It would not have changed where he went to college, either. He was going to Carnegie Mellon whether golf was part of it or not. That golf became a part of it is a stroke of luck.
During a visit to the campus, Knauth went looking for the golf coach, Daniel Rodgers. He had emailed him expressing his interest in playing for the team but had heard nothing in return. Rodgers wasn't there the day Knauth came looking for him, but athletic director Josh Centor was. The two spoke and Centor was so impressed he implored Rodgers to contact Knauth. Still, Knauth had no results at major tournaments. It wasn't until Knauth sought out various USGA qualifiers and posted promising results that Rodgers brought him on the team.
"It was amazing to see where he started and where he finished," Rodgers said.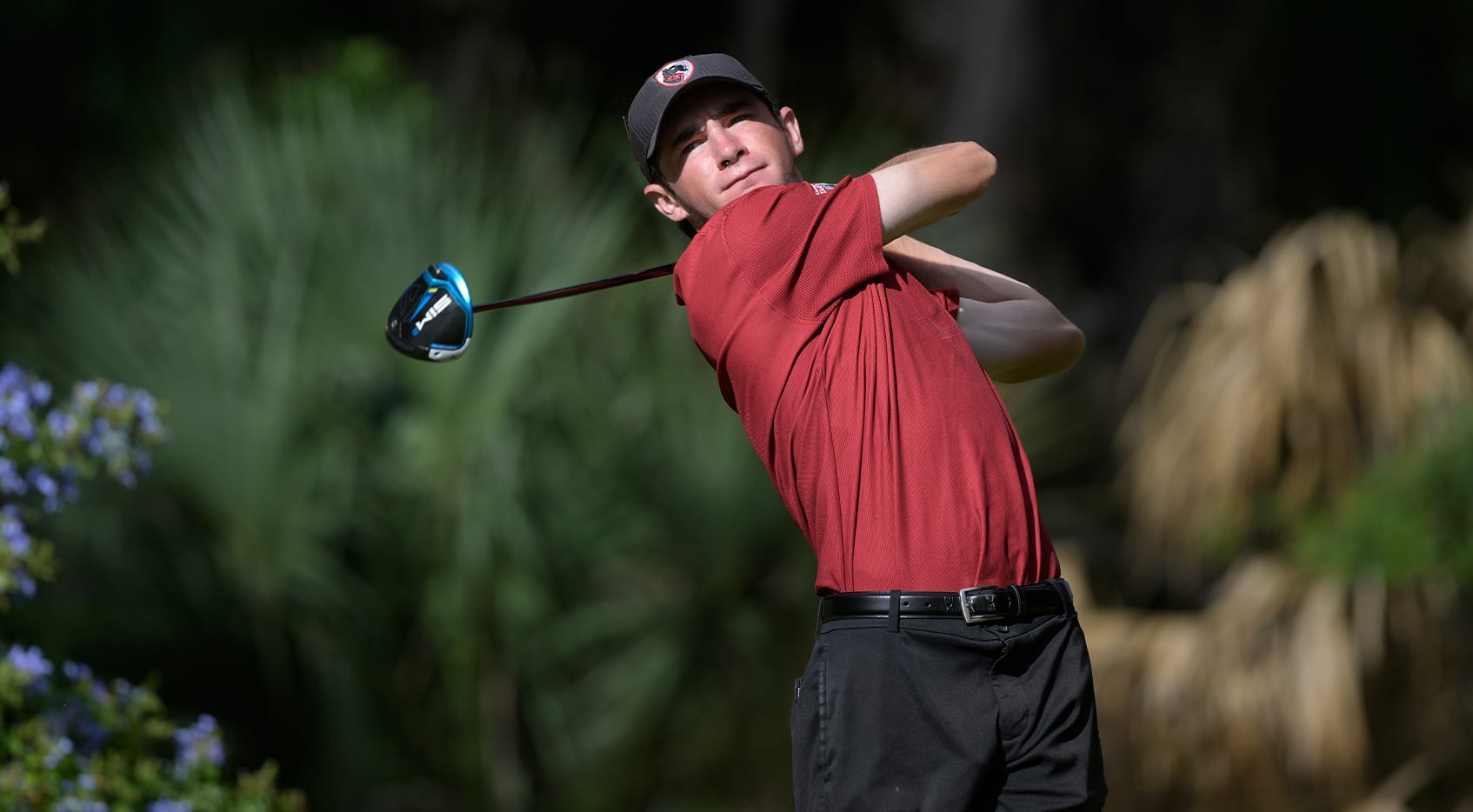 Will Knauth played golf all four years at Carnegie Mellon. (Carnegie Mellon University Athletics)
Knauth dropped his scoring average from 76.2 as a freshman to 71.5 as a senior. No longer were there constraints on when, where and how long he could practice. With the school's facilities and simulator, Knauth had every resource needed to improve – and he did. He became the first top-ranked men's golfer to play at Carnegie Mellon – and the first to win the Byron Nelson Award.
"There wasn't a hurdle in his way any longer," Rodgers said. "He didn't have anyone telling him no."
One might imagine that Knauth, in anticipation of his first TOUR start, has spent every waking moment in the simulator or on the course. Oh, if only. Knauth estimates he's playing less golf than ever before. Pursuing a Ph.D. in statistics at Columbia will do that to you. So will living in the heart of New York City – not exactly conducive for a college kid to get much practice in.
That has been tough to balance with his anticipation for the AT&T Byron Nelson. He has known this week was coming for the better part of a year and it has "consumed his thoughts." It also brought back thoughts he had as a senior in college when he contemplated whether he should try his luck and turn professional. Until he went on a hot streak in his final collegiate year, it was never something he had considered, but when several people close to the professional game told him he had a shot if he committed, it messed with the plan Knauth had always had. Golf is the hobby; school is the priority. His mind began to float to what a career in golf could look like. "I spent a lot of time thinking about if I wasn't at Columbia, I'd be trying to play," he says.
When he talks about it now, the thought is more inquisitive than anything – curious, not regretful, of what could have been. Knauth's mind works in probabilities. He knows there's a world in which he pursued golf and was successful. He also knows there are plenty of realities where he wasn't. That has brought him clarity.
"I have some self-belief, but I know I'm not Scottie Scheffler," he said. "Taking the chance on myself where it could work out with golf, but it probably won't, versus having something which is almost as equally as cool at Columbia, I just made the decision that there's maybe a chance but I'm not sure enough of it to give up the other opportunities."
Knauth still is in the early stages knowing where those opportunities may lead him. He is about to finish his first year at Columbia (Knauth is missing finals to be in Dallas for the AT&T Byron Nelson), which he says has been more difficult than balancing two majors and golf at Carnegie Mellon. He will start his research in earnest next year. Naturally, that has meant less time for golf. He's had to be selective in when and how he practices and acknowledges his game isn't quite where it once was.
"I'm definitely worse than I was in college. No question about it," he said. The really good rounds still are there, though they get mixed in with more unreliable golf. Any (little) free time over the last several months has been spent working on speed training in his apartment or at a nearby simulator. He has been in Dallas since early last week to prep.
Before Knauth settled on Carnegie Mellon, he almost went to a music conservatory. Since the age of 5, he has played the violin. "It was the first thing I got really good at," he said. He played in the state orchestra while in high school and played at weddings and other events to earn some money. In college he would bring his violin on the road trips to tournaments.
"He'd have it slung over the shoulder and I'd joke with him, 'You got a silencer on that thing?'" Rodgers said.
It has remained a passion for Knauth – he still practices occasionally – but it was an early lesson in burnout. The hours of intense practice took his gift from a labor of love to just labor. It has parallels to his decision not to play golf professionally. Turning it into his job, he feared, would take away some of the love.
"It taught me to understand that you don't have to push yourself in everything," he said.
The same can be said for his aviation hobby. Knauth's father has his commercial pilot's license and volunteers for the Civil Air Patrol. From an early age, Will was in the air. As young as 5 or 6 years old, he remembers his dad giving him the controls once they reached a safe altitude. If there was a golf course that Knauth wanted to play and there was an airport nearby, they would take the plane. When he visited Carnegie Mellon, he opted for the plane instead of the three-hour drive. Knauth flew takeoff to touchdown. He was within two flights of his full pilot's license before the local flight school was shut down.
"Life just got in the way," he said. "College happened and licenses expired. But it was a great experience."
Get Knauth talking and you'll quickly learn he's insightful on a range of topics. He's passionate about affordable golf. Without the good fortune of having a junior membership at White Deer that only cost $180 a year, he would not have been able to play regularly. His family couldn't afford lessons when he was younger. Nor could they pay to have him play events around the region that would have gotten him noticed by Division I colleges. He didn't even realize he needed to be recruited.
"There's probably a lot of good young players in a similar boat. I wish more opportunities were out there that weren't super expensive," he said. "But once you get on the golf course, the golf ball doesn't care who you are."
He has done mathematical studies on the effect of fairway width on scoring. He has analyzed whether aiming away from the hole leads to fewer birdies than pin-seeking (spoiler: he says it doesn't).
Switch topics completely and he'll hold his own talking about meditation (he's a big proponent) or the stress of getting older (he may only be 24 but he is well aware his accomplishments don't quite stack up to the similarly aged Nelly Korda or Collin Morikawa. He's alarmingly comfortable with most of it, although aging into mid-am status has him self-conscious). Go off on a tangent and he'll reveal himself as a really good Call of Duty player, and a self-taught piano lover.
His introspective view of life is remarkable for a 20-something that grew up in the middle of Pennsylvania. He remembers the day he learned he won the Byron Nelson Award. He was in the fairway on the fourth hole at the historic Longue Vue Club in Verona, a Pittsburgh suburb. He saw a collection of his teammates standing around the green and was confused why they weren't moving. As he approached the green, Rodgers said there was a phone call Knauth needed to take – it was the congratulatory message. After weeks of hedging, saying there was no way he could win, Knauth was stunned.
"It was like the sun had just come out from behind the clouds. Everything felt the same as always, but there was just light," he said. "It was surreal."
His perspective reaches far deeper than one might expect. He is not kidding himself on his odds this week at TPC Craig Ranch. By his estimation, he's got 4-to-1 odds to make the cut.
It's not defeatist. He knows his place, and he's quite happy with it.
"My goal this week isn't to prove that I'm any kind of golfer… No matter how good I get, there's a lot of people better at this game. But there aren't any better me's," Knauth said. "No one else in the field at the AT&T Byron Nelson is currently pursuing a Ph.D. in statistics. That's my thing. Instead of pretending that I can and want to be the best, it's just finding something that puts a little bit of uniqueness to what you're trying to do."
At the AT&T Byron Nelson this week, there is little doubt that Will Knauth, regardless of his golf score, will stand alone.