Archive
Sali's story: Growing golf in the Pearl of Africa
How Uganda's Roger Sali bridges a societal divide through determination and friendship
The tee sheet is clearing for the day at Lake Victoria Serena, one of Uganda's few golf courses, and caddie-turned-starter Roger Sali heads to his office for a breather.
Sali, 27 with an athletic build, shares a wooden table with a co-worker. It's their joint desk, measuring maybe 5 feet long by a foot deep, and abutting a window. Sali keeps a log of the day's groups and starting times to ensure all fees are accounted for, working at a pace both rhythmic and meticulous.
Introducing Roger Sali | Growing the game in Uganda
After completing the log, he reaches for his cell phone and pulls up "Good Good," a popular golf content channel. He scrolls to a match between professional golfers Andrew Kozan and Luke Kwon, consuming the content hands-free, his phone resting on the windowsill.
That phone is his window to the world, and Sali is a keen observer.
If you're a golfer, you're no stranger to the term "growing the game" and the various initiatives aimed at providing sensible, sustainable access points to a sport that has often been perceived as elitist. The phrase is sometimes met with skepticism, as years and decades pass with similar gripes. Equipment is too expensive. People don't have the time to play, let alone improve. The game's traditions make it less-than-welcoming. And so it goes.
"If you replaced every basketball court with a golf course, everyone would go out there and play," said Nick Schiavi, a Chicago-based golf instructor who curates the @slomoswinglibrary Instagram handle. "It's a blast to go out there and play. It's just way less accessible."
A clue to the solution lies in, of all places, Uganda. It's a country with fewer than 20 golf courses and without representation on any of golf's major tours. As statistically one of the world's 30 poorest countries, Uganda would seemingly serve as a microcosm of golf's myriad barriers to entry; growing the game would appear a pipe dream.
Except nobody told Roger Sali.
Some claim they have too little free time, while others make their free time. Sali falls in that second category. He works six-day weeks at Lake Victoria Serena; having started as a caddie, he has progressed to a more senior role as starter, with the accompanying office. His day off is Tuesday, and he spends that day traveling to area schools and communities, teaching golf.
He travels with a mat and putter. He is soft-spoken, with a calming, magnetic presence, such that dozens of elementary school-aged kids will gather around, standing at attention, as he describes the putting stroke. He makes a few putts, then passes the putter around. Sali will offer guidance on grip, backstroke and follow through. If the putt misses, the student is encouraged to try again. When a putt finds the cup, the students cheer.
Golf, at its best, offers a universal language, with universal lessons and connections. Sali feels it to his core.
"You can get very good friends in golf, friends who have the next step in life," Sali said. "And the discipline, keeping your head down is enough.
"If you cheat, you are only cheating yourself," he continued. "If you wrote a par, but make a bogey, you keep on cheating life forever."
Sali would have made an intangible difference in his community through his lessons alone. But through social media, his dreams have grown bigger than he could have imagined. His Instagram page @saligolfs has cultivated a following that exceeds 70,000, featuring his own swings, trick shots, and interactions across local schools and communities. In a two-day stretch last summer, his following increased from around 2,000 to 25,000 – the viral moment came, fittingly, at a school. Sali swung as a group of kids eagerly looked on. Their wonderment was palpable, and it resonated across oceans to America.
By then, Sali had already cultivated a relationship with Schiavi, essentially his bridge to the Western world. They've never met in person, but they communicate via Instagram on a near-daily basis. Schiavi offers advice on building a social media following and the golf swing itself. They describe each other as "brothers." They met in 2020 via Instagram; Schiavi came across one of Sali's videos in his feed. Two things stood out: the fluid swing and unique setting. The American, who had yet to meet anyone from Africa, was inspired to reach out. There was a natural connection, just with one detail to clear up.
"He didn't think I could speak English at first," said Sali. "He thought I was using a translator."
English, though, is the official language of Uganda; the country was a United Kingdom protectorate from 1894 to 1962.
Early in their conversations, Schiavi intuited that Sali could use some guidance. Then it all clicked.
"I could tell that he wanted help," Schiavi said. "And that expression, if you give someone a fish, they'll eat for a day; if you teach them how to fish, they'll eat for a lifetime … that expression was ringing out in my brain. It felt like the right thing to do was to show him how he could grow on social media and potentially grow a business for himself.
"I was basically teaching him, 'If you post every day, and make that post valuable, then your account will grow over time, and then eventually that can turn into a business.'
"It started off basic, with trick shots on an old phone. Then over time, the posts got better and better and better."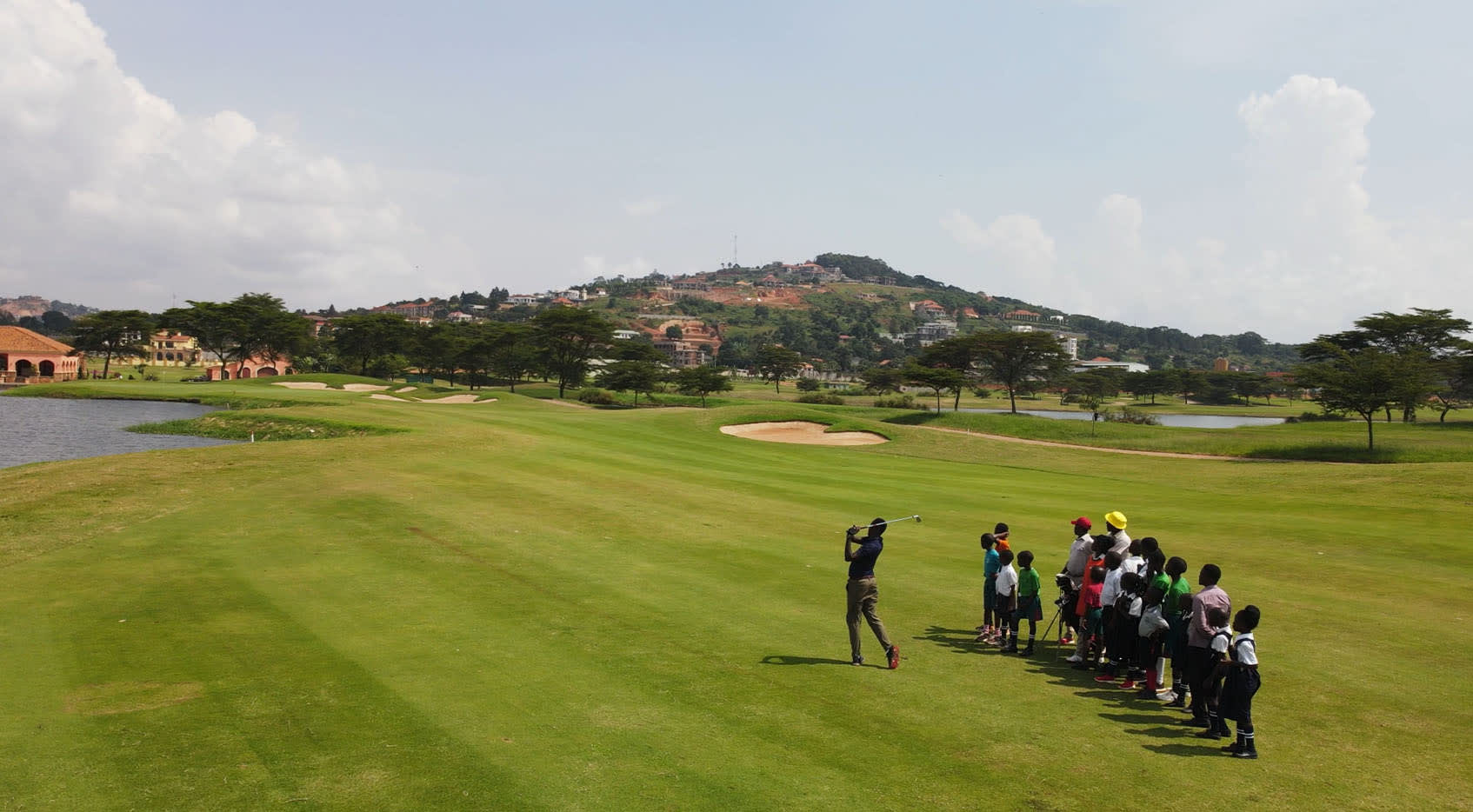 Sali was first exposed to golf in October 2018, after moving to within a 15-minute walk of Lake Victoria Serena. He found work as a caddie, enjoying the job's social aspect, but his golf understanding was limited – his prior exposure to the game was negligible.
COVID necessitated layoffs at Lake Victoria Serena, and without a developed golf IQ, Sali was deemed dispensable.
"You can't be a good caddie," Sali said, "when you don't know how to play."
He lost his job and turned to making bricks to provide for his family – his dad had recently passed away, and Sali is the oldest of five siblings.
Although soft-spoken, he is confident and relentless. He vowed that if he regained employment at the golf course, he would be indispensable. To that end, he would learn the game, making sure he understood its intricacies to provide the best advice to Lake Victoria Serena's paying customers. This meant developing his own skills, as well.
His progression is documented through his Instagram account, with his proficiency ascending in lockstep with his follower base. The account started in February 2020 with a simple beginning; a single-photo post from the tee box, taken from the side, Sali holding his finish. The caption: "Golf." The post received 13 likes.
He posted his first swing video in September 2020; it received just 16 likes and some 800 views, but his tempo and natural ability were apparent.
"Beautiful," remarked a commenter.
Two years ago, through the guidance of Schiavi, his feed turned more instructional. In January 2021, he shared a tri-frame image at different positions of the takeaway. The copy: "Working on making the shaft more vertical at the top of the backswing." The post received a comment from Hawaii golf brand Lava Golf; his account was beginning to reach the Western world. Shortly thereafter, he began sharing footage from trips to area schools and communities.
"Teaching my bro some new skills," he wrote in February 2021, captioning a video of a young boy utilizing a hockey-type grip and clearly enthralled with the task at hand: hitting a golf ball.
Sali built his audience and engagement, and the breakthrough came in June 2022. The action was simple: a slo-mo swing from a clay, hardpan lie. The backdrop, though, made it special. A group of elementary school-aged kids crowded around to observe the shot, then quickly turned their heads to observe the ball flight. Some smiled, while others had expressions of awe. The copy, simple yet powerful: "Show them. Golfswing."
The post drew nearly 130,000 likes, roughly four times the average of a @pgatour Instagram post, the comments section packed with praise. One read: "Wherever you are, always remember there's some kid in Africa, that no one knows but is worlds better than everyone."
"The only scary thing about Uganda," said Theo van Rooyen, director of golf at Lake Victoria Serena, "is the amount of talent you see."
Uganda is a landlocked country in East Africa, bordered by Kenya, South Sudan, the Democratic Republic of Congo, Rwanda and Tanzania. Its No. 1 export is coffee, and its national sport is soccer. The country of nearly 46 million historically ranks among the world's poorest countries; as of April 2020, 70% of Ugandans lived on less than 4228 Uganda shillings (equivalent to US $3.20) per day, according to the World Bank Group. Cars are rare; public transportation, including the "boda-boda" (motorcycle taxi) Sali uses for school visits, is the norm.
Sali's block consists of modest single-floor dwellings, often with several family members squeezing into a couple hundred square feet. Just outside Sali's home, neighbors walk back-and-forth with buckets of well water on their heads that weigh up to 40 pounds. Some of his neighbors have walls but no roof.
The lack of luxury does not impinge on the sense of community, however. Family and friends gather outside, mingling across generations and enjoying each other's company. Sali's block features a courtyard between two rows of houses, where he grows the game of golf – literally – in his own backyard.
Sali sets up a mat and hitting net, which he was gifted by an Instagram follower from the United States. He works on his own game while also welcoming neighbors to try their hand. He guides them through the grip, takeaway, cadence of motion. He makes it look easy.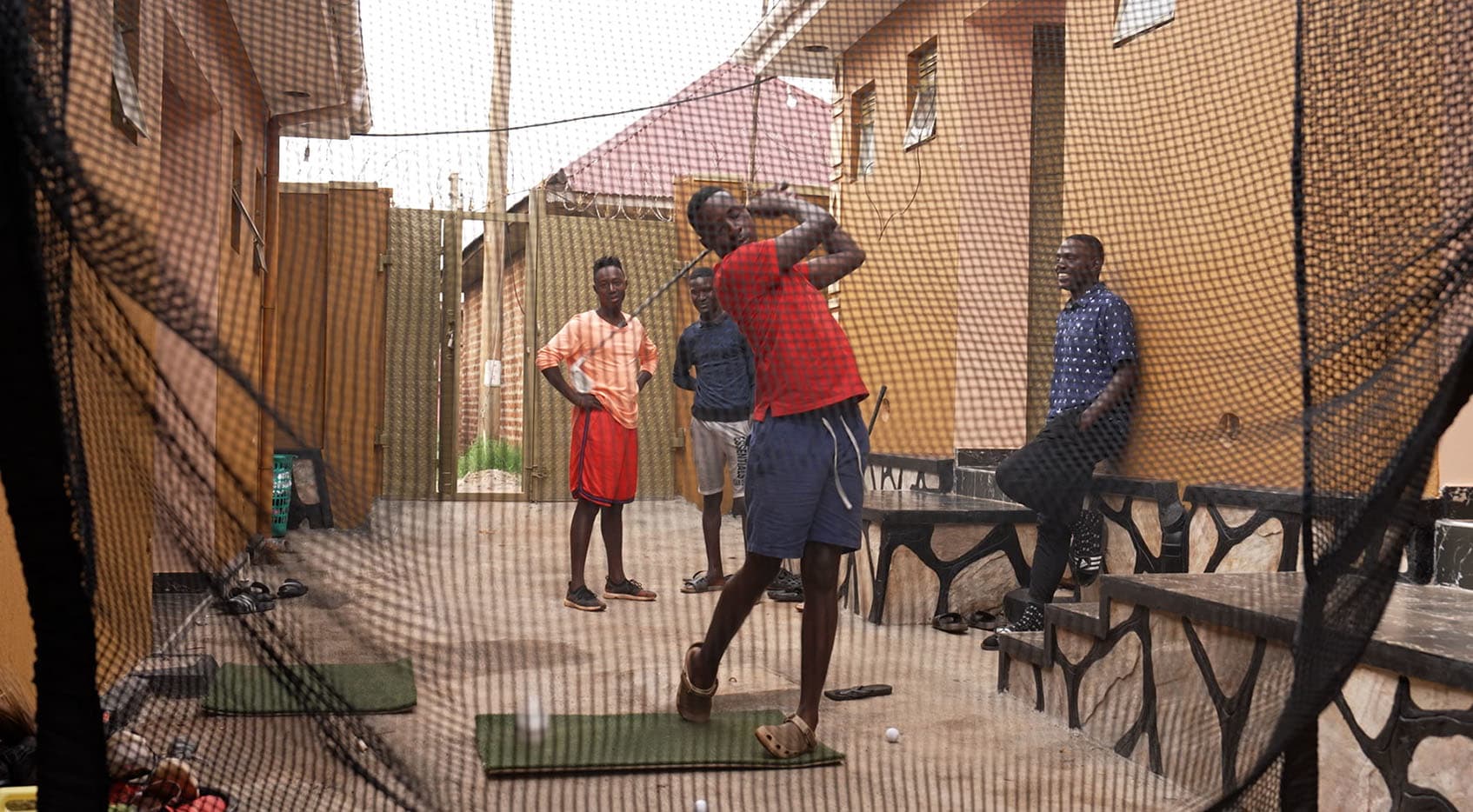 "Before I had this net, we would just practice in open space," Sali said, "and the ball would get lost sometimes. We'd also use bedsheets, outside in a random area with a big space. We'd just hit, and the ball gets lost.
"When I got this net, you can always keep your golf balls. They don't have to get lost."
The Instagram gift has grown into a community center.
It's a Tuesday, and just as Sali prepares to head into town, five kids under age 10 arrive on his block, curious about the sound of balls being hit. One girl wears sandals that appear three sizes too small, her toes dragging on the clay. Their clothes appear unwashed, but their smiles don't know the difference. The impact of club-on-ball produces a sound they don't understand; they haven't heard it before. But something about it causes their faces to brighten.
"Come back anytime you want to swing a club," Sali tells them.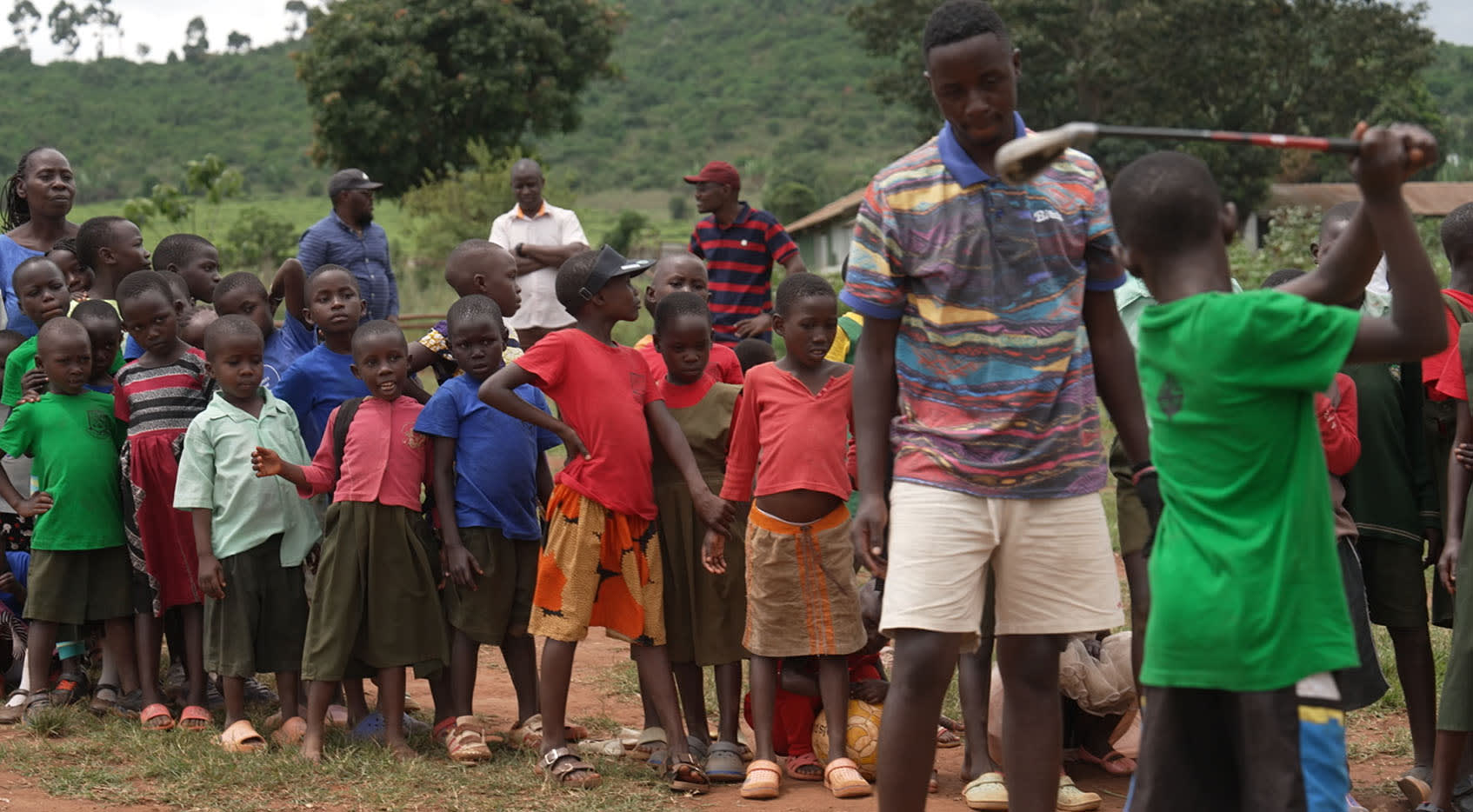 For those who do so, Sali offers a reward: shillings of his own, or in this case, a bottle of Coca-Cola.
"The way he (hits) the ball, even if you're in bed, you're like, 'Let me come out,'" a neighbor explains. "Sometimes he's practicing in the morning, and I think, 'Let me come see.' Just because of that noise."
That noise needs no context.
"There's something about just when you hit a solid shot," Schiavi said. "It's this dopamine release in your brain. It shows that we are all the same; we have different backgrounds and come from different situations, but when you put someone in a similar setting like golf, no matter where you're from, there's a lot of people that will really like you. It's a common activity, a common interest.
"The act of golf is not elitist. It's just a fun thing. It's fun to try to hit the ball solid."
"Bitten by the bug," Schiavi said of Sali, who has progressed to a 2 handicap. He is worlds away from being deemed dispensable as a caddie. He first honed his swing through watching slo-mo Instagram videos and mimicking desired positions in a mirror (Schiavi is always available to lend an ear, as well) and has developed his scoring ability through Monday rounds at Lake Victoria Serena, when the course is open to staff.
Sali, though, doesn't aspire to become a touring professional. As evidenced by how he spends his Tuesdays, he wants to pass the game to the next generation. He wants to teach. He envisions a day where he can devote the entirety of his work life to educating students across his home country, perhaps even enlist friends and fellow golf enthusiasts to join in his efforts. He hopes to make a trip to the United States and raise continued awareness of Uganda's untapped potential in golf, which perhaps could be said for several more countries across Africa and the world. Who's to say there can't be a Uganda-born PGA TOUR winner?
When opportunity meets potential, after all, the sky's the limit.
"When I first saw Roger, I saw someone with a natural golf swing, basically with as little opportunity as someone could have," Schiavi said. "There's no one here in America that was in Roger's situation, so I just wanted to help in any way I could.
"Anyone can find an excuse to not be moving forward," Schiavi continued. "He just doesn't make excuses, and he puts in the work every day."
Some preach "growing the game." Sali lives it.
KP
Kevin Prise is an associate editor for the PGA TOUR. He is on a lifelong quest to break 80 on a course that exceeds 6,000 yards and to see the Buffalo Bills win a Super Bowl. Follow Kevin Prise on Twitter.