Archive
Jim Thorpe Invitational creates strength in numbers
Second-year tournament for Black golfers succeeds on multiple levels
CHAMPIONSGATE, Fla. – A few years ago, one of Jim Thorpe's daughters wanted to have a frank conversation. Her father was playing golf five days a week, he had had a good career on the PGA TOUR and PGA TOUR Champions, winning three and 13 times, respectively, but she didn't think he seemed happy.
"I'm very happy," Thorpe said.
"You have a funny way of showing it," she responded.
Then Thorpe got to thinking about what would make him happier. He didn't have to think too hard. The answer was simple.
"When I can turn the TV on and see more African American young ladies, more African American young men and more minorities [playing golf]," he said. "Then, I'll be happy."
That introspection helped Thorpe come up with the idea to create the Jim Thorpe Invitational, which, now in its second year, is an unprecedented opportunity for elite minority junior, college and professional golfers to play in a 36-hole event at ChampionsGate Golf Resort outside Orlando. It was held February 18-19, crowning nine different winners.
"This is a historic golf tournament," said Tarek DeLavallade, the Jim Thorpe Invitational tournament director. "There has never been a golf tournament with 160-plus golfers, all minorities from the ages of 8 to 46. It's never been done before."
Kennedy Lange, 8, was one of two to compete in the girls' under-9 division. Jesus Ojeda, 46, shot 77-75 in the men's professional division, which had 73 competitors.
For those two and everyone else, it was two days of competition with educational sessions, clinics and Q&A dinners with Thorpe himself. Saturday afternoon featured a panel discussion with Kendall Murphy (Troon Golf), Mackenzie Mack (Callaway), Ashleigh McLaughlin (Youth on Course), Dr. Gary Sailes (sports performance consultant), Trevor Anderson (trainer) and Carlos Brown (golf coach).
"They were here to talk about their why and to help the golfers push through all the noise," DeLavallade said.
Thorpe, 74, was on the practice green chipping and putting with the players for the better part of two days. On Saturday night he bought 50 pizzas and sat around with players and their families, telling stories until the wee hours. He spoke about the 1981 U.S. Open at Merion, when he shot 66 to lead after Round 1 yet spent five nights in his car that week because he couldn't afford a hotel room.
"He sat down and talked to us for two hours last night," said Thomas Reid, a 17-year-old from Lawrenceville, Georgia, who shot 77-70 to finish second in the boys' 16-18 division. "He was straight up telling us everything he knew and he was 100 percent real about everything. Being around people like that can teach you so much. People take that for granted. You don't get that at other tournaments. This is one of one."
Said J.D. Cunningham, a 17-year-old from Halifax, Virginia: "I feel such a good vibe with everybody here. I learned so much. I loved the experience."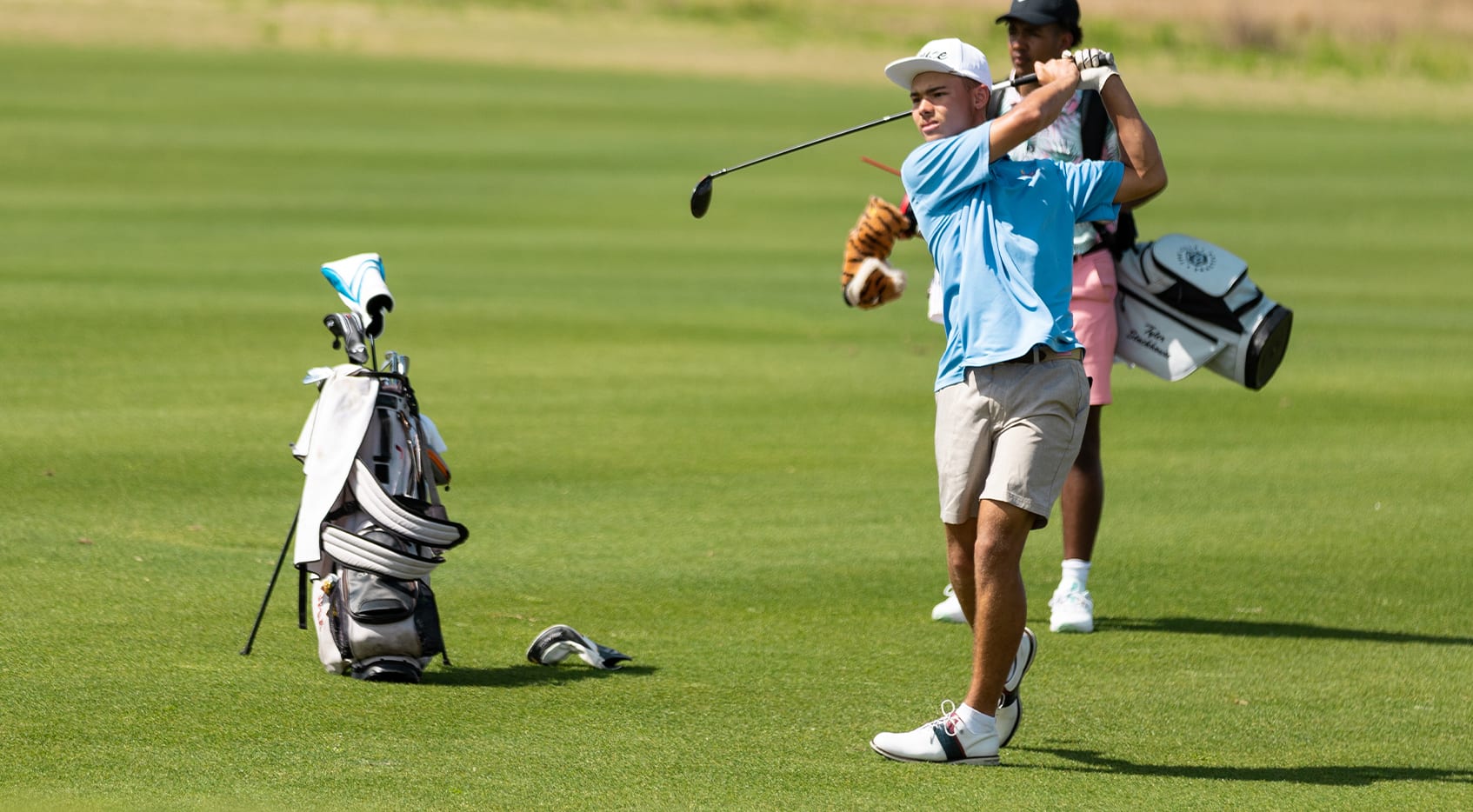 J.D. Cunningham, 17, called the Jim Thorpe Invitational educational and affirming. (Courtesy Mike Wolfe)
"You have a lot more in common with people here, especially considering that you're Black and playing a predominately white sport," said Drake Belcher, from Greenville, South Carolina. "It's great to see all these kids here that look just like me. I'm not in it alone."
That's the overarching point of this event. It's what Thorpe dreamed would happen, minority players of all ages and abilities on the practice range, side-by-side, warming up together each morning.
The focus originally was on hosting a tournament just for juniors. As Thorpe puts it, "My idea was to get the younger kids on the straight and narrow before life takes away their innocence." But having the professionals alongside all the younger players ended up being more impactful than tournament organizers realized. Sure, they wanted their tournament to allow professionals to chase their dreams, but they never thought much further than that.
Turns out, the younger generation is already looking up to those they strive to become.
"I walked into the restaurant and one kid came up and said, 'You're my role model,'" said 28-year-old Aaron Beverly, who shot 73-69 and finished ninth in the pro division. "It shocked me. I play golf to have fun and compete because I love competing. But then to see the impact that some kids look up to you whether it's on Instagram or TikTok, it is pretty special. I actually called my mom after that. It was pretty neat."
Said DeLavallade: "When you can see and touch the people who you … aspire to be like, it's a priceless opportunity."
Just as some of the juniors look up to the professionals, everyone looks up to Thorpe, even though he was well beyond his playing prime when many of the players in his own invitational were born.
Joey Stills, 27, won the inaugural pro division a year ago. He vividly remembers attending a PGA TOUR Champions event in Pensacola, Florida, with his father when he was 7. They followed Thorpe that day and watched him blister a driver down the middle of the fairway on a tight par 4, after which Thorpe turned around and gave both Joey and his father a fist bump. Joey has been hooked on the game since.
"I think he sees potential in us," said Stills, who shot 74-70 to tie for 12th this year. Gabriel Lench shot 69-68 to take home the $10,000 first-place prize. "He's literally been playing golf his entire life," Stills continued. "He understands what we've been through and he knows the way forward."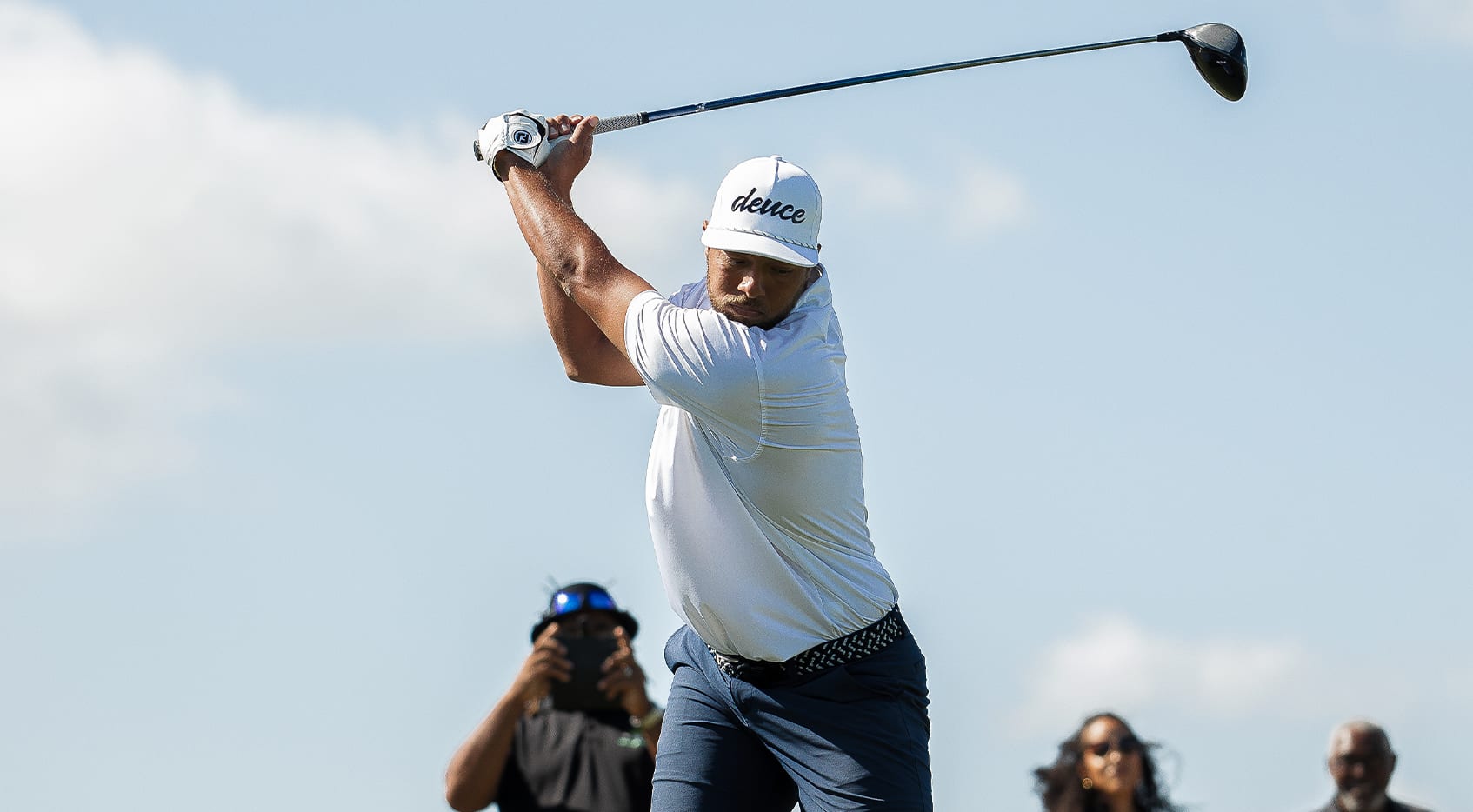 Joey Stills, 27, won the inaugural pro division a year ago. (Jim Thorpe Invitational)
Thorpe believe he does know the way forward, and he's insistent on helping expedite the process. His event is only in its second year, but it's come so far already. Corporate partners have stepped up to help support the mission (Coca-Cola Beverages Florida is the presenting sponsor), there's a waiting list for players who want to compete, and most everyone playing this year has said they'll be back next year. All of which suggests this tournament will only continue to grow in both significance and recognition.
Thorpe won't stop until achieving his goal to provide more opportunities for people of color. He also wants to see more people of color playing at the highest level, on both the PGA TOUR and LPGA Tour.
"I'm not here to try to make money off families," he said. "I'm here to try to motivate them, get them to pursue the game, get them to college. They look good, they're intelligent, they're well educated, they're well spoken, they have flat bellies. Tell me what it is you need so we can jump in there and help you with it. Let's go make it happen."
Jay Coffin is a freelance journalist in Orlando, Florida, who has had stints at Golfweek, GolfChannel.com and Golf Digest during his 25 years in the golf industry. He has covered more than 40 major championships and has traveled to 13 different countries Follow Jay Coffin on Twitter.