Archive
WM collaboratively brings running water to Navajo Nation homes
Thunderbirds partner with WM to restore water for Arizona communities
The desert air was stifling hot, and the work punishing.
The crew used an excavator to dig into the parched earth beside the modest home on the Navajo reservation. When the hole was big enough, a 1,200-gallon cistern was buried into the dusty ground and filled with water.
At the same time, plumbing was being installed to bring that water into the house. Solar panels were put in place to power the water pump and a small hot water heater.
About five hours later, the family – grandparents, their daughter and son-in-law and several grandchildren – had running water. For the very first time.
Megan Merenda, who is the development director of DigDeep, the non-profit that installs these home water systems on the Navajo Nation, was with the crew that day. She remembers the family watching the activity with great anticipation.
"The grandmother, Carol, she was standing and talking to me quite a bit that day and talking about how they had all been so excited for this day and that she wore her special dress," Merenda recalls.
Merenda wasn't prepared for what happened after the tap was turned on for the first time, though. Carol came out and offered the weary workmen a drink.
"(She's) like, does anybody need water? It's so hot out there. You've all been working so hard. And like her first thing was offering us water to drink," Merenda says.
"It totally made me cry."
More than 2 million Americans do not have running water or working indoor plumbing in their homes, something most of us in the 21st century take for granted. The Navajo Nation, which occupies almost 30,000 square miles of Arizona, New Mexico and Utah, is particularly hard hit with 30 percent of its members water insecure.
WM, the world's largest waste disposal business, is trying to change this. The company, which sponsors this week's WM Phoenix Open, along with The Thunderbirds have partnered with the Bonneville Environmental Foundation (BEF) and DIgDeep, to help bring home water systems to those in the Navajo Nation in need.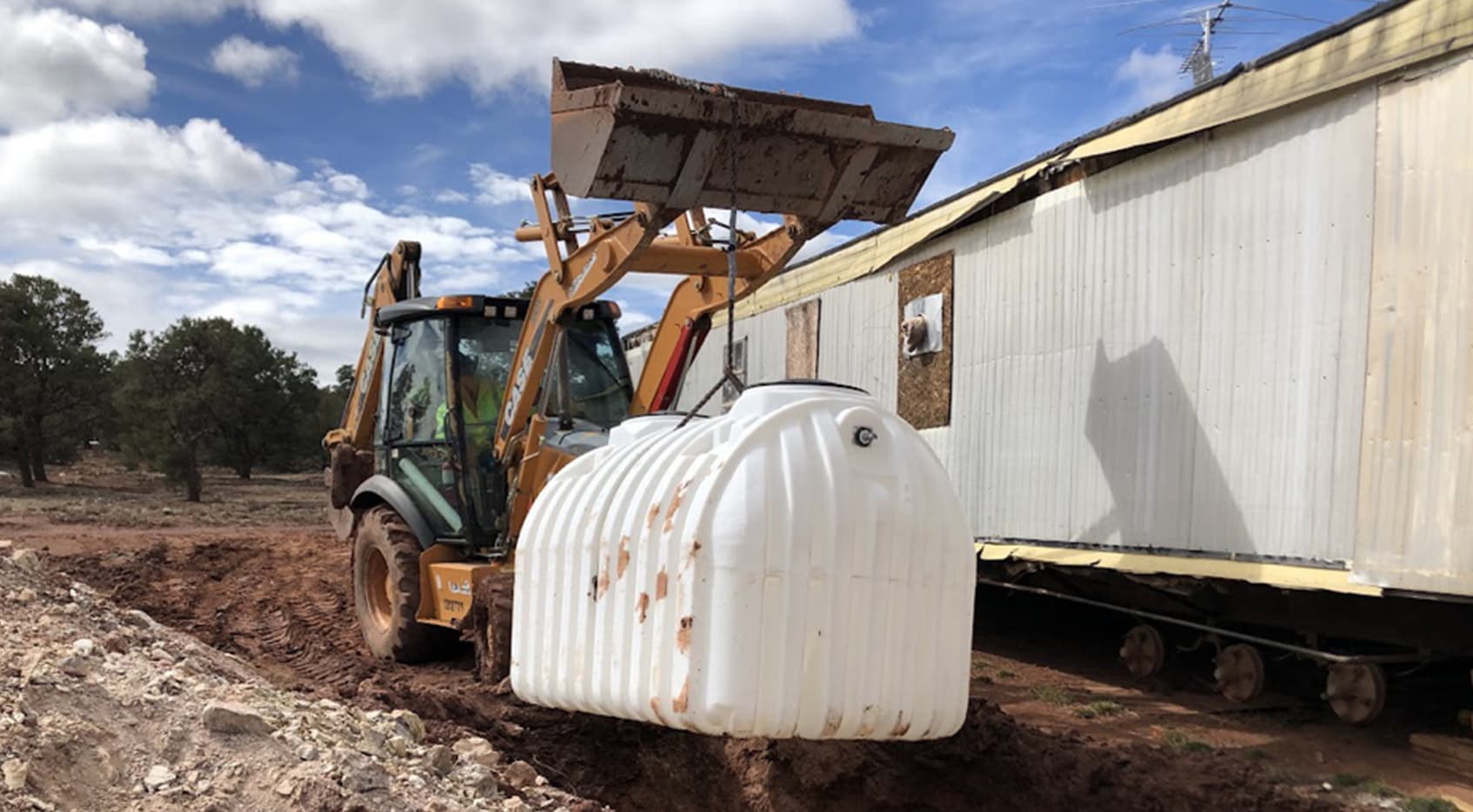 The project is just one of many ways the tournament, which is the largest zero-waste sporting event in the world, The Thunderbirds and WM are working to handle their footprint in Arizona, where water management is a such a serious issue.
"This program is the embodiment of a sustainability collaboration," said Lee Spivak, senior manager, WM Advisory Services. "We engaged 15 tournament suppliers, vendors, sponsors, the league and more to support the local economy through impactful environmental work. WM is proud to lead and share credit with these organizations in hopes that more tournaments will adopt this strategy."

WM, whose focus is on environmental stewardship and sustainability, and BEF first aligned in 2015 through the non-profit's Change the Course initiative. That project engages corporate partners to support water stewardship and restoration efforts in the communities they impact.
"(We were) really looking at … how do we leverage the tournament and the influence and the power of sports really to drive more awareness about water scarcity, water issues, and then directly restore water to Arizona ecosystems and communities," said Sara Hoversten, the director of BEF's Water Stewardship Program.
The partnership between BEF and WM has supported a variety of programs, including improving habitats for native species and working with farmers to improve irrigation efficiency. Since 2015, the WM Phoenix Open and its supporters have helped restore over 400 million gallons of freshwater in the state of Arizona.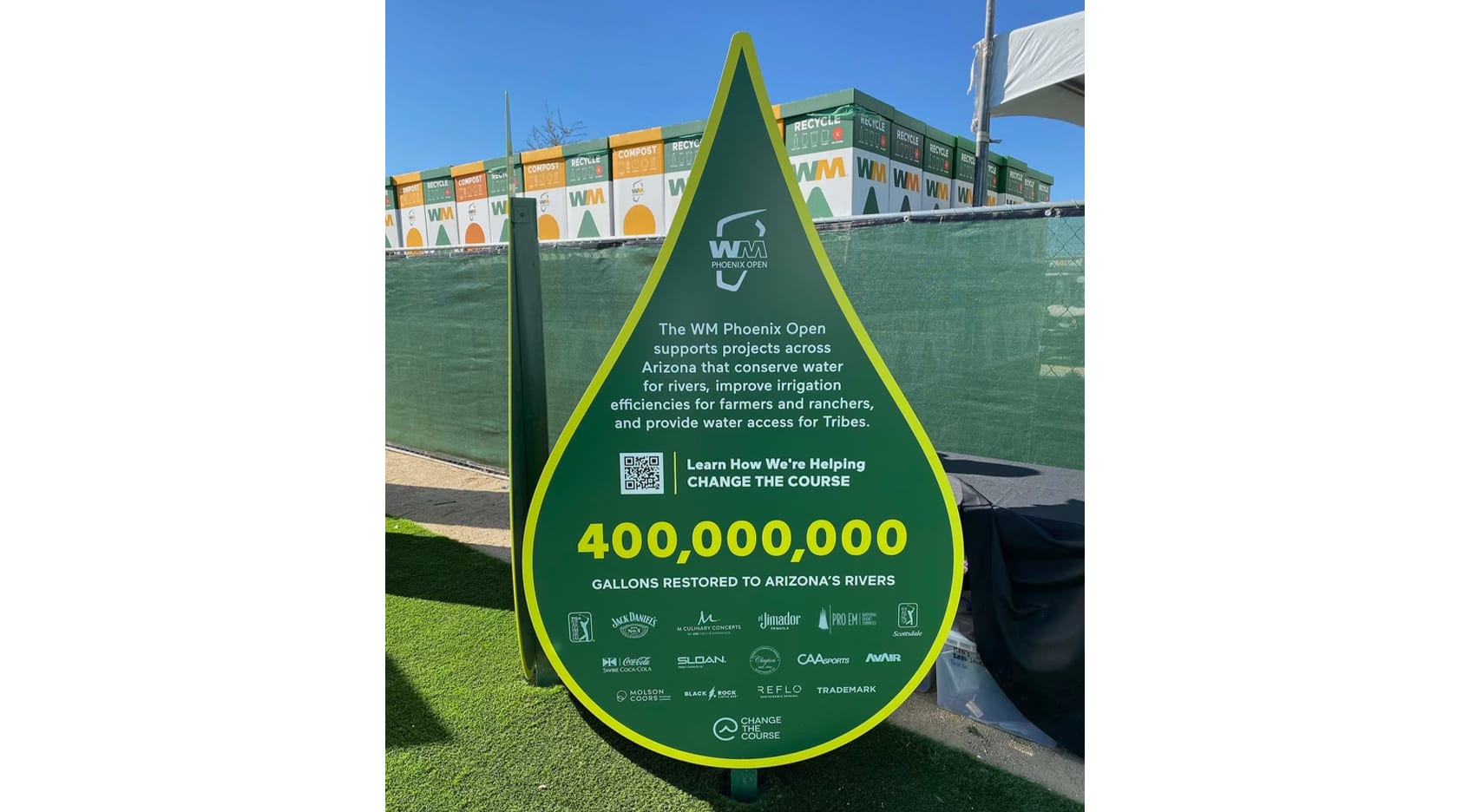 In the past two years, though, access to clean drinking water became a focus of the partnership between WM, the Thunderbirds and BEF. That's where DigDeep and its Navajo Water Project comes in.
The home water systems installed by DigDeep ensure that families don't need to drive for miles to community wells to fill up buckets and canisters of water to meet basic needs like cooking and washing dishes and bathing. Sometimes those wells are contaminated with uranium and other pollutants.
But contamination wasn't the only problem. Without water and basic sanitation, COVID had become a huge issue for tribal nations. In May 2020, the Navajo Nation registered more per-capita coronavirus infections than the epicenters of New York and New Jersey.
"If you can imagine during the pandemic when people needed to wash their hands, there's a reason why the Navajo Nation was so hard hit," Merenda says.
To date, DigDeep has installed more than 600 home water systems. Their technicians, who are predominately Navajo, are also working on innovative solutions like larger solar panels that might provide some additional electricity in the homes, which are often in remote locations.
A typical installation – digging the hole, sinking the cistern, piping and putting solar panels on the roof -- might take four hours. However, some of the homes are hard to reach and might take as much as three days with driving back and forth. The rough terrain can also be an issue with hidden boulders necessitating a change in location for the tank, which DigDeep refills monthly.
Gaining trust and credibility within the Navajo Nation has been an evolving process. The organization works with tribal chapters, which Merenda likens to county governments, to identify families in need. Once that's done, priorities include large families, the elderly and people with health issues.
"Then we approach the family to see if they want this. And what we realized early on was that when we first started working on the Navajo Nation, a lot of the residents were really, they didn't know if we were really going to make good on this offer, if we were really going to help," Merenda say.
"There have been a lot of broken promises that they've heard over decades and decades, centuries probably. And so it was, we were met with some disbelief and maybe some suspicion, like, really you're going to (do it), and it's free? Really, you're going to do this?"
Yes, it is free. And DigDeep's partnership with WM, the Thunderbirds and BEF has helped make that possible.