26D AGO
PGA TOUR revolutionizes data capture with solar-powered ShotLink at The RSM Classic
For more than two decades, the PGA TOUR has relied on ShotLink powered by CDW to capture, record and store data about every shot hit on the PGA TOUR. Approximately 28 million shots have been captured by ShotLink since 2001 and the data about each one is usually made available to fans, media and partners within seconds.
The infrastructure to power and support such a network is immense and labor-intensive. In its previous iteration, the PGA TOUR typically needed to lay approximately 20-30 miles of composite fiber-optic and power cables to provide the power and pathways for this data to be collected and transported to its destination.
With the impending roll-out of a re-envisioned ShotLink, the amount of data collected is increasing tenfold. This increase in data will drive improved storytelling around the analytics of golf.
But an increase in the amount of data requires increased infrastructure. The amount of fiber-optic cables, generators and propane tanks necessary to power and support this system, frankly, would overwhelm a golf course.
The PGA TOUR devised its own solution to this problem, one that capitalizes on golf's status as an outdoor sport. Solar power drives a hybrid power system for ShotLink that requires much less fiber and has less of an impact on the PGA TOUR's fields of play.
"We're solving practical problems," said Ken Lovell, PGA TOUR Senior Vice President, Golf Technology. "We can put an outpost on one side of the fairway that doesn't need to be physically connected to any other power source, so we don't have to run as much fiber. It's all solar. The batteries keep it charged and there's always redundancy and backup.
"We're solving technical and business problems out of this that happen to be a really elegant green solution. There was nothing in the market that did this at the level we required so we built it."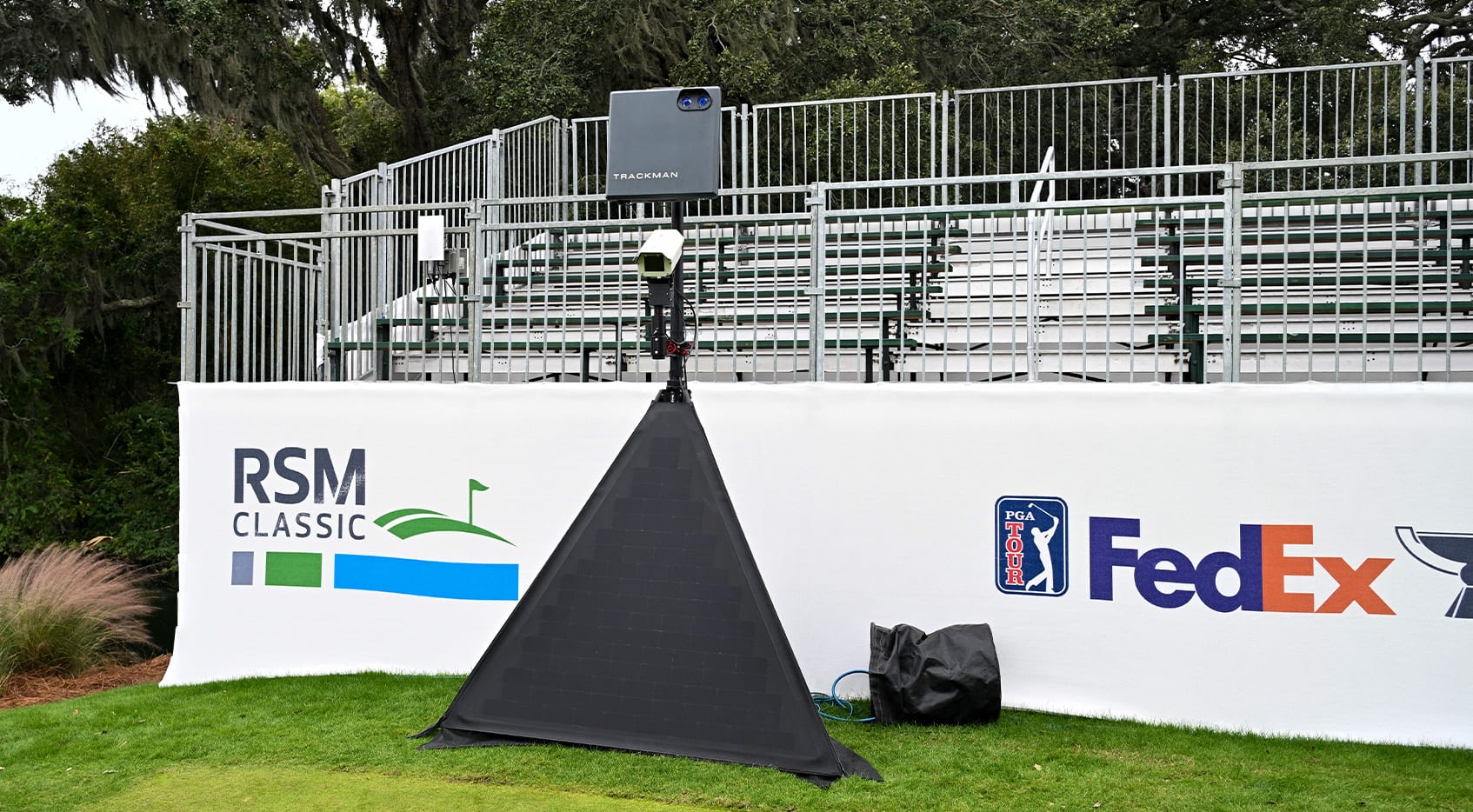 ShotLink solar panels at The RSM Classic (PGA TOUR)
The PGA TOUR sets up six tripod masts with multiple sensors on each to capture ShotLink data and video on a single par 4: three around the green, one on the tee box and one on each side of the fairway. These sensors are supported by a tripod with a battery underneath. Rather than having to run cables to and from each tripod, this new solar solution gives the TOUR the ability to power each unit and seamlessly collect, transfer, and backup all of this data. Using solar power cuts down on the amount of cables and generators needed to fuel this system.
The PGA TOUR is able to monitor and control these units remotely, keeping an eye on battery life, cell health, battery temperature and any potential tampering. A three-sided solar skirt wraps the ShotLink tripods that the cameras and radars are attached to.

Under ideal conditions, the solar elements of the system keep it powered without any intervention for the duration of a tournament. But even in the event of weather, shade or solar eclipses, the ShotLink outposts are designed so they can easily be charged by a local generator, which takes about three hours, or by using a donor power module to replenish the connected battery to go from almost empty to full in approximately two hours. The outposts themselves are built to run for up to two days without any external charge at all.
The ShotLink hybrid power solution will lead to less noise from generators and cut down on the number of golf carts whizzing around to support a traditional generator powered infrastructure. The TOUR surveyed current consumer products on the market in its search for solutions before concluding it needed to devise its own.
"There was nothing out there that was designed to power network equipment and there was nothing that you could purchase that had infrastructure monitoring," said Jonathan Rabhan, PGA TOUR ShotLink Senior Product Manager. "So we came to the conclusion that we had to build a custom solution."
That solution will be on display beginning at this week's RSM Classic at Sea Island Golf Club in St. Simons Island, Georgia.
"This was not us looking for a green-powered solution," Lovell said. "This was us looking for an effective power solution. The fact that it's green is a bonus to our operations. The fact that it was the most seamless solution we could build to solve the problem is really a testament to the ingenuity and creativity of our design team who are constantly looking to innovate."