Archive
The week after the TOUR Championship, one of golf's hottest architects will begin a dramatic East Lake renovation
The Tuesday after a FedExCup champion is crowned at Atlanta's East Lake Golf Club, the familiar venue for the TOUR Championship will undergo a dramatic renovation by one of golf's leading architects.
East Lake Golf Club, founded in 1904 and famous for being the home club of great players from golf's golden age, will have a new look for next year's TOUR Championship that harkens back to the club's history. The project is being led by Andrew Green, who earned praise earlier this year for his renovation of another Donald Ross design, Oak Hill Country Club in Rochester, New York, the host of this year's PGA Championship.
Starting next week, East Lake will be stripped of its grass and undergo a dramatic renovation led by Green, whose work will be influenced by a 1949 aerial photo of the famed club. Like his work at Oak Hill, this will be a renovation that brings a club closer to its roots, harkening back to the days when the great amateurs Bobby Jones and Alexa Stirling called the course home.
"This is truly a case of a golf course having helped create great players," said Green. "My job will be to present those features in a contemporary way, features that made great players of the past like Stirling and Jones learn to become shotmakers."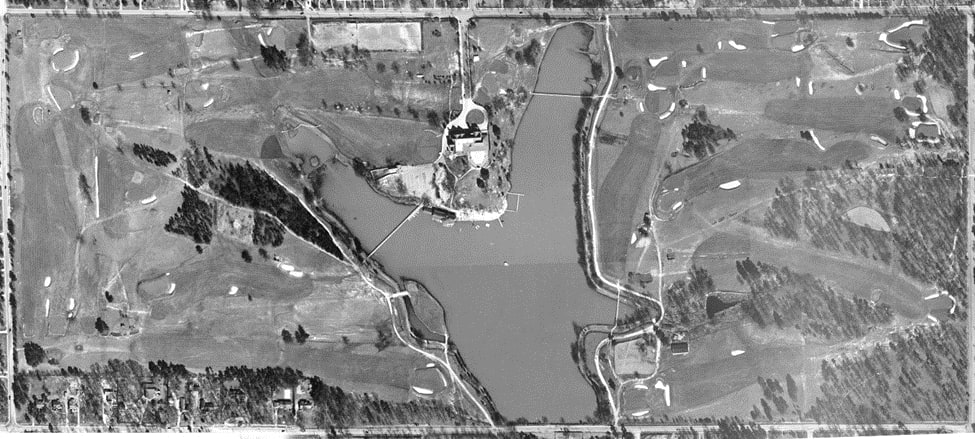 An aerial view from 1949 of East Lake Golf Club. (East Lake Golf Club)
East Lake in its current form has become an aerial test, one that features deep bunkers and perched-up greens, as well as thick bermudagrass rough. The new East Lake promises to require a more diverse array of shots.
Greens are likely to get bigger to accommodate elements of the conjoined putting surfaces that were a feature in the club's past. Bunkers will be shifted, in some cases dramatically, to recapture their older form while accommodating modern distances. The bunkers are also likely to sport more grass faces, which were seen in some limited, but intriguing, pictorial and film evidence from the 1920s and 1930s.
In those few areas where the landlocked course allows for additional yardage, the distance will be claimed. But the overall intent is not to make the course harder. It's to make East Lake more interesting and more like it used to be. To that end, there will be more short grass around the greens to encourage a greater diversity of recovery options.
The course has always enjoyed a prominent role in the game's history. East Lake was the home course of Jones, who electrified the golf world as an amateur in by winning four U.S. Opens, three Open Championships, five U.S. Amateurs and the 1930 Amateur Championship as part of his Grand Slam season.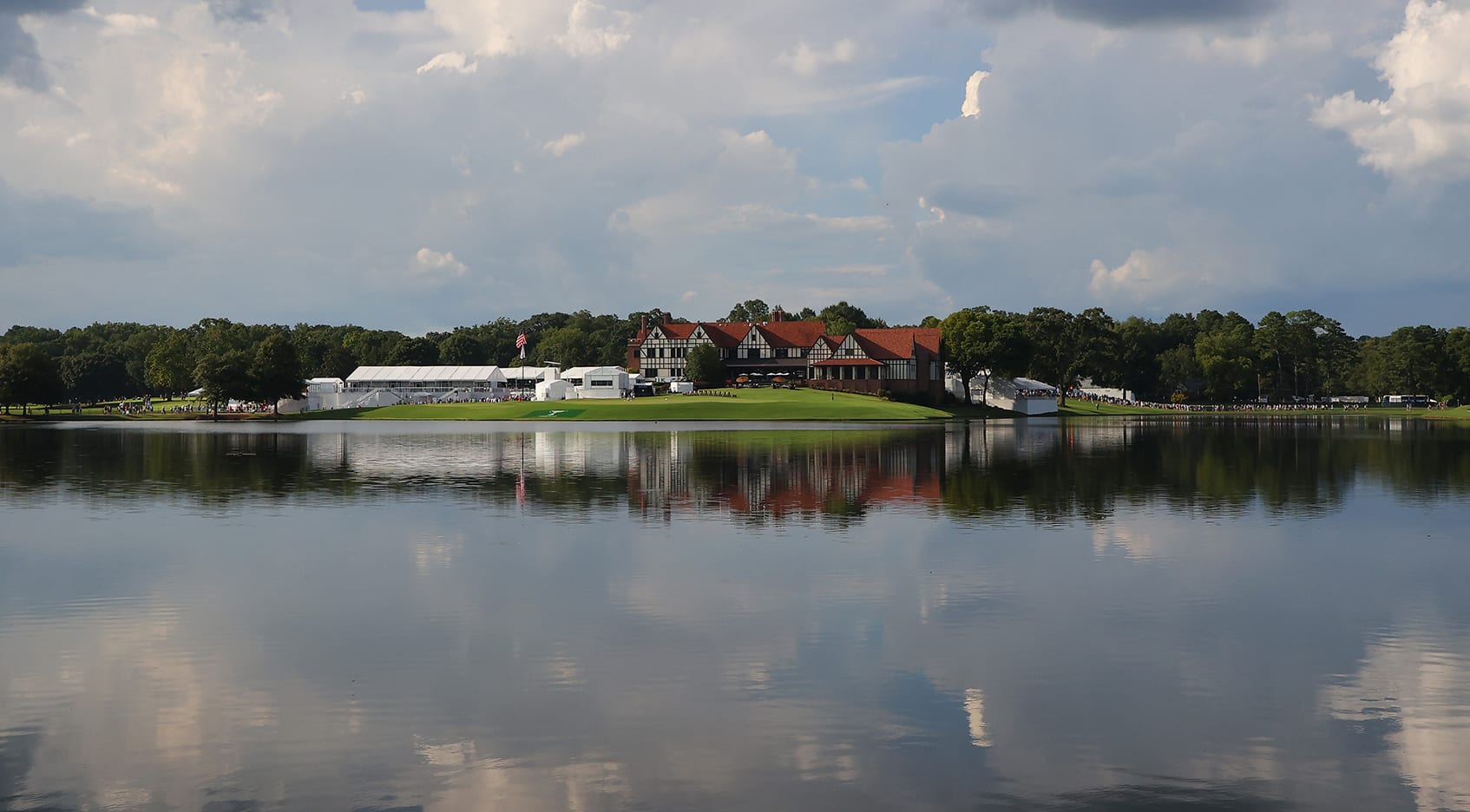 His running mate in his early days at the club was Stirling (1897-1977), with whom he shared many youthful rounds of golf; she went on to win three consecutive U.S. Women's Amateurs. Both golfers credited their youthful success to the lessons they learned at East Lake under the guidance of Scottish-born golf professional Stewart Maiden.
East Lake has been home to both champions and championships. Besides the 1963 Ryder Cup – which was won by the U.S., 23-9 – the club has hosted the 2001 U.S. Amateur and the TOUR Championship biennially since 1998 and annually since 2004 (as part of the FedExCup since 2007).
The plan is to redo East Lake's entire infrastructure, including drainage, irrigation, turfgrass and reconstruct greens, tees and bunkers – and to have it all done in time for next year's TOUR Championship, which is scheduled for Aug. 28-Sept. 1.
The course, only five miles east of downtown, dates to an original routing by Tom Bendelow. It was substantially altered in routing and features in 1913, with credit given to Donald Ross for the work.
In researching the club's history, Green stumbled upon a 1922 reference in a Birmingham, Alabama, newspaper referencing Ross's work at "the East lake course in Atlanta. Perhaps more revealing is a promotional brochure that Ross' office produced circa 1930 listing his work. "East Lake Country Club 36 holes" is among the projects listed. That refers to the two 18-hole courses at the club (the second layout opened in 1930). Ross' promotional literature often understates but never overstates the catalog of his completed works.
The Ross routing is virtually identical to today's in the positioning of tees, fairways and basic green sites – with the considerable exception that, as was customary in the South in those days, there were two sets of greens. The notorious difficulty of maintaining warm-season, bermudagrass greens in the wintertime meant that dual season courses like East Lake – open throughout the year – relied upon grass greens in peak season and a secondary set of sand greens in the winter. Eventually, sometime after World War II, as turfgrass technology improved, it became possible to cultivate playable overseeded putting surfaces in the winter. But the dual green system survived long thereafter.
The 1949 aerial photo of East Lake that Green uncovered shows two sets of greens at play. Interestingly, some of the holes had greens that appeared to be split virtually down the middle, while other holes had more distinctive separation, including several with two separated green complexes. The dual system existed until architect George Cobb's renovation of East Lake for the 1963 Ryder Cup. That is when he merged the greens into a single surface per hole, though it is not clear on what basis he decided on the specific contours for each putting surface.
That 1949 aerial reveals onto two-dimensional shapes. But the suggestion of some fascinating figures, like the diamond forming the combined second green of the current routing certainly caught Green's eye. So, too, did the unusual shaping of bunkers – many of them trench-like in linear form, presumably with steep faces redolent of a partially sunken steeplechase. Another revealing feature of the course at the time: it was far more open in terms of interior vistas, with fewer trees than it has today.
After several difficult decades, new life was breathed into East Lake in the early 1990s thanks to the initiative of Atlanta businessman and philanthropist Tom Cousins.
He purchased East Lake with the intent to restore it as a tribute to the club's great amateur golfers and as a catalyst for revitalizing the surrounding community. Rees Jones was brought in to revive the golf course, and the result drew national acclaim. The club added corporate members to help fund the effort. As a result, the community is thriving.
According to the club, the aim of the upcoming project is to continue East Lake's legacy and "all the amazing things that East Lake stands for," while reconnecting the club to the legacies of Jones, Stirling and Charlie Yates, the 1938 British Amateur champion.
The project also is intended to harken back to Ross' design while providing "playability, strategy and tremendous variety" for members. Today's layout tests the TOUR's top players but can be difficult for the everyday golfer.
"The club is thrilled with Green's approach and fully expects him to deliver a quality product that will serve the club well for years to come," said Chad Parker, East Lake's president and general manager.
There is good reason for the club's faith in Green. In addition to his acclaimed work at Oak Hill, he also has led work on historic clubs like Inverness in Toledo, Ohio; Scioto in Columbus, Ohio; Congressional in Bethesda, Maryland and Wannamoisett in Providence, Rhode Island.
He also has proven his ability to provide quality on a value basis at such courses as The Country Club of York in Pennsylvania and the municipally-owned Eisenhower Park Golf Course in Annapolis, Maryland, where he created a bunkerless layout. His current portfolio, beyond East Lake, includes Interlachen in Minneapolis; Big Canyon in Newport Beach, California; Omaha Country Club in Nebraska and both Shoal Creek and The Country Club of Birmingham in Alabama.
Before hanging out his own shingle as a boutique-scale architect in 2015, Green spent 14 years as field coordinator for the golf construction firm of McDonald & Sons, Inc. In his subsequent work he has excelled at historic research, combing through archives and digging up historic images the way an archaeologist sifts through a field dig.
For East Lake, the plan is to accomplish an imaginative recreation of the spirit and sensibility of a historic golf course. Green is particularly excited about the ability to draw upon those diverse greens – combining some elements, strengthening others, and letting the ground evoke the kinds of shot-making demands that East Lake did in past iterations
The work will begin on the front nine, the holes to the east of the clubhouse. The exact configuration of the newly-restored East Lake will be determined, as are all successful projects, in the field.
It will still be East Lake. But now there will be an even closer connection between the club's great history and the competition for the TOUR's top prize.
Bradley S. Klein is a veteran golf writer and author of 10 books on course design. A former PGA TOUR caddie, he was architecture editor of Golfweek for over two decades and is now a freelance journalist and course design consultant. Follow Bradley Klein on Twitter.