13D AGO
Check out Billy Horschel's recent iron changes and why he uses a 'secret' golf ball
---
---
Written by GolfWRX

GolfWRX.com
The last time Billy Horschel teed it up in a PGA TOUR competition, he finished fourth at the Wyndham Championship but failed to qualify for the FedExCup Playoffs. Although his season was cut short for his standards, Horschel used the time off in August to address concerns with his iron play and distance control, ultimately making significant changes to his iron setup.
This week at The RSM Classic at Sea Island Golf Club, during a "what's in the bag" video shoot with PGATOUR.COM and GolfWRX.COM, Horschel went into detail about the changes he made to his irons, and why.
He felt the spin rates on his iron shots had been "a little too low," causing him to fly the ball farther than his intended distance, even when hitting three-quarter knockdown shots. Additionally, he was missing too far left of the target because his intended cut shots weren't cutting back the way he wanted.
To address the issues, Horschel worked with his swing coach Todd Anderson, Titleist Tour rep J.J. Van Wezenbeeck, fitness experts Greg Rose and Dave Phillips at the Titleist Performance Institute (TPI) and with Michael Neff, director of GEARS Golf, which is a 3D system that measures the body and the club throughout the swing.
After analyzing his iron play from seemingly every feasible angle, Horschel finally found his answers.
Through the 3D swing analysis, Horschel found out that the lie angles of his irons were 2-3 degrees too upright, which was causing his iron shots to miss left. Now, Horschel says his irons measure 1-2 degrees flat, and the ball is starting left of the target and cutting back just the way he likes.
"By bending the lie angles back to what I've used the majority of my life or my career, I automatically saw I can start the ball left, and the ball started cutting, which was a nice thing to see when you want to play a fade - the ball will start left and cut," Horschel said. "I'm about one or two degrees flat now with all my irons. It's been a much-needed improvement, and nice to feel like I'm back in my comfort zone."
In addition to the lie angle changes, Horschel also slightly reduced the length of his irons, strengthened the lofts and switched from his longtime True Temper Dynamic Gold Tour Issue X100 shafts to the relatively lighter True Temper Dynamic Gold 120 shafts.
"What we were trying to do is match certain things that Billy was doing really well with his driver, where he had kind of a certain build type and a swing weight that he was really liking feeling the head," Van Wezenbeeck said on Tuesday at The RSM Classic. "When we look at the total mass of the golf club, we have to look at where we remove and where we add weight. He was a player that had used the same iron shaft (True Temper Dynamic Gold Tour Issue X100) for a long time. We liked certain parts of that performance, but we were trying to get him to deliver the loft more consistently.
"So in that case, we found that removing 10 grams from the shaft (True Temper Dynamic Gold 120) let him feel the head a little bit more, and with him and his coach, they were able to deliver the loft more consistently… what we found is by removing the weight from the shaft, combining with those swing changes, just let them shallow it a little bit and we were able to control the strike more consistently with a stock sole."

Horschel also switched into a combo iron set, featuring Titleist 620 MB short irons (6-9 iron) and Titleist T100 long irons (3- and 5-iron).
"As much as I love the 3-iron and the 5-iron in the MB, because it looks nice and it looks small, your misses aren't nearly as good with them, and I hit the center of the face quite a bit," Horschel said. "But it's amazing how easy these [T100 irons] are to hit. It can be a little bit off, but the ball still gets up in the air. I'm not losing as much distance, and you know when we're playing really firm, fast greens, it's vital that on our long irons, the ball is getting up in the air, and it's coming down as soft as possible."
Speaking of his golf ball landing softly on the greens, Horschel also uses a special Titleist prototype golf ball that's designed to spin a bit more.
"I use a Titleist Pro V1 Plus – it's a secret golf ball," Horschel said. "This is a golf ball that spins a little higher, launches a little bit higher. It's an updated version of the Pro V1 Star; that was a 2017 model."
As Horschel returns to the PGA TOUR at The RSM Classic, keep an eye on his iron game. If you see the ball cutting toward the target and landing softly near the flagstick, now you know why.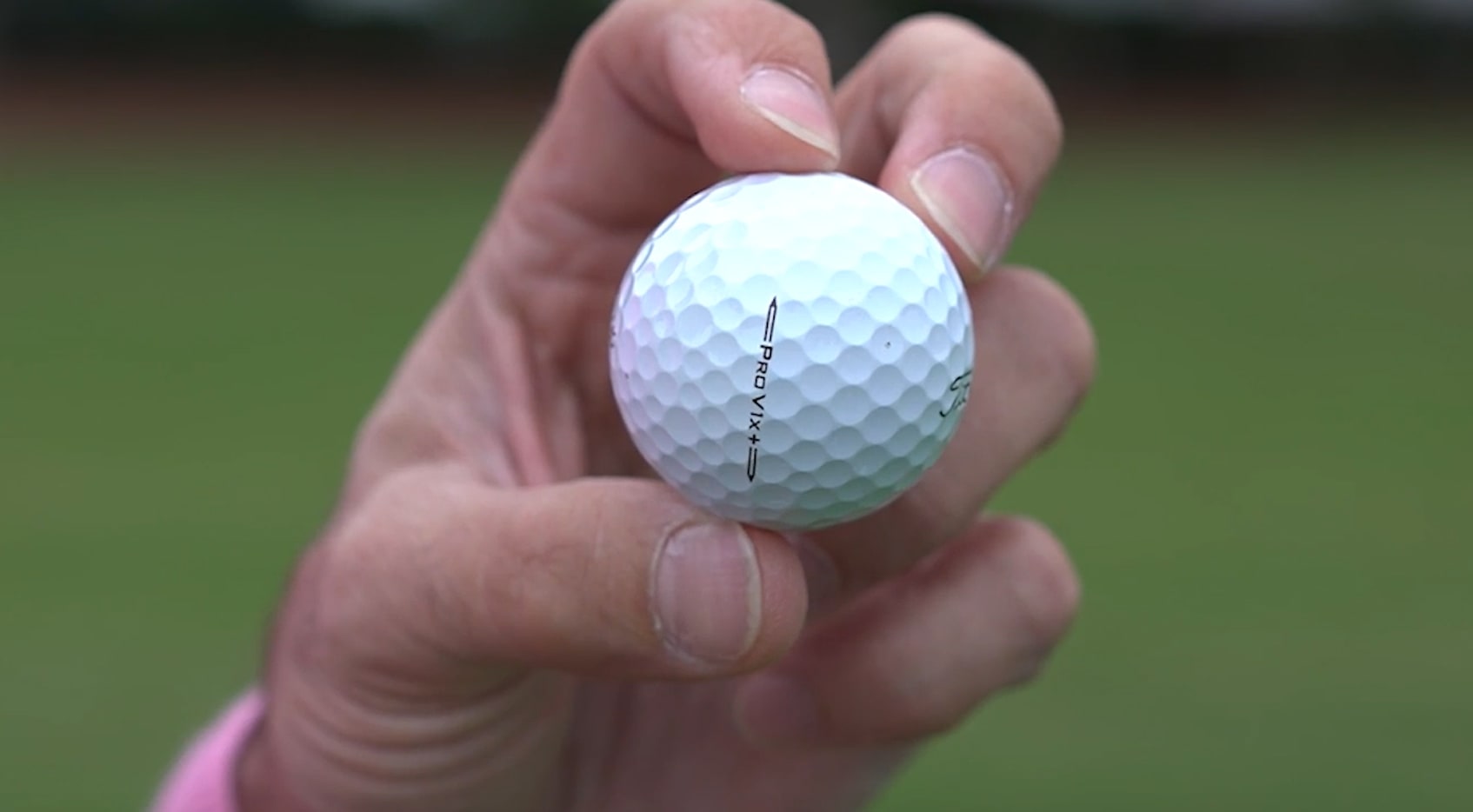 A look at the Titleist Pro V1 Plus. (PGA TOUR)