Archive
Teeing up tradition: Teens take the first tee at the TOUR Championship
Life will come full circle for Elsie Husted and Josh Mitchell on Thursday at the TOUR Championship.
Both teens trace their love of golf to walking the fairways at East Lake Golf Club during the final event of the FedExCup Playoffs. And on Thursday Elsie and Josh will get to hit the HOPE Tee Shots to get the competition for the $18 million bonus underway.
Elsie and Josh are high school seniors and members of First Tee-Metro Atlanta. Elsie, who is 17, has been involved in the program for 12 years. Josh started at First Tee in 2019, the same year his mom took him to East Lake where he followed Rory McIlroy as he won the FedExCup for the second time.
"When I walked away on Sunday, I was like this is what I want to do because I saw Rory and I was like, dang, that man can hit the golf ball," the 16-year-old says with wonder in his voice. "And now I'm hitting the tee shot to start the tournament which is kind of surreal."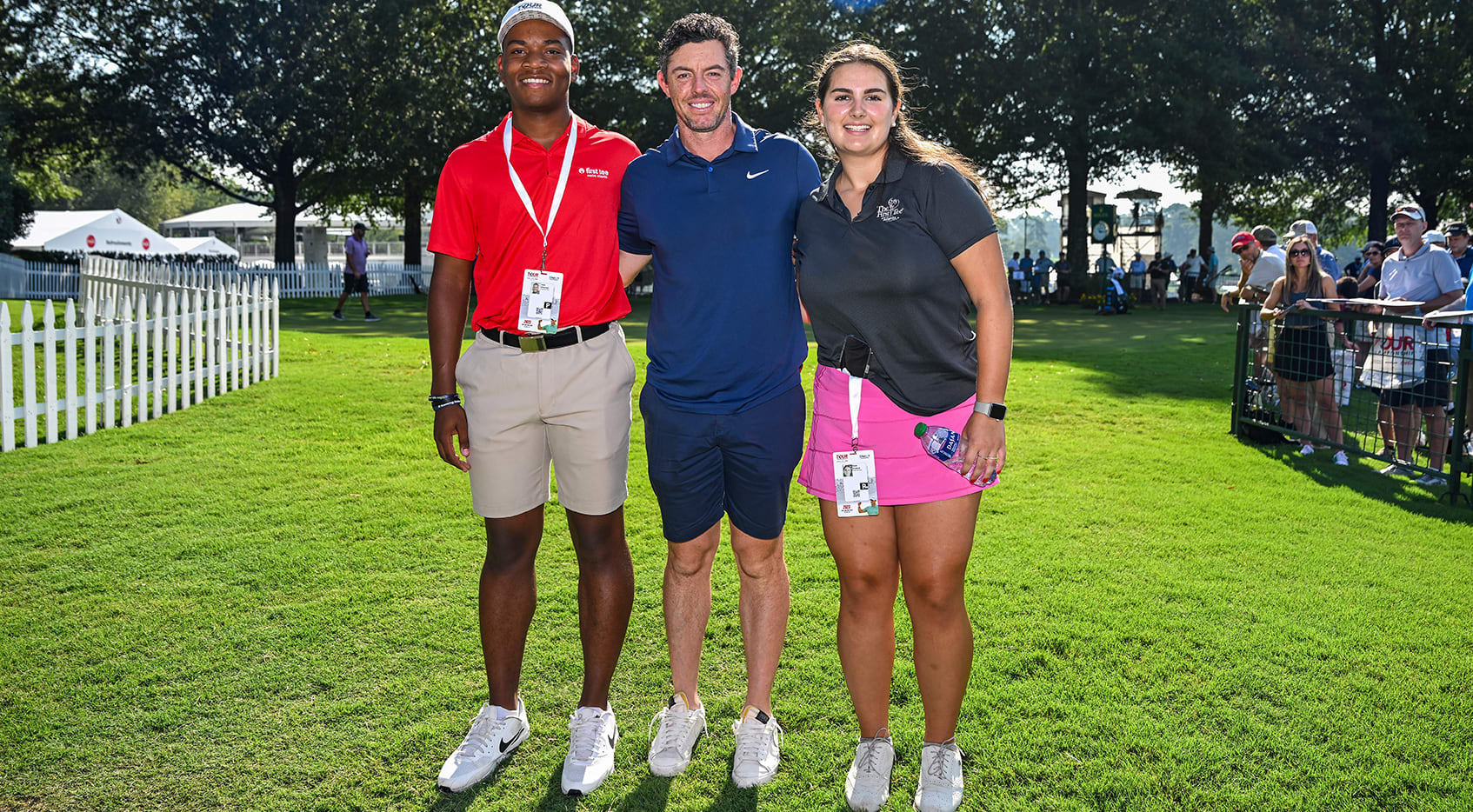 Rory McIlroy of Northern Ireland smiles with First Tee-Metro Atlanta participants Elsie Husted and Josh Mitchell, who are the 2023 HOPE Tee Shot honorees tasked with hitting the opening tee shots for the TOUR Championship, the third and final event of the FedExCup Playoffs, at East Lake Golf Club (Keyur Khamar/PGA TOUR)
McIlroy is Elsie's favorite golfer, too. She remembers watching golf tournaments on TV when she was 7 or 8 and he had just moved to world No. 1 and "thinking he was just the coolest person ever." She also thinks he has the prettiest swing on the PGA TOUR.
That's why she and her dad were following McIlroy at East Lake on Sunday in 2018. Of course, there was a bonus -- he was playing with the legendary Tiger Woods who ended a five-year victory drought that day. And in case you were wondering, yes, they were among the first people closing ranks and walking behind two up the 18th fairway.
"I say that I started everyone getting in the fairway, but it's probably not true," Elsie says. "But I asked the guy if he was going to open the ropes to let us cross and he said, yeah, he would. Then he wasn't getting to the rope fast enough and Tiger was walking to the green, so I just went over the rope and other people started going, and then the next thing you know, we're in the fairway.
"I don't know if the TOUR Championship would be too pleased with that, but …"
It took about 30 minutes of replaying that iconic scene on TV, but Elsie's dad was able to find them in the sea of humanity. His bright green shirt was the giveaway. She remembers him telling her that she was probably the only person in the crowd who was there to follow McIlroy.
"We go to a lot of sporting events, but I just remember thinking I've never been in that kind of environment and how crazy that was," Elsie says.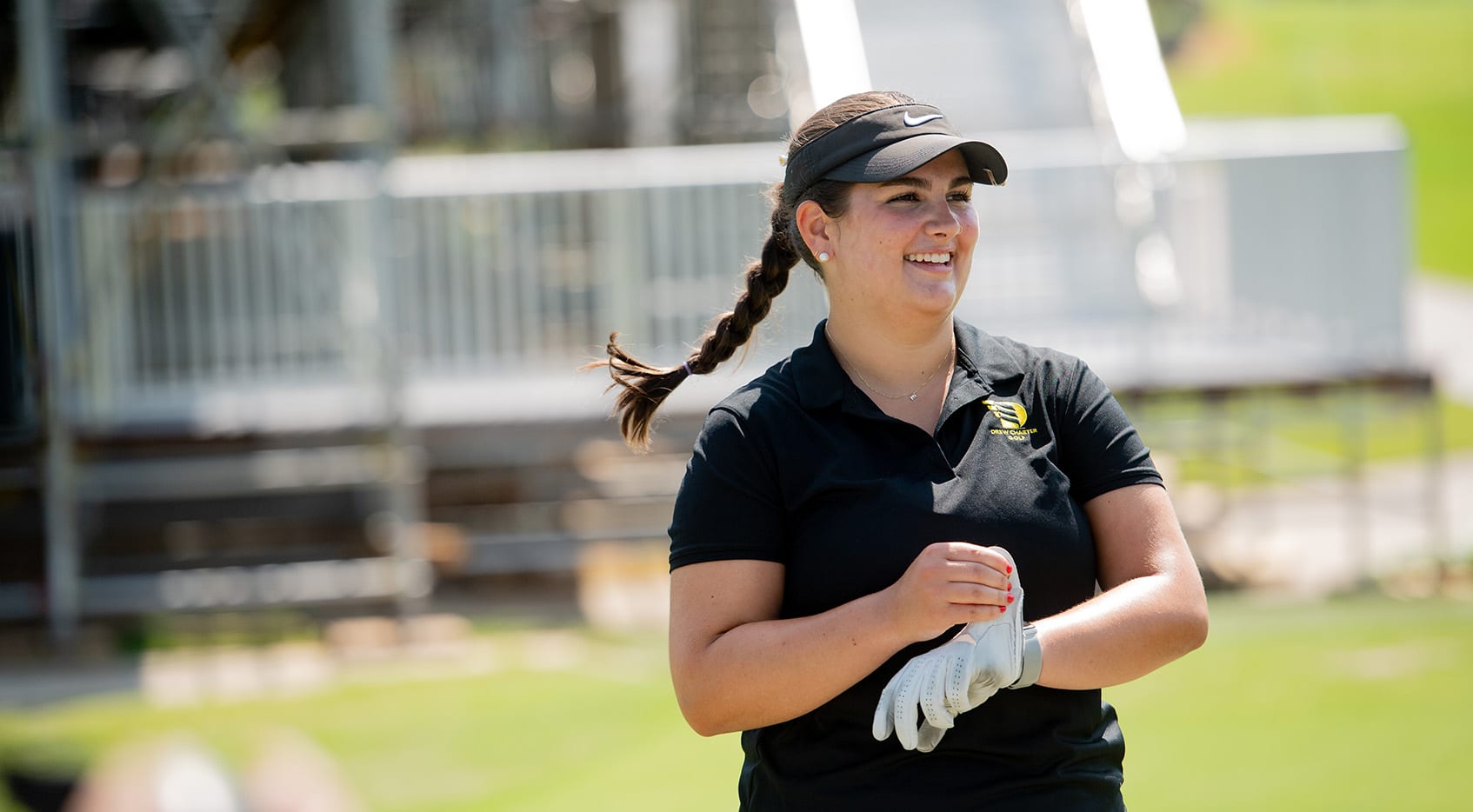 Both Elsie and Josh expect to be nervous on Thursday when they step to the No. 1 tee at East Lake about 10 minutes ahead of Jordan Spieth and Sepp Straka. The two teens are talented and tournament-tested golfers, though – Joshua's handicap is a 0.5 and Elsie's estimates she's about an 8 right now –so they're sure to be equal to the task.
The HOPE Tee Shot has been a part of the TOUR Championship since 2008. Potential candidates fill out a questionnaire, write an essay and undergo a series of interviews. Not only are the two winners treated to a VIP experience on Thursday, but each also receives a $5,000 scholarship courtesy of Accenture.
Josh, who attends Riverwood International Charter School, played a variety of sports, particularly basketball and soccer, growing up. But once his grandfather introduced him to golf and his mother guided him to First Tee, everything else took a back seat.
"The thing about golf that I like is it's never the same thing every day," Josh says. "It's always different whether it's the conditions, the course, the challenges. Basketball, it's always one regulation-size hoop, one court, you know? It's always the same environment unless, I guess you're traveling on the road.
"But golf is like, it's different every single day. You never know what you're going get. You just kind of make the most out of it."
Josh certainly has. In four years, he's become a legitimate college prospect, attracting attention from Howard, Florida A&M and Virginia Commonwealth, among others. He attended Florida State's golf camp this summer, as well as the Congaree Global Golf Initiative which provides coaching and tools for academic success for talented high school golfers with college dreams.
For the first year he played, though, Josh didn't really have an instructor. He'd go to the range with his grandfather and then watch YouTube videos of golfers when he got home. He estimates his Golf playlist of videos is now between 1,000 to 2,000.
First Tee honorees hit ceremonial HOPE Tee Shot at TOUR Championship
"Some of it was just watching Rory McIlroy, like watching the broadcast from the Masters, watching Roy McIlroy or Tiger Woods, the 1998 broadcast from the U.S. Open or some something random," Josh says. "And then I go watch swing videos on like how to stay on plane, what should your grip look like, how to stop hooking the ball, how to stop slicing the ball, how to stop three-putting, like, things of that nature."
Although Elsie started at First Tee when she was 5 years old, she didn't get bitten by the golf bug until she was 8 or 9 and realized she had some talent for the game. Then she was all in. "Once you get kind of good, it becomes like you're always chasing that feeling," she explains.
As a sixth grader, she was competing regularly against girls who were several years older, and "that's when I kind of thought like, I can keep up. There might be something in this," Elsie says. Like Joshua, she's drawn to the game because it presents a different challenge each time she plays.
"And you never have it all figured out," Elsie says.
Elsie, whose other hobby is reading literary fiction and books about the mental side of golf, attends the Drew Charter School, which is located across the street from East Lake. Her best score over 18 holes is a 74 (and 1 under on nine) but she's equally proud – and challenged – by her quest to graduate with a 4.0 grade point average.
"I'm on track," says Elsie, who is also interested in playing golf in college. "I just found out actually earlier this week, it's 4.04, so I've got a little room to go, and I tried to go easy on the classes this year, so hopefully that works out."
Elsie was on vacation with her family on the Outer Banks of North Carolina when she got an email saying she'd been selected to hit the HOPE Tee Shot. Josh was surprised by Alex Urban, who is the executive director of the TOUR Championship, at a gathering of about 100 kids at the PGA TOUR Superstore's headquarters in Atlanta.
At First Tee-Metro Atlanta – and East Lake – both have found a second home.
"The coolest thing about the First Tee is sometimes you go to programs, and they feel like, I mean, your name might be on the roster, but it doesn't feel like you're part of the family," Joshua says. "But at First Tee, your name's on the roster and like, it feels, it really does feel like a family atmosphere.
"I've been with them for a long time now, and all the events that they organize, all the different opportunities that they present to you really helps you grow as a person, helps you meet new people, helps you network. It's just a great, great program."