Archive
Blakes Women's Day: A winning combination to tee off Shaw Charity Classic week
---
---
Written by Jack Keller and Ryan Vandervlis
The fun has begun again at the Shaw Charity Classic presented by Rogers, and so too has the mission to positively impact the lives of Alberta youth.
Nearly 100 women christened the pristine Canyon Meadows Golf and Country Club on Monday for Blakes Women's Day – an annual tradition that tees off tournament week at the lone Canadian stop on the PGA TOUR Champions in Calgary.
"Women's sports are generally underrepresented, so the fact that there is an entire day at this event dedicated just to women golfers is an excellent way of bringing focus to women in sports," said Kelly Bourassa, lawyer at Blake, Cassels and Graydon LLP.
Created initially in 2016 to encourage more women to play the game of golf when tournament officials recognized they were not taking part in the Championship Pro-Am events, Blakes put their name behind Women's Day one year later, and has since helped grow it from a networking opportunity with laughs on the links to something much bigger – raising money for youth-based charities in the Shaw Birdies for Kids presented by AltaLink program.
"It's important for us to be as inclusive as possible," explained Sean Van Kesteren, executive director of the Shaw Charity Classic. "Women's Day has been different every year, but the focus is always to make sure the ladies have a great time on the golf course. It's a great way to start the week and very important to our event. We're always trying to make it better, and will continue to do so, while putting an even greater focus on children's charities."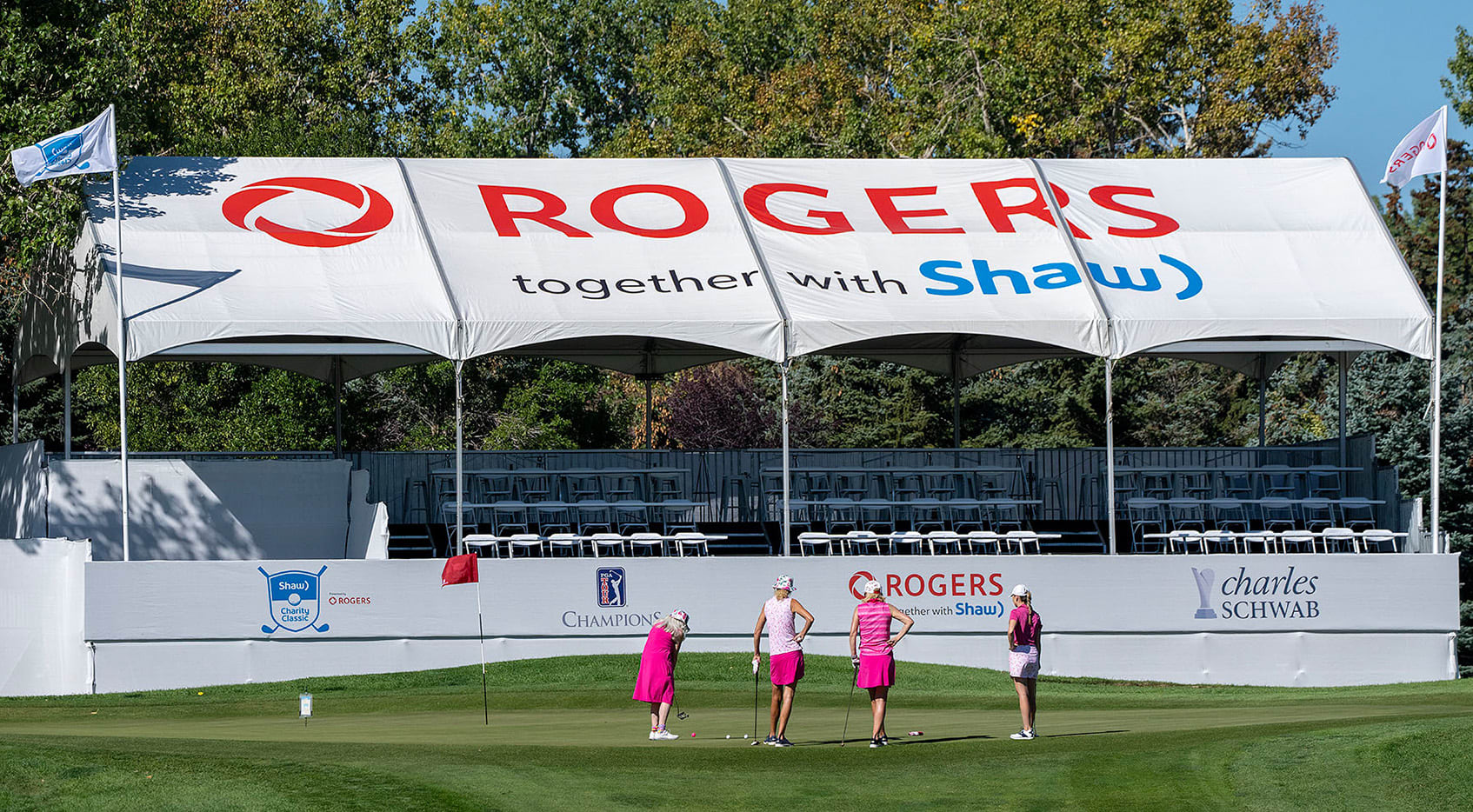 Bringing world-class golf to Calgary to make the community better by creating a significant platform for charitable giving has always been core to the Shaw Charity Classic.
Funds raised are helping deliver a positive impact for children in the areas of health, food support, development and counselling, sports, arts, youth programming, and family support.
Kaleo Collective is one of the tournament's 272 charitable beneficiaries whose focus is to foster a loving, supportive community for single mothers to help them flourish while building wholehearted families.
"One of the best parts about being at Women's Day is the opportunity to raise awareness of the challenges and struggles of being a single mom," said Layna Haley, founder of Kaleo Collective which was also a gold-level sponsor of the event. "Their children are innocent in the life of being in a single parent family, and we believe that every woman can create a future for her and her kids, that is bright. We want to raise awareness about the struggles that these single mothers have, but also the hope that we help them find as they create a new path forward for themselves and their children."
The Shaw Charity Classic's impact on Kaleo Collective has extended far beyond helping single mothers. Haley and her team have leveraged the funds raised from the award-winning event to also provide support systems for the children who share the experience of being raised by a single mother.
Games, prizes, food and drink came with Monday's round, but charitable giving once again stole the show.
The 21 teams that strolled past the Kaleo Collective displayed near the 11th green on Women's Day reinforced the community spirit of the Shaw Charity Classic, all chipping in to donate $1,000 to support the Kaleo Collective mission, and an additional $9,000 to other participating children and youth charities in Alberta.
The strengthened community connection was on full display with the names of each donor added to the string of hearts that were showcased across the top of the Kaleo exhibit throughout the day.
"Charitable giving is the heartbeat of the Shaw Charity Classic. Our goal from day one was to bring a family-friendly professional sporting event to Calgary to create a fundraising platform for these charities who need our support now more than ever before," said Sean Van Kesteren,, who added that each of the participating charities connected to the Shaw Charity Classic receive 100 per cent of all donations collected on their behalf, plus up to 50 per cent in matched funding provided by the tournament. "This tournament simply has the power to rally the community like no other event I have seen, and it is very rewarding to see the impact once again here on Women's Day."