Archive
See who's fighting for a Korn Ferry Tour Finals berth at Magnit
Top 156 after this week's Magnit Championship will keep season alive
Chris Naegel kicked around a few ideas about what he was going to do this fall.
The 40-year-old wasn't feeling great. Certainly, he wasn't playing great. He missed 10 cuts in a row from March through early August.
But after returning from muscle atrophy in his back, he's finally turned a corner. And a tie for 16th at the Pinnacle Bank Championship presented by Aetna means that this week on the Korn Ferry Tour, he's got a chance.
"Having an opportunity is definitely better than not having an opportunity," Naegel said.
The opportunity in question: moving inside the top 156 on the Points List after this week's Magnit Championship in New Jersey, the final event before the reimagined Korn Ferry Tour Finals.
Naegel enters the Magnit Championship at No. 165, with the top 156 after this week qualifying for the Albertsons Boise Open presented by Chevron, the first of four Korn Ferry Tour Finals events. There's a staggered approach to the field size for the remaining events with 144 teeing it up at the Simmons Bank Open for the Snedeker Foundation, 120 at the Nationwide Children's Hospital Championship, and 75 at the Korn Ferry Tour Championship presented by United Leasing & Finance.
(For the first three Finals events, the field can extend beyond the corresponding spot on the Points List, based on eligible players who do not enter. However, the field for the Korn Ferry Tour Championship will not extend below the No. 75 player on the standings after the Nationwide Children's Hospital Championship.)
It's a lot of numbers, sure, but Naegel is happy just to be one of them.
"An opportunity this week is great considering where I was two or three months ago," he said. "I've had this back issue for four to six months now … definitely not a desirable situation. I've done a lot of physical therapy. I've got to a point where I feel like I'm much stronger than I was three months ago.
"It was difficult to swing the golf club since about February."
Naegel missed the first two cuts of the season in the Bahamas before finishing T63 at The Panama Championship and T49 at the Astara Golf Championship presented by Mastercard. He then went 10 tournaments without finding the weekend.
"I started to play decently about five or six weeks ago at home and felt stronger and felt like the swing was more consistent," Naegel said. "It's been a slow process, but it's been getting better.
"I was more worried about getting my strength back and getting to where I felt like I could play again. I knew I could, it was just a matter of time. It's obviously kind of frustrating to put in all that work and not get any results – but hopefully they come soon."
Naegel admits he hasn't been able to practice like he normally would this year, and his pre-round routine isn't that complicated – chips and putts, a few wedges, then a few drivers before headed to the tee. He never had pain in his back, thankfully, but he was awfully weak. There was a time when he couldn't lift a 15-pound dumbbell over his head. Now, he says, he can get up to 45 pounds.
At 40, he knows he's not a newly-minted college star. But he loves to play the game and with three boys, there's an extra bit of motivation to prove himself.
"I think it would be cool if they saw their old man do something kind of cool in the game of golf at some point," he said. "There's some drive for sure."
This week on the Korn Ferry Tour is another opportunity to drive forward – and right to the Korn Ferry Tour Finals.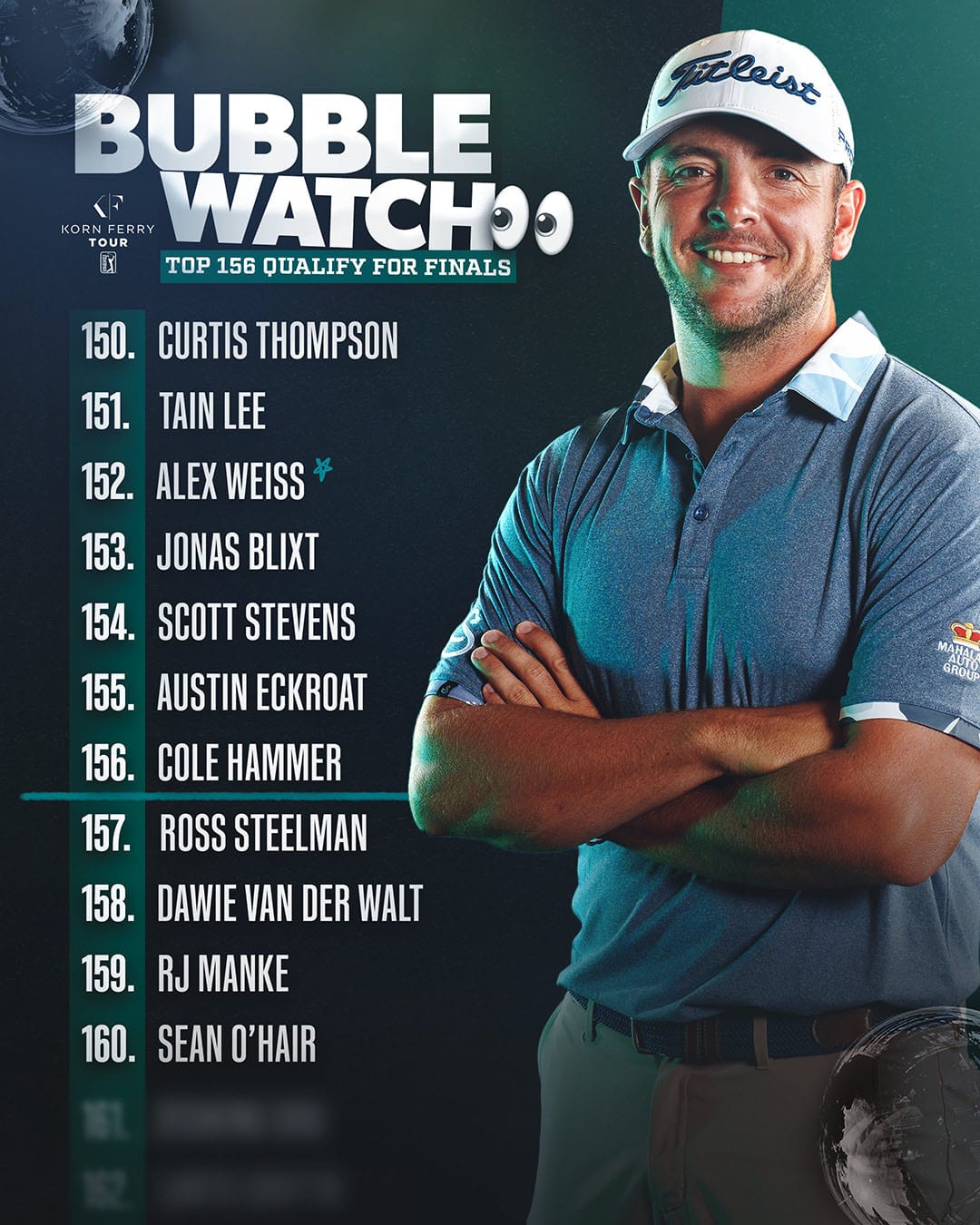 Here are five other notables to watch this week at the Magnit Championship, with their season on the line.
Curtis Thompson (No. 150)
Thompson has had a myriad of results this season on the Korn Ferry Tour and is currently inside the magic number by about eight points. Although he has made just seven cuts this season, he comes to the Magnit Championship having made his last three in a row – his longest such streak of the season.
Hammer, the heralded University of Texas alum, has made just four cuts this season and has missed seven of his last nine – in addition to a WD at the Price Cutter Charity Championship presented by Dr Pepper. He's the man on the bubble, less than one point ahead of No. 157.
Steelman is chasing Hammer for the all-important No. 156-spot. The 22-year-old has played just six events this season but made the cut in four of them, after earning Korn Ferry Tour membership via PGA TOUR University this spring.
Biondi's pro career is still young, and he's keen to make a big splash ASAP. Biondi was the individual NCAA champion in May thanks to an epic five-shot comeback in the final round, and he also helped his Florida Gators to the team title. The Brazil native finished No. 2 on the 2023 PGA TOUR University Ranking to earn his Korn Ferry Tour card.
Knous Monday qualified into this week's event in New Jersey and is hoping to capitalize on some late-season momentum. Like Thompson, Knous is riding a cuts-made wave, having found the weekend his last two tournaments. He'll need a big-time result this week, but he's in the field – and that's step one completed.