Archive
Spencer Levin's emotional week at Astara Chile Classic
Participates in adaptive golf clinic at Teletón Institute, forges special connection with Daniel Moya
Spencer Levin has seen a lot across his 18-year pro career, having made 341 combined starts between the PGA TOUR and Korn Ferry Tour.
But his time at this week's Astara Chile Classic has moved him in a way unlike most of his experiences in the game.
Levin, 38, visited the Teletón Institute in Santiago and spent time with teenager Daniel Moya, who has fallen in love with golf despite certain obstacles along the way – he uses a prosthetic leg and has limited use of one arm. Nonetheless, Moya held his own in a putting competition against Levin on Wednesday, and he compared notes with the veteran pro on short-game technique as well.
Spencer Levin's emotional visit to Teletón Institute at Astara Chile Classic
When Levin was asked to describe what the day meant, he took a few minutes to compose himself. The California native stepped away from the camera, signed an autograph, and returned with eyes welling up.
Levin is a father of three now, and the time spent with Moya put things in perspective, to say the least.
"I'm just happy I was asked to be here, and happy that I could help out," Levin said. "It was a good day for me, and if it meant half as much to these kids as it did to me, it would mean a lot.
"(Moya) is a nice kid, a very sweet kid. Very good hand-eye coordination. A couple of things that I was showing him, he got very quickly. He's definitely got a lot of golf skills, and he has a lot of enthusiasm for the game. That's cool to see.
"I enjoyed everything that we did today, and it meant a lot to me."
The Teletón Institute offers adaptive sports for children who suffer from disabilities. Activities range from a ping-pong table to a swimming pool to basketball hoops. Levin joined fellow Korn Ferry Tour pros including Kyle Jones, Brad Hopfinger and Michael Feagles in Wednesday's excursion, where they met with Chilean youth and competed against them in a variety of putting and short-game competitions, exchanging good-natured banter along the way.
Levin was paired up with Moya; the connection was instant and profound.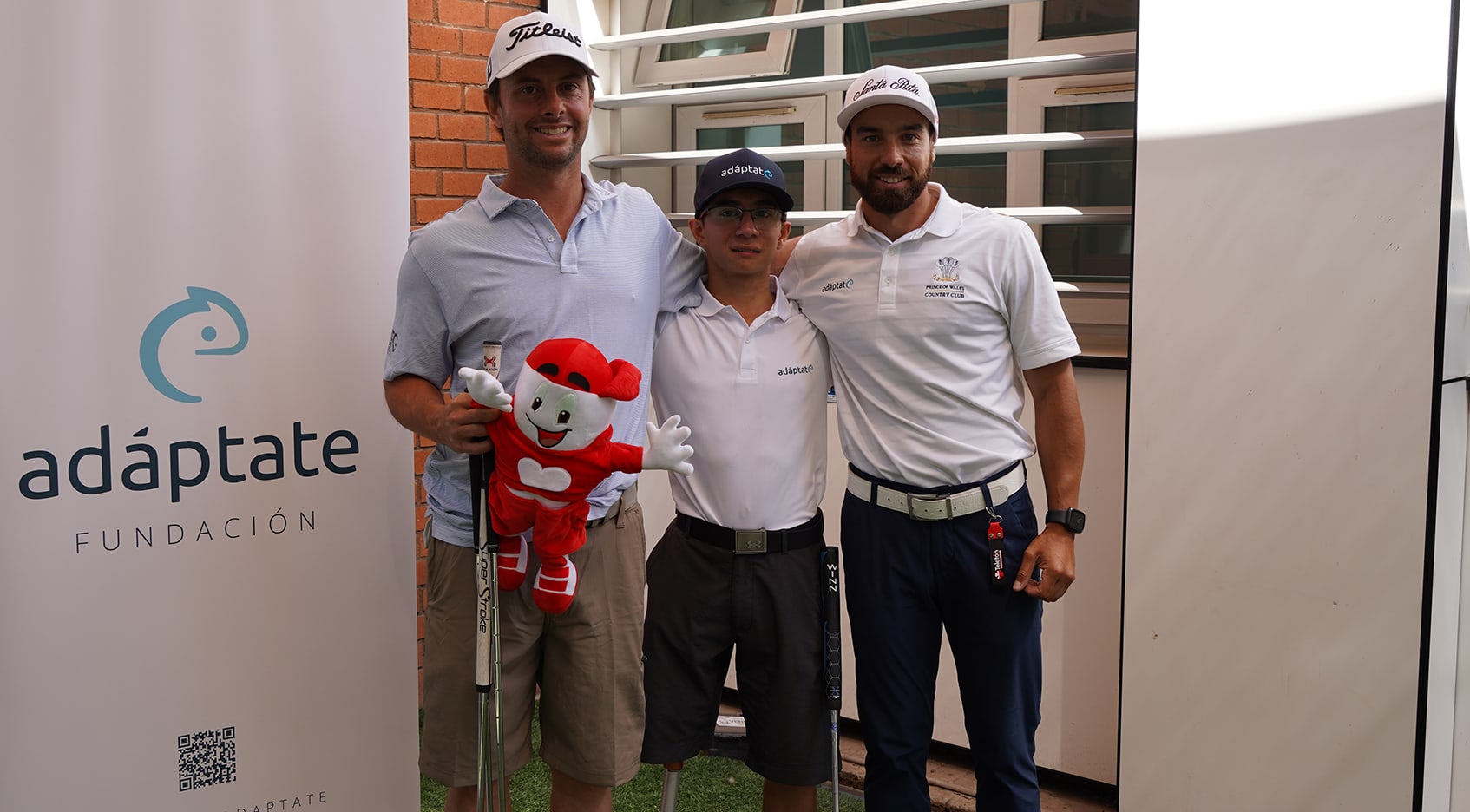 Spencer Levin (left) with Daniel Moya (center) at the adaptive golf clinic at Teletón Institute

"It was an unbelievable day," said Moya. "I'll never forget this day. I spent so much time with Spencer; it was an amazing experience."
Levin doesn't use social media but took a picture of Moya's Instagram profile on his phone so that the pair can stay connected with the help of friends.
Levin speaks a little Spanish but would not describe himself as fluent. As he noted, though, part of golf's beauty is that it knows no language. The eternal challenge of getting the ball in the hole provides that connection.
"He taught me how to putt," Levin quipped of Moya. "Hopefully I can putt like him tomorrow. My Spanish is muy poquito, to say the least, but you can get by a little easier when you're showing something that you know. It's cool that golf brought the communication together there."
Levin is playing this season on conditional Korn Ferry Tour status, knowing that every opportunity could be crucial in his quest to build a full schedule and pursue a PGA TOUR return via the top 30 on the season-long standings. He opened the Astara Chile Classic in a bogey-free, 3-under 69 at Prince of Wales CC.
Regardless of how the week and season unfold, though, Levin will return to the States with something that no golf score can buy. His emotions Wednesday, as he spoke softly while clutching a stuffed animal, said it all.
"I've got kids now, and it's …" Levin said, his voice drifting off.
He composed himself, took a deep breath and returned.
"I just felt very humbled today. I'm going to look at things a little differently now."
KP
Kevin Prise is an associate editor for the PGA TOUR. He is on a lifelong quest to break 80 on a course that exceeds 6,000 yards and to see the Buffalo Bills win a Super Bowl. Follow Kevin Prise on Twitter.