Archive
Late Barbasol CEO Tom Murray leaves lasting legacy on game
When Tom Murray and Jeff Chilcoat played Portmarnock Golf Club, the historic links carved from the dunes about 10 miles north of Dublin, Ireland, the winds were absolutely howling. At one point, they were startled by the sight of a table flying across the fairway.
"We started out with four people," Chilcoat recalls. "At the turn, one person quit. At 14, another person quit. But Tom and I made it all 18. …We were exhausted by the end of the day, but we were so thankful we finished the round. It's a story we were able to tell for a long time. …
"And we avoided getting hit by the table."
Chilcoat chuckled recently as he talked about the brutal conditions, and he knows his best friend would have done the same.
"We had thousands of times that we laughed until our stomachs hurt," he says with a touch of melancholy in his voice.
Murray, the president and CEO of Perio-Barbasol, died March 22 after battling renal cancer for nearly seven years. The 61-year-old was a family-first businessman and a passionate golfer whose company is represented by players on both the PGA TOUR and LPGA and has served as a title sponsor for tournaments on both circuits, as well.
One of those events is this week's Barbasol Championship. Murray's absence will be keenly felt at Keene Trace Golf Club in Lexington, Kentucky as well as by Joel Dahmen, Robert Streb, Brian Stuard, Ryan Armour and Bo Hoag, all of whom represent the company on TOUR.
Dahmen signed with Barbasol nine years ago while he was playing the Korn Ferry Tour. At the time, he was one of Chilcoat's clients at Sterling Sports Management and the popular shaving cream with the distinctive red-and-white barber-pole logo became Dahmen's first sponsor. The continuing support is something he hasn't forgotten.
"I think a lot of times you get caught up in the money and you just put a logo on your sleeve, or you put it on your shirt, somewhere on your hat," Dahmen says. "… But with Barbasol and Mr. Murray, he made you a part of the family. You were part of the Barbasol family, and you got a Christmas card, and you got a happy birthday card, and you were up to date on his family. You were getting emails from him. You always felt like it was a part of the family. It definitely was more than just a business transaction."
Family is a word that comes up early and often in conversations about Tom Murray. He met his wife Melanie on a blind date – on Halloween, no less – and proposed in December. The couple married the following July and would have celebrated their 41st wedding anniversary this year.
"I knew immediately. No questions. I just knew I'd marry him," Melanie says. "I think sometimes you just know when people have a good aura or they're just good people. … And I will tell you, Tom made me laugh every day. Every day."
The couple had four children or "kiddoes," as Melanie calls them, three of whom have ended up working at Barbasol, along with their spouses. Murray's greatest delights were his six "grand-littles," the youngest born about a month before he died. They called him "Poggy," and he loved to take them swimming or on rides at DisneyWorld.
At Barbasol and Pure Silk, the companies Murray acquired from Pfizer two decades ago and transformed into industry leaders, he created a second family. The work-life balance that is a cornerstone of the business includes a four-day work week at its Ashland, Ohio, plant and a hybrid home-office work plan. "He realized that work is just one piece of a person's holistic being, not all of it," Melanie says.
Sports marketing was not necessarily in Murray's long-range plans for Perio-Barbasol, though. But his relationship with Chilcoat – the two were introduced by a mutual friend about 15 years ago and live 10 miles apart in Dublin, Ohio – changed his thinking. And as he got into golf, Murray felt strongly that he should treat both the PGA TOUR and LPGA the same.
"The one thing I would want to make sure is told in his story is that today you see companies sponsoring both men and women and it's become the thing to do," Chilcoat says. "But when Tom did it 15, 16 years ago that wasn't the norm yet. He started with the women, and he equalized things between the men and the women well before that was a popular thing to do."
From 2013-18, Perio-Barbasol sponsored the season-opening Pure Silk-Bahamas LPGA Classic, the latter two editions won by Brittany Lincicome, who also represented the company. The Barbasol Championship began in 2015 and three years later, Lincicome became the sixth woman to play in a PGA TOUR event. The company currently sponsors 16 women and five men.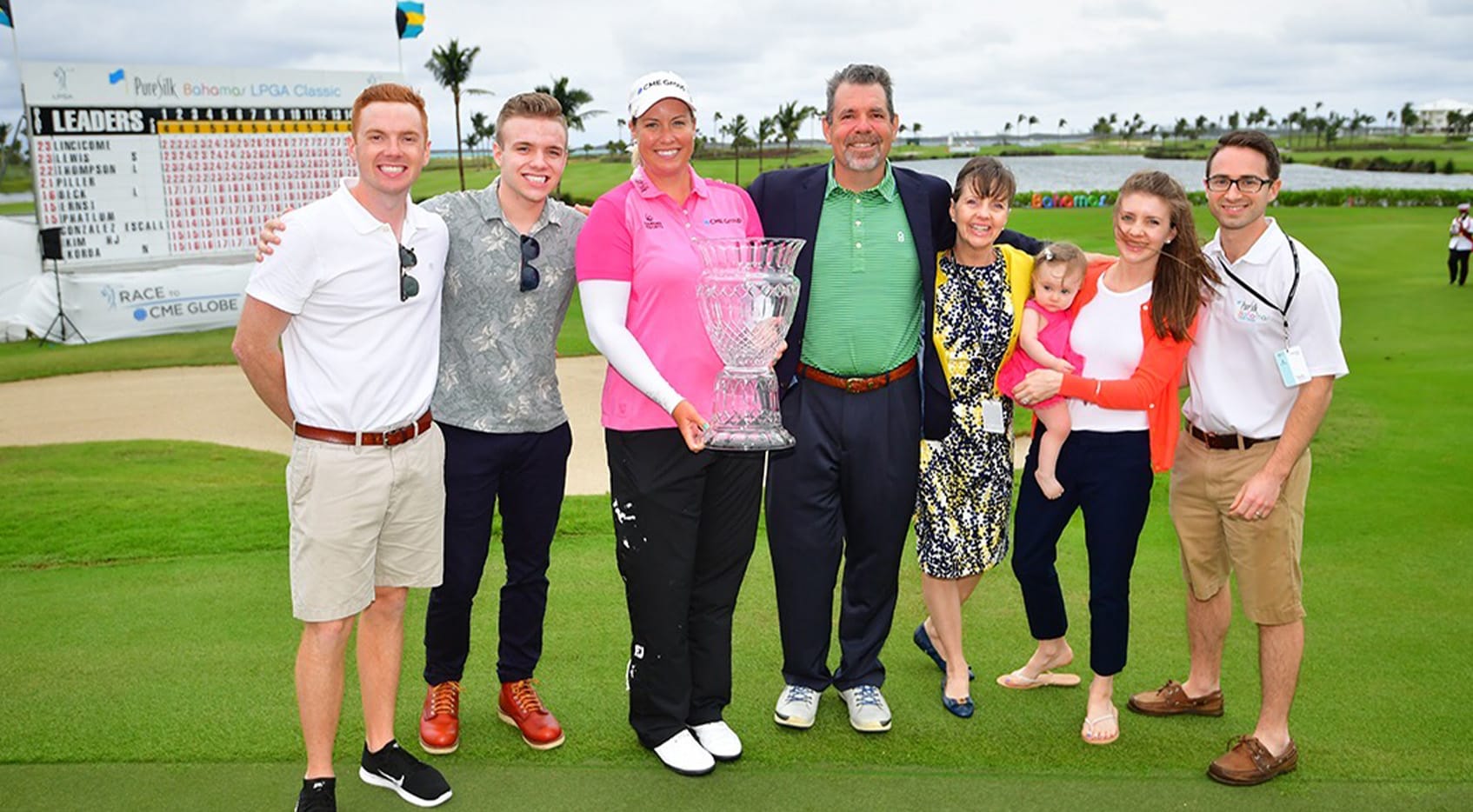 Tom and his family with Pure Silk-Bahamas LPGA Classic LPGA Champion Brittany Lincicome.
Melanie Murray wasn't surprised by her husband's egalitarian approach to the way he parceled out his sports marketing dollars. He was a faith-based man with strong convictions, and she said his primary goal was to treat others well regardless of their circumstances in life.
"I think that Tom's an equal-opportunity person," Melanie says. "I think he saw worth in both tours."
And as for the return on his investment?
"Great friendships," Melanie continues without hesitation. "A normal marketing person would be like, 'Oh, well we spent X dollars and we sold this many cans of Barbasol.' But no, he did it for the relationships. Did it help us? Did people see our name out there? Absolutely. But that's not it. At the end of the day, it was not about dollars. It was all about community and friendships."
Friendship. That's another word that comes up frequently when people reflect on Murray's life. One of those relationships was with Armour, an Ohio State grad like Murray who says the CEO genuinely cared about the people who wore the Barbasol logo.
"Him and Melanie have always been great to me, my wife, my two kids, always asking how they're doing," Armour says. "He had a passion for golf, and I believe that's why he steered the Barbasol brand into endorsing players and becoming a title sponsor of a PGA (TOUR) tournament."
Streb once played golf with Murray at Scioto Country Club in Columbus, Ohio, and later had dinner at his home. But the round he remembers most may be the one when they were paired together at the Barbasol Championship pro-am.
"I showed up and I hadn't shaved in about six weeks," Streb says, laughing. "I had this big old beard and a Barbasol sponsorship, and I got on the first tee and realized I was playing with him. I was like, 'Oh no.' He's like, 'Well, as long as when you shave, you use Barbasol, it's all right.'
"He was just super calm, always happy, positive, a big family guy. He was always fun to be around."
Chilcoat and Murray, who dabbled in golf as a kid but began to take it seriously in his late 30s, shared many rounds of golf together. They'd go to Ireland and play Lahinch Golf Club, Old Head Golf Links and Royal County Down, or stay stateside and play Bandon Dunes or Streamsong Golf Resort. They were always partners in each other's member-guests. Chilcoat missed two of those this year because he didn't know how he'd react without Murray by his side.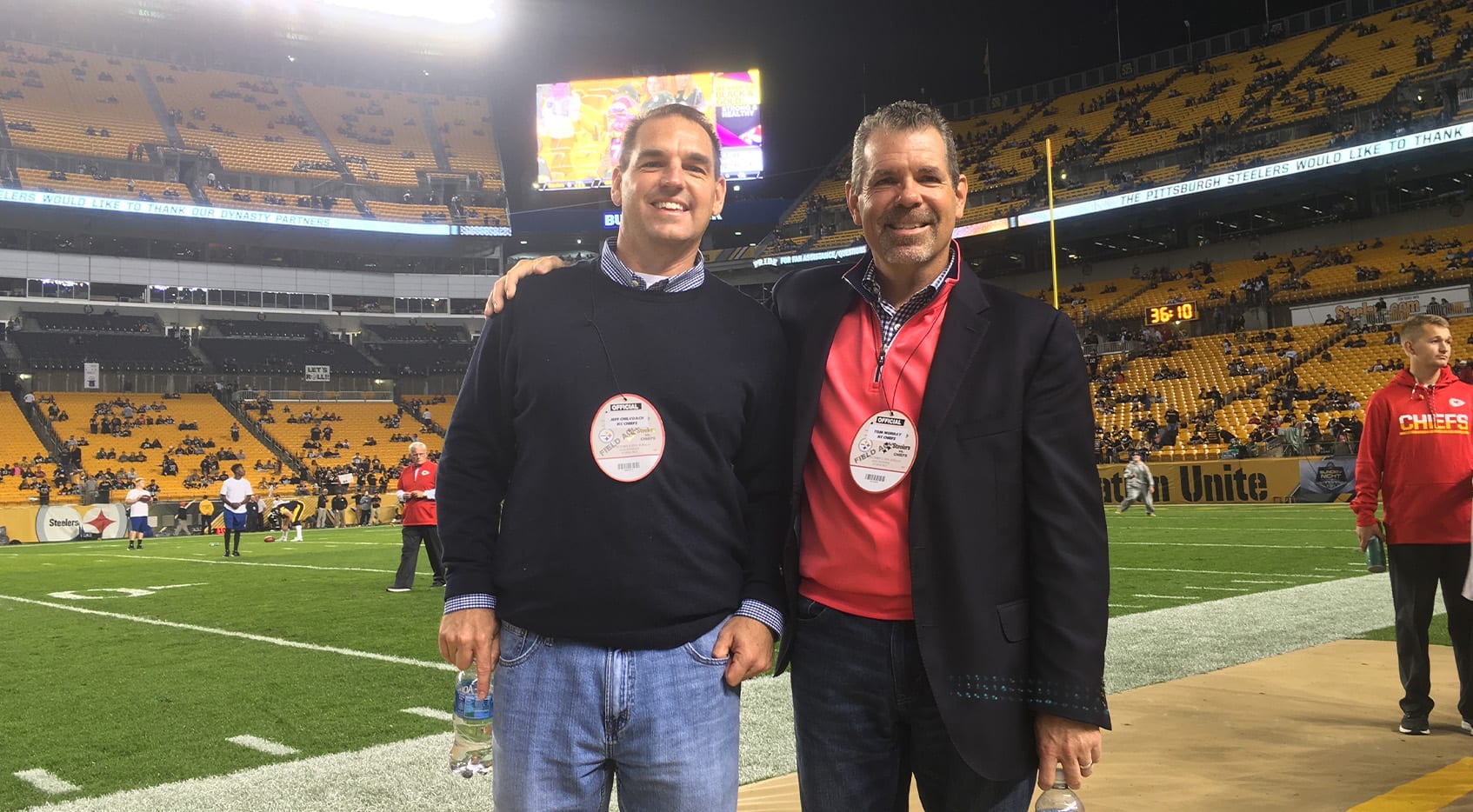 Jeff Chilcoat (left) and Tom Murry (right) at a football game.
"We had so much fun in those events and so much laughter that it doesn't feel right to do that without him yet," Chilcoat says.
When Murray was diagnosed with renal cancer nearly seven years ago, the doctor gave him nine months to live. His first call as he and Melanie walked out of the office was to Chilcoat, who was out having dinner with his family. They immediately rushed over to Murray's house.
"Tom had gone through some symptoms and tests, so Jeff knew there was a potential for some bad news," Melanie recalls. "He said, 'What do you want?' And Tom said, 'I really like Jet's Pizza.' So, Jeff and Katie left the restaurant and brought us Jet's Pizza."
"We were able to pray together and cry a bit," Chilcoat adds. "And so (in later years), we actually celebrated that night. … We would always get the same type of pizza we had that night and sort of celebrate that he was still here beyond the diagnosis they had told him."
Chilcoat credits Murray's positivity and Melanie's advocacy with prolonging his friend's life. A day after the dire diagnosis, Murray saw a friend who was a geneticist. He referred him to a surgeon at the Cleveland Clinic and the operation was scheduled in two weeks.
"We went home Monday afternoon, and Tuesday night, he called me and said, 'Has Tommy eaten?' And I said, 'No, he's grilling right now,'" Melanie remembers. "He said, 'Don't let him eat. You need to be back up here tomorrow. I've looked further at the scans. I need to take this out tomorrow.'"
The surgery was a success. Doctors removed Murray's left kidney, left adrenal gland and 11 lymph nodes, as well as the tumor, which was the size of a cantaloupe. Murray and his wife were told he was cancer-free. But about 18 months later two more tumors developed where his kidney would have been.
"But each time we'd just get a new drug," Melanie recalls. "He was even on a trial through Cleveland. So, he out-kicked it. We just wish he could have done it a little longer."
When one of those drugs failed, Melanie -- who was in full frantic wife mode – reached out to Dahmen, who is a cancer survivor. He was walking to the tee at the Shriners Children's Open in Las Vegas but referred her to his agent for information on doctors at MD Anderson Cancer Center.
"Then on Tuesday I waited until the tournament was really over, and I texted Joel and I just told him, 'I am so sorry,'" Melanie Murray says. "I just wasn't thinking. And he wrote me and said, 'No, golf is a side thing. This is much more important.'
"But I think about if I'd done that to some golfers, they would've had my head on a plate."
Murray, who played to a five handicap and liked to walk, sometimes during COVID with Melanie on the bag, was able to play golf into mid-January. In fact, his golf game became something of a barometer of his health for the doctors and nurses treating him.
"His oncology team here at OSU, they always knew how he was doing if he'd been playing golf," Melanie says. "They'd be like, 'How have you been playing?' And rarely could he not play, and then they would know. … 'Okay, we need to change this drug because he's not playing golf.' That was kind of their litmus test, I think."
Earlier this year, the cancer made its final, fatal push, and Murray spent the last few weeks of his life in the hospital. At the family's urging, Chilcoat rushed back to Ohio from Arizona on March 21, landing at midnight and driving straight to the hospital to say goodbye to his friend.
"It wasn't super clear, but I do think he was communicating with us," Chilcoat remembers. "He even made us laugh at one point."
Murray's oldest son, Caleb, an English scholar with a master's degree from Harvard and a PhD from Brown, was tasked with writing the obituary. True to form, his dad had jokingly suggested taking out a column in the newspaper with the simple words, "He dead," in the center.
Melanie plans to honor her husband's previous plans and spend the week of the Barbasol Championship at the home they purchased in November in Harbor Springs, Michigan. The family will be well-represented at Keene Trace by her children and their spouses, though.
"He couldn't have been a more gregarious, gracious human being," Dahmen says. "He was always smiling, always happy. Even through his health battles he was always smiling. … He just kept giving back and all he wanted to do was make the game of golf better."