Archive
Brian 'Bruno' Henning, driving force on PGA TOUR Champions, dies at 85
Served as Vice President of Competitions, was 'an integral part in building PGA TOUR Champions as we know it today'
When Brian Henning decided to relocate from his native South Africa to the United States in 1976, the golf administrator, who created and ran the Sunshine Tour as its first commissioner, wrote a letter to then-PGA TOUR Commissioner Deane Beman inquiring about available positions at the PGA TOUR.
Beman responded, informing Henning he had nothing available. What Beman did do was ask Henning to send in his resume. "You never know what might happen," Beman told Henning.
A little more than four years later, Beman found Henning's resume. The Commissioner had a job in mind, but Henning's contact info was dated. Henning was working as a teaching pro at Bear Creek Golf Course near Dallas-Fort Worth International Airport, and a mutual acquaintance of both Beman and Henning, Braniff Airlines flight attendant Diane Dee, told Beman she would track down Henning for him. Dee called Henning and said, "Deane Beman is looking for you."
"So, I called next day, and Deane said, 'Well, I have something going. Are you still interested in working for the TOUR?'" Henning said, recalling the conversation that dramatically changed his career path.
That something was what Beman called the Senior PGA TOUR, later renamed PGA TOUR Champions. Beman needed someone to oversee the fledgling Tour for players 50 and older, and to Beman's way of thinking, Henning was the right man for the job.
The man nicknamed "Bruno," who eventually oversaw that Tour and saw phenomenal growth for the circuit prior to retiring in 2002, died May 14 in Jacksonville, Florida, of complications from a stroke. He was 85.
"We were still in the planning stages of the Senior Tour and how we would make it work, and Brian, in my mind, became the perfect person to direct and to nurture the development of the Senior Tour. He had experience, and he had the background of running the Tour in South Africa. I just felt he would be the ideal person, and he turned out to be the ideal person," said Beman after learning of Henning's death.
Brian 'Bruno' Henning was a driving force in PGA TOUR Champions' growth
From the beginning of his tenure with PGA TOUR Champions, Henning left his mark on virtually everything Tour-related, including his signature singing of "Oh, What a Beautiful Mornin'" from the Broadway musical "Oklahoma." At some point during each tournament week, Henning would break out in song, something he called "The Big One," singing into his two-way radio for staffers to hear while describing how he felt about that day, specifically, and the week, in general.
The tradition began at the Michelob-Egypt Temple Senior Classic at Carrollwood Village Country Club in Tampa, Florida, and as Henning watched the sunrise, he was so impressed he spontaneously offered his own rendition even though, in his words, "I can't sing a damn lick. I didn't give a hoot. I did it anyway."
"'Bruno' was an integral part in building PGA TOUR Champions as we know it today," said PGA TOUR Champions President Miller Brady. "He was the heart and soul of this Tour for 20 years, known not only for his contributions in golf but for his infectious personality. The power of his legacy is why the Bruno Award was created, and his impact on this Tour cannot be overstated. He will be deeply missed by the PGA TOUR Champions family."
Henning, born in Johannesburg in 1938, came from a family with golf at its core. The four Henning brothers, Brian, Harold, Allan and Graham, all played the sport and were involved with it throughout their lives. Harold was a PGA TOUR Champions veteran, who played in 520 career tournaments between 1984 and 2002, winning three times, doing so while his brother ran the Tour. Harold died in 2004. Allan and Graham also played professionally, Allan making 61 PGA TOUR appearances. Graham died in 2014.
As a PGA TOUR official, Brian Henning began as the Director of Tournament Administration, eventually rising to Vice President of Competitions. The PGA TOUR Champions Tournament Association annually presents the Bruno Award, named in Henning's honor, to an individual or organization who has made outstanding contributions to the Tour. Past winners include Beman, Bob Goalby and Fred Raphael, creator of the Legends of Golf.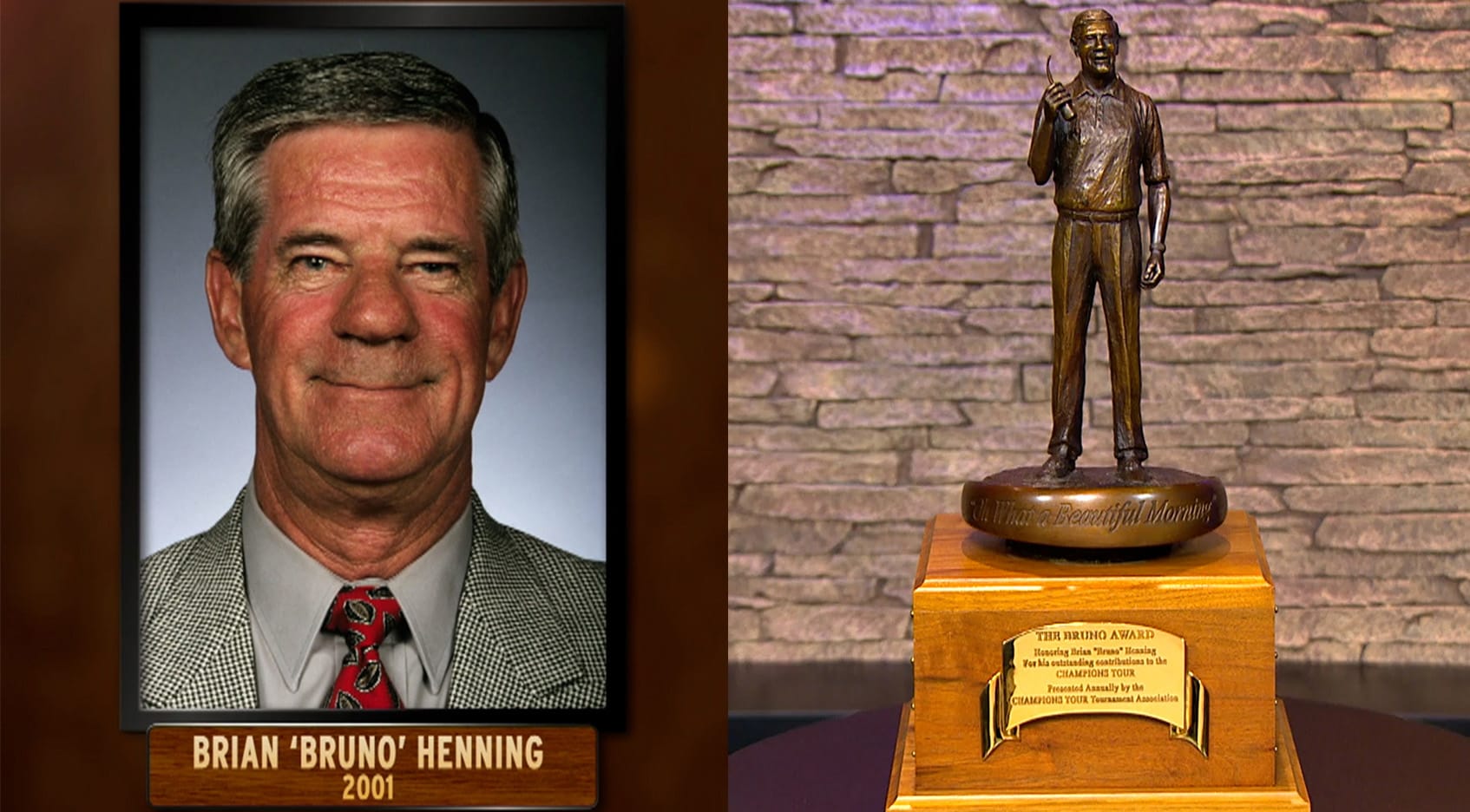 Once in his new position, and besides running the day-to-day operations on site at PGA TOUR Champions tournaments, Henning had to hire a staff that included former PGA TOUR players Ed Griffiths and Bert Weaver. It was also his responsibility to show local organizers how to run and put on successful tournaments. Henning wrote what he called the "Senior Tour Bible," a dictionary-thick book that was a how-to for tournament directors.
"It went into everything, from what the media center should look like to how many port-a-lets they needed on site," Henning said. Eventually, Henning hired Bryan Naugle as one of the Tour's rules officials. Naugle, who left the Tour to run PGA TOUR Champions tournaments and is currently Executive Director of the Insperity Invitational in The Woodlands, Texas, recalled fondly his association with Henning.
"To summarize Bruno, first and foremost the words I use are integrity, character and honesty. He was full of life, had some really incredible traits and was a great mentor and friend," Naugle said. "Really, he was a father figure to me."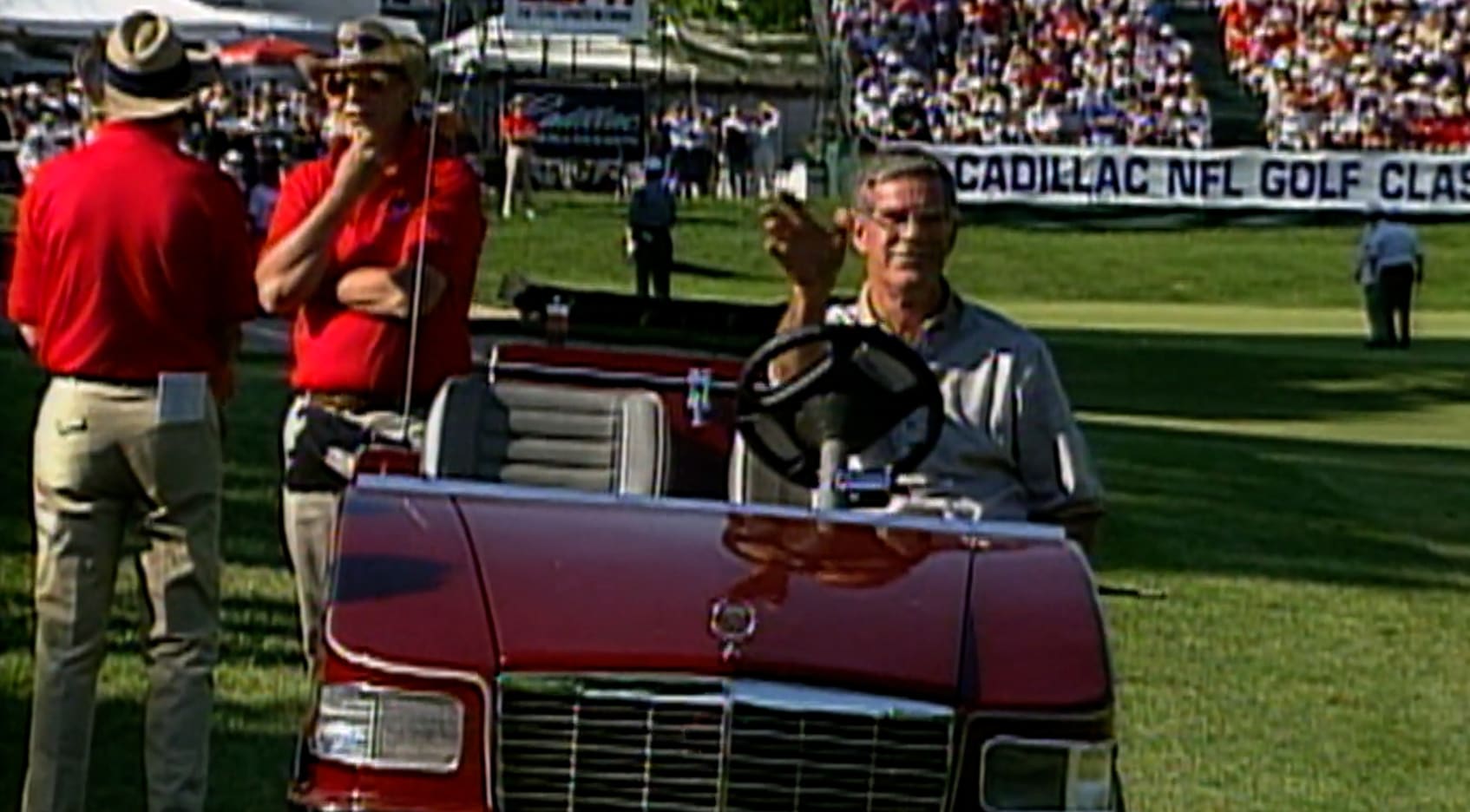 Naugle watched as his friend, under a charge from Beman, began trying to grow the Tour from the small number of tournaments on the schedule when Henning began in the position.
"It was my job to go out and find cities and sponsors. In my first year with the Tour, in 1981, we had seven tournaments, counting the U.S. Senior Open and the PGA Seniors' Championship," he told PGATOUR.COM in 2005. "Then everything went crazy after that, and I was getting calls from cities all over the country."
Under Henning's direction, the Tour went from 11 tournaments in 1982 to playing 16 a year later. By 1985, the Tour featured 24 tournaments, hitting a high-water mark of 39 events in 2000.
"I knew that this would work right from day one. There was no thought of it not taking off," he added.
Henning was there when players like Arnold Palmer, Sam Snead and Julius Boros were still active and competitive, and he watched a steady stream of stars turn 50 and see their careers rejuvenated on the Tour he helped create, whether it was Jack Nicklaus, Lee Trevino and Gary Player or, toward the end of his career, Raymond Floyd and Tom Watson, among many others.
Upon announcing his retirement, the Tour held a surprise party for Henning at the 2002 Legends of Golf in St. Augustine, Florida, where Henning arrived unaware he was the guest of honor. After Beman broke the news that everybody had gathered to honor Henning, Tour player Don January, who died last week, went to the stage and opened a curtain to reveal a new Cadillac Escalade that players had purchased to give to Henning.
"It was the mother of all parties, and that put the cap on a very successful career," Henning said.
Henning's wife of 60 years, Valerie, preceded him in death, in 2019, as did his sister, Roma, along with Harold and Graham. His brother Allan survives him, as do his three daughters, Karyn, Lindsay and Tracy, as well as seven grandchildren and nine great-grandchildren.
Funeral services are pending.