Archive
Stories that illustrate the character of the Payne Stewart Award winner
Much of Zach Johnson's charitable work focuses on his hometown of Cedar Rapids, Iowa. (Courtesy of Zach Johnson Foundation)
Whether it's helping underprivileged kids in his home state of Iowa or mentoring young players on TOUR, Zach Johnson has demonstrated his character throughout his career.
That is why he is a deserving recipient of this year's Payne Stewart Award, which is given to a player for his character, sportsmanship and dedication to charitable giving.
We asked those closest to Zach to share stories that demonstrate who he is, both as a person and a competitor. One common theme arose in speaking to those who know Zach best: he is proud of his Iowa roots and dedicated to creating opportunities for kids to succeed.
Below are 18 stories that illustrate why Zach Johnson was awarded this year's Payne Stewart Award.
---
"As Zach's wife, I get a front row seat to who he is as a man, a husband, a father, a golfer and a friend. It's difficult to find just one story that highlights his character because there truly are too many to count. However, all of them really come back to one central thing: he always remembers who he is and where he came from. When he won the Masters in 2007 and famously said in his press conference, 'I'm Zach Johnson, from Cedar Rapids, Iowa,' that moment encapsulated the essence of my husband. He's so committed to the people who propelled him to where he is that he is still announced off the tee from Cedar Rapids even though our home is in Georgia. He embodies the idea of "to whom much is given, much is expected." He is the same solid Midwest boy who married a sweet Southern girl almost 18 years ago. He has always been who he is now. God has just blessed him with a bigger platform to live out his life and he never takes that for granted."
---
Brad Buffoni, Zach's longtime agent
"During 18 years working with Zach, I've seen that serving others is truly a way of life for him. As I reflect on his career to find a story that best reflects who he is, it is a highly personal one that stands above all the others. One of my very best friends was starting to lose a long battle with cancer and it was clear the end was near. I wanted to do something special for him to lift his spirits. I asked Zach if he could help arrange a very special golf trip for Will. First, Zach arranged for Will and I to play East Lake. The club opened on an off day to accommodate us. We were the only two golfers on the course. The second day was unforgettable. Zach had never met Will, but he arranged for us to play Augusta National. Zach didn't stop there. He drove more than eight hours round-trip to play with us. As we came to Amen Corner and took pictures on Hogan's Bridge, Will turned to me and said, 'If this is the last round of golf I play, it's the best I could imagine.' Zach making all of these accommodations and the effort to be there for someone he had never met says all I can say about this man that I am honored to call my great friend."
---
Kurt Warner, former NFL MVP
"We both grew up in Iowa, and one of my best friends was his neighbor, so I'd go over there and play basketball. I was 13 or 14, and we were the older kids, and we wouldn't take it easy on Zach and the younger guys at all. I've since gotten to know him quite well, and it starts with character. When there were floods in Iowa in 2008, and I was doing something for relief in Cedar Rapids, Zach was the first person I called. His attitude was, 'Where can I help? How can I help? I'm willing to do whatever I can.' We did something called An Evening with Champions and brought people into a theater for a Q&A session with us sitting up there. We raised more than $40,000. He has a heart for other people."
---
"Our family met Zach through the Make-A-Wish Foundation and Topgolf. Our son, Jax, wished for a backyard putting green and sand trap. Even though Zach couldn't attend the reveal, he still sent a heartfelt message extending an invitation for Jax to ride with him during his foundation event and the John Deere Classic pro-am. The experience Zach provided was life-changing. We have never seen Jax smile so big as when he was on that golf cart with Zach. That was two years ago, and Zach still stays in touch, sending encouraging messages to Jax and our family. As Jax's parents, we feel blessed that our son has chosen Zach as a role model."
---
Stephanie Stulken, Kids on Course University program director
"The first time I met Zach was at his charity event. I took about 25 of our fourth-graders. When Zach saw them, he was so excited. He drove up and said, 'Are these my kids!?' He hugged on them and let them ride in the cart with him. That's truly what he believes about these kids. Our program serves elementary-age kids with academic challenges. Many of them come from low-income families. Zach and his foundation care about the whole child. If a kid needs shoes, they buy them shoes. Zach always says, 'Whatever it takes.' That is his whole attitude. Any time he hears of a way to help, he says, 'Let's do it.' This summer, food insecurity has been the biggest barrier to our community. We were able to serve nearly 250,000 meals in June and July. When the storm hit us recently, I was on the other side of things. I needed food. The Foundation worked with Operation BBQ Relief to feed our community. Kim and Zach step up every single time."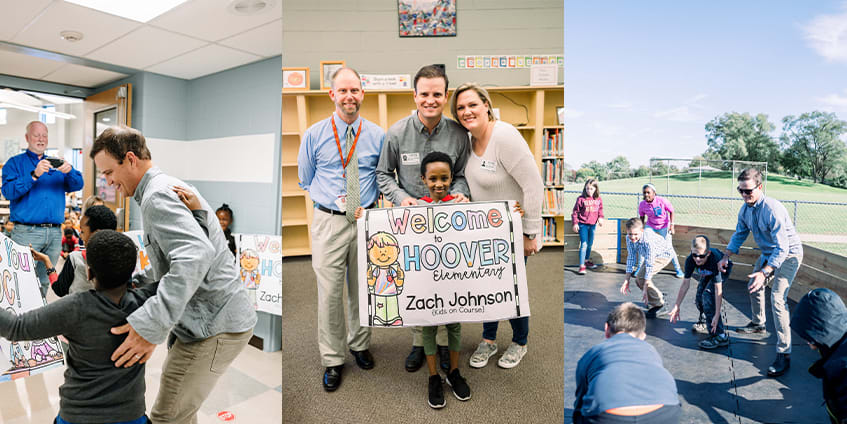 The Zach Johnson Foundation founded Kids on Course to close the opportunity gap for kids in Cedar Rapids. (Courtesy of Zach Johnson Foundation)
---
Jonathan Byrd, PGA TOUR winner
"We have a saying: 'Waitin' on Zach.' Zach is notoriously late, but it's because he doesn't hesitate to stop and encourage someone or listen to them. When someone succeeds, Zach and his wife Kim are the first people to be excited for them, and when someone is hurting, they're hurting with them. I remember when I won the Shriners in 2010. Kim and Zach were the first people at our front door to celebrate with our family. They were there almost immediately. A few years later, I was playing on a medical extension and needed to play well to keep my card. Zach was playing in the group behind me on Sunday in La Quinta. His caddie told me after the round that on every shot Zach was talking about what I was doing and pulling for me. He shot 62, and his caddie said that part of the reason he played so well was because he was more concerned with how I was doing than with his own game. That meant a lot to me."
---
Jamie Bermel, Zach's college coach at Drake
"When I think of Zach's character, the 2007 U.S. Open comes to mind. One of my former players at Colorado State, Martin Laird, qualified for the event. Martin was on the (Korn Ferry Tour) that year. Zach had never met him, and I figured Zach would have a hectic week because he'd just won the Masters, but I decided to ask if he could play a practice round with Martin. Zach said yes and played at least one practice round with Martin to help him settle in at his first major. I think that is a clear indication of what Zach is about and how he operates on a weekly basis."
---
Pat Cobb, Chairman of Zach Johnson Foundation
"The Zach Johnson Foundation created Kids On Course because Zach wanted to make sure that kids growing up in Cedar Rapids have the same basic opportunities that he had when he was a kid. We want to help kids with their education and to enrich their lives. We want to help them succeed in whatever their life goals may be. We like to say there might be another Masters champion or Super Bowl MVP in Cedar Rapids, and we want to make sure they have the opportunity to pursue their dream. If a kid doesn't have money for football pads, or wants to do dance or music but can't afford it, we want to make sure they can participate."
---
Braxton Janda, junior at Jefferson High School
"Kids on Course has taught me that you need to be accountable. You have to keep your grades up. Without Kids on Course, I wouldn't be able to play sports. They made it possible for me to play club soccer. I want to study elementary education in college so I can help other people the way they've helped me."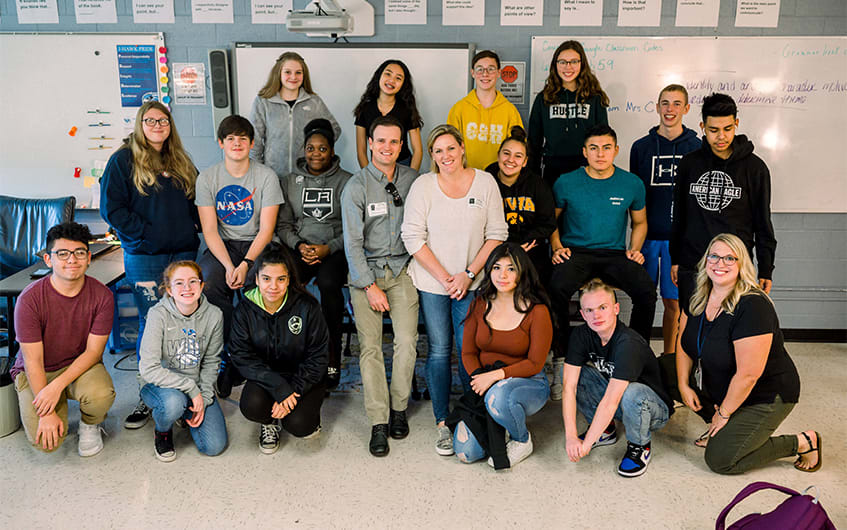 Kids on Course encourages students to follow their dreams and passions. (Courtesy of Zach Johnson Foundation)
---
Pat Baird, Zach Johnson Foundation co-founder
"The day was June 13, 2008. Cedar Rapids was going through a once in 1,000-year flood. It was a disaster. We had catfish and carp in our buildings downtown. The town smelled. People were living in their cars. I was watching the U.S. Open leaderboard because it was a good diversion. Zach was playing the second round of the U.S. Open at Torrey Pines. My cell phone starts ringing. I look down and it's Zach. I pick up the phone and he says, 'How bad is it?' I said, 'It's really bad. I've never seen anything like it, but aren't you supposed to be playing golf right now?' He was on the seventh hole. I told him to finish his round and then call me back. His reply was, 'You have no idea how hard it is for me to play golf right now, knowing what is going on. I feel like I should be there.' That's what he was thinking about during the U.S. Open. That's always the story I tell when people ask if giving back is important to Zach."
---
Brian Harman, PGA TOUR winner
"No one is better at managing their game. No one is better at being disciplined and no one is more patient. Those are the things that I've learned from Zach. He is so gracious. I'm always picking his brain. I can ask him questions point-blank. I've always had so much respect for Zach, not only for his golf game but for the man that he is. He's such a great dad, such a great family man. He's the example I look up to and say, 'I want to be like that.'"
---
Kevin Carlock, Davidson College alum
When I was a junior in college, I went to a College Golf Fellowship retreat at Zach's house. Zach opened his home to 40 college golfers that weekend. He had two giant inflatable slip-and-slides set up at his house. My biggest takeaway about Zach from the retreat was how deeply he loves his wife, but seeing him race college kids on those slides showed his warm and welcoming personality. Zach has won two majors, but he spent time that weekend throwing the football with us and having late-night talks in his kitchen about the important things in life. I left that weekend reassured that I did not need to win the Masters and The Open Championship to live life to the fullest, to serve and to meaningfully engage those around me, as Zach did with me."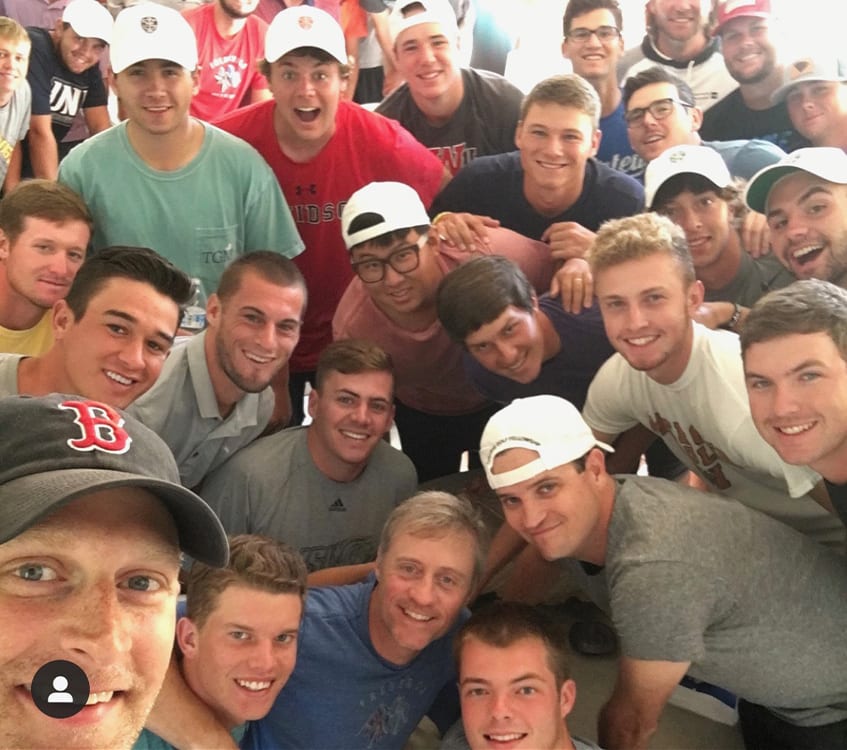 Zach Johnson hosts approximately 50 college golfers at his house each year for a College Golf Fellowship retreat. (Courtesy of Davis Love III)
---
Paul Tesori, longtime PGA TOUR caddie
"I'll never forget Zach's interview after winning at Kapalua in 2014. The guy had just held off some of the best players in the world and when asked about his performance all he could think of was my family and our little baby Isaiah, who was battling for his life. 'I just want to say that my heart and prayers go out to the Tesori family. There are just more important things than golf,' he said. He was tearing up. My wife and I started crying. Even after winning, he was still thinking about other people going through difficult things."
---
Kirk Ferentz, head football coach at Iowa
"In my 21 years as the head football coach at Iowa, I've only had two honorary captains from outside Iowa football. Wrestling great Dan Gable is one. Zach is the other. When Zach spoke to our team the day before the Maryland game in 2015, our players were riveted to every word he spoke as he described his approach. Golf and football are very different sports but the preparation, discipline, focus and mental toughness Zach has demonstrated are traits any football coach would hope their teams exhibit on a daily basis."
---
Larry Gladson, director of golf at Elmcrest CC
"Zach has helped many of our junior golfers over the years. When he came back to Cedar Rapids two years ago, he asked me to line up six juniors to play golf with. He played with three and I played with three, and then we switched groups at the turn. The juniors had nine holes to watch him play, get to know him better and ask any questions they may have. All six of them now play collegiate golf. Zach has been an inspiration for youth golf at Elmcrest Country Club, in Cedar Rapids and all of Iowa."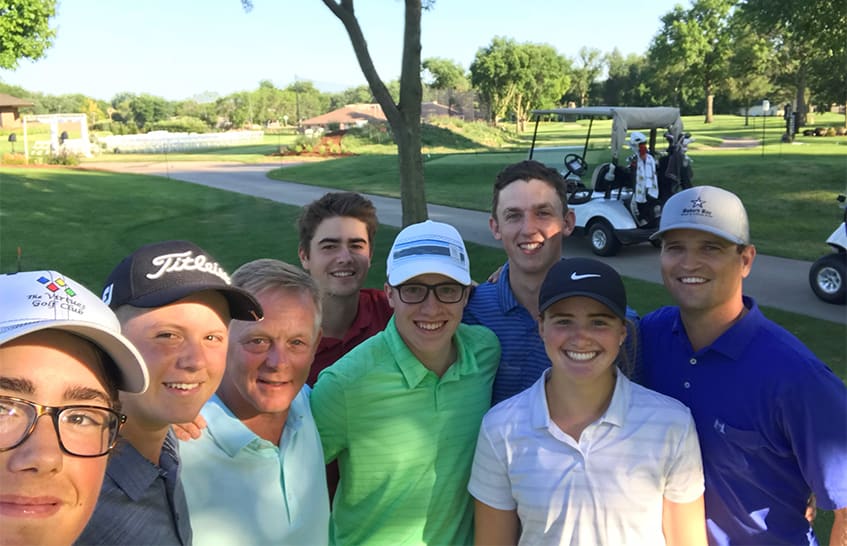 Zach Johnson returns to Elmcrest Country Club to inspire the juniors at the course where he grew up. (Courtesy of Larry Gladson)
---
Davis Love III, World Golf Hall of Famer
"For several years Jonathan Byrd, Zach and I hosted a College Golf Fellowship retreat for college golfers at my house. More than 50 college golfers got to spend time with TOUR players, playing golf and enjoying great fellowship. Jonathan and I couldn't host the retreat for a few years, but I vividly remember the time I saw a large group of kids at Sea Island. After asking who the group was, Zach told me he got tired of waiting on Jonathan and I, so he decided to go at it alone and host the event at his house since it meant so much to the college guys. Whether it is through his foundation or through his church, Zach's pursuit of helping people is never-ending right now, especially with the recent destruction caused by the derecho storm in his home state of Iowa. I get credit for helping the younger players around Sea Island, but Zach does as much, or even more, for people in our community and his community in Iowa, than I have ever done."
---
Keith Mitchell, PGA TOUR winner
"When I moved down to St. Simons Island as a recent college graduate with no status on any tour, Zach was always willing to offer his experience, advice, and wisdom. All of his success throughout his career is driven by his desire to help as many kids as he can in Iowa. He has never forgotten where he came from nor the people that supported him from the start. I consider Zach an inspiration, not only on the golf course, but more importantly, because of his efforts to give back to the community."
---
Blayne Barber, Korn Ferry Tour winner
"Zach allowed me to spend a lot of time with him during my years on the PGA TOUR. He has been a great resource for me as a young pro. I could mention many things he's taught me on the course, but what sticks out to me the most is when my caddie had a traumatic head injury two years ago in Hawaii. Zach was one of the first GoFund me donations to help aid his medical expenses and checked in consistently over the following weeks. He truly cares about people."
-- John Bush, Amanda Herrington, Cameron Morfit and Jack Ryan contributed.
SM
Sean Martin is a senior editor for the PGA TOUR. He is a 2004 graduate of Cal Poly-San Luis Obispo. Attending a small school gave him a heart for the underdog, which is why he enjoys telling stories of golf's lesser-known players. Follow Sean Martin on Twitter.