Archive
Ortiz ties Doeden for the lead heading into Sunday
TULUM, Mexico–Trailing by four, in a tie for second at the beginning of the day, Mexico's Alvaro Ortiz carded a 3-under 69 to catch Justin Doeden of Prior Lake, Minnesota, atop the leadearbord heading into the final day of the PGA TOUR Latinoamérica's season-ending Bupa Tour Championship. Doeden, the man who held the outright lead for the first two days, slowed down to shoot 1-over 73. The co-leaders stand at 5-under 211 with 18 holes to play on a very demanding golf course at PGA Riviera Maya.
In contention in the race to win the Totalplay Cup, Chandler Blanchet of the U.S. posted a 4-under 68 to move into solo third, at 4-under. Raúl Pereda of Mexico had a 2-under 70 to rank solo third, only another shot back. Following a round of 71, Jeremy Gandon of France is solo fifth at 2-under.
Rafael Becker of Brazil birdied four of the last six holes to fire a low-of-the-day 5-under 67. Such an effort, in a day he started tied for 27th, took him into a tie for sixth. Those along Becker at 1-under are Leandro Marelli of Argentina, Rodolfo Cazaubón of Mexico, Harry Hillier of New Zealand, Fred Meyer of the U.S. and Totalplay Cup No. 1 Myles Creighton of Canada.
"I have played really well the first three days and although I haven't had my best golf, I have been able to remain calm, which is something you definitely need here. This is a golf course I've been handling with tweezers as in a U.S. Open. I've been very conservative, taking my medicine (whenever required) and the strategy will be the same tomorrow. Staying patient and playing the way I'm playing, things could work out," said Ortiz, projected to move to third in the Totalplay Cup standings if he were to win the tournament.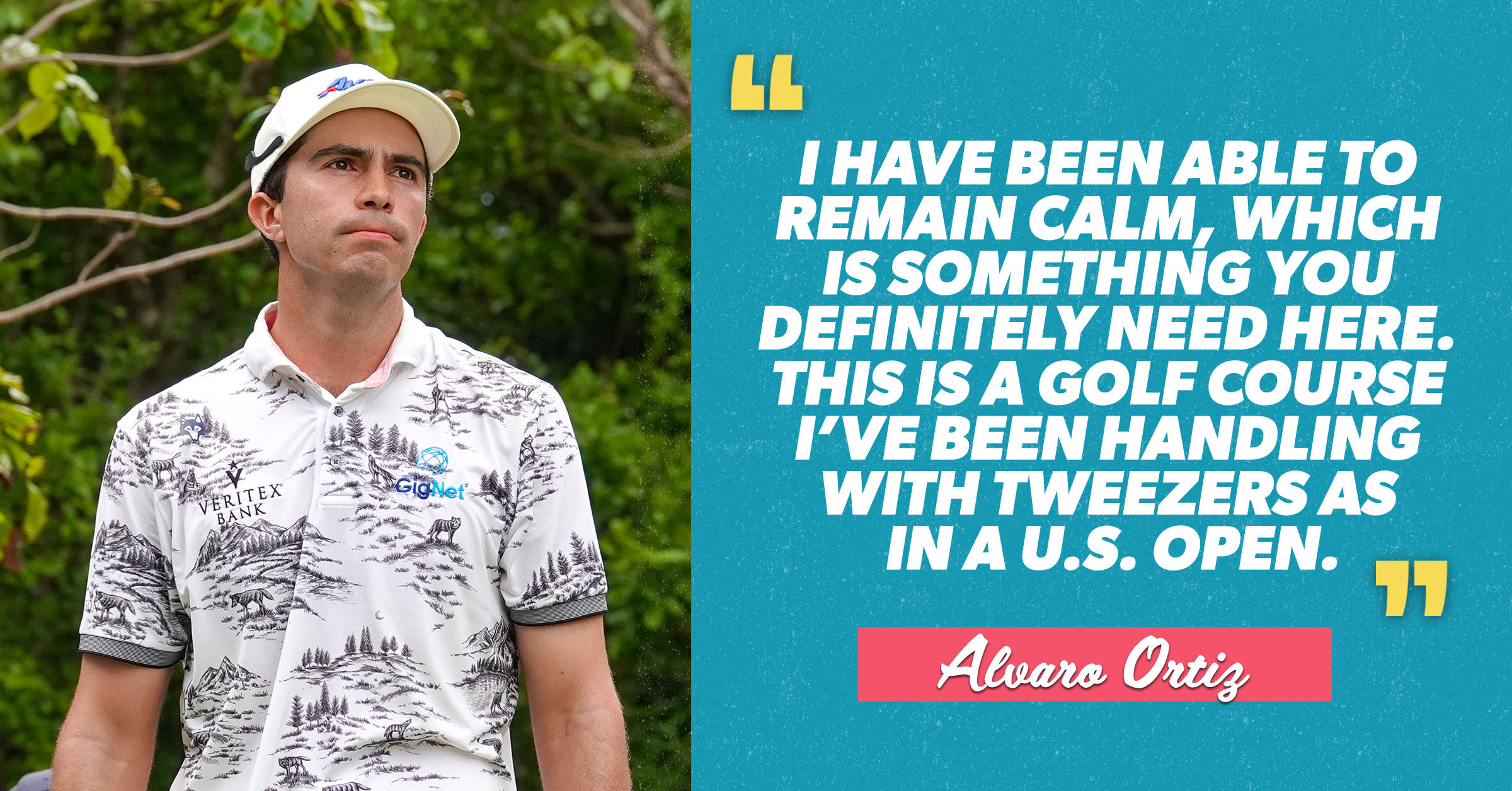 After bogeying No. 2, Ortiz bounced back by birdieing four of his next six holes (Nos. 3, 4, 6 and 8) to make the turn leading by one. On the back nine, he bogeyed 11 and then birdied 14 to secure a piece of the lead.
Ranked 72nd spot in the Totalplay Cup points list only two months ago, Ortiz has turned his season around with a tie for ninth in Ecuador, a solo 12th finish in Bogota, and a solo third a week ago in Guadalajara. "I feel I have been playing great golf for several months, staying very committed to the process. However, not seeing the results felt I bit unfair, but there's where you have to stay patient and trust what you are doing," added Ortiz, who says he has been feeling his golf up to this level since February.
Playing in the last group, right behind Ortiz, Doeden saw his lead shrink on No. 4, where he recorded a costly double-bogey. He managed to bounce back, regaining the outright lead with birdies on 9 and 11, where he sank a 10-footer and a 22-footer respectively. A bogey at the par-three 15th prevented him from remaining the outright leader for the third consecutive day.
"I made a mistake there on four, hitting it in the water, but I battled, I battled all-day long today and I'm really happy to be in the mix. With 18 holes of golf (to play) that's where you wanted to be starting Thursday," said Doeden after failing to break par for the first time this week at PGA Riviera Maya.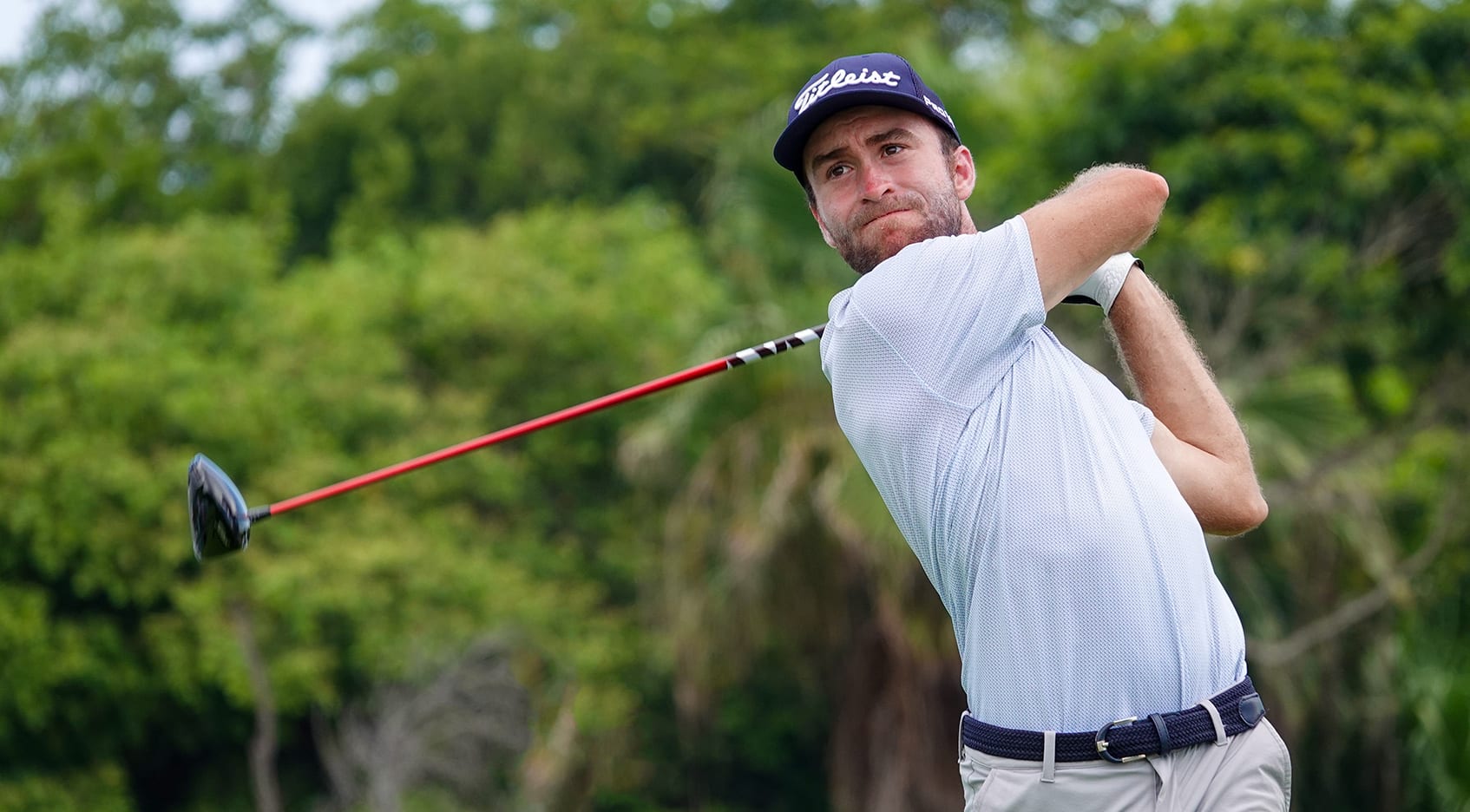 Starting off No. 1 at 9:04 a.m. local time Sunday, Ortiz and Doeden will be playing in the last group along with Chandler. In addition to crowning a new Bupa Tour Championship winner, the final day proceedings will include the season-ending ceremony rewarding the 2023 Player of the Year and the Totalplay Cup top 5 players who will move on to the Korn Ferry Tour in 2024.
After back-to-back 71s, Totalplay Cup No. 1 Myles Creighton slowed down to card a 1-over 73 that saw him drop from a tie for second into a tie for sixth at 1-under for the tournament. The projections still have him winning the Totalplay Cup, but his projected lead has been shortened to only 36 points by Chandler Blanchet. Ranked solo third at 4-under, if Blanchet were to win, he would take home the Totalplay Cup. This is how the players who entered the week ranked inside the Totalplay Cup top 10 stand through 54 holes at PGA Riviera Maya:
| | | | | |
| --- | --- | --- | --- | --- |
| Points List Pos. | Player | Position | Score | Projected Totalplay Cup Pos. |
| 1 | Myles Creighton (Canada) | T6 | 1-under | 1 |
| 2 | Walker Lee (U.S.) | T28 | 4-over | 4 |
| 3 | Chandler Blanchet (U.S.) | 3 | 4-under | 2 |
| 4 | Charlie Hillier (New Zealand) | 50 | 14-over | 7 |
| 5 | Austin Hitt (U.S.) | T32 | 6-over | 6 |
| 6 | Conner Godsey (U.S.) | T36 | 7-over | 8 |
| 7 | Linus Lilliedahl (Sweden) | 44 | 9-over | 9 |
| 8 | Toni Hakula (Finland) | T32 | 6-over | 10 |
| 9 | Cristóbal Del Solar (Chile)* | -- | -- | |
| 10 | Marcos Montenegro (Argentina) | T45 | 10-over | 12 |
*Korn Ferry Tour player, not playing this week
Tied for the lead, at 5-under, Alvaro Ortiz is the best of three Mexican players currently inside the top 10. The six Mexicans in this week's field entered the tournament in the hunt for two additional bonuses of U.S. $5,000 available by Bupa Mexico to each of the two highest-ranked Mexican players at the conclusion of the Totalplay Cup season. Not playing this week, but currently tied for 18th in the Totalplay Cup points list after his win last Sunday at the Jalisco Open GDL, José de Jesús Rodríguez is one of the players to beat in the race for the Bupa bonuses. The following are the scores and positions for the Mexicans playing at PGA Riviera Maya:
| | | | | |
| --- | --- | --- | --- | --- |
| Pos. | Player | Score | Current Totalplay Cup Pos. | Projected Totalplay Cup Pos. |
| T1 | Alvaro Ortiz | 5-under | 26 | 3 |
| 4 | Raúl Pereda | 3-under | 25 | 18 |
| T6 | Rodolfo Cazaubón | 1-under | 39 | 33 |
| T12 | Jorge Villar | par | 38 | 36 |
| T45 | Isidro Benítez | 10-over | 44 | 46 |
| 49 | Luis Gerardo Garza | 13-over | 32 | 39 |
| -- | José de Jesús Rodríguez | DNP | T18 | T23 |
Third-Round Weather: Partly cloudy. High of 86. Wind SE at 9-17 mph.