Archive
Rodríguez wins Jalisco Open for second consecutive year
GUADALAJARA, Jalisco, Mexico—There were no surprises Sunday at Atlas Country Club, as Mexico's José de Jesús Rodríguez once again proved unstoppable in winning the Jalisco Open Guadalajara for the second consecutive year. The 42-year-old nicknamed "El Camarón" – Shrimp – fired back-to-back bogey-free rounds of 6-under 65 this weekend, securing the low score of the day both Saturday and Sunday. Finishing the week at 20-under 264, Rodríguez won by three shots over Evan Knight of Novato, California, with whom Rodríguez shared the 54-hole lead. Guadalajara's own Alvaro Ortiz finished solo third, at 14-under.
Rodríguez was such a force this week that he went bogey-free for all 72 holes at the tree-lined course. Such an accomplishment is a first on PGA TOUR Latinoamérica, where he also extended his winning record to six tournament titles, two more wins than anybody else in Tour history.
"I have been making a lot of bogeys this season, so my goal coming into this week was to limit the bogeys on my card. I was very focused on that because I'm a player who makes many birdies, but I'm also a player who makes many bogeys. That was my mindset, and fortunately, I was able to hit it really well off the tee. I'm beyond pleased by such an accomplishment," said the Korn Ferry Tour veteran from Irapuato.
Looking for his first professional win, Knight put on a nice fight for most of the day. He kept himself within striking distance of Rodríguez but tripped down the stretch. Moving within one shot after a birdie at the par-3 14th, the UC-Davis alum bogeyed the par-5 15th, a hole Rodríguez birdied. That opened a three-shot lead Rodríguez would not surrender.
"Hat's off to him, he played so good. I mean, there's reason he is a legend around here. The guy is awesome. No bogeys for the entire week, I don't know if I have ever heard or seen that before. I played well, he played better and it was a lot of fun," said the 28-year-old Knight, who moved from 51st to 20th in the Totalplay Cup standings.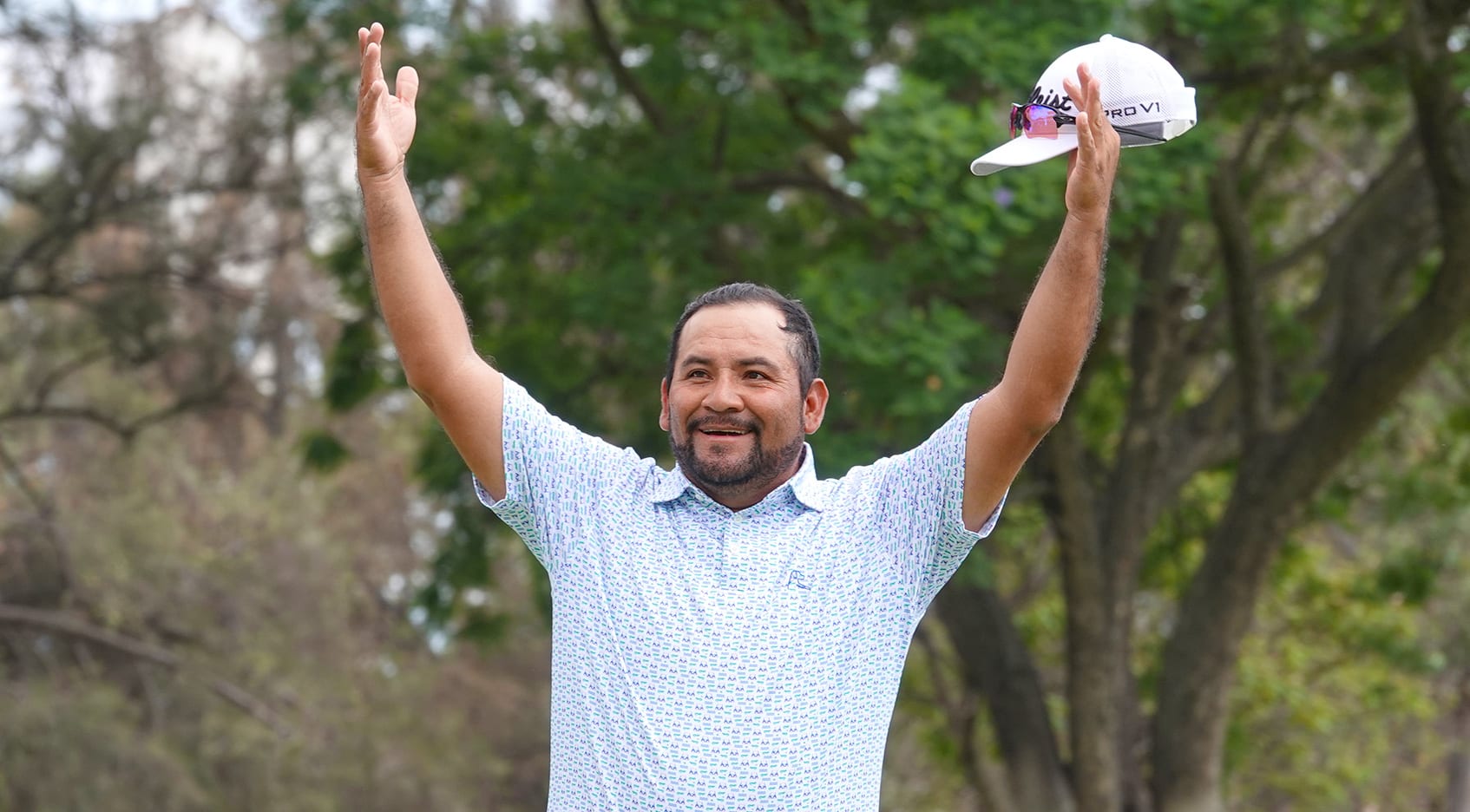 Playing in the last group along Rodríguez and Knight, Ortiz also weighed on the champion's impressive performance. "Even if I had had a perfect round, I don't think it would have been enough. Rodríguez showed why he is a Korn Ferry Tour player, a man with 50 career victories or something like that. Hat's off to him!" said Ortiz, who moved from 45th to 26th in the Totalplay Cup with his third-place finish at home.
As the last full-field event of the 2022-23 PGA TOUR Latinoamérica season, the Jalisco Open Guadalajara played a critical role in the race for the Totalplay Cup as the players inside the points list top 60 secured berths into next week's season-ending Bupa Tour Championship, a limited-field event set to start Thursday at PGA Riviera Maya in Tulum.
Ranked 60th in the Totalplay Cup points list at the start of the week, Thomas Lilly of Newton, North Carolina, was the last man in, keeping his position by carding a 1-under 70 in Sunday's final round. Lilly was hovering between 60th and 61st as he depended on other players' performances. "It has been a bit stressful," said the 28-year-old bound for Tulum.
Aside from the tournament winner, who moved to 18th in the standings, the only other player to break inside the top 60 was Peru's Luis Fernando Barco. Entering the week as No. 66, the Purdue University alum fought his way to a tie for sixth to move into 48th in the standings.
Did you know José de Jesús Rodríguez became only the second player to win a PGA TOUR Latinoamérica tournament in bogey-free fashion? The first to do so was Charlie Saxon of the United States, who shot 16-under for a four-shot win at the 2017 Peru Open—his win coming with an asterisk. A government-mandated census forced officials to shorten that event to 54 holes.
Earning 122.50 Totalplay Cup points with a tie-for-fourth finish, Canada's Myles Creighton was able to extend his lead as Tour No. 1 from 55 to 149 points with only one tournament left to play this season.
Updated Totalplay Cup Points List
(Through the Jalisco Open GDL)
| | | | |
| --- | --- | --- | --- |
| Pos. | Player | Total Points | Points Behind |
| 1 | Myles Creighton (Canada) | 1094 | |
| 2 | Walker Lee (U.S.) | 945 | 149 |
| 3 | Chandler Blanchet (U.S.) | 939 | 155 |
| 4 | Charlie Hillier (New Zealand) | 878 | 216 |
| 5 | Austin Hitt (U.S.) | 873 | 221 |
| 6 | Conner Godsey (U.S.) | 865 | 229 |
| 7 | Linus Lilliedahl (Sweden) | 804 | 290 |
| 8 | Toni Hakula (Finland) | 757 | 337 |
| 9 | Cristóbal Del Solar (Chile) | 711 | 383 |
| 10 | Marcos Montenegro (Argentina) | 677 | 417 |
The following is a look at the different performance rewards available for the players who finish the season inside the Totalplay Cup top 60:
Jesús de Jesús Rodríguez has now recorded four professional wins at Atlas Country Club. Before his 2022-2023 wins at the Jalisco Open GDL, he won a Mexican Tour event in consecutive years, beginning in 2010. His first win here included a course-record-setting 61 during the second round of the 54-hole event. Back in 2013, the first time PGA TOUR Latinoamérica played at this venue, Rodríguez finished solo second, two shots behind tournament winner Manuel Villegas of Colombia.
Most PGA TOUR Latinoamérica Victories
Wins

Player (Country)

6

José de Jesús Rodríguez (México)

4

Rodolfo Cazaubón (México)

Julián Etulain (Argentina)

Michael Buttacavoli (U.S.)

Jorge Fernández Valdés (Argentina)

Cristóbal Del Solar (Chile)

3

Tommy Cocha (Argentina)

Fabián Gómez (Argentina)

Timothy O'Neal (U.S.)

Tyler McCumber (U.S.)

Nate Lashley (U.S.)

Marcelo Rozo (Colombia)

Jared Wolfe (U.S.)

Augusto Núñez (Argentina)

Brandon Matthews (U.S.)
Here is a look at José de Jesús Rodríguez's other five Tour wins:
2013 Roberto De Vicenzo Invitational Copa NEC: Defeated Timothy O'Neal of the U.S and Sebastián Saavedra of Argentina with a birdie on the second hole of a playoff at Club de Golf del Uruguay in Montevideo. Shot 71-66-66-68 to finish regulation tied for first, at 271 (-17).
2013 Arturo Calle Colombian Classic: Defeated Manuel Villegas of Colombia with a par on the second playoff hole at the 233-yard par-3 ninth hole at San Andrés Golf Club in Bogota. Shot 67-73-65-65 to finish regulation tied for first, at 270 (-14).
2017 Avianca Colombia Open: Posted rounds of 70-68-67-64 to finish at 269 (-15). Won by two shots over Nicolás Echavarría at the Country Club of Guaymaral (No. 1 Course) in Bogota.
2017 Paraguay Open Copa NEC: Shot 68-69-67-73 to finish at 277 (-11) at the Yacht & Golf Club Paraguayo in Asuncion. Won by four shots over Englishman Kelvin Day.
2022 Jalisco Open Guadalajara: Shot 66-67-72-64 to finish at 15-under 269 at Atlas Country Club in Guadalajara, Mexico. Won by three shots over American Austin Hitt.
Champion José de Jesús Rodríguez was the best of nine Mexican players who made the cut this week at Atlas Country Club. Thirty-nine Mexican players started the tournament, and this is how the nine who played 72 holes finished.
| | | |
| --- | --- | --- |
| Pos. | Player | Score |
| 1 | José de Jesús Rodríguez | 264 (-20) |
| 3 | Álvaro Ortiz | 202 (-11) |
| T11 | Luis Gerardo Garza | 275 (-10) |
| T13 | Rodolfo Cazaubón | 276 (-9) |
| T21 | Alejandro Madariaga | 278 (-6) |
| T21 | Raúl Pereda | 278 (-6) |
| T25 | Isidro Benítez | 279 (-5) |
| T46 | Aaron Terrazas | 283 (-1) |
| 56 | Eduardo Cabrera | 289 (+5) |
This is a look at the last five players who qualified for the Bupa Tour Championship next week in Tulum, Mexico, and the five immediately outside the top 60, who saw their seasons come to a close. The Bupa Tour Championship is June 29 to July 2.
| | | |
| --- | --- | --- |
| Points List Pos. | Player | Prev. Pos |
| 56 | Gabriel Morgan-Birke (Chile) | 49 |
| 57 | Alejandro Tosti (Argentina)* | 50 |
| 58 | Carlos Bustos (Chile) | 52 |
| 59 | Brian Bullington (U.S.) | 53 |
| 60 | Thomas Lilly (U.S.) | 60 |
| 61 | Danny Ochoa (U.S.) | 56 |
| 62 | Samuel Anderson (U.S.) | 59 |
| 63 | Puma Dominguez (Argentina) | 71 |
| 64 | Santiago Bauni (Argentina) | 61 |
| 65 | Joel Thelen (U.S.) | 52 |
* Playing primarily on the Korn Ferry Tour
Final-Round Weather: Partly cloudy. High of 98. Wind W at 18-34, with gusts to 36 mph.