Archive
LPGA's Uribe shoots 69, misses cut by five shots
BUCARAMANGA, Colombia—Following an opening, 3-over 73, Mariajo Uribe knew she needed a low second round to have a chance to make the cut at the PGA TOUR Latinoamérica's Colombia Classic presented by Rocha Brothers. The LPGA Tour member made a great effort between Friday afternoon and Saturday morning to card a second-round, 1-under 69. It wasn't enough, though, as she finished at 2-over 142 to miss the cut by five shots at Ruitoque Golf Country Club, her home course.
"It was an unforgettable experience. I felt really good out there on the course, very comfortable," said Uribe, a two-time Olympian, who played collegiate golf at UCLA and won the U.S. Women's Amateur Championship as a 17-year-old, in 2007.
Uribe's second round got off to a promising birdie-birdie-bogey-birdie start Friday afternoon. She bogeyed No. 6 before recording back-to-back birdies on the seventh and eighth to make the turn at 3-under 33. She added a bogey on 10 and was at 2-under for the day through 12 when play ended due to darkness. Resuming play at 7 a.m. Saturday, she had three pars in a row before a bogey-birdie-bogey finish.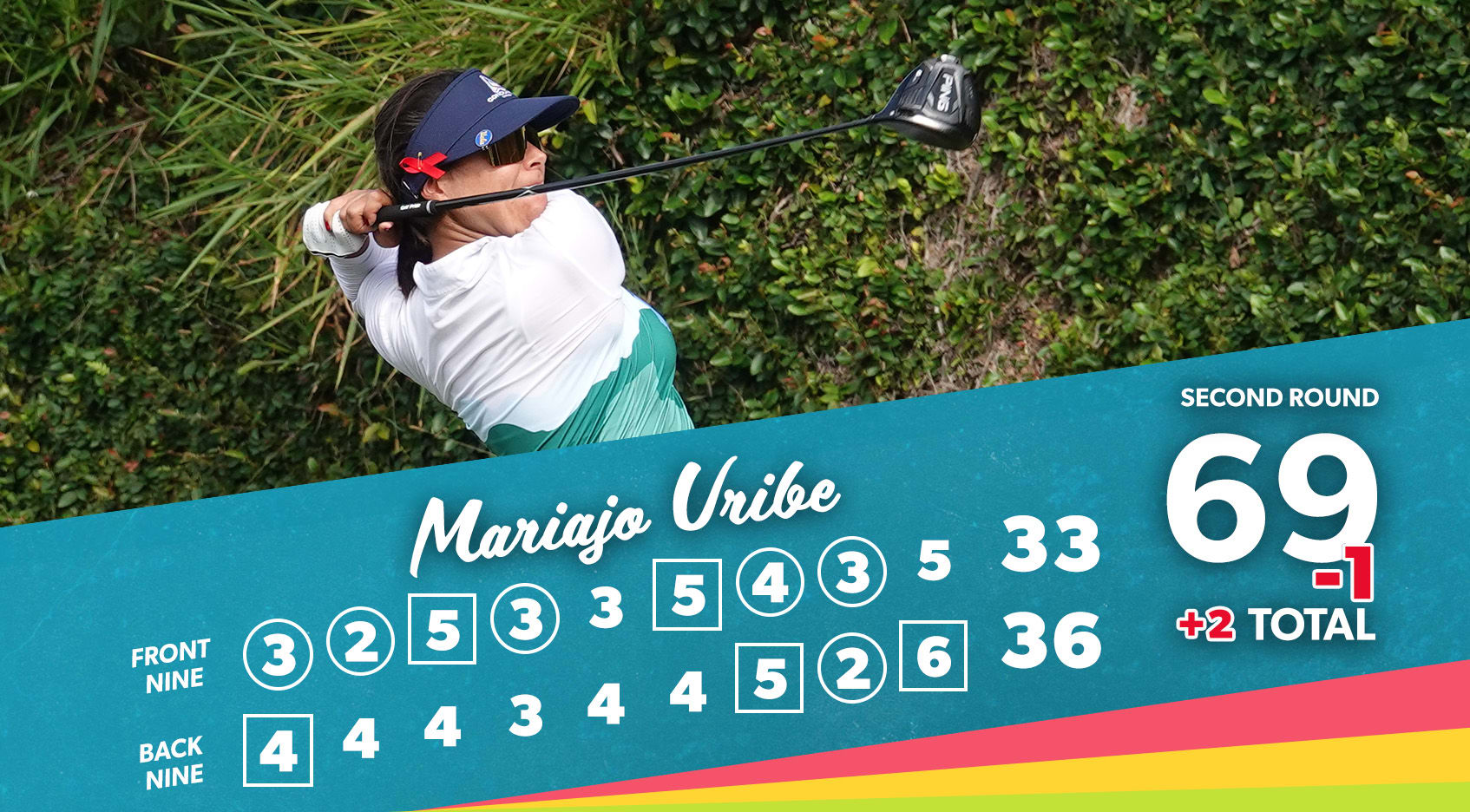 "[The second round] was different, I had to play aggressive both [Friday] and today because I knew that I needed to have a low one (to make the cut). I had five birdies on the front nine [Friday], and that gives a good feeling heading into next week. Playing with this mindset that I had this week is going to be helpful, it prepared me to play with the long hitters on [the LPGA] Tour. It was a cool experience," said the 33-year old who is now headed to Jersey City, New Jersey, for the LPGA's Mizuho Americas Open that begins Thursday at Liberty National Golf Club.
In the tournament that turned her into the third woman to make a PGA TOUR Latinoamérica start, Uribe played with fellow Colombians Ricardo Celia, a two-time PGA TOUR Latinoamérica champion, and Iván Camilo Ramírez, a 2022 Korn Ferry Tour member. Celia shot 65-72 to advance into the weekend, while Ramírez shot 69-71 to miss the cut by three shots.
Although she missed the cut, Uribe had by far the best performance by a woman on Tour. She was at even-par for the tournament with nine holes to play and finished at 2-over with rounds of 73-69.
Mexico's Paola Pavón, a professional on the Epson Tour, posted rounds of 81-76 (17-over) as the first woman to make a PGA TOUR Latinoamérica start, at the 2019 Mexico Open in Tijuana. While Argentina's María Cabanillas, a 17-year old amateur, shots back-to-back 82s (20-over) at the 2022 Neuquén Argentina Classic as the second woman to make a Tour start, doing so earlier this season.