Archive
Argentina's Cocha goes low, takes control in Peru
LIMA, Peru—Argentinian Tommy Cocha shot the low round of the day, carding a 7-under 65 to secure his place at the top of the leaderboard at the Diners Club Peru Open on Saturday. In what marks his 10th playing of this event, this marks Cocha's first time leading a round in his 26 rounds played at Peru's national open. He currently sits at 13-under after 54 holes, one stroke ahead of the next competitor, U.S. player Conner Godsey.
"My gameplan is the same as always," Cocha said following his eight-birdie, one-bogey performance. "I try to play evenly and put in the ones that can be put in. I wasn't getting many birdie opportunities through the first six holes, but then I was able to make some really good birdies, on Nos. 7, 8 and 9, which gave me the confidence to keep going. It was a good round from tee to green, so I'm happy."
In his last two starts, prior to this week, Cocha has had difficulty closing. He was tied for fifth, three strokes off the lead at the Termas de Rio Hondo Invitational in mid-March. On the final day, Cocha shot a 2-over 74 to tie for 18th. A week later, at the Roberto De Vicenzo Memorial 100 Years, in his native Argentina, Cocha again entered the final round only three shots off the lead but fired a closing 4-over 75 to drop into a tie for 22nd.
"Mostly, I just need to be patient. I think that my patience over the last few days has been fundamental, and we are going to work on that more than anything else," Cocha added. "Today, I took advantage of the opportunities I had, which I didn't do [Friday]. [Sunday], however, anything can happen. There are a lot of guys out there that have a good chance to go low, so I'm just going to play my game, play the best I can and see what happens."
Alabama's Godsey and Canadian Joey Savoie both shot 5-under 67s Saturday and are in position to make a run at Cocha. Godsey is sitting at 12-under 204, while Savoie is alone in third at 11-under 205. Second-round leader, Samuel Anderson dropped to 10-under after finishing with 2-over 74, while Daniel Hudson was 3-under for the day with only the 18th hole to play, but made double bogey there to shoot a 71 and drop into a tie for fourth with Anderson.
Following Cocha's 7-under, two players posted 6-under 66s. U.S. player Evan Knight (currently tied for seventh) and Argentina's, Marcos Montenegro (tied for 10th.)
Did you know Argentinian Ignacio Marino has shot three consecutive 69s? Paired with Tommy Cocha and Joey Savoie on Saturday, Marino appeared to be on pace to go low. Through 15 holes, he had five birdies and 10 pars. Then he made a triple bogey-8 on the 16th hole and ended up shooting a 3-under 69, helped by a closing birdie. He's alone in sixth place.
Just three days after celebrating his 32nd birthday, Tommy Cocha heads into the final round with his eyes locked on the top prize. Having played every year on the PGA TOUR Latinoamérica since it began in 2012. Cocha has competed in 131 PGA TOUR Latinoamérica events, winning four times, with the most recent win coming at the Fortox Colombia Classic in 2022. His top finish at the Peru Open is a tie for 18th, in 2014, however, if he goes on to win Sunday, Cocha will tie the record for the most victories in the history of the PGA TOUR Latinoamérica. The Argentine would join Mexican José de Jesus "El Camaron" Rodriguez, who won the Jalisco Open Guadalajara last year to become the first and only player with five titles on this Tour.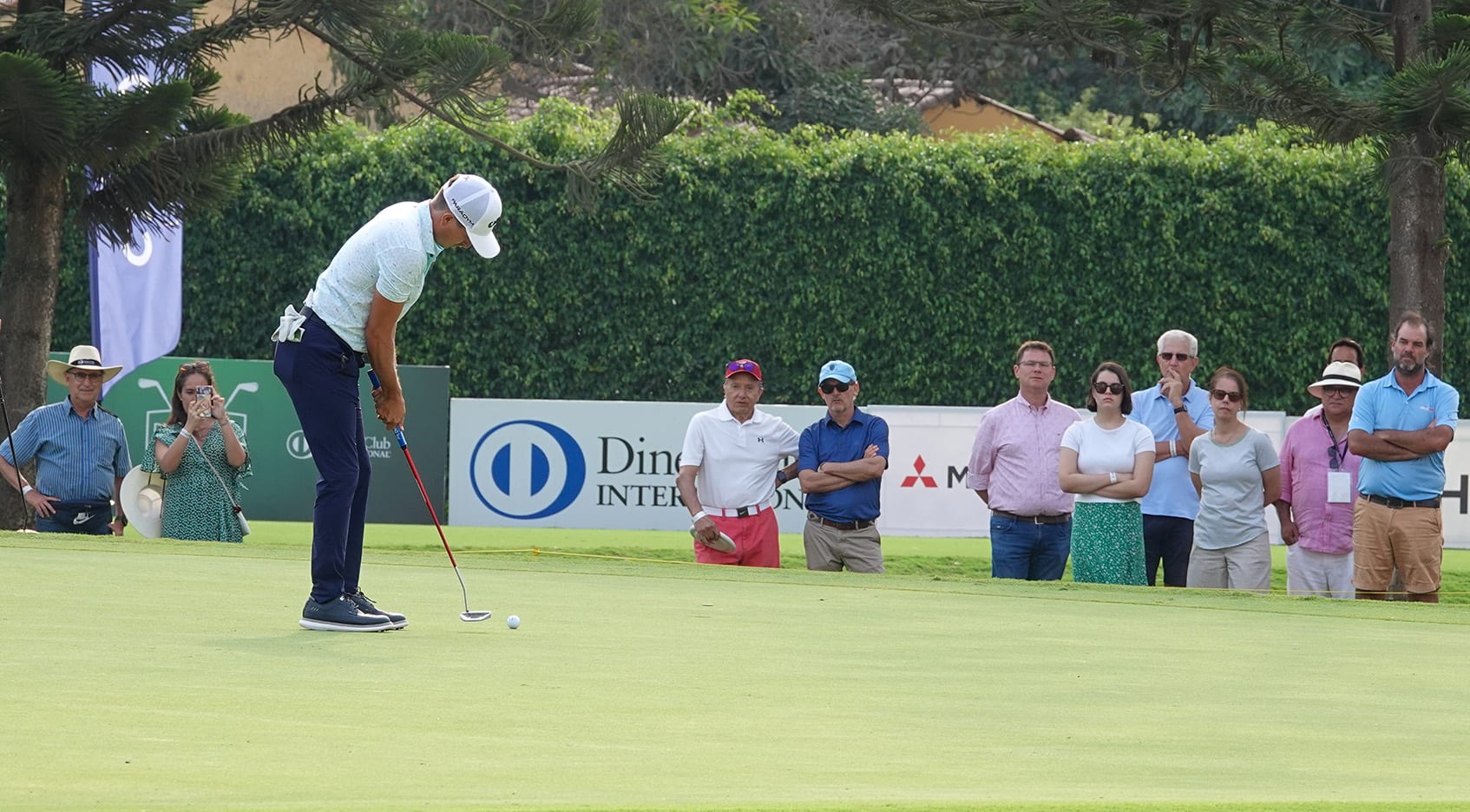 One of the most beloved players on the PGA TOUR Latinoamérica, Tommy Cocha won the inaugural PGA TOUR Latinoamérica tournament, the 2012 Mundo Maya Open presented by Corona. He captured the five-stroke win in Mexico by shooting rounds of 68-64-66-68 to finish at 22-under to claim the first-place check. It was his first career win as a professional.
Peru's Luis Fernando Barco is the only Peruvian left in the field after 13 of his compatriots missed the cut. He currently sits at 1-under 215, tied for 54th after 54 holes.
The 54-hole leader has gone on to win every PGA TOUR Latinoamérica tournament this season. Three times, players have shared the 54-hole lead. At the Scotia Wealth Management Chile Open Matt Ryan broke free from a tie with Conner Godsey to win in Santiago. At the Termas de Rio Hondo Invitational in Argentina, Jake McCrory went on to win after sitting tied with Myles Creighton through three rounds. Chandler Blanchet and César Costilla were deadlocked through three rounds, with Blanchet going on to win the Robert De Vicenzo Memorial 100 Years title. The others to win holding solo 54-hole leads are Zack Fischer (Visa Argentina Open), Cristóbal del Solar (Neuquén Argentina Classic) and Charlie Hillier (JHSF Brazil Open).
There were four past Peru Open tournament winners in this week's field, but only two remain after Friday's cut. Argentina's Leandro Marelli, the 2019 champion, moved up 26 positions on the leaderboard Saturday after a solid, 5-under round brought him into a 10-way tie for 10th. He's currently at 7-under 209 heading into the final round. The other past winner still playing is Mexico's Rodolfo Cazaubón, who claimed the 2015 title. He shot a 2-under Saturday and sits tied for 30th with a 54-hole total of 4-under 212.

"This course has one of the best endings of the Tour. It has holes that you can take advantage of, but holes that will punish you as well." – Tommy Cocha
"It was a good day. I bogeyed the first hole, which wasn't a great start, but (I) came back with birdies on the next two holes and played pretty solid all day. Had a couple good par saves, which kept the momentum going and gave myself some good looks for birdies." – Conner Godsey
"I played smart, played with confidence and I was pretty happy with my day." – Conner Godsey
"They do a special job here. It's an amazing facility and amazing golf course." – Joey Savoie
"I had a good day. I had a good group, actually. It's fun to play with guys who go low. I think we shot 3-, 5- and 7-under, so I think everybody was motivated, and we pushed each other all day. It was fun."– Joey Savoie
Third-Round Weather: Partly cloudy. High of 80. Wind SSE at 5-9 mph, with gusts to 18 mph.