Archive
The story of Olivia Shulov: Purple Eagle Program offers hope and inspiration at FedEx St. Jude
Every three months, Olivia Shulov heads to St. Jude Children's Research Hospital to have an MRI so doctors can track that worrisome but benign grape-sized tumor nestled next to her optic nerve.
Instead of dreading the scan, though, Olivia, who turns 8 in September, looks forward to it. She gets to eat pizza in the cafeteria at the hospital and she loves the toys the nurses give her when she gets there. Oh, and she gets to play hooky from school, too.
"Everybody treats her like a queen," Olivia's dad, Roman Shulov, says. "… She feels special, which is one of the things that I just love about St. Jude's is the way is they do that. When you come you don't feel like you're at a hospital. It's not something negative. You feel positive energy."
At this week's FedEx St. Jude Championship, Olivia will be celebrated again, and it has nothing to do with all the fun she has before and after sliding into that noisy tunnel where magnets and radio waves give the doctors a picture of her tumor.
Olivia is the 11th honoree of the Purple Eagle Program, which honors a St. Jude patient who has a parent or a grandparent who works for FedEx. Roman Shulov, who is an information systems project manager for FedEx, heard about the project and decided to nominate his daughter.
"I didn't know how many people would be submitting their children for the program, and I had no expectation of winning," Roman says. "But here we are, so that's very cool."
Olivia's name has been placed under the pilot's window on one of the Cessna Caravan turbojets that FedEx uses to ferry packages to smaller markets in the U.S, Canada, Europe and Latin America. The plane is on display this week at TPC Southwind, transported wingless through Memphis on I-240 and reassembled on the property that hosts the first event of the FedExCup Playoffs.
"There was a whole big procession with a police escort," Roman says. "It took about an hour or so. And she was riding in the lead truck that was pulling the plane. So, she was excited. It was was fun for her."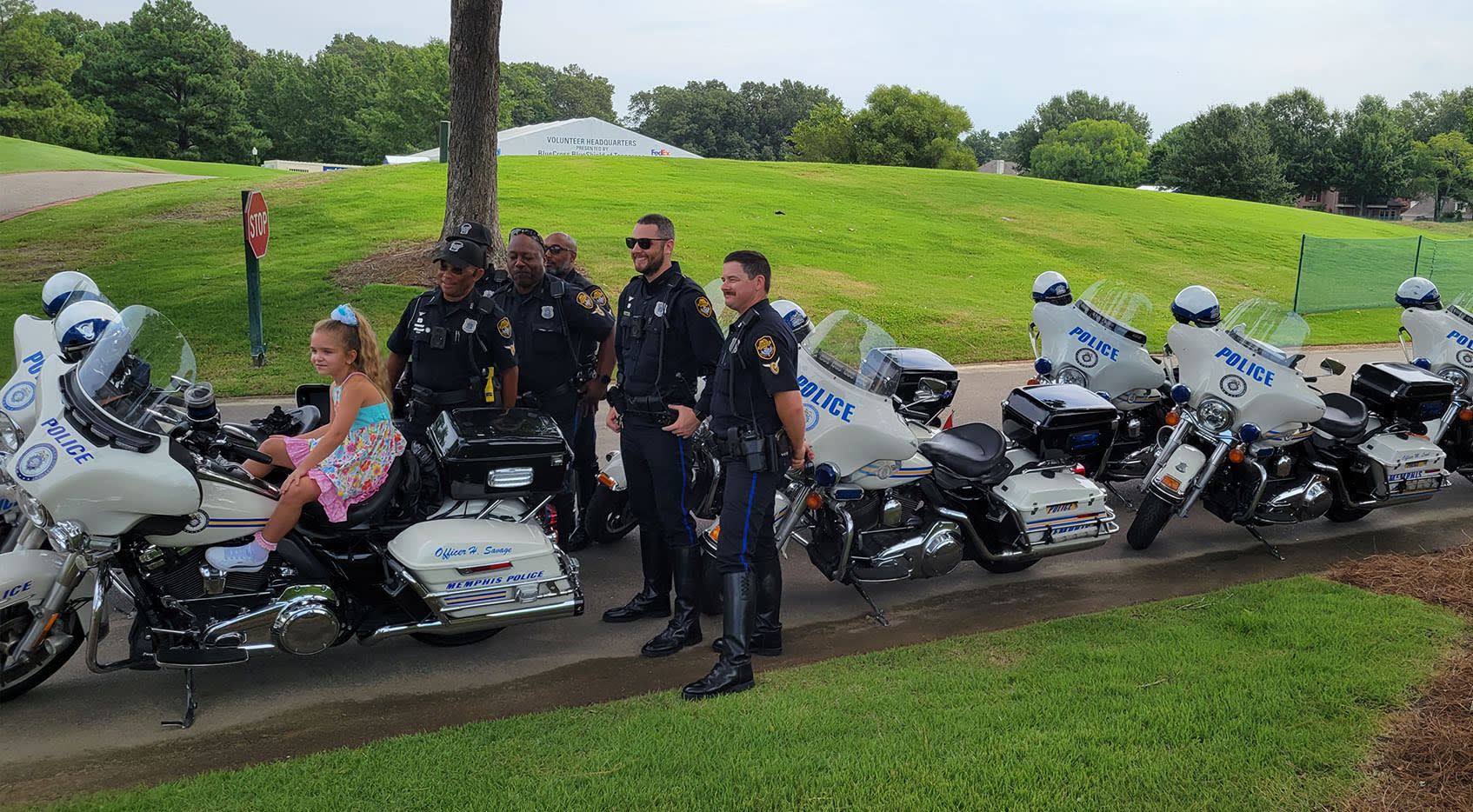 Olivia also got to meet Jordan Spieth on Monday. The 2015 FedExCup champion was her partner in the FedEx Ultimate Skills Challenge, playing against the current leader, Jon Rahm, and Calvin, another St. Jude patient and past Purple Eagle honoree. The two PGA TOUR pros competed in games of Around the World, H-O-R-S-E (spelling FedEx instead) and Sort, Ship and Deliver in the event, which was held in an airplane hangar in the shadow of a FedEx jet.
"I learned a few new tricks," said Spieth, who was impressed by Olivia's bubbly personality. "… (She's) high energy. You can tell, somehow this seems like it's not enough space for her. She's got to be somewhere running around even bigger."
Olivia's plane was dedicated on Wednesday before the Purple Eagle luncheon in the FedEx Cabana. She'll also get to attend the St. Jude Jam that night, featuring Gary LeVox of Rascal Flatts, Tommy DeCarlo of Boston and the Tennessee Mass Choir, among others.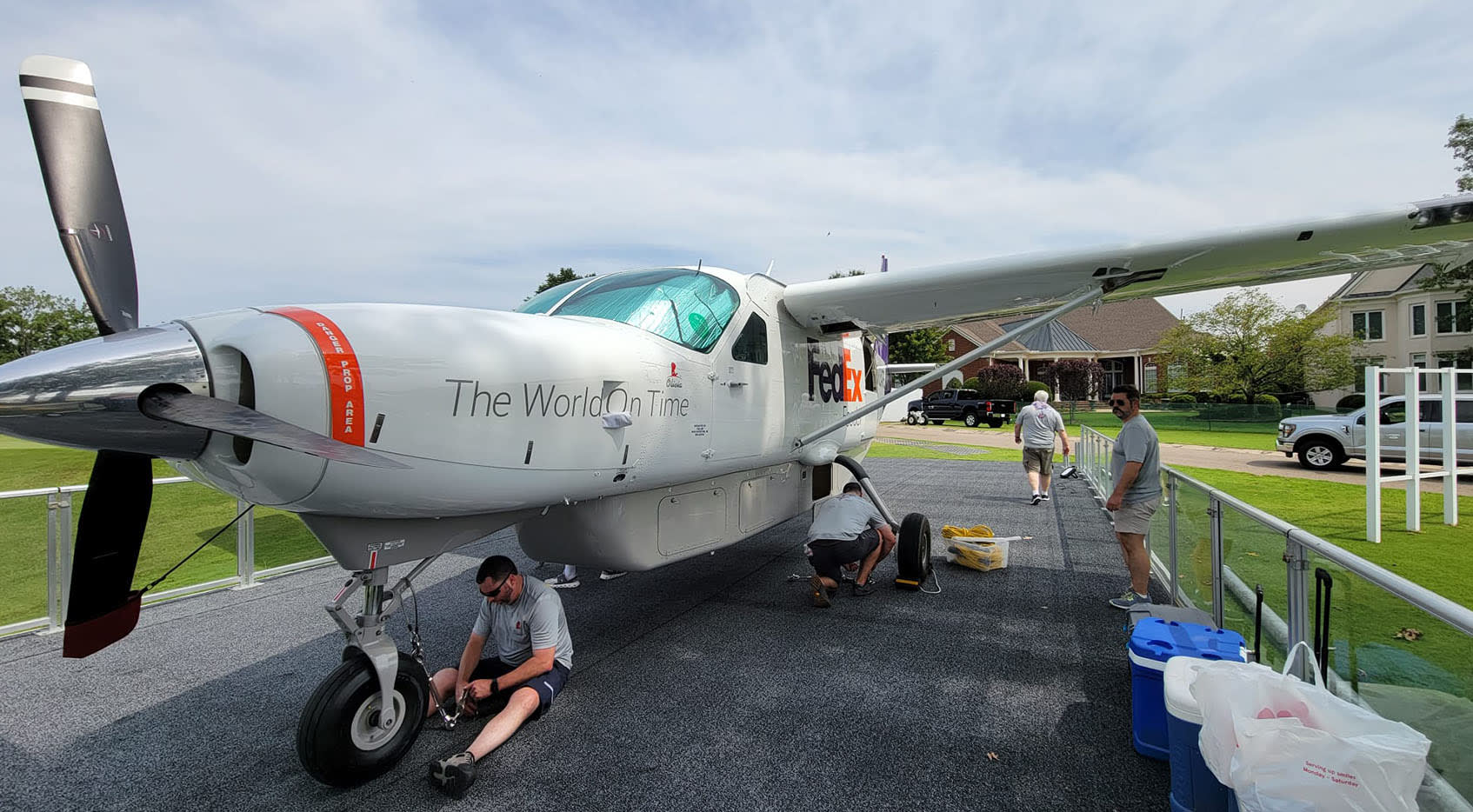 And on Thursday night, Olivia will be the guest of honor at the Purple Eagle Dinner. She chose the Hello Kitty cartoon character as her theme, and the room will be awash in pink with pictures of Olivia and her family hanging among the balloons.
When Olivia was a toddler, she was diagnosed with neurofibromatosis, a genetic condition that can cause tumors to form in the brain, spinal cord and nerves. About two years ago, Roman says his daughter began to go completely still for about 20 seconds after she woke up and then fall asleep for another 10 minutes or so. Their pediatrician thought she might be having seizures and recommended a specialist, which led them to St. Jude.
The doctors at the renowned research hospital discovered the tumor, called a glioma, and luckily tests revealed it wasn't malignant. Since it was so close to Olivia's optic nerve, though, they recommended regular monitoring to prevent it from affecting her vision. She now has MRIs every three months and takes medicine to prevent the seizures.
The news that their daughter has a brain tumor was devastating for the Shulovs. But the doctors and nurses at St. Jude have so much experience caring for patients like Olivia, her parents were relieved and reassured.
"What St. Jude really does a great job of is the way they put your mind at ease," Roman says. "… Usually, when you go to a hospital, you have to deal with a bunch of different stuff. You know, okay, well, how do I get the food? Where do I -- even just the simple, mundane things. But St. Jude takes care of all that, so you can focus on your child because they're all about the kids there so they're the star of the show, so to speak, and they'll do whatever's necessary."
The tumor hasn't limited Olivia, who is on a swim team for beginners. She likes dolls and watching cartoons like "Miraculous: Tales of Ladybug & Cat Noir," the computer-animated TV show that revolves around a girl superhero. She's also close to her older sister, Elizabeth, and the two are featured in a photo on the side of the trailer that supports the Purple Eagle plane.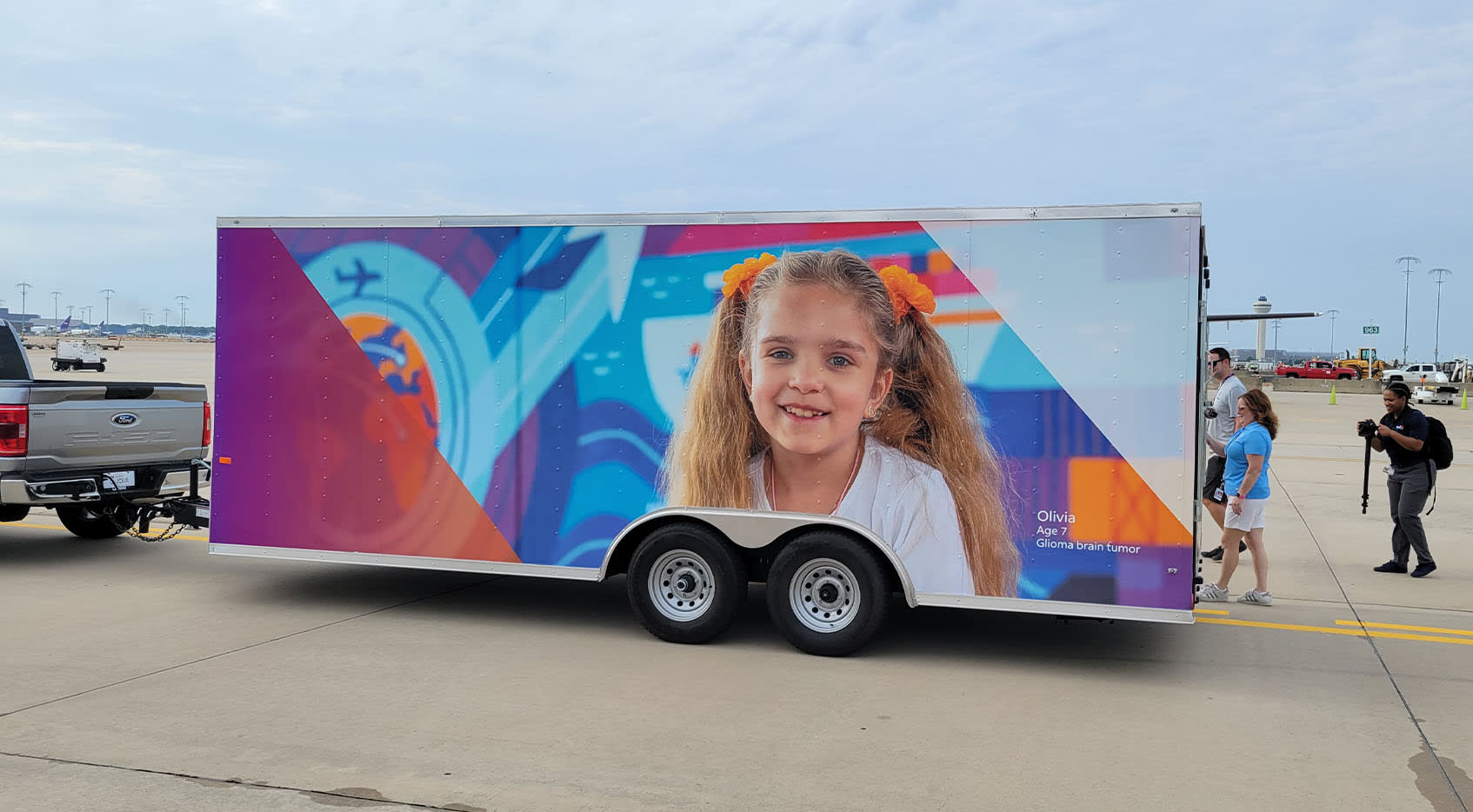 Elizabeth, who is 10, has been through a serious health crisis of her own. In April of last year, she developed a bacterial infection that morphed into sepsis. She was hospitalized for three months and lost both of her legs below the knee and her left arm above the elbow. While she was not treated at St. Jude like her sister, hematologists from that hospital have evaluated her.
Roman says he's been "amazed" at how his daughters' sibling relationship has been strengthened over the last few years. Olivia helps Elizabeth get dressed, and she's there if her sister needs help walking. And Elizabeth, who reads three grades above her age, is there to help Olivia with her schoolwork – the two even study Chinese and Russian. They like playing board games together, as well.
This week's FedEx St. Jude Championship offers an opportunity to showcase the symbiotic relationship between the global business leader and the children's hospital the company has long supported. The Shulov family now has experienced that bond from both sides.
"It makes me very proud," Roman says. "I didn't expect this relationship to have a kind of an impact on myself, but it does. And it's great to see that FedEx is, is a huge supporter of St. Jude. and that money goes to really help the kids.
"I can't thank both of the organizations enough for doing everything."