Archive
Wang's perseverance paying off in Winnipeg
WINNIPEG, Manitoba—Thursday, in the opening round of the CentrePort Canada Rail Park Manitoba Open, 25 players finished ahead of Charles Wang. If you had seen him, you would have thought he was leading. Asked to come to the interview area, he showed up joyful and highly grateful to be competing at Southwood Golf & Country Club, where he recorded a 4-under 68. Such a promising start came close to not happening.
Entering the week, Wang's status wasn't strong enough to secure a spot in the field. He stood as the first alternate out of the Korn Ferry Tour members category, which has allowed him to play much of the current PGA TOUR Canada season.
"To be honest, I'm just fortunate to be here, playing this week," said the 26-year-old from Beijing, China, who played one season of college golf at Northwestern University before turning pro in 2015. "Thank God there is (PGA TOUR) Canada, where I can fall back on, or I would have no tournaments to play."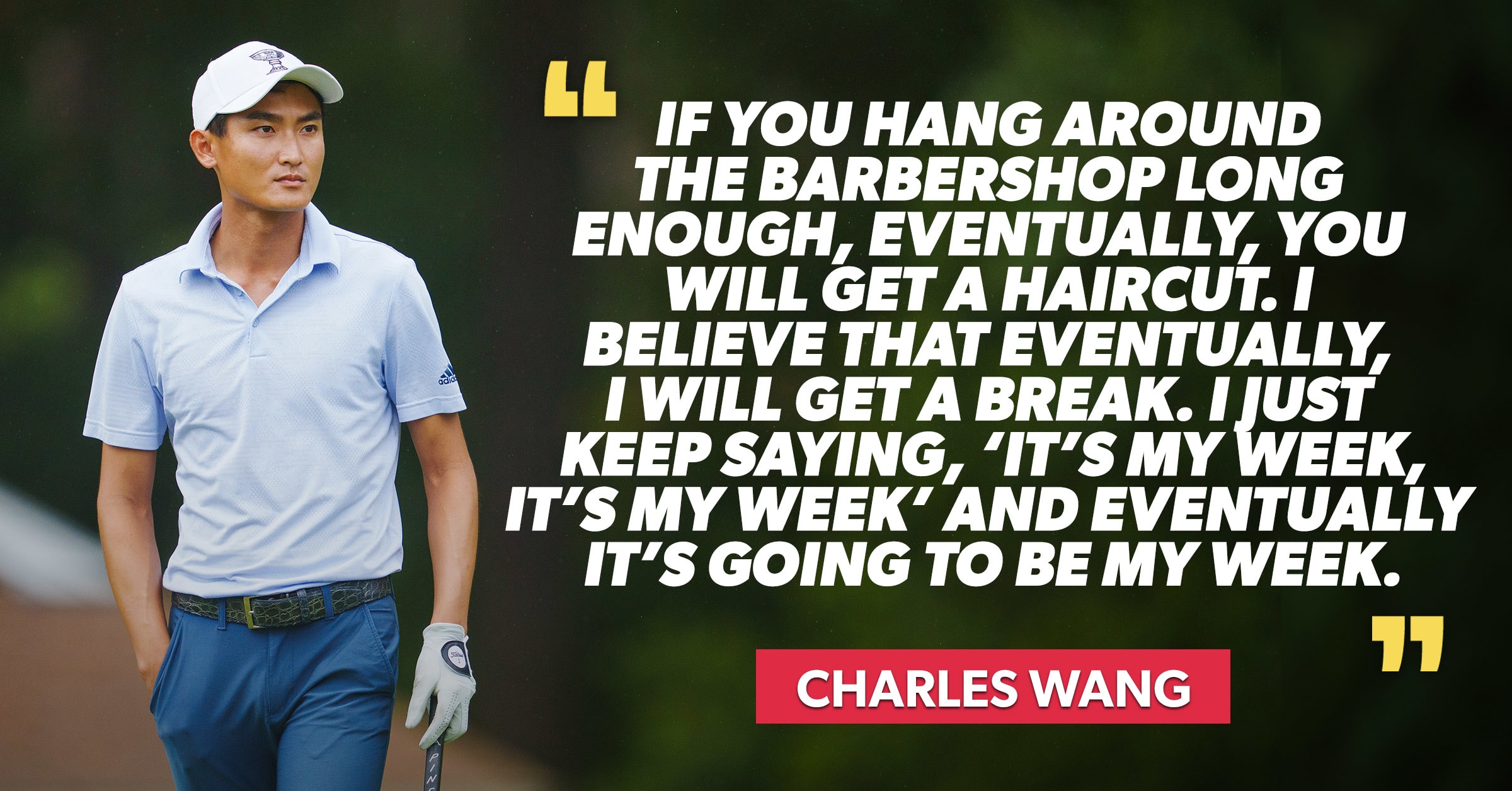 Last year Wang made it to Final Stage of the Korn Ferry Tour Q-School, a decisive tournament in which he finished in a tie for 74th, three shots outside those in the top 40 (and ties), who went home with guaranteed starts for 2023. What was it like to walk away without securing any starts? "That's misery," he said with a laugh. "I don't know how else I can put it, but that's my deal on the Korn Ferry Tour."
To make a few Tour starts, Wang was forced to wait for rare last-minute calls or to play Monday qualifiers. Last week, he had a successful Monday, firing a 9-under 62 to lead the group of eight players who made it into the Magnit Championship, the final regular season event on the Korn Ferry Tour schedule.
"That tournament, in New Jersey, was my last opportunity to make the Korn Ferry Tour Finals. I played decent enough to make the cut, but then the travel was a scramble to get here," recalls Wang, who after finishing play at 3 p.m. on Sunday had to start thinking of his 8:30 a.m. Monday tee time at the Manitoba Open qualifier.
Making the tournament director aware of his situation, Wang got his Monday tee time pushed to 9:30 a.m.
"There's no direct flight from Newark to Winnipeg, so I flew to Minneapolis. I was thinking I wouldn't make it if there were a flight delay, and I was praying for my golf bag and my luggage to make it as well. I was thinking, worst case scenario if the clubs do not arrive, I would go to the pro shop and ask the assistant pro if I can borrow his clubs. Hopefully, he is not a lefty," added Wang, letting out another laugh.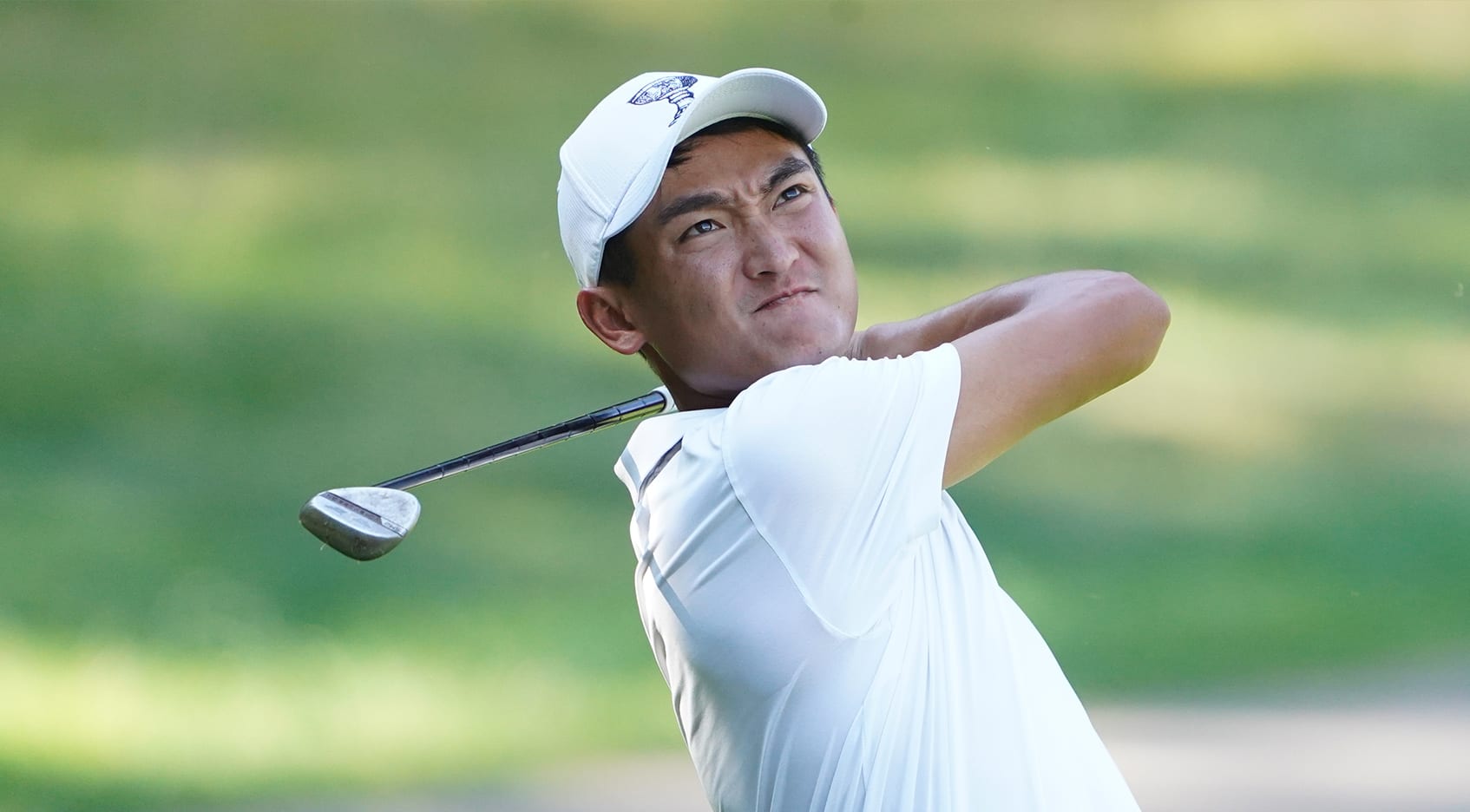 He made it safely to Winnipeg, arriving at his hotel at 2 a.m. At the time, he didn't have a caddie, didn't even know where the golf course was, and was extremely exhausted.
The Monday qualifier was a roller coaster. Teeing off at 9:30 a.m. he kept waiting for a much-desired text or email that never arrived. "I was checking my phone the whole time. I was checking if I was in the field because if I got in, I wasn't going to continue to play. I kept checking, refreshing the whole time, but I wasn't in the field, so I kept grinding," recalls Wang.
An eagle on 17 got him to 5-under and in a tie for fourth at that point. He felt that a par at the last would pretty much lock his spot and went for a 2-iron off the tee. He pushed it a bit in the rough, setting up a 151-yard approach into the wind. He tried the safe play, going for the middle of the green with a pitching wedge. He hit a flier that got him in tree trouble and then three-putted for a double-bogey that left him one shot outside a playoff for the last spots available. His Monday hopes were done.
"At that point, I was a little down on myself. I wasn't down, down, I was still pretty happy with everything, but you know, you play so hard for this, you grind so hard, it can be a little disappointing," he said of having his Winnipeg visit cut short.
While at a Korean BBQ for lunch, a meal he said helped lift his spirit up a little bit, Wang started looking for flights back home to Tampa. The $780 fare for a one-way ticket seemed outrageous. "But then, I got a text from (PGA TOUR Canada official) Russell (Budd), who handles the players' tournament commitments. He sent a very simple text. It said 'WD from the KFT, you are in,' and it made my day," he said of a player withdrawal that meant he was in the field through his Korn Ferry Tour category.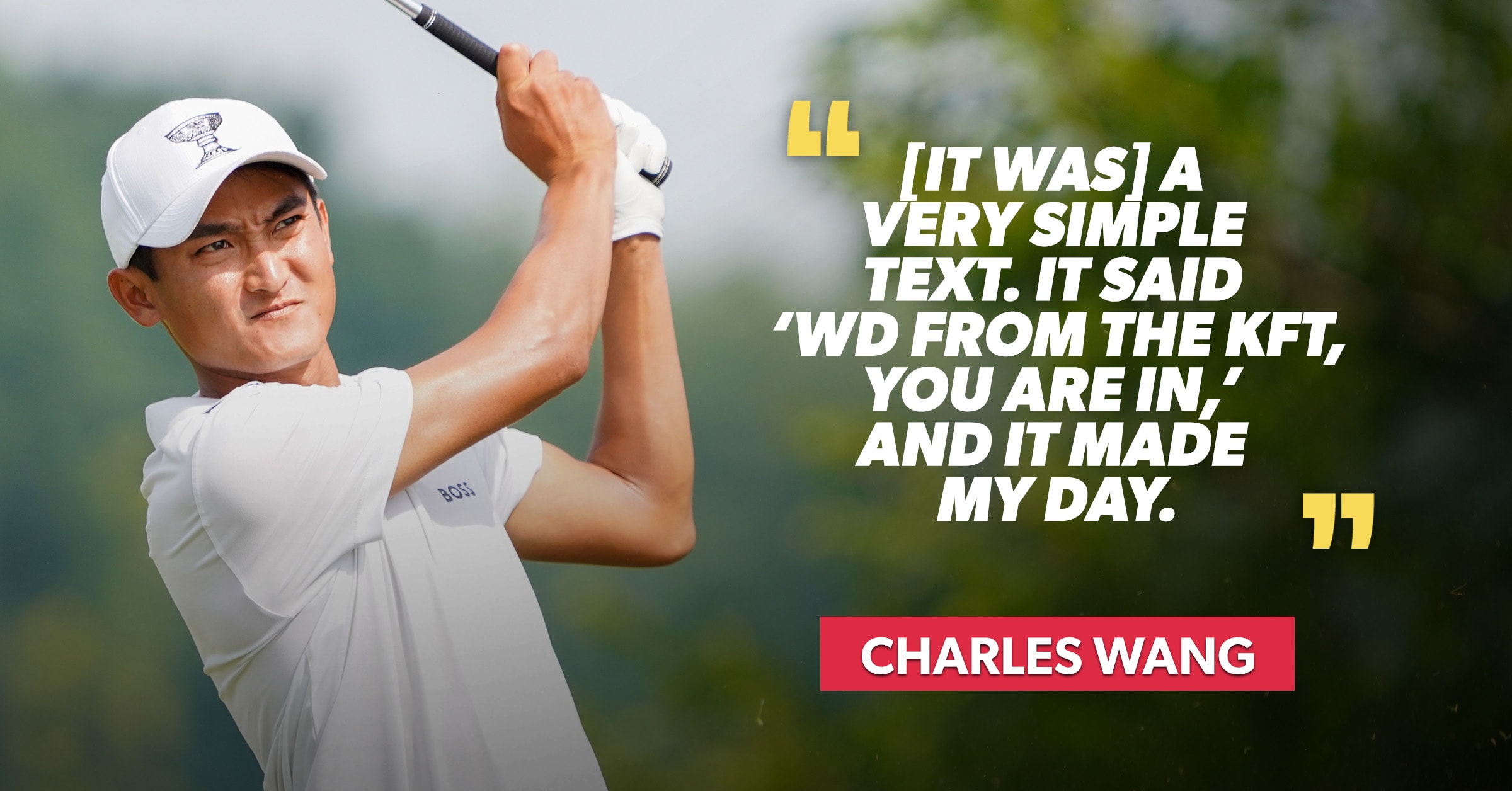 He was no longer tired, to the extent that he drove to the tournament course to play a quick nine starting at 6:45 p.m. while carrying his own bag. "I played the back nine, which I was not supposed to play, but nobody was there, so sure, why not? I didn't get done until 8:40 p.m."
Wang's positivity toward these recent events is inspiring and the way he explains it probably resonates with hundreds of dreamers seeking for that fortune-changing week.
"Coming into (a tournament) week, it doesn't matter if you are feeling great or pretty bad. You always want to have a 'This is your week; this is your tournament' mindset. You know, if you hang around the barbershop long enough, eventually, you will get a haircut. I believe that eventually, I will get a break. I just keep saying, 'It's my week, it's my week' and eventually it's going to be my week," ended the young man whose positive demeanor feels contagious.
Hoping for more tournaments to play, Wang needs to make some ground to extend his time on PGA TOUR Canada. He currently sits 101st in the Fortinet Cup standings, way outside the top 60 who will make the season-ending Fortinet Cup Championship (Sep. 7-10 in Calgary). In the meantime, a top-20 finish this week would secure him a trip to Minnesota for next week's CRMC Championship presented by Gertens, the last regular season event of the season.