Archive
Ellis ekes out a win in Weston, secures PGA TOUR Canada exemption
WESTON, Florida—In a finish that no one could have predicted, Englishman Harry Ellis walked away the winner of the first PGA TOUR Canada Qualifying Tournament of 2023, securing exempt membership into every event of this upcoming season. He edged a quartet of U.S. players—Brandon Hoelzer, Eric Beringer, Hayden Shieh and Jake Sollon—by a stroke. Six other players, amateurs Ben Carr and Sam Jean, and Luis Gerardo Garza, Ryan Orr and Taylor Kay-Green also earned guaranteed 2023 PGA TOUR Canada starts. Nineteen other players picked up conditional membership.

"It really hasn't sunk in yet," Ellis admitted moments after his triumph. "I just chopped my way down the 18th (hole) and somehow made a (par) five. Honestly, I lost track of where we were, in our own group. I wasn't really feeling it most of the day, so I just dug in."
Ellis dug in just enough and was able to squeak by with the win, finishing the day 1-under and 9-under overall. Playing in the final group with Beringer and Hoelzer—tied for the 54-hole lead—the threesome battled through their last 18 holes, with Shieh and Sollon playing in the final group that teed off on No. 10. Both players were four strokes off the lead to start the day, and as everybody came off their respective greens, with only nine-hole scoring available, it was definitely a waiting game to see where everyone ended up.
"It was very hard out there today," Ellis elaborated. "The greens were getting firmer and firmer, and there were some really tricky pin positions. It's a bit overwhelming at the moment. I can't really process that I've actually won something. It's been a little bit of time, but I'm sure this is going to be a great feeling."
The 27-year-old Ellis is no stranger to winning. In 2012, he became the youngest winner of the English Amateur, at age 16, beating the previous record held by World Golf Hall of Fame member Nick Faldo. In 2017, Ellis won The Amateur Championship, becoming just the third player to win both the English Amateur and The Amateur Championship, joining Michael Bonallack and Michael Lunt. The win gained him entry to the 2017 Open Championship, the 2018 Masters Tournament, the 2018 Memorial Tournament and the 2018 U.S. Open. Although he missed the cut in all four tournaments, the experience he gained is something he can't forget.
"I have had some incredible experiences and played the biggest events in professional golf as an amateur. I've been lucky enough to play in Europe, but every year since I've turned pro it hasn't gone exactly how I've wanted it to. However, I've kept improving, dug in and worked hard." Ellis continued. "I haven't always played my best in Q-School, but to come out here today and win is massively fulfilling to me."
Did you know, this is the second PGA TOUR Canada Qualifier held at The Club at Weston Hills? It's also the first since the course extensively renovated its greens, which many agree have increased their firmness and difficulty. Last year's winner of this event, Alexander Herrmann, shot a 14-under to secure medalist honors.
How the Tournament Worked
The PGA TOUR Canada and PGA TOUR Latinoamérica are international PGA TOUR-sanctioned tours that provide access to the Korn Ferry Tour and are part of the pathway to the PGA TOUR. Since its inception in 2013, the PGA TOUR Canada has held 31 Qualifying Tournaments across the U.S. and Canada. This event was the first of six PGA TOUR Canada Qualifiers scheduled prior to the 2023 season. Each qualifier is a 72-hole, no-cut event, with playoffs, if necessary, for the medalist position and for the 10th and final position available.
One-hundred-thirty-one players started the tournament, with 121 completing all 72 holes. Below is the breakdown of the various PGA TOUR Canada membership statuses players earned this week.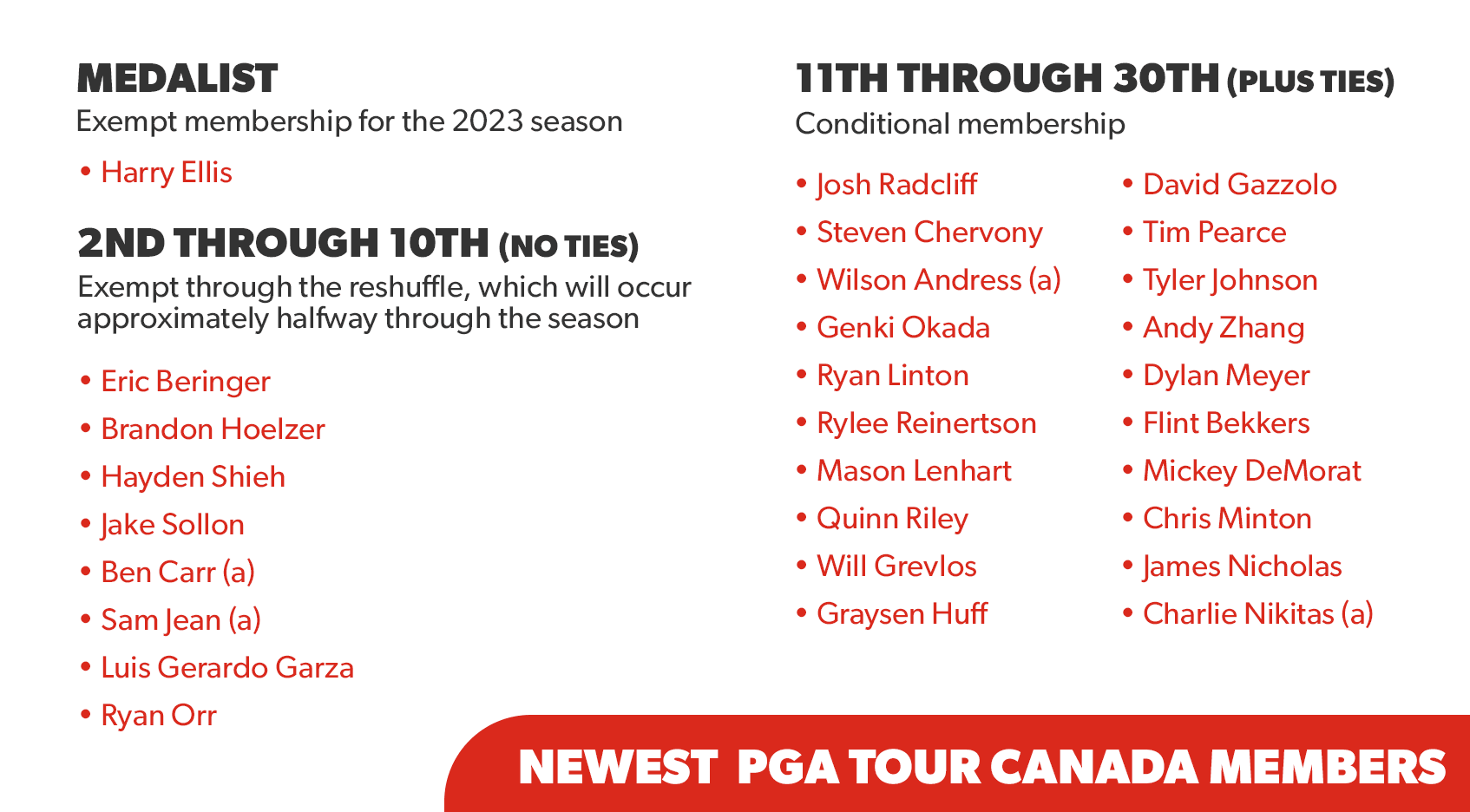 • Harry Ellis is only the eighth player from outside the United States to capture medalist honors at a PGA TOUR Canada Qualifying Tournament. He is also the second player from England to win at Q-School, following in the footsteps of David Wicks' triumph in 2019 at TPC San Antonio. The other non-United States players to prevail in Q-School are Guatemala's Jose Toledo (2013), Canada's Albin Choi (2015) and Riley Wheeldon (2022), South Africa's Aaron Wise (2016), Chile's Horacio León (2017) and Germany's Alex Herrmann (2022).
• Players in this week's field came from nine countries or territories: Canada, China, Ecuador, England, France, Japan, Mexico, Sweden and the United States.
• Nicholas Marchese finished as the top Canadian competing this week. He ended the day with his best round of the event, a 1-under 71, to tie for 31st, just missing out on earning PGA TOUR Canada membership.
• There were 21 amateurs in the field this week, with two—Ben Carr and Sam Jean—picking up PGA TOUR Canada status for the 2023 season. Carr is a fifth-year senior at Georgia Southern, while Jean is a senior at the University of Cincinnati.
• All week, the Tour Course's hardest hole was the par-3 No. 5, but the second-hardest hole was continuously changing. Friday, it was No. 16., where there were 11 double bogeys and one seven shot on the par-4. Not surprisingly, Harry Ellis was able to make par on both holes.
• After earning PGA TOUR Latinoamérica membership at that Tour's Qualifying Tournament in Ocala, Florida, last November, Jake Sollon became a PGA TOUR Canada member for the first time today with his tie for second.
• Four players missed by one stroke from getting guaranteed starts during the first half of the PGA TOUR Canada season: U.S. players Josh Radcliff, Steven Chervony and amateur Wilson Andress and Japan's Genki Okada all finished at 2-under and tied for 11th. They will hold conditional status this season.
• Mickey DeMorat, who began the tournament 69-67, struggled over his final 36 holes, posting scores of 76-77 to tie for 22nd, earning conditional status.
"All the work I've put in, all the times I kept showing up, just the feeling of winning or being in contention is what I absolutely love. Unfortunately, you don't get it all that often in this game. But, hopefully this will kickstart my 2023." – Harry Ellis
Final-Round Weather: Mostly sunny. High of 84. Wind E at 5-15 mph.