Archive
#TOURBound: Pierceson Coody relishes heritage while forging own path
Clinches 2024 PGA TOUR membership with T6 finish at Utah Championship
Up until now, Pierceson Coody's name has been linked.
First, to his grandfather, 1971 Masters champion Charles Coody, whom he lovingly greets as "Pro." Pierceson's early days at Augusta National Golf Club precede most, with images of a 6-year-old Pierceson in a white jumpsuit and a green baseball hat caddying for his granddad at the 2006 Masters Par 3 Contest.
And then to his twin brother, fellow Korn Ferry Tour pro Parker Coody. When Pierceson clinched his second Korn Ferry Tour title of the 2023 season at the Price Cutter Charity Championship presented by Dr Pepper, his brother was right there with him – literally. Parker finished in a tie for second, two back of Pierceson.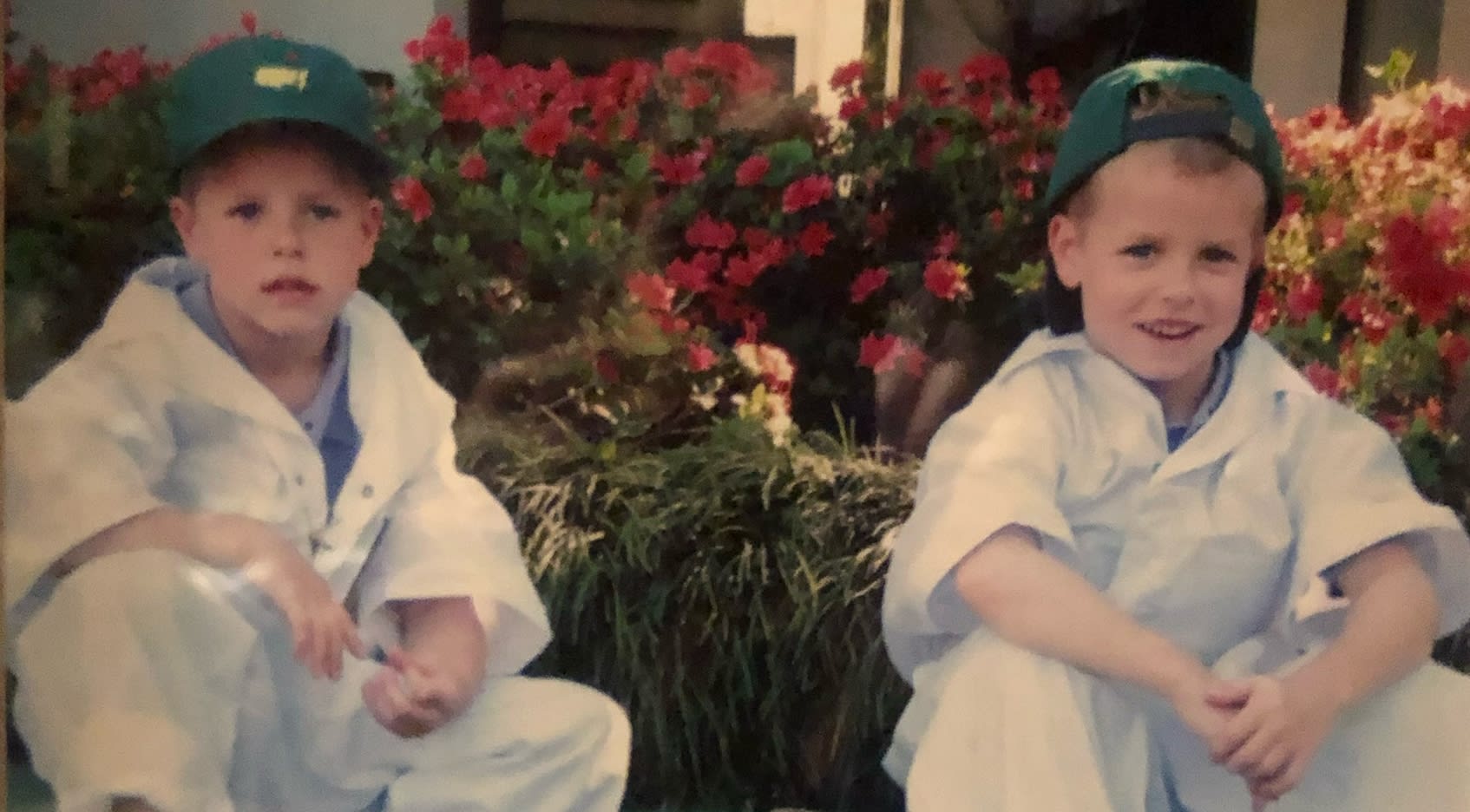 The Coody twins served as co-caddies for their grandpa Charles at the 2006 Par 3 Contest. (Courtesy of Coody family)
Both brothers have etched their way into golf's upper echelon, often concurrently. The Coody twins were four-year teammates at the University of Texas, joining an illustrious alumni base that includes the likes of Scottie Scheffler and Jordan Spieth. They attended UT-Austin from 2018 to 2022, helping propel the Longhorns to the 2022 NCAA Championship title, despite both breaking their right arm in a freak accident during the autumn of their senior year.
The Coody name is synonymous with golf greatness in ways that long preceded Pierceson's entrance onto the scene, leaving heavy shoes to fill. Pierceson, though, has always intended on blazing his own trail, a challenge he has relished. And his path now leads to the PGA TOUR.
Off the strength of two wins and two additional top-10s, including a T6 at the Utah Championship presented by Zions Bank, Coody became the fourth player this season declared #TOURBound.
Although Class of 2023 Korn Ferry Tour graduates will not receive their PGA TOUR cards until the season-ending Korn Ferry Tour Championship presented by United Leasing & Finance, Coody is assured of a top-30 finish on the Korn Ferry Tour Points List and TOUR membership for 2024.
"It's awesome," Coody said on Sunday afternoon in Utah. "It's really cool. I feel like I have so much to learn, so much to improve on ... I was never the top junior; I didn't come into the game that I feel I have right now until my sophomore year of college. I was always like, 'Let's see how good we can get.'
"I love watching golf. I love golf in general, so I feel like I've seen every (TOUR) golf course 100 times ... It's immaculate; it's just perfect, almost. I'm really grateful to go play good golf and see where I stack up."
Coody turned professional following a No. 1 finish on the 2022 PGA TOUR University Ranking, which brought automatic Korn Ferry Tour membership. He didn't waste any time in putting that status to good use. After debuting as a Korn Ferry Tour pro in mid-June 2022, Coody recorded his first top-five showing in just his second professional start, carding four rounds of 67 or better at the Blue Cross and Blue Shield of Kansas Wichita Open, closing with a 7-under 63 for a T4 finish. The next week, he earned his first win in resounding fashion, five strokes clear of the field at the Live and Work in Maine Open.
The Texan played his way onto the bubble for a TOUR card as the 2022 Regular Season finale approached, but he missed the cut at the Pinnacle Bank Championship and finished No. 32 on the Regular Season Points List. It was plenty to qualify for the Korn Ferry Tour Finals, but he was forced to withdraw from the Korn Ferry Tour Championship due to a left wrist injury, meaning a return to the circuit for 2023.
It may have been a blessing in disguise. Despite being sidelined by the injury for much of the fall, he came out firing this spring, winning his third start back at The Panama Championship in February, and he added another trophy at the Price Cutter Charity Championship presented by Dr Pepper in July. With three victories in just 26 starts, he quickly established himself as a proven winner at age 23 – born on January 7, 2000, just after the turn of the millennium.
3 things to know | Round 4 | Price Cutter Charity
Coody plays a bold and fearless brand of golf that reflects his age, but his mild-mannered, friendly demeanor suggests an ability to not take life too seriously. It's a recipe that could lead to a decades-long TOUR career. His family is proud, as they should be.
"My family's awesome," Coody said. "I'm sure they're watching, wondering why I was making so many bogeys on the front nine (Sunday). I'm sure they're really happy for me. I'm sure I'll call my mom and dad after this, and Parker's gonna be in Omaha next week (for the Pinnacle Bank Championship) ... now I feel like I'm just rooting for him to play as well as possible, because it would be an incredible thing for our family for both of us to go to the PGA TOUR. (Parker currently stands No. 24 on the Points List.)
"My granddad is gonna be really proud of me; he's always been proud of me, but it's definitely a special moment for us."
Coody has competed in seven PGA TOUR events this year, making three cuts and finishing tied for 14th at the Arnold Palmer Invitational presented by Mastercard in March. His game is TOUR-ready, and he'll arrive as a TOUR member with the experience to complement.
Although Coody's arrival into the golfing world wasn't unexpected – his father Kyle played on the Korn Ferry Tour and his grandfather has a green jacket hanging in the closet – he has swiftly become a force to be reckoned with on his own merit.
That merit now includes a 2024 PGA TOUR card.
Pierceson Coody interview after cementing 2024 PGA TOUR card