Archive
Barstool Sports takes on Korn Ferry Tour: 'We sort of thrive in the chaos'
Ahead of the NV5 Invitational, Fore Play podcast host Riggs explains the approach the team is taking to commentating
Now in its fifth edition, the NV5 Invitational presented by Old National Bank has already produced some breakout stars. Scottie Scheffler, Cameron Young and maybe this week, Fore Play?
The 2023 NV5 Invitational at The Glen Club in Glenview, Illinois will be aired to the world over a livestream hosted by a group of commentators from Barstool Sports, including the hosts of the Fore Play podcast. Riggs, Frankie, Trent, Dan and others will capture the action in their own unique manner as the Korn Ferry Tour's best jostle for position in the standings outside of Chicago. Below, Riggs (Sam Bozoian) explains the approach the Barstool Sports team envisions for this week.
PGATOUR.COM: How did this come together? How did this happen?
RIGGS: So we've got a good friend of mine, Alistair Docherty, who plays on the Korn Ferry Tour. This is his first year with pretty extended status out there. Last fall actually, we were trying to watch Korn Ferry Tour Finals; we were doing like the shot tracker essentially online to see how he was doing. He ended up finishing inside the top 40, which meant he would get eight starts. But it was kind of just watching it and we kind of started talking a lot on the show about how it's amazing that you can't really watch Korn Ferry Tour, how week-in and week-out, if you kind of understand what's at stake, people actually playing for a chance to keep playing for their careers, it could be as compelling as any golf.
We started talking with the Korn Ferry Tour, the PGA TOUR folks, about doing it. Barstool, over the last year and a half, has started to stream live events more and more from a college football game to a college basketball tournament tha we circled up and were like, I think we might actually be able to do this. We kind of went through the schedule, found something that could work for everybody and said, let's do it.
PGATOUR.COM: Why does the Korn Ferry Tour and the NV5 Invitational fit with the Barstool and Fore Play brand? I don't think this is going to be a Rough N' Rowdy experience, but how does it fit?
Riggs: Barstool has sort of always been more of the people's media brand, right? It was originally kind of by the common man for the common man. Barstool has since then grown enormously into having massive, you know, female brands, female podcasts. We have an immensely more diverse sort of offering than we ever used to have. But at our core, it's sort of like relating to the average person.
I think the average person can relate very much to Korn Ferry Tour players trying to pursue their dreams. I think anybody that's picked up a golf club, or anybody who follows sports at all and follows golf a little bit, has thought, playing on the PGA TOUR would be the coolest thing in the world. You're traveling around the world, playing golf at amazing courses for a lot of money, for prestige. You get to compete, which, pretty much anyone who's into sports loves to compete on some level. Now, you get to actually follow these folks. Some of them are living out of rental cars for months and months. A lot of them are going around to their family and friends, to the local clubs they've caddied at, trying to come up with money, trying to get sponsored so they can literally pay to try to play on the Korn Ferry Tour. For them to be so close to this dream, to be so good at golf, I think that is going to resonate a lot with folks that have been our target audience for a long time.
I think there's a big obligation to convey that, right? To show that these Korn Ferry Tour players are grinders. They're trying to make ends meet. They're also unbelievably good at golf. There are so many guys on the PGA TOUR that people follow week-in and week-out and might not realize they were in this position once. I think a lot of that sort of aligns with our audience, and if conveyed correctly, I think that our audience, the Barstool audience will kind of be like, I could see myself in these people's shoes.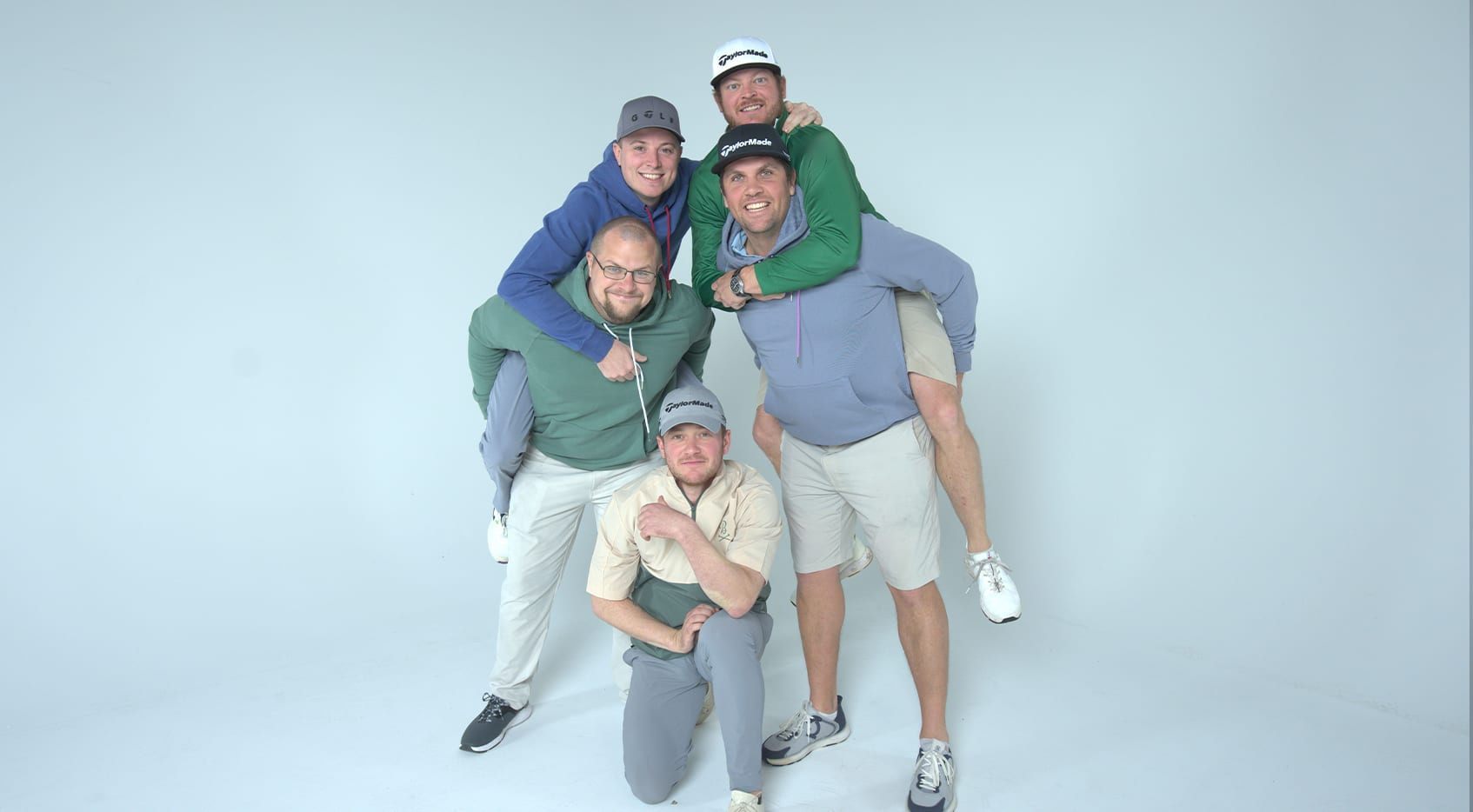 From front to back, the Fore Play podcast team: Dan Rapaport, Trent (left), Lurch (right), Frankie Borrelli and Riggs. (PGATOUR)
PGATOUR.COM: How do you prep for all those stories?
RIGGS: It's a good question. We're gonna have some help for sure. We've got some folks on our staff now that are like Dan Rapaport, who we brought on from Golf Digest last year, this is a little bit more in his alley. We've never claimed to be an inside, nuts and bolts-type golf podcast. We are sort of the everyday golfer who struggles to break 90 or 100 or 80 or whatever, who likes to have a drink and play golf and maybe catch the back nine of a PGA TOUR event on certain weekends. We're not necessarily ranking the field one through 50 every single week. We're not going to try to pretend to be anything that we're not. But also, like I said earlier, we have an obligation to bring those stories to light.
We've been lucky enough with the Korn Ferry Tour folks, who have been great at sending us sort of weekly, if not more often, little briefs on the key stories that are going on. As we get closer to the end here of the regular season, getting inside that Top 30, locking up a PGA TOUR card is obviously the goal. There are going to be folks on the bubble. We've got Justin Ray, who's an amazing stats guy, who he's gonna probably be cranking numbers and giving us stats as well that we're gonna be able to try to regurgitate and sort of package within our usual banter among one another. It's definitely not gonna be the easiest thing in the world. I've told people when we first announced this, we were definitely pretty nervous about it, in terms of you want to hold the integrity of the competition, you want to broadcast the product itself, which is the Korn Ferry Tour players, that's what this is about. Marrying that with what we do, I think we'll deliver a pretty compelling broadcast. We're not taking it lightly. We understand that these are real stories. I think you see it more than you do on the PGA TOUR when a guy wins on the Korn Ferry Tour. They're brought to tears by it, by how much it means to them. I think all of that coming together could be a pretty special broadcast.
PGATOUR.COM: How will your stream be unique in terms of golf broadcasting? It's the exclusive look at the Korn Ferry Tour this week.
RIGGS: I think a lot of our personalities, right? That's something you're not going to typically get. I think if you look at media in the last six, seven years, the new platforms and the successes people have had that have emerged from podcasting to YouTube videos, those are less polished. That's not the same thing it used to be. The only way you could really consume sports or media at all, really, was to turn on a television and there was a set way to do television broadcasts. We're not going to be as polished. We're going to have fun with it. There's not as much red tape with us, for sure, but also, I think the access.
The Korn Ferry Tour, it's gonna be a little bit more laid back. We're obviously going to make sure any individual player is cool with it, but I think the players, a lot of them feel like they know us. They feel like they know the Barstool personalities, and therefore they're going to be a little bit more welcoming if we want to walk and chat, we want to ask them, as they're on a long wait on a par three, what they might hit, what they're seeing here. Being able to get in tight with the access, I think the fact it's the Korn Ferry Tour and not the PGA TOUR, it's not a major championship, I think guys will be pretty open to that. But we're gonna have to tow that line.
Like I said, we're not trying to mess with the integrity of the competition. We're not trying to force anyone that doesn't want to be talking in the middle of their round to be on an internet stream. I think combining that with the fact pretty much every golf broadcast, they outsource the actual production to teams that do this every week, they know what they're doing, so they're gonna be very professional in terms of capturing it high-quality, knowing the shots, getting the shots and then it's kind of our job, right? To do our thing, to put our spin on it, to commentate and analyze what we're seeing in the way that we've been doing for a long time at Barstool. I think there's a chance that if all that comes together properly, it could be a pretty, pretty good broadcast.
PGATOUR.COM: So could we see guys swept right off 18, get in the booth with you guys? Or maybe even like you're saying in between shots, get that quick interview that we wouldn't necessarily see at a higher level?
RIGGS: We really do want to see if a guy goes out early on Friday morning and posts a great round and he's into it, bring him in the booth, have him be one of our three or four guys in the booth for a little bit of the afternoon coverage. We've seen that with the PGA TOUR. We saw Jon Rahm do that shortly after he won The Masters this year, the next week at the RBC Heritage when he was calling Cantlay and those guys coming down the stretch. I think guys will be pretty open to it. We're not going to cross anything off the list. We would love to have some of that insight from the players. I think it's going to be a combination of access to these guys feeling like we're kind of in with them.
PGATOUR.COM: Will this fit with your regular audience and at the same time be inviting to someone who might not be a Fore Play listener or a Barstool sports consumer?
RIGGS: I think we watch enough golf that we'll be able to achieve that. I don't think you're going to have to know the inside jokes in order to enjoy the broadcast. I think you've seen it a lot more, even at the highest level with the introduction of Colt Knost and personalities like that, where they're able to still hold the key elements of a broadcast that you need, showing the shots properly and putting the storyline out there, so folks can pay attention, can understand what they're watching and the impact of each shot, while also having a little bit of personality, having folks that love and are obsessed with golf. I think that any broadcast, any media platform, any journalist that covers a sport, I think it matters a lot to the audience if you can tell the folks covering it love the game.
I think that's one thing that we've been able to capture and benefit from is that we're obsessed with golf. That's what we absolutely love. We play golf in our free time. When I get a week's vacation, I go on a golf trip with my friends even though we talk about golf for a living all the time. So I really do think that if you get a bunch of folks up there putting on the broadcast as commentators, as guys who are on course that love the game of golf, I think that resonates with anyone from a hardcore golf nut who might not know what Fore Play is all the way down to our people who have been listening to us since our first podcast.
PGATOUR.COM: In terms of the players themselves, like you said, you're going to be learning a lot about these players' stories. You're going to be telling the fans a lot. Are there any that are jumping out already? This is an event that Scottie Scheffler and Cameron Young won within the last couple years.
RIGGS: I mentioned our guy, Alistair. It's hard not to be tied to folks that you know out there. We're definitely gonna try to get him into a featured group. We're gonna try to cover him. He literally was caddying at Silverleaf last year when I met him, trying to save money. He actually, in between Korn Ferry Tour stops this year, picked up a couple bags, caddying at Silverleaf because he's trying to raise the money so that he can finance himself to go around the country and try to make it on the PGA TOUR.
Alistair Docherty speaks to challenges of Monday qualifying on Korn Ferry Tour
If you look, there are a bunch of names between 20th and 40th, right? The next couple weeks for them, the next month and a half for them, could change their lives from finishing in the Top 30 to not. And so, whether it's personality, whether it's kind of their standing on the Korn Ferry Tour Points List, just highlighting and trying to allow folks from the broadcast, or folks from the audience, because we understand the average sports fan isn't in tune with week-in, week-out Korn Ferry Tour players, right?
We're definitely gonna try to find some good personalities. We're gonna be walking the range in the earlier part of the week. We're gonna be in player dining. We're gonna be trying to find a couple of guys that we resonate with, that we think the audience will resonate with, that we find are in an interesting spot and get those stories out there so that people have something to latch onto when they're watching.
PGATOUR.COM: Your own personalities, obviously everyone plays a little bit of a different role. What should we expect from each member of the Four Play/Barstool team as you're actually sitting in there calling the golf?
RIGGS: I think it's gonna evolve a lot. I mean, we're doing three hours a day for four days. I am going to be with Jake Marsh in the booth. Jake, if folks don't know, he had, and still I think has, aspirations to be a live play-by-play guy. That's what he likes to do. That's his background. He's been in the Pardon My Take family for a long time. He literally used to call ping-pong matches at the Barstool Headquarters. He's called a college football bowl game. He's called basketball, and now, he's gonna be calling play-by-play of golf. I'm gonna be sitting next to him up there in, I guess, a little bit more of a professional kind of role than maybe Frankie [Borrelli] and Trent [Ryan], and be trying to analyze what's going on out there and the bigger picture.
Frankie and Trent, who live next to each other, who are incredibly close with one another, who do the Breaking 90 series together, they're gonna be going around, they're gonna be following groups. They're gonna be trying to find interesting tidbits from the groups. Maybe it's a caddie who's got something going on, it might be interesting fans in the crowd. We got Kirk Minihane, who Kirk is a little bit of a wild card. He's a very good buddy of mine. He doesn't really let anything slide. So I could see him throughout the broadcast almost becoming the ombudsman of our own broadcast. In real time, I could see him just being like, what are you guys talking about there? That's not what I'm seeing out here at all.
Dan Rapaport is a little bit more of our buttoned-up golf journalist. He went to journalism school. He brings a much different inside nuts and bolts-type approach to golf than any of us. We've got Francis Ellis, who is a stand-up comedian. He's gonna spend some time in that booth with us, as well. He's also a pretty good golfer. He's probably a five-handicap who played Division-I lacrosse, so he's a good athlete. It's just gonna be a mix of a bunch of different personalities, which, we're trying to have roles, but also we sort of thrive in the chaos of what happens and how things unfold. If we can marry that with all of a sudden, we cut to a big golf shot and try to do that shot justice, I think it could be a pretty good broadcast.
"... We sort of thrive in the chaos of what happens and how things unfold. If we can marry that with all of a sudden, we cut to a big golf shot and try to do that shot justice, I think it could be a pretty good broadcast."
PGATOUR.COM: How do you put the stories into perspective? You guys are having fun, you're doing something for the first time, but for these guys, this is make or break for some of them right now coming down the stretch.
RIGGS: We're definitely having fun, for sure. But look, this is big for us too, right? We're putting on a golf broadcast for the first time, especially after years and years of judging golf broadcasts and tweeting about it, talking about it on a podcast, and now, we're getting tapped to do it. So, it's gonna be fun. We're gonna try to make people laugh. I think that's obviously a big goal of ours. We try not to take ourselves too seriously. And I think the juxtaposition of us doing that, with the seriousness of what they're doing, what they're playing for, I think will become pretty evident. I think they won't necessarily be laughing and giggling out there. And as long as we kind of present that, I think it'll be pretty clear that they're in a much different spot than we are, as they should be.
PGATOUR.COM: Are you already thinking about some of those things that maybe you've said about golf broadcasts in the past, and now you're starting to prep and going, oh man, you know, I recognize this?
RIGGS: Oh, there's gonna be some hypocrisy for sure. I mean, 100 percent we sort of contradict ourselves on every single podcast that we do. That's gonna come out a million percent, which is deserved, right? We've sort of tried to disclaim it a lot when we've harped on the broadcast. It's hard for anyone to sit up there for three, four, five, six hours full-time. You gotta talk, you're gonna say dumb stuff. We do it on our own shows. We've done livestreams before we do podcasts. Plenty of them where you just say dumb stuff all the time and then afterwards you're like, what was I talking about? I don't even know if I believe that. So that'll happen for sure. We're gonna try to make it as compelling, as entertaining as we possibly can. We're gonna try to highlight the Korn Ferry Tour, the intensity of the moment and what it means to these players. I think those social clips come out a lot from the Korn Ferry Tour. Any time somebody wins, any time at Korn Ferry Tour Finals, somebody has a big moment or somebody finds out that they just snuck inside the cut line, it gets emotional, it gets intense, it changes their whole life. We're gonna try to convey that as best as we possibly can.