Archive
David Toms tells the tale of his wild Wells Fargo win 20 years ago
A snowman in golf parlance means a player has recorded an 8.
It doesn't happen often for the pros. Guys who post 8s are usually the ones who love risk-reward holes, like the John Dalys of the golf world. They're not typically those like David Toms, a man who hits fairways and greens and wins precisely because he doesn't take risks.
So there Toms was, 20 years ago this week, on the 18th hole at the first Wells Fargo Championship. For 71 holes he had played brilliantly, hitting fairway after fairway, green after green, and rolling in most decent looks he had at birdie.
Toms, at second in Charles Schwab Cup standings and enjoying his best season on PGA TOUR Champions at age 56, had gone 41 events without a win. He had played very well in 2002 – finishing fourth on the money list – but it wasn't like 2001, when won three times, including his lone major, the PGA Championship.
His third-round 66 had given him a five-shot cushion entering the final round, and his lead was six when he arrived at the par-4 finishing hole, the end of a difficult three-hole stretch known as the Green Mile.
Toms, though, was blissfully unaware of his large lead.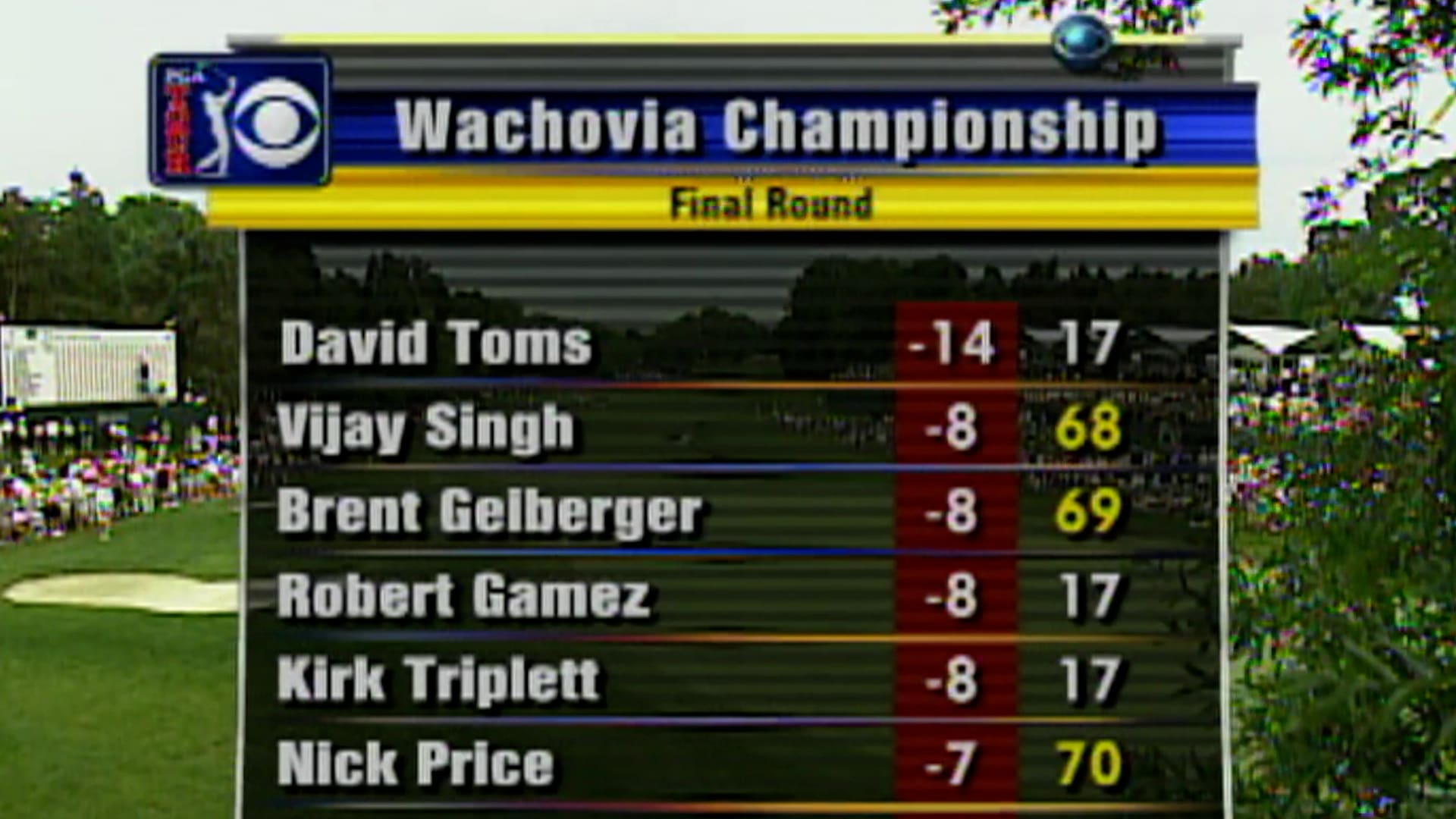 "I hadn't put a bad swing on a driver the whole week," Toms recalled recently. "And you know, I just hit it hit way right [by about 50 yards]. I don't even know. I guess at the last minute I saw the hazard on the left and was protecting and I hit it right and just was in no man's land over there. I tried to chip out, and I chipped it all the way across the fairway and nearly into the hazard. Then I chopped it around a few more times. And I finally got on the green. Hit my first putt and I looked at my caddie. I'm like, 'How do we stand?'
"I hadn't paid much attention. He goes, 'Let's just get in the hole. Let's just get in the hole.' And so then you know the way that turned out. I remember mentioning in the media tent afterward, 'Yeah, I was just trying to keep the TOUR on TV longer.'"
Even with the quadruple bogey, Toms wound up winning by two shots over Vijay Singh, Robert Gamez and Brent Geiberger. He was thrilled not only to return to the winner's circle but to do it on a great course with a great field in front of great fans.
David Toms makes an 8 on 72nd hole and wins 2003 Wells Fargo Championship
"I remember, you know, right off the bat thinking about the golf tournament and how well it was run," Toms said. "All the things they did for the players in the clubhouse, old school golf, you know, just core golf – houses, only a few houses around the outside and I just remember really enjoying the experience. The crowd was starving for golf in the area at the time.
"Obviously since then, they've had a lot of big tournaments and great players come through, they're playing Quail Hollow and the Presidents Cup obviously last year was a big deal. But I just remember that that one week kind of set the tone for that tournament for me and all the other players of being a stop on the TOUR that we didn't want to miss and just from everywhere, all the things they did for the players – to the golf course, to the fans, to the city."