Archive
Two legends, 90 wins; Bernhard Langer and Hale Irwin reflect on PGA TOUR Champions win record 
Hale Irwin won for the last time on PGA TOUR Champions at the MasterCard Championship at Hualalai on Jan. 21, 2007. He was 61.
Bernhard Langer turned 50 that year, on Aug. 27. He won in his fourth start, at the Administaff Small Business Classic on Oct. 14. That tournament now is known as the Insperity Invitational.
The two winningest players in PGA TOUR Champions history sat next to each other Wednesday in Houston, as Langer, 65, prepared for the Insperity Invitational, an event he has won four times. If he can make it five, he will break his tie with Irwin, 77, for most victories on the Champions Tour, which they share now at 45.
"I've been coming here for many, many years, to The Woodlands, but more importantly, Insperity was my first tournament victory on the Champions Tour in 2007," Langer said. "I won it at Augusta Pines, a different golf course, and that was a stepping stone, knowing that I can do well out here.
"It always has a special place in my heart. I will never forget my first victory. If you ask me what was your 20th victory, I don't know, or my 30th. But the first one you will always remember."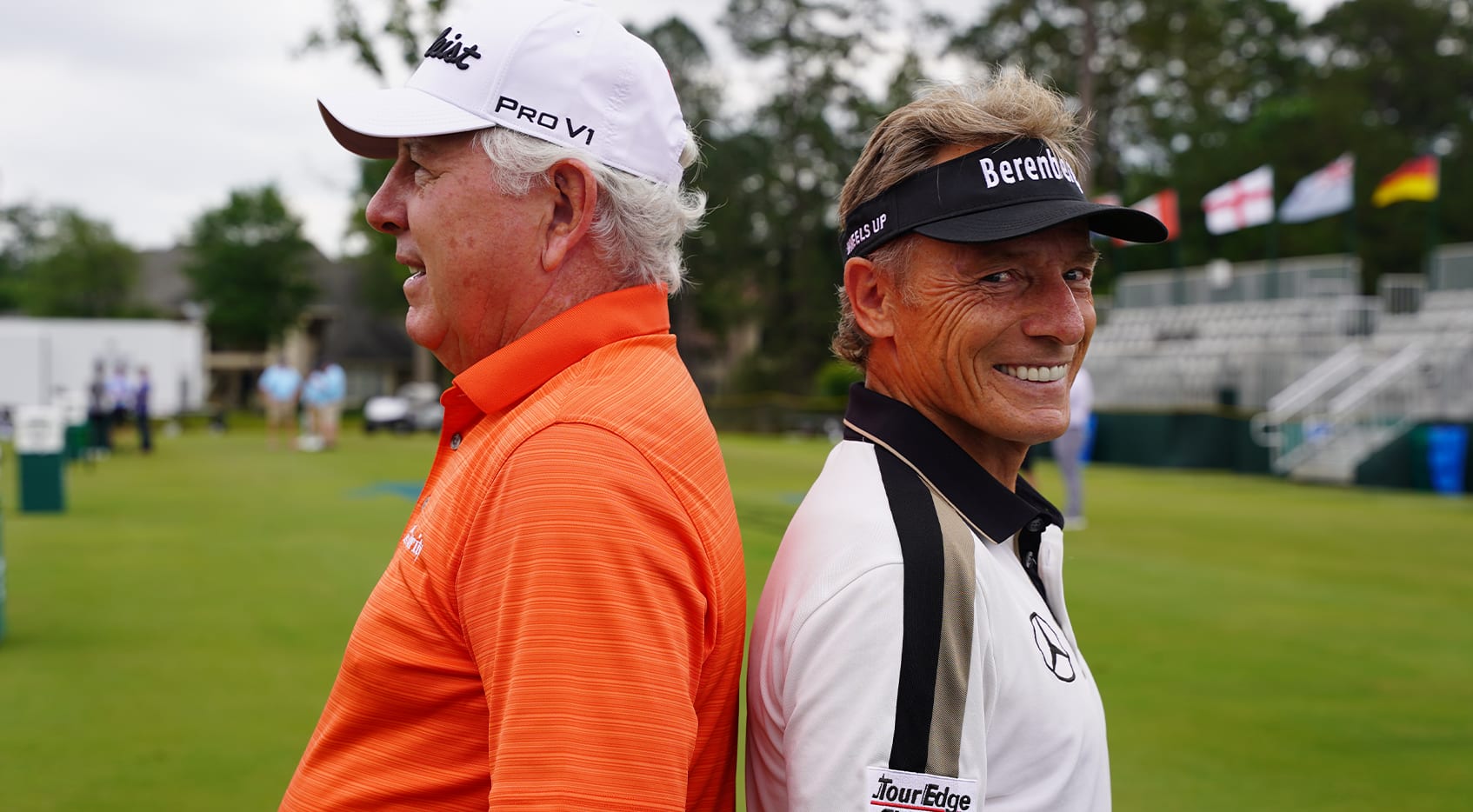 Hale Irwin (left) and Bernhard Lander (right) at The Woodlands CC. (PGA TOUR Champions)
No one knows better than Irwin that what Langer has done is laudable.
"I think what Bernhard has been doing and continues to do is amazing stuff," Irwin said. "To say that I don't enjoy it, that's not the truth. I do enjoy it. I always enjoy watching somebody that does their skill very, very well, and particularly - I almost said in old age, because he's still a kid as far as I'm concerned. But the fact that he's still going as he is, and with the competition that we have behind us right now, is pretty amazing stuff."
Langer has added eight wins since he turned 61.
"It's an honor for me to have tied Hale Irwin's record."
Bernhard Langer
"We all know what an outstanding career he's had, what a champion he's been all over the world and winning majors and then having the career he's had out here in the Champions Tour is incredible," Langer said.
"When I joined this tour, I never thought I would get anywhere near that 45 mark. So I was very blessed and fortunate to have tied a great man like him. For those youngsters, you don't have to be 6-8 to play great golf. You just make use of all the gifts and talents you have and work at it, and the mind is probably more important than the body in this game."
Langer keeps himself in incredible physical condition, and he is as mentally tough as any golfer ever has been.
"Yeah, to answer your question, I will try and break the record," Langer said. "I know I'm 65 years old, and the clock is ticking. I probably won't have as many chances as I did several years ago. But I still have a bit of game. We'll see where it goes. If I stay healthy, I think I can get a couple more, but you never know. Grateful to be where I am and having played this great game for so long."
Langer already has a victory this year, at the Chubb Classic in February. He also has two other top-10s.
Irwin's record seemed safe for the longest time. What Langer has been able to do, extending the record for oldest player to win on PGA TOUR Champions several times now, is beyond explanation.
Irwin said he didn't give the record much thought when he decided to hang up his spikes.
"I won't say that I think I stepped out early because I stepped out at the right time for me," Irwin said. "There were things in my life I still wanted to do, and as good as golf has been to me and provided me the friendships I've had, and that's number one more than anything else, there was just things I wanted to do with my family and my friends. That sort of became the overriding thought.
"When you don't think at that level of competition, where you need to be with your skills, they diminish. I was not staying physically as in shape, let's say, not condition-wise, but I had some things going wrong in my body, knee issues, foot issues, that contributed to a little bit of that decision to step away from it and go do the things I wanted to do."