Archive
Kenny Perry, wife Sandy cherish the present in Alzheimer's battle
It is a Friday morning in Fort Worth, Texas, and Kenny Perry is in the middle of the type of chaos that he and Sandy Perry, his wife of 41 years, long have dreamed about. This is the type of day that they have worked toward all their adult lives, enjoying the fruits of semi-retirement and a growing family after years of globetrotting, and of standing on practice tees for hours, hitting bottomless buckets of golf balls.
On this day, Perry, 62, is joyously fulfilling his duties at famed Colonial Country Club, once Ben Hogan's playground, as a card-carrying, dutiful grandfather. Three grandsons, ages 4 to 8, are running around, highly excited about what's ahead, looking forward to a day with their grandparents, in from Kentucky. Why, one of these days the boys will understand the significance of their grandfather being on the club's famed Wall of Champions as its 2005 Charles Schwab Challenge tournament winner.
"Yeah, they all have their Nike hats on," Kenny says, laughing, zipping around in a golf cart as he speaks to a reporter. "They're ready."
Yes, these are the days the Perrys cannot experience enough. Mostly, Kenny sees them as special gifts to Sandy, who has been diagnosed with early-onset Alzheimer's disease and has not been herself for a spell. Sandy struggles not so much with long-term memory, but with the here and now, and with performing simple tasks she once performed with ease. Kenny said he could ask Sandy to take a sweater from the bed and place it into a suitcase, and she cannot do it. Cannot process, or solve, the task. Sandy is not able to add, or subtract, and she has wandered off. "She lost her independence," says Kenny. "I pretty much take care of her."
Sandy – athletic, kind, energetic – first met Kenny when they were kindergarten students in Franklin, Kentucky. They attended grade school together and, after
Kenny moved away, reconnected in college. Kenny was back near home playing at Western Kentucky, Sandy at Lipscomb University. They married in 1982. Kenny, a 14-time winner on the PGA TOUR who won 10 more times on PGA TOUR Champions, walked away from PGA TOUR Champions in November 2021, following the Charles Schwab Cup in Arizona, to be home full-time for Sandy. She was struggling, and she needed help. Kenny has been by Sandy's side as the two of them, empty nesters, enter this unfathomable dark tunnel, not really knowing how long they will be inside it, or where it leads.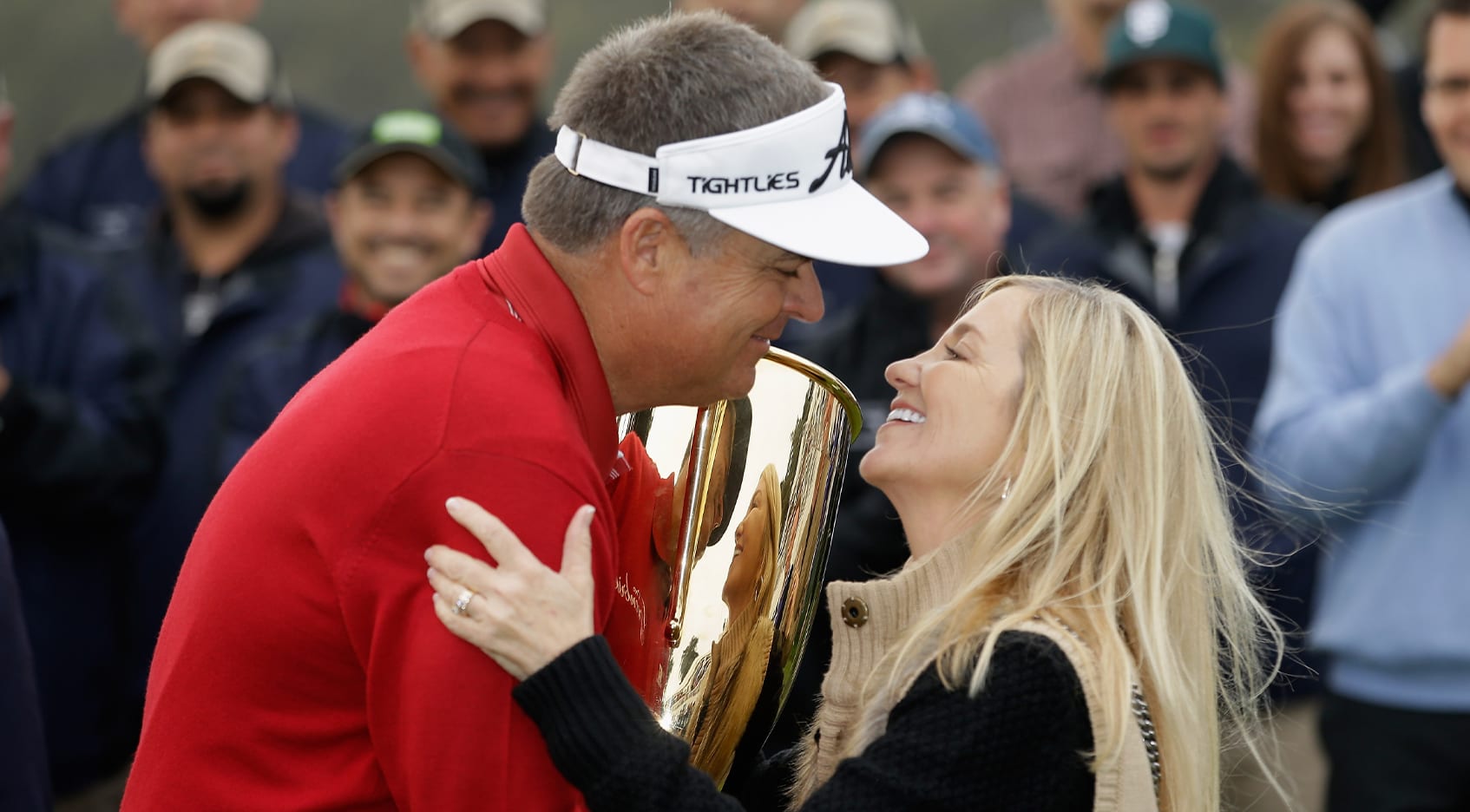 Kenny Perry celebrates with wife Sandy after winning the Charles Schwab Cup season-long championship in 2013 (Ezra Shaw/Getty Images)
After all, these were going to be the years to sit on the porch at home in Franklin, drink sweet tea poured from a chilled pitcher, and enjoy sunsets together. After living healthy lives, neither expected to be facing this at 62. In the last two-plus years, Kenny has spent more time in doctors' offices, seeking answers and clarity, than he cares to recount. Vanderbilt, St. Thomas, a holistic doctor ... one day soon, he said, maybe be he will become more of a spokesperson highlighting what he has learned. For now, he is just trying to navigate as best he can.
"She's healthy, and she's happy," Kenny says. "We're still having a good life. We laugh a lot. ... I need to let her see them (their grandchildren) as much as she can. I don't know when the day is when the light switch goes off, and she won't know anybody. That's the biggest fear for me."
The Perrys have nine grandchildren – in addition to three in Fort Worth, there are six at home in Kentucky. Their grandfather is taking a break from his home duties this week to (temporarily) return to something he loves dearly, a game that has been his life. Perry will compete in the PGA TOUR Champions' Invited Celebrity Classic, contested at Las Colinas CC in the Dallas-Fort Worth metroplex, where top Champions Tour players are paired with celebrities. (Perry played Wednesday's pro-am alongside former MLB catcher Brian McCann.)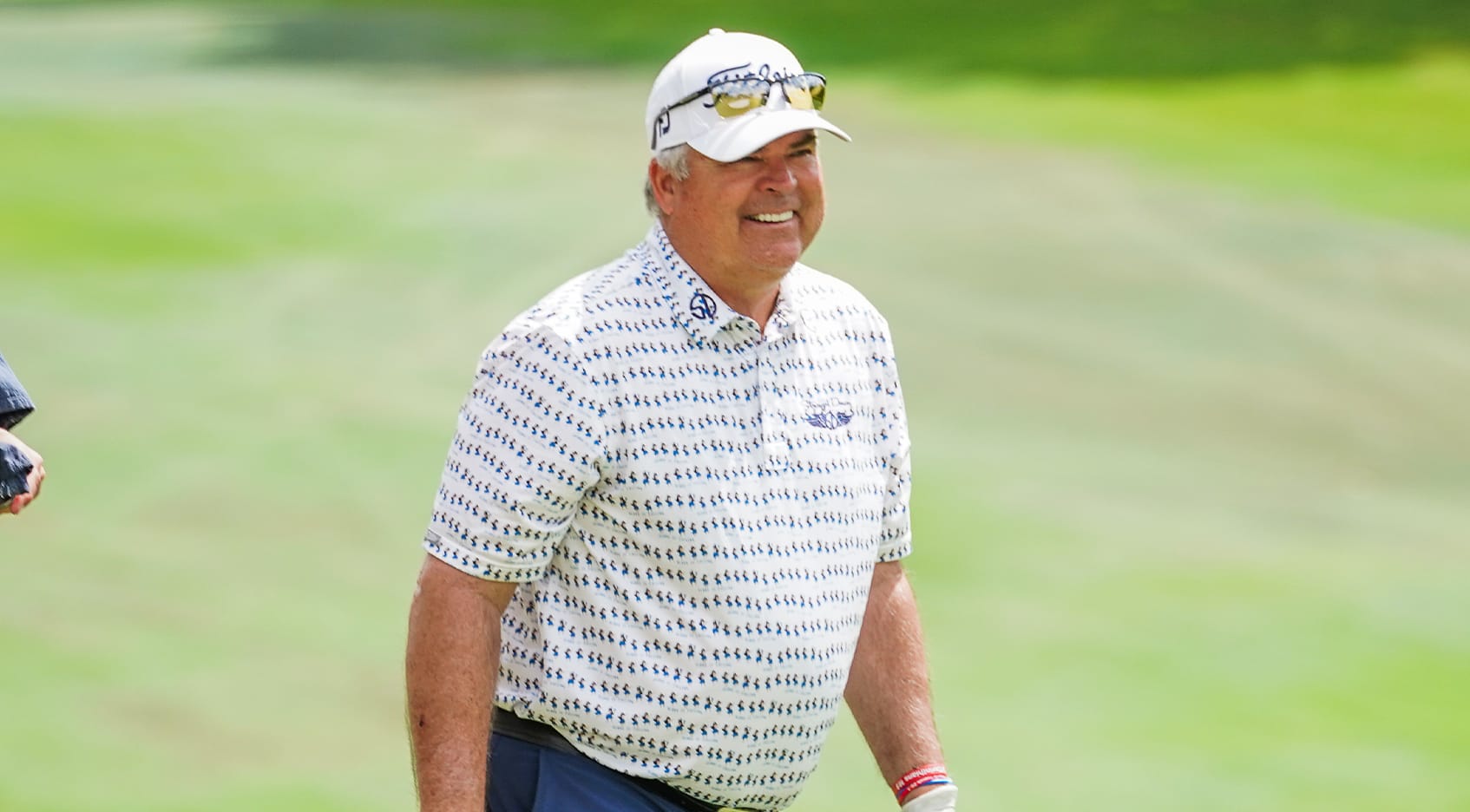 Kenny Perry during a practice round at the Invited Celebrity Classic contested at Las Colinas CC. (Elise Tallent/PGA TOUR)
"It was just good to see him," said fellow TOUR player John Huston, who ran into Perry at Las Colinas earlier this week. The two of them go back to playing mini-tours in Florida in the 1980s. Huston said he had not had much recent contact with Perry before running into him.
"My wife has followed what's going on with Sandy through some of the other wives," said Huston, a year younger than Perry. Huston underwent two-part brain surgery in late 2016 and early 2017, as well as neck fusion surgery in late 2021, and returned to Champions Tour competition last May.
"Really, what do you say, right?" continued Huston. "It took me a while. I started to wonder, why isn't Kenny playing, and then I read the story. I thought, 'That's horrible.' They're such good people. Kenny is a very, very talented golfer – but bigger than that, he's just a great person."
Paul Azinger feels the same way. He and Perry also go back 40 years, to days spent on the J.C. Goosie Tour, where the only true currency was chasing dreams. A few lucky ones would make it to the PGA TOUR. Perry's career had a different pace and trajectory than many of his peers. It wasn't until Perry reached his 40s that he truly believed in his talents, and his game took off.
"I think he finally got to the point where he told himself he was a good putter," Huston said, "and from that point on, it was lights out. He can play."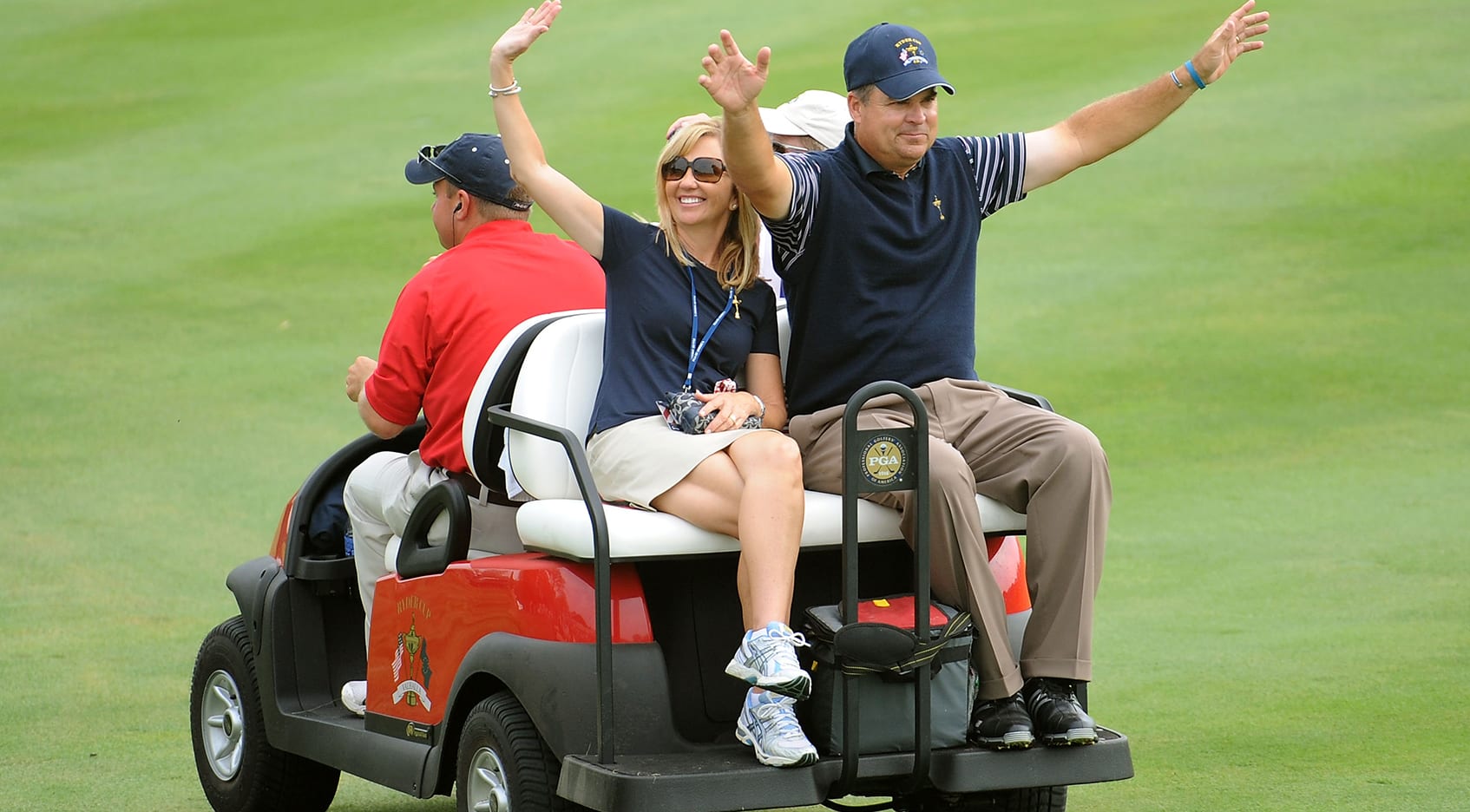 Kenny Perry of the USA team and his wife Sandy ride on a cart during the 2008 Ryder Cup at Valhalla Golf Club. (Harry How/Getty Images)
Perry was 48 – the same age as Azinger, his captain – when he made the 2008 U.S. Ryder Cup team. He had only appeared in one previous Ryder Cup. The matches that autumn were played at Valhalla, in Kentucky, in Perry's backyard. Azinger had specific messaging for all his players, assembling them into four-man pods for the first time. There was only one other forty-something on the U.S. team that year, Steve Stricker, and early on, Azinger figured that Perry, given the setting, was going to be his most nervous team member.
He remembers being alongside Perry as they viewed a 10-minute video meant to inspire the team at Louisville's Muhammad Ali Museum. He told Perry he needed to get into character, that he needed to play inside the aura that he was Kentucky's greatest golfer. Playing out of what Azinger jokingly called his "Redneck Pod," Perry won one match alongside Jim Furyk, tied another, and defeated Henrik Stenson in singles. The U.S. won handily, 16.5-11.5.
It was a great week for Perry, whose family gallery included his father, Ken, who attended in his bibbed overalls and became a media darling. ("Oh, my goodness, it was awesome," Kenny said.)
"Kenny went from the most nervous to the most motivated," Azinger said. "He proved it. It takes pressure to get the greatest performances out of people, that's just a fact. There's no Michael Jordan or Michael Phelps if not for the significance, or the magnitude, of what they are doing. Sometimes it brings out this great adrenaline in a guy. Kenny Perry, he had whatever it took. I loved watching him play."
It surprises none of Perry's longtime friends that he was selfless enough to step away from golf when he did, even though he had won on the Champions Tour as recently as 2018. (A year earlier, Perry won his second U.S. Senior Open, at Salem (Mass.) Country Club.) But it was at a more recent U.S. Senior Open that Perry discovered that Sandy, who was supposed to be following him, had somehow ventured off to a different 18 holes at the facility. For Perry, that was his line in the sand. It was time to get home to Franklin, to take care of Sandy.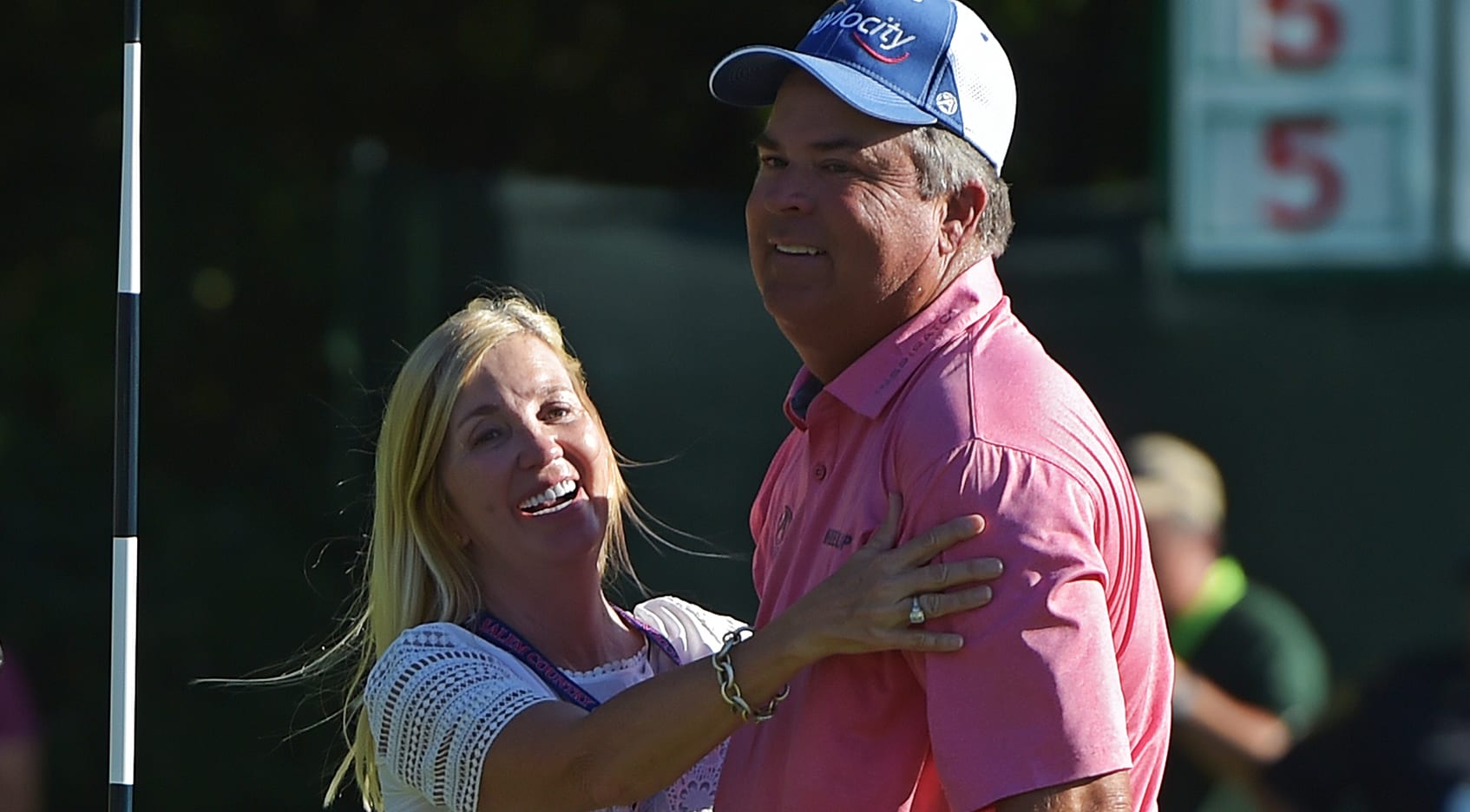 Kenny Perry celebrates with his wife Sandy after winning 2017 U.S. Senior Open Championship at Salem Country Club. (Drew Hallowell/Getty Images)
"Kenny has a lot going on in his life right now. His character is above reproach," Azinger said. "I think that's what everybody loves about KP the most. His character. I think he is one of the most trusted people you could be around. He's just one of those solid citizens if you know what I mean."
As for Kenny's ongoing journey with Sandy, she has joined him in Irving this week as he returns to competition. Friends from home have volunteered to be with Sandy as she walks along, following his play. Sandy loves to walk, and she has stayed in great shape. "She walks me to death at home," Kenny said, laughing.
Kenny said he feels as if he has seen about every doctor there is to see. The lack of concrete answers, the advice to try different avenues with experimental drugs, it all seems so mystifying to him. Confusing. Heartbreaking. Frustrating.
"My conclusion is that the medical world has not figured out how to stop this," said Perry, who points out that his wife's diagnosis does not include dementia. "So, we're just trying to contain it, slow it down. The type that Sandy has is the slow-moving one, and the next two years she'll probably be where she is right now. Then it will start getting more aggressive. I'm trying to figure it out in the next two years. Hopefully, the drug companies – or somebody – will figure out something that will slow it down. That's the miracle I'm looking for."
In the meantime, Kenny and Sandy will travel to a small number of events – he plans to play the Insperity Invitational in Houston, and he will play the Regions Tradition in Birmingham, Alabama, a major. He has been practicing at Country Creek, the successful Kentucky course that he built in 1995, for the past month, though he expects his game to show some rust. He is fine with that. In a year and a half, he said he has gained a few pounds and has a balky hip. He knows it will be great for him and Sandy to see old friends. It is, after all, their second family. And of course, he will continue to spend quality time with Sandy. There are not enough hours in a day to fill his appetite for that.
"Sandy loves to eat, so our days at home are based around breakfast, lunch and dinner," Kenny said. "We go for walks, go to the park, I take her shopping. Everybody knows her, and what's going on, and there's been a lot of support. We're always together. It's me and her, doing whatever she feels like she wants to do."
Kenny has been the strong patriarch, holding everything together for Sandy and the couple's three children, two of whom live next door to one another not far away, in Bowling Green. At the top of the family tree lives a beautiful bond, two loving parents, three children now in their 30s, and nine grandchildren that Sandy and Kenny love to see and chase around. At home, Kenny serves as a taxi service, shuttling the grandchildren to soccer and dance and gymnastics.
Kenny just wants to take all time and clench it in his palm right now, freezing things as they are if he possibly could. Though he has backed off his weekly church duties, he remains a deacon at his church – he and Sandy were raised devout Christians – and says his strong faith is what has helped him cope. He never has asked, "Why us?" Instead, he said his view always has been, "Why not us?" Perry believes deeply in his soul that there is a God, and there is a Heaven, and that miracles can happen. "I truly believe that God can heal," he said.
He adds, "My life is great. I can't complain one bit. We have great kids, great grandkids, we still get to go and do whatever we want to do. I need to watch what Sandy is doing, and take care of her, but we're going to be fine. I just don't want her to go blank on me. I dread that day. I don't even want to think that far in advance ..."
Perry's voice trails off. Today is about the here and now, about watching those beautiful grandsons run circles around Colonial, about getting ready to play some golf, about lovingly caring for his perfect life partner. Right now, the world belonging to Kenny and Sandy Perry is not about the future as much as it is about one day. Today.