26D AGO
Tribute: Family vows to keep Devon Quigley's memory, boundless spirit alive
BOCA RATON, Fla. – Nearly 12 years ago, Devon Quigley, then only 27 with seemingly limitless runway ahead of him, reached out to his older sister, Nicole, to explain how lyrics he had heard from the Zac Brown Band had resonated deeply within him. Devon and Nicole were always close, "thick as thieves," as she would describe it, and the lyrics were leading Devon down a newly lit path. Yes, Devon was having fun in his 20s, playing golf, caddying, but surely his life had a bigger purpose. Bigger meaning.
It's funny how it's the little things in life that mean the most
Not where you live, what you drive, or the price tag on your clothes
There's no dollar sign on a peace of mind
This I've come to know
So if you agree, have a drink with me
Raise your glasses for a toast
How quickly life can turn completely upside down.
In Florida a short time after his revelation to his sister, and with his father Dana as a witness, Devon stood up to volunteer in a "spontaneous baptism" to declare his faith.
"I'll never forget the feeling of comfort I had," Dana said.
Just two weeks afterward, Devon would be involved in a horrific accident, his sportscar running into the back of a stopped 18-wheel semi in Riviera Beach, along the southeast coast of Florida. Doctors at St. Mary's Hospital told Dana that his son would not survive the head trauma he sustained that December night.
Ah, but he did. Using a wheelchair and unable to communicate verbally, Devon Quigley lived for almost 12 years post-injury, until his body recently gave out from natural causes Oct. 28.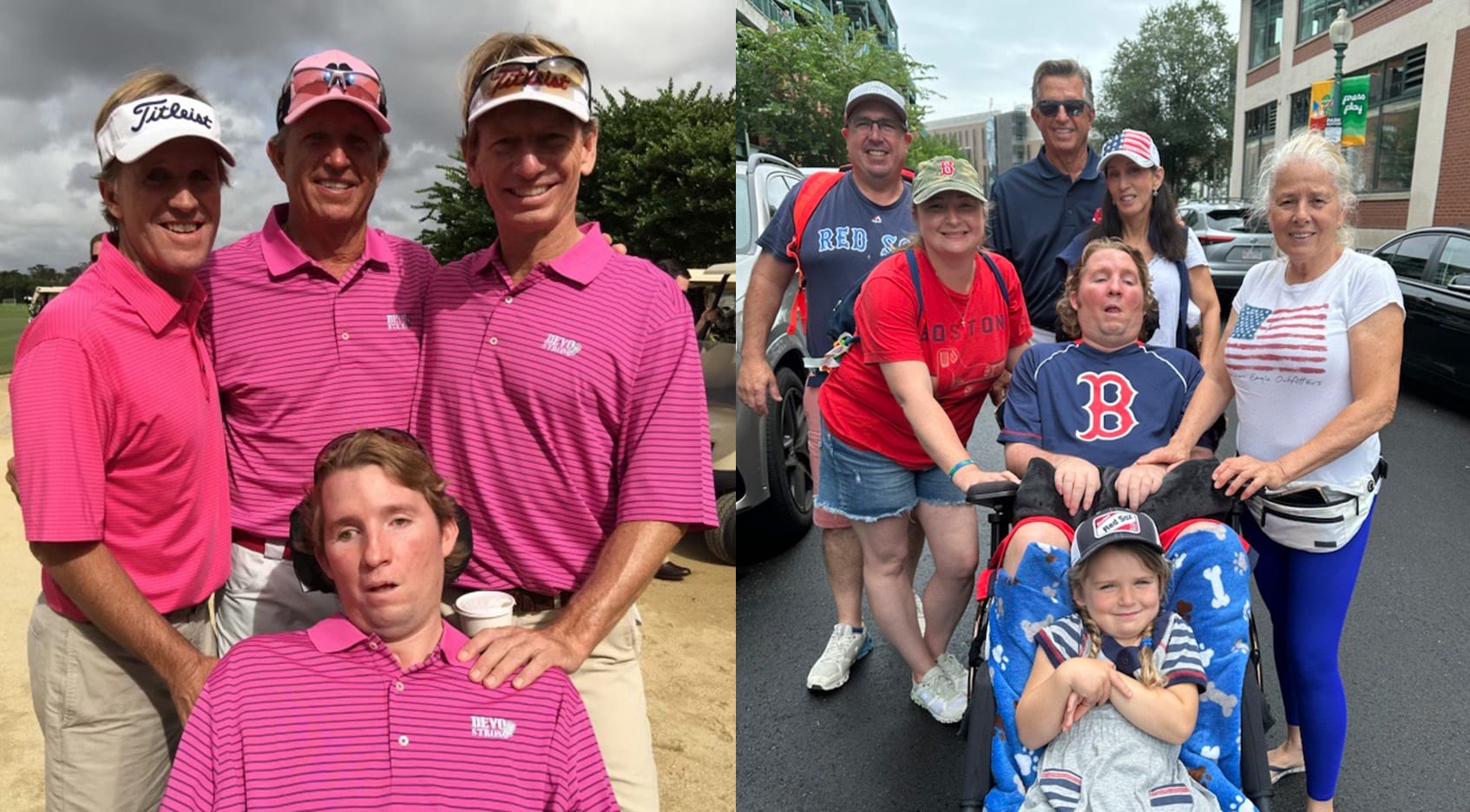 This is, and this isn't, a sad story. It is sad because a young man not yet 40 no longer is with us. In many ways, however, it is a beautiful story. Those talking about Devon do so with a smile on their face. Devon found a way to inspire countless others with his positive attitude, despite the harness of physical limitations. His spirit was remarkable. Those around him learned to wear their strengthened faith like a wool blanket.
Devon would communicate by looking up or looking down with one of his eyes. This is how, as his father ran down a list of possible teams, Devon confirmed that he knew which two teams were playing in baseball's World Series. Arizona-Texas? Devon stayed on top of things. His family could tell when Devon was happy or sad. Father and son would "talk" each night, either in person or via FaceTime, lamenting about the demise of their beloved, cellar-dwelling Boston Red Sox. Late last Saturday night, unexpectedly, an hour after Dana had signed off with him, Devon simply stopped breathing. The legacy he leaves behind is impactful.
"Obviously, there's tremendous sadness," Brett Quigley, Devon's cousin and Dana's nephew, said Wednesday at the TimberTech Championship, the second leg of the PGA TOUR Champions' three-leg playoffs. (Brett ranks seventh in the Charles Schwab Cup standings.)
Brett Quigley's interview after winning Constellation FURYK & FRIENDS
Players competing this week at The Old Course at Broken Sound will wear white ribbons to remember and honor Devon. Brett, 54, and Devon always had a close connection. They were born 15 years apart, to the day.
"Devon faced everything with such courage and faith," Brett said. "He never gave up. It was a tough battle you wouldn't wish on your worst enemy. ... Positive and never giving up. I think Devon taught us all lessons in that. His attitude was always great."
Devon's life purpose, as it turned out, would be to glue a family closer together as one and inspire a beautiful story of love, sacrifice and complete devotion. Leading the way would be Charlotte, Dana's first wife, who made sure Devon made it back to his childhood home in Rumford, Rhode Island, and slept by her son's side every night for the past 12 years. When Dana would load up a van and take Devon to Florida for months of winter sunshine and jovial camaraderie at The Bear's Club, Charlotte never would be far away. Charlotte was helped closely by Nicole, Devon's sister, who lived just around the corner in Rhode Island. She views the last 11-plus years of her life as an incredible education in perseverance and unwavering love.
"What I thought I knew of all of us was nothing compared to reality," Nicole wrote in a text. "Even though I knew of the 'Iron Man' (Dana once played 278 consecutive Champions Tour events for which he was eligible) and the grit of the family, everyone went beyond what I imagined.
"Our family repaired relationships and drew together to surround Devon with love and support. But my mom was his biggest hero. Twelve years by his side, sleeping on the hospital floor, chair, air mattresses and by Devon's bed. Never left him. Stronger than any parent ever would be."
And then there are Dana and his wife, Angie. Devotion to a son? A day did not pass in all these years since the accident that Dana did not FaceTime or visit with "Devo," who was his caddie, his golf partner – occasionally his opponent when Devon and Brett would take on Dana and his brother Paul in their many famed "Family Feud" matches – and most importantly, his best friend. For almost 12 years, Devon's page on CaringBridge was filled each night by entries and updates from his father that nearly always would incorporate passages from the Bible.
Always, somehow, Dana found the words. Day after day after day. That will be one of his biggest challenges on Thursday afternoon at Crestwood Country Club in Rehoboth, Massachusetts. That is the club where Dana once resided as the head professional, before he turned 50 and embarked on a PGA TOUR Champions career that yielded 11 victories, $15 million in earnings and recognition as the 2005 Player of the Year. Back in his days at Crestwood – where Dana let it be known in his job interview that he played golf and didn't fold sweaters – his kids would be running around while he, in all likelihood, was on the course with members. At 3 p.m. on Thursday, Crestwood will host the first of two celebrations of life to honor Devon. The other will be staged Jan. 4 in Florida.
"That'll be tough, but it's all right. It's all part of the deal," Dana said.
Just how does a parent say goodbye to a child, anyway? He will do his best. Dana expects the gathering to be so emotionally charged that he likely will be the only Quigley who can get words out of his mouth. His faith helps.
"I keep thinking about what I'll say ... I lie in bed thinking about it," he said. "Like everything, I will go in there with no notes and I'll play it from the hip. It'll all come out good. There will be a lot of crying at this one."
People will gather at Crestwood for a few hours to share stories, some that've been heard previously and others that have not. As winter knocks on New England's door, the attendees will count on memories to warm them. The doors are open to all. One rule: Don't wear black. Devon didn't like black.
"Devon and Dana, the colorful pinks, yellows and reds, all those flowered shirts ... it couldn't be bright enough for the two of them," Brett said, managing to smile seated at a table in the quiet locker room at Broken Sound. "I remember Devon's first car – it was bright yellow. That's them for sure. Dana gave me a hard time in Jacksonville (a few weeks ago, when Brett won). "How come you're not wearing pink? It looks way better on TV! You've got to wear more colors!"
For Brett and the rest of the Quigley gang, adjusting to life without Devon will take some time. As professional golfers like to say, it will be a process. A difficult one. Brett was like a big brother to Devon, and he embraced the assignment.
"One hundred percent," Brett said. "I know Dana would tell me, growing up, that Devon looked up to me a lot. I took that role seriously. Devon and I spent a lot of time playing golf and trying to figure stuff out. It was ... it was great."
It was great. And that is how Devon will be remembered. He was a marvel. He was great. Dana always has known in his heart that Devon, because he was so sharp mentally and knew all that was going on, had to harbor incredible inner patience through all those years when he couldn't talk, or walk, or do all the things that he did in his first 27-plus years on earth.
"He had 12 years of prison and chains," reasons Dana, "and now Devon is all good.
"It's all good. He is free."
Raise your glasses for a toast.