Archive
Furyks, Nemours combine to provide Jacksonville-area students 'Blessings in a Backpack'
For most school-aged children, the payoff for the Monday-Friday classroom grind is the weekend.
Saturdays and Sundays are times for kids to sideline school, sleep in, play and eat at will. Most kids are, as the saying goes, "living for the weekend."
For many other kids, though, it's a heartbreaking case of just living "through" the weekend.
From the time a kid leaves school Friday until returning Monday morning, 65 hours elapse. Depending on the kid, that's either never enough time or entirely too much.
Each year, for more than nine million students in the United States, the only meals they receive during the school week are via special meal programs and/or vouchers.
Sadly, though, those meals during the week are only part of the solution, as weekend food insecurity is a serious problem many school kids contend with over the course of those daunting 65 hours.
That is where the saving grace of Blessings in a Backpack comes into play.
What Blessings in a Backpack Founder Missy Hammerstrom saw around 2005 was that, as a result of having had limited-to-no food, kids weren't going back to school on Monday. They were exhausted, malnourished and/or just couldn't get themselves together. If they did get to school, it often resulted in poor behavior and a lack of attention or focus. Hammerstrom believed that if these kids had something to eat over the weekend, it would help them get back to school, refreshed and ready to learn.
Blessings in a Backpack bridges the gap in child nutrition over the weekend by providing ready-to-eat food for school-age children across America who might otherwise go hungry.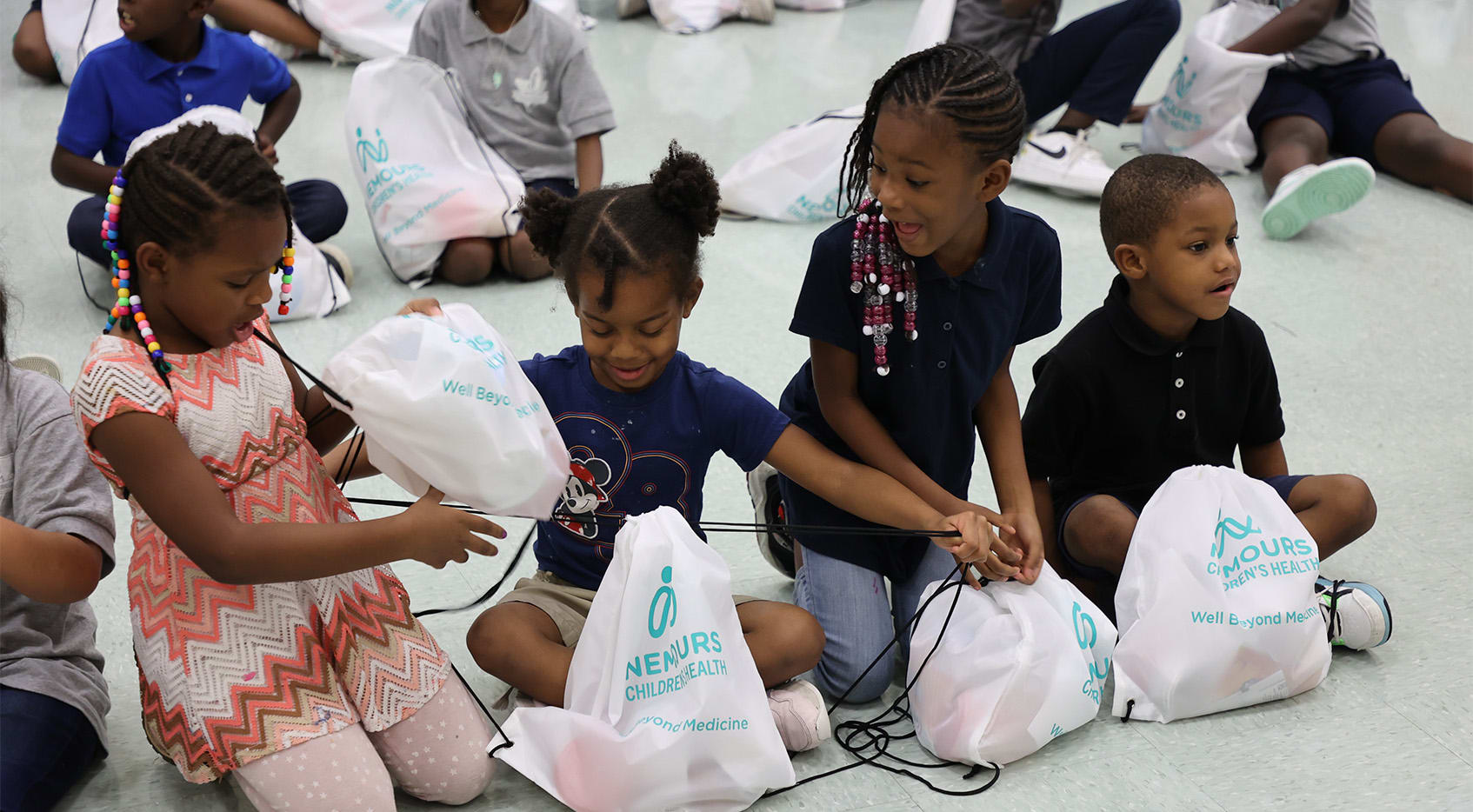 Children participating in Blessings in a Backpack (Photo Credit: William Estep/Nemours Children's Health System)
"The reason for starting this mission 15 years ago was to provide kids food to eat over the weekend that is kid friendly, and they can prepare without the help of an adult, ultimately getting them nourished and back to school Monday ready to learn," said Beth Bush, Director, Athletic & Strategic Partnerships for Blessings in a Backpack.
The statistics from Blessings in a Backpack's first 10 years (2009-2018) speak volumes to not only the success they've had battling food insecurity but also the severity of this issue. In 2009, Blessings in a Backpack served 9,022 kids. By 2018, that number had ballooned to 87,000. In 2009, courtesy of Blessings in a Backpack, there were 315,770 hunger-free weekends. That number eclipsed the three-million mark by 2018.
Over nine million kids in the United States identify with food insecurity.One in five children in Jacksonville, Florida, doesn't know when or from where their next meal is coming outside of those school meal programs. In Florida, more than 600,000 children are battling food insecurity.
To think of that in a different way, consider this: In a single classroom of 20 students, four would be victims to that statistic.
But, things took an electric turn for the better at last week's Constellation FURYK & FRIENDS.
On Thursday at the PGA TOUR Champions event held at Timuquana Country Club in Jacksonville, Nemours Children's Health and the Jim & Tabitha Furyk Foundation collectively announced a partnership to donate enough money to fully eliminate a years-long waiting list at Blessings in a Backpack schools with a critical need. The added support will provide healthy weekend food for 880 children in Northeast Florida for the 2023-24 school year, bringing the total to 5,300 kids and 190,800 hunger-free weekends.
"This generous support will make a huge impact on Jacksonville area kids. Seeing two great partners come together, such as Nemours Children's Health and the Jim & Tabitha Furyk Foundation, it is truly a community coming together," said Bush.
Children participating in Blessings in a Backpack (Photo Credit: William Estep/Nemours Children's Health System)
The two organizations were focused on the critical needs list Blessings in a Backpack maintains, which are those schools at which they are unable to feed every student.
"For Nemours and Furyks to step up and fulfill that critical needs list by feeding all the kids at our current partner schools is amazing," said Bush. "Now, every child at each of those schools will be fed.
"We are thrilled to partner with the Jim & Tabitha Furyk Foundation," said Peggy Parish, Director of Community Engagement, Nemours Children's Health Florida. "We met them earlier this year at THE PLAYERS Championship, when they helped with a Blessings in a Backpack build. We immediately hit it off and knew it would be a no-brainer to grow the relationship. We're very passionate about helping kids and families in our community.
"Connecting the dots has been what we've always been about," said Tabitha Furyk. "We're always trying to find like-minded organizations to come together with to support what this city needs. That's exactly the connection we found with Nemours Children's Health."
Nemours Children's Health has been working with Blessings in a Backpack for upwards of five years in Jacksonville and Central Florida, and the relationship has been an important one for both organizations.
"A lot of people associate hunger to an empty stomach, but it's so much more than that," Parish explained. "When children are hungry, they aren't able to concentrate or do well in school. Their behavior declines. There is depression, sadness and anxiety. At Nemours Children's Health, to tend to the overall health and wellness of the children, we need to focus on what is happening outside the walls of our hospitals and clinics."
As a healthcare institution, Parish stressed the importance of Nemours going beyond medicine in order to better – and wholly – care for children. Rather than placing its entire focus on illness or disease, equally important are the efforts to positively impact kids' overall health and well-being outside hospital walls.
"We are really proud of going well beyond medicine," Parish said. "Our mission is to see all children reach their full potential and succeed. That is how we believe we can make the greatest impact in our community. We want these children to grow up to be healthy adults, so it starts right now when they're young."
Children participating in Blessings in a Backpack (Photo Credit: William Estep/Nemours Children's Health System)
"The kids wake up Monday through Friday, go to school, get breakfast and lunch," Tabitha Furyk said. "Weekends, though, become very long for food-insecure kids and create that void. For us to be able to help fill that void with a big bag for them to at least get through the weekend helps them better prepare to return on Monday and participate. It makes a huge difference with regard to the success of scores, attendance and attention. Plus, just for them to know that somebody cares about them is huge."
"Blessings in a Backpack is more than food." Bush added. "We've helped kids all over the country overcome challenges, thrive in the present and look towards a brighter future. Kids who get Blessings feel cared for by the community and feel that they are helping their family, and that's one more reason this partnership between Nemours Children's Health and the Jim & Tabitha Furyk Foundation makes them community champions."