Archive
Boeing and PGA TOUR Champions announce five-year title sponsorship extension
Boeing Classic to continue at Snoqualmie Ridge through at least 2029
SEATTLE, Wash. and PONTE VEDRA BEACH, Fla. – It was jointly announced Tuesday by PGA TOUR Champions and Boeing that the Boeing Classic has been extended for five years, with the tournament scheduled to continue at The Club at Snoqualmie Ridge through at least 2029. The event, which began in 2005, is operated by Virginia Mason Franciscan Health and benefits Benaroya Research Institute and The First Tee of Greater Seattle.
"We're elated to announce this extension, which continues the fantastic partnership that we have had with Boeing," said PGA TOUR Champions President Miller Brady. "This tournament has been a standout on our schedule thanks to the tremendous support that we have received from the Seattle community. Since this tournament's inception, The Club at Snoqualmie Ridge has served as a wonderful host for this event and we're thrilled to continue playing there. We look forward to furthering the relationship between PGA TOUR Champions and the Pacific Northwest fanbase."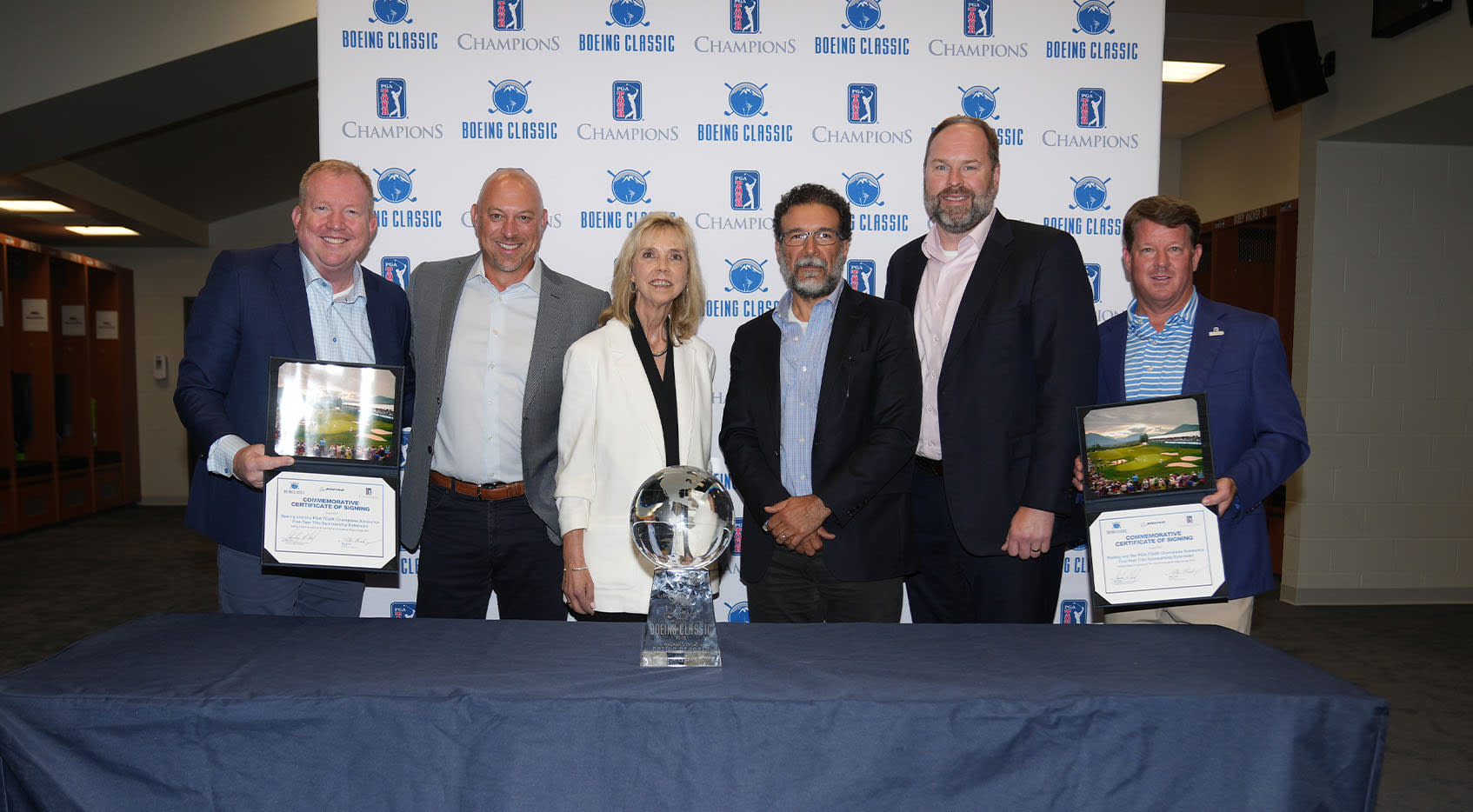 Boeing and PGA TOUR Champions representatives at the extension announcement. (Corky Trewin/Boeing Communications)
"The Boeing Classic is a premier event bringing together our community for an exciting week of world-class professional golf," said Stan Deal, President and CEO of Boeing Commercial Airplanes "We are honored to extend our partnership with the PGA TOUR and continue our work to help raise millions of dollars for the Benaroya Research Institute and other non-profits in Washington."
Since this tournament began in 2005, nearly $9 million has been donated to local charities in the Puget Sounds region. The main beneficiary of the tournament is the Benaroya Research Institute, which works to predict, prevent, reverse and cure diseases of the immune system— including autoimmune diseases, allergies, asthma, cancer and COVID-19.
"We are incredibly grateful to The Boeing Company and their continued commitment to The Boeing Classic," said Ketul J. Patel, CEO of Virginia Mason Franciscan Health. "Together, we have raised over $8.5M for Pacific Northwest communities over the past 18 years. The Boeing Classic is a special opportunity for us to give back and we look forward to our ongoing partnership with Boeing and the PGA TOUR to bring top golfers to this event for many years to come."
The Boeing Classic was formed in 2005 and is being contested at The Club at Snoqualmie Ridge for the 18th time this year. The Club at Snoqualmie Ridge, which was designed by Jack Nicklaus and originally opened in 1999, was voted the "Most Beautiful Clubhouse" in Washington state by Architectural Digest in 2018 for its "craftsman-inspired decor...and expansive windows." The Club at Snoqualmie Ridge's par-72, 7,264-yard championship layout sits at the base of the Cascade Mountains and is renowned for its stunning terrain and amazing wildlife, which includes an eagle sanctuary on the 14th hole. The Club at Snoqualmie Ridge is owned by Arcis Golf, the second largest and fastest-growing owner and operator of golf facilities in the United States.
"We're excited to have Boeing continue their sponsorship commitment as well as for the support of other partners to execute this popular PGA TOUR Champions event," said Blake Walker, Founder and CEO, Arcis Golf. "Our team at The Club at Snoqualmie Ridge appreciates this annual opportunity to showcase our beautiful club, golf course, and community on a national stage and they work tirelessly with the volunteers in support of deserving, worthy causes."