Archive
Padraig Harrington's short-game lessons boost rising Irish LPGA star
Irish connection helped Leona Maguire to second LPGA victory
As the final round of the U.S. Open unfolded in Los Angeles last weekend, Ireland's Leona Maguire was at work winning her second career LPGA title in Western Michigan.
And she channeled advice from fellow Ireland native Padraig Harrington, who finished top-30 at the U.S. Open at age 51, to secure key up-and-downs that made the difference.
Maguire rallied from two strokes back of 54-hole leader Amy Yang at the Meijer LPGA Classic, closing in 64 to win by two at 21 under. Afterward, the 28-year-old shouted out Harrington in her winner's remarks.
"The big one for me has been Padraig Harrington," Maguire said. "I said (to caddie) Dermot (Byrne), I had a few really key up-and-downs this week, especially on 17 both Friday and Saturday. Padraig showed me some shots, so I have to thank him for it."
Harrington was flattered upon learning of Maguire's remarks, but the three-time major champion was quick to credit his protégé for her skill and poise under pressure.
"She was being very nice saying that it helped her out," Harrington said Wednesday, "but there were a few rough shots, a couple of specialty shots that I have learned, that I showed her, and it's nice that she took it on board."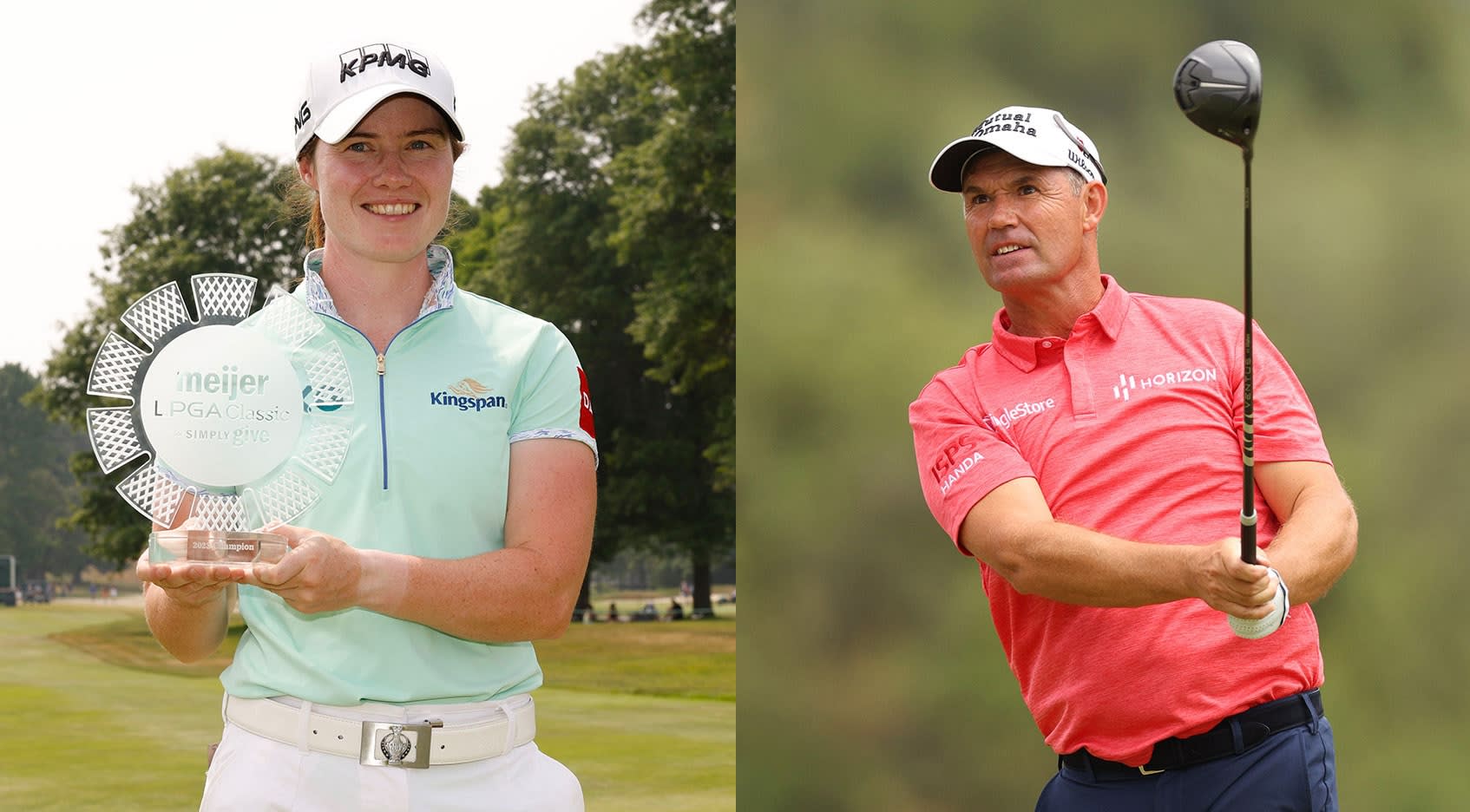 Leona Maguire earned her second LPGA title on Sunday, while Padraig Harrington placed T27 at the U.S. Open. (Getty Images)
In addition to the lessons, Maguire enjoys the 'family feel' of the Irish golfers, providing an intangible boost as she pursues her LPGA dreams.
"I got to spend some time with him, and yeah, all the Irish guys are great," Maguire said. "I think it's nice being from that sort of close-knit community, Shane (Lowry) and Padraig, Paul McGinley. They're there to give me advice or give Dermot advice whenever we need it, so it's nice to have that sort of camaraderie … give the people at home more to cheer about."
Harrington, who now competes regularly on PGA TOUR Champions, is known for experimenting and finding ways to evolve and elevate his own game. The focus on his own game has never gotten in the way of helping the next generation of golfer, though, especially a fellow Ireland native like Maguire.
"I've known Leona for years since she was probably 13 years old, and we'd meet every year at the sports awards and as I do offer a bit of advice," Harrington said of his mentorship with Maguire. "But this time around it came to her caddie, Dermot Byrne, we know him well so he just suggested, 'Leona, maybe you should talk to Padraig before The Open.'"
Maguire indeed obliged, visiting Harrington prior to last summer's Open Championship – and learning a couple nuanced shots around the greens.
"I actually wanted to see Leona's game; I was more interested in seeing her and how she played," admitted Harrington. "She came up to my house and hit a few shots. She's really good; she really has a good short game."
Following the success from their most recent lesson that Maguire says helped her win a second LPGA title, she was eager for another lesson in the near future.
"So I potentially have to pay him another trip this summer," Maguire said. "He's a little busy today at the U.S. Open, but I'll have to check in with him again and see if we can do it again."
Harrington, a 15-time DP World Tour winner, has continued to impress with four Champions Tour wins including last year's U.S. Senior Open, which he will look to defend next week in Wisconsin.
With a T27 at last week's U.S. Open at LACC, he has now made back-to-back cuts at TOUR majors in 2023, with a chance to go 3-for-3 at next month's Open Championship at Royal Liverpool.
Safe to say, Maguire will be rooting him on.