Archive
Invited Gateway Club provides First Tee kids with greater access to golf
In a 1979 Coca-Cola commercial featuring an injured "Mean" Joe Greene limping through a football stadium tunnel towards the locker room, a young boy standing nearby sheepishly asks the Hall of Fame football legend if he needs any help. After declining the kid's offer, Greene stops, turns back and says "Hey, kid! Catch" as he tosses his jersey to the little fan.
While certainly scripted, the motivation for the spot was likely drawn from that genuine narrative of opportunity, overcoming adversity and inclusion which has been forever present and improving in professional sports. Arguably, on no other playing field is that hope and inspiration more prevalent than within the game of golf.
Following a three-week hiatus, PGA TOUR Champions returns to action this week at Las Colinas Country Club outside Dallas for the Invited Celebrity Classic presented by Choctaw Casinos & Resorts. While the unique nature of the event is to mix PGA TOUR Champions players with celebrities from other professions, a main spotlight remains focused on First Tee – Greater Dallas and the individuals of which that organization is comprised.
As one of the tournament's three charitable partners, First Tee – Greater Dallas takes center stage this year after having partnered with Invited. Through the joint venture, not only are more kids gaining access to the game of golf, but many are now able to take their games to the next level with access to private courses and country clubs.
Invited (formerly ClubCorp) teed off the Gateway Club in 2021 with First Tee chapters in Dallas, Ft. Worth, Houston and Atlanta. They partner with 24 clubs between those cities. It stands as an important component of the organization's initiatives to improve diversity and inclusion within the company, clubs and golf industry. Currently, upwards of 100 combined boys and girls from many ethnic backgrounds are Youth Members.
The Invited Gateway Club provides standout and select First Tee participants with complimentary junior memberships to Invited Clubs. Most, if not all, boys and girls in the Gateway Club would not otherwise be able to afford and access these clubs, meaning the chance to practice and play at Invited Clubs is an exceptional opportunity to improve as players on the course and progress as people off the course.
"Our relationship here in Dallas with ClubCorp before it became Invited has always been great," said Katie Harris, First Tee – Greater Dallas Program Director. "When they called and said they wanted to provide this opportunity, it was incredible. We had been trying to provide cheaper access to golf courses to anyone and everyone, but to find the best and brightest that would appreciate this enough to prove themselves worthy of the opportunity was awesome."
According to Harris, the Invited Gateway Club has helped open many doors for First Tee participants. In fact, one teenager ended up on the PGA Junior League team at her club and ended up at Nationals.
John Tijerina's first experience with golf was as a 3-year-old, watching and emulating the swings of PGA TOUR professionals, including that of his favorite player, Jordan Spieth. His father would then take him to a driving range they had access to, where the young whippersnapper put those swings to the test.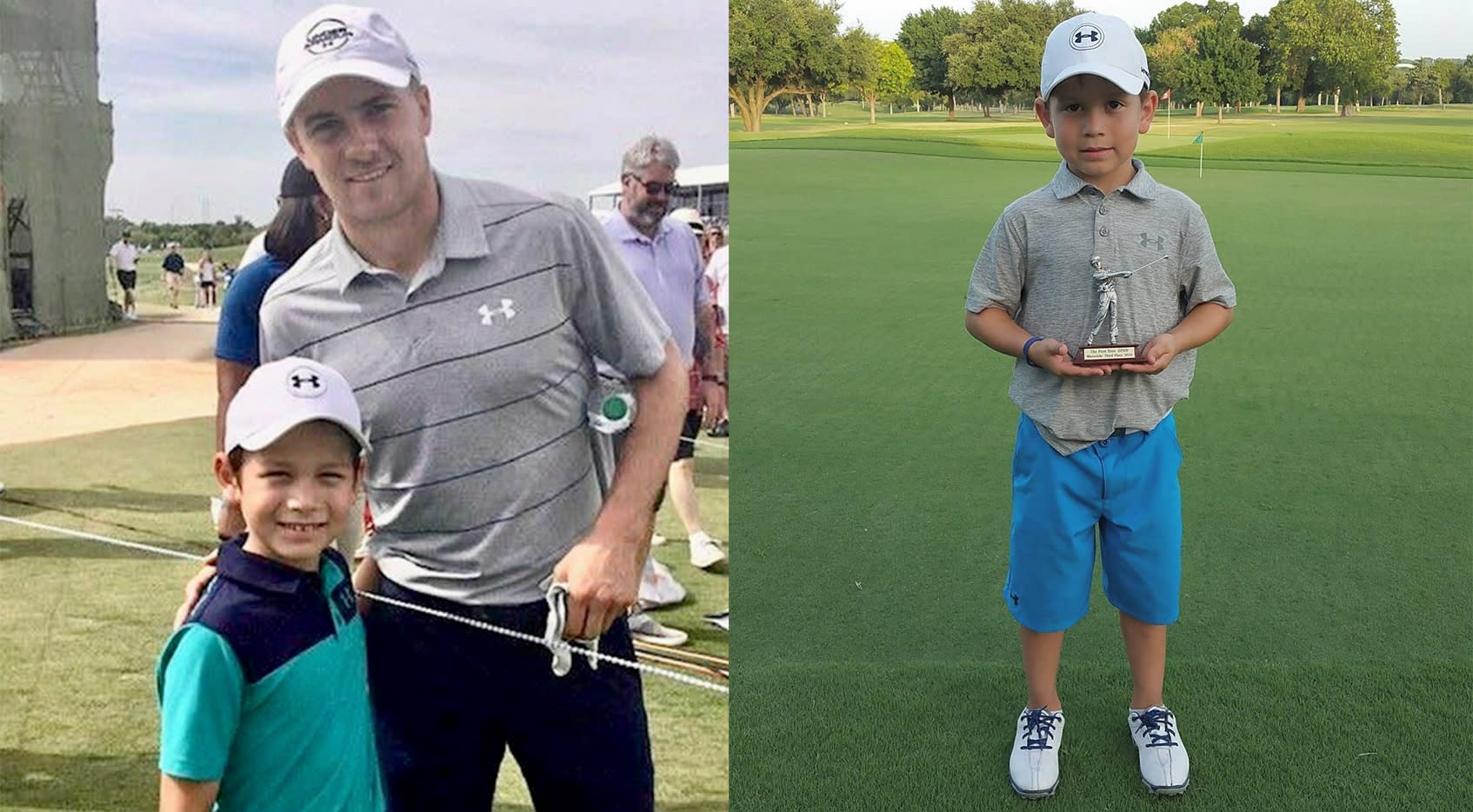 John Tijerina as a child with Jordan Spieth (left) and winning a golf trophy (right).
Of the many things John has learned through the game of golf, overcoming obstacles holds its line at the top of the list.
"At one point, my dad lost his job and didn't have one for two years," John said. "That was really hard for us. I really didn't think I would ever be able to play golf after that."
Then, though, John and his family learned of First Tee - Greater Dallas. And, it didn't take long before John joined up.
"Through First Tee – Greater Dallas, I've learned so much more than just how to play golf," John said. "I've learned things like course management and how to take care of a course, life skills and a lot of things that are really helping me have a good and productive life."
"When he finally started with us at the age of seven, he was already lights out…he was a great golfer," said Harris. "He didn't need us as much for instruction as he did for the fun, the connections and established relationships with other golfers there his age."
"They helped families and kids like me have access to the game of golf for little-to-no cost," John said. "First Tee – Greater Dallas really helped me and my family out a lot. When I joined, I got to meet a lot of new people and make some really good connections."
Free and/or discounted equipment, classes and even assistance with the costs to compete in tournaments were all features John and his family would have never experienced without First Tee – Greater Dallas.
Through a rather enchanting twist of fate, it also got John face – and swing – time with one of baseball's most highly-regarded legends.
At the Invited Celebrity Classic's recent Media Day, held at Globe Life Field (home of the Texas Rangers), John – who had by then become a junior member to the Invited Gateway Club at Las Colinas Country Club – was an invited guest on site and found himself at the heart of one of the more exciting, though random, results of the program.
Not only did the seventh grader have the chance to meet Major League Baseball Hall of Famer Ivan "Pudge" Rodriguez, but the star-struck teenager was spontaneously asked by Rodriguez to join him later that afternoon for a round of golf at Las Colinas Country Club, site of this week's Invited Celebrity Classic.
"I was really nervous being at Media Day," John admitted. "But, I had the chance to meet 'Pudge' for the first time, who was really nice. He asked me if I would have any interest in playing 18 holes with him later that afternoon. I wasn't sure if he was serious, because I didn't really know who he was. I was told he was probably the best catcher in Major League Baseball history. So, I asked him if he really was serious. And, he said 'Yes, I am'."
"He really didn't know too much about Pudge before they played, but I did," John's mother, Jennifer Tijerina, laughed. "In fact, when I was in labor with my first daughter, I had the World Series on while giving birth because he was a part of that Series. I love Pudge!"
"We were at Media Day for this event, eventually hitting balls on the range before an afternoon of playing," said Rodriguez. "I asked him what he was up to after hitting balls. He said he didn't have anything to do. So, I said 'Well, now you do. You're going to come and play with me.' He didn't hesitate for even a second. He said he would be there waiting. And, he was. We played 18 holes. We had a great day. He was very happy."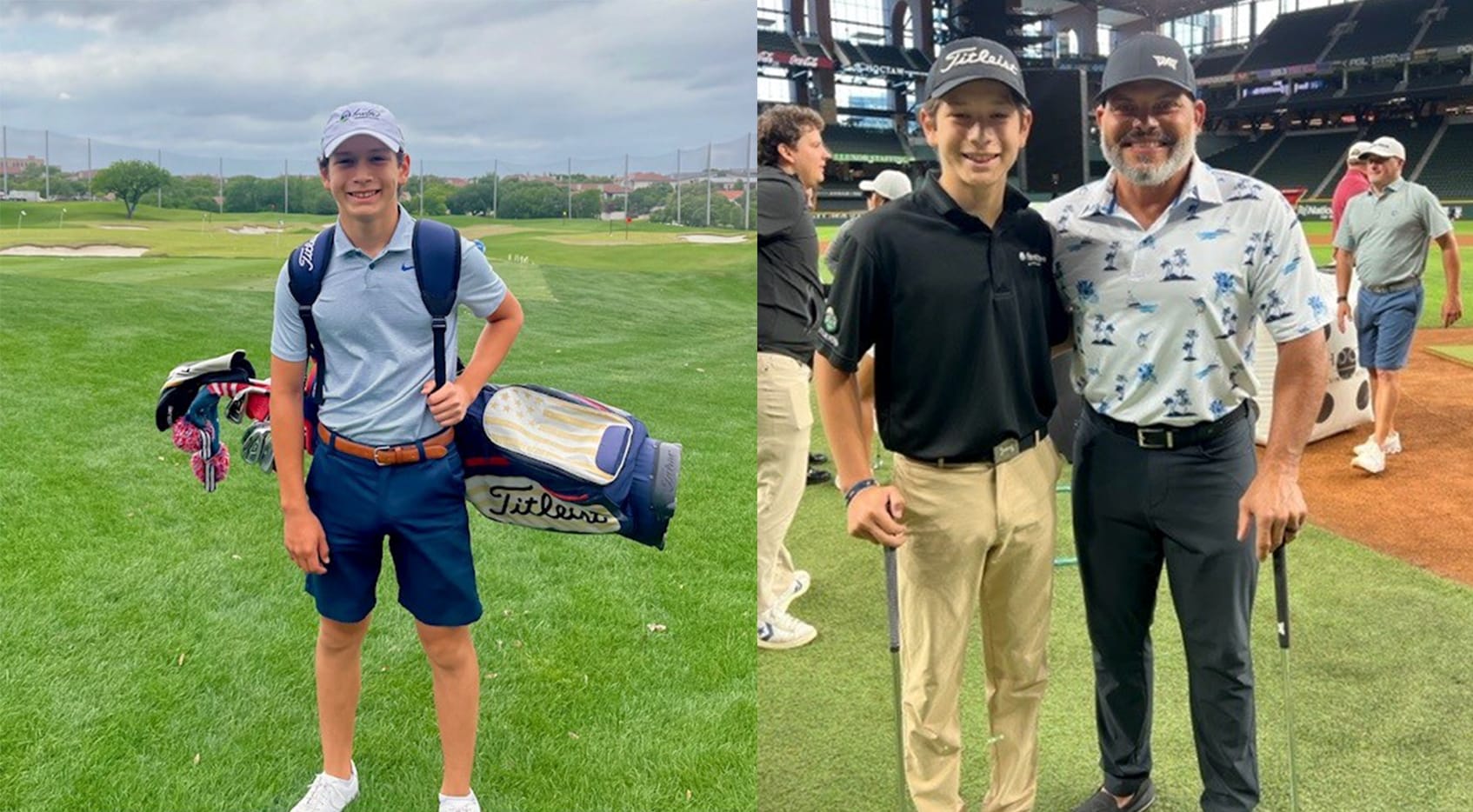 John Tijerina with "Pudge" Rodriguez (right).
"That was so cool," said Harris. "It's one thing to see and be included with people that look like you and talk like you. But, to be around people that may not look or talk like you, but still include you is another thing entirely. For Pudge – someone that significant in sports – to include John and say 'Hey, come play with me' must be so incredibly significant to someone like John."
"It's such a wonderful thing that he is part of Las Colinas Country Club now," Rodriguez said. "He can now come here to play golf anytime. I'm so very happy for him. Las Colinas Country Club is doing such a good job with that kind of thing. When I am in town, this is the course I come to the most to play. So, by allowing these young players to come here to play a beautiful and challenging course, he is among the kids in the Invited Gateway Club who will become a better player."
By virtue of his 2022 Invited Gateway Club junior membership, John has access to Las Colinas Country Club where he can play and practice until he graduates from college.
"The Invited Gateway Club is just an amazing opportunity," Tijerina said. "We could've never afforded country club costs. But, because he was able to be a part of the Invited Gateway Club, he's able to play amazing, beautiful and challenging courses, like Las Colinas Country Club. That alone is going to make him such a better player. I just cannot wait to see where and how far he can go with this opportunity."
"I knew that with his skill, drive and determination, he would take this and run with it," said Harris. "Las Colinas Country Club is just a wonderful place for him to hone his craft."
"He has just had the best and most humbling time, first with First Tee – Greater Dallas and now the Invited Gateway Club as part of that," said Tijerina. "Golf isn't exactly a cheap sport to play and he's been playing since he was three," said Tijernia, who's two oldest daughters also came up through First Tee. "He played all sports growing up and was really good at them all. But, golf was the one he really wanted to stay with."
"I really can't thank First Tee – Greater Dallas enough for what they've given me. I probably wouldn't be playing golf right now if it wasn't for them," John said. "First Tee – Greater Dallas has really done a lot for my family."
"As a young boy with everything to learn, those core values instilled in kids by First Tee has been such a great tool for him, especially now that he's a teenager and growing up," said Tijerina. "To see these opportunities he's being afforded by First Tee – Greater Dallas and the Invited Gateway Club is amazing. It's nothing short of amazing."
While John may not have been tossed a jersey from a sports Hall of Famer, he was given something more. He was provided an opportunity he likely wouldn't have otherwise had. And, a fascinating sidebar to that happened to be the exchanging of divots on a world-class golf course with a sports Hall of Famer.
And, if his class and composure of today is any indication of his tomorrow, John may very well one day be that Hall of Famer tossing a used golf glove to an admiring young fan.